Nikon vs Canon is a popular consideration when buying a DSLR camera. They are the most established brands with the most extensive history in digital photography.
What is the difference between the two brands? Which one is the perfect fit for you? In this Nikon vs Canon article, we will find out!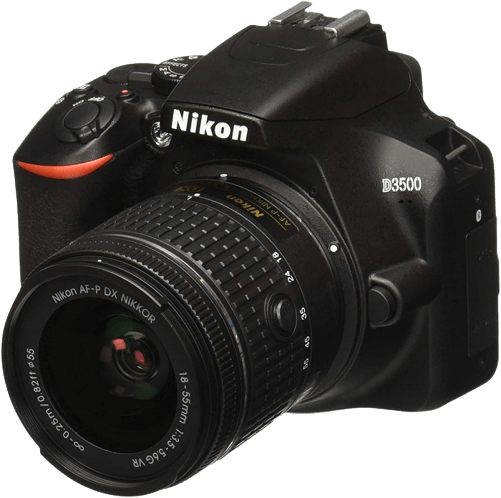 Nikon D3500
If you're comparing Nikon vs Canon, you want a camera that's easy to use and takes beautiful photos. Look no further than this DSLR, perfect for beginners and travel.
[ExpertPhotography is supported by readers. Product links on ExpertPhotography are referral links. If you use one of these and buy something, we make a little bit of money. Need more info? See how it all works here.]
The Nikon vs Canon Debate
The debate comes from those photographers wholly devoted to one or the other. Canon and Nikon are the two most popular and widespread DSLR brands. So it's natural that the most significant discussion is around them.
In the golden age of film photography, the Nikon vs Canon debate was much less prominent. There were plenty of excellent cameras, and they all offered something different.
But a lot has changed since we entered the age of digital photography. Now, beginner photographers often choose between either Nikon or Canon cameras. Each has also started producing mirrorless cameras in recent years, slowly threatening to put Sony in second place.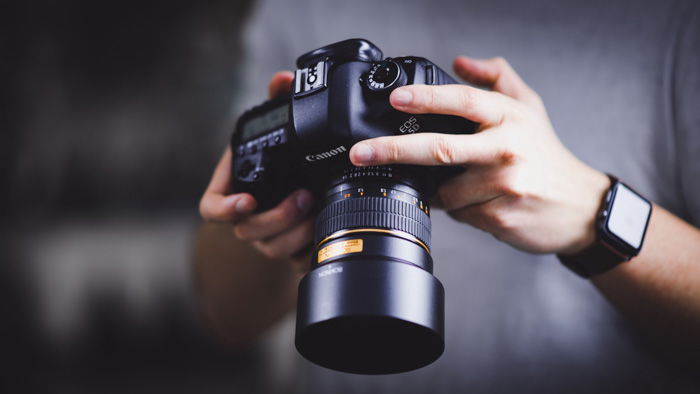 A Real-World Comparison
Both Canon and Nikon have their strongholds in different target niches. The following sections will discuss the areas where the two brands differ.
Nikon vs Canon—Lenses
One of the biggest reasons why Canon and Nikon are the most popular brands is their compatibility.
Canon's EF range goes back to 1987. Meanwhile, Nikon's F-mount lenses began in 1959. That means you have a long list of photography equipment that would still work on your modern digital camera.
The main difference between the two brands is the autofocus. With Canon, all the EOS lenses have autofocus. Meanwhile, only Nikon AF-S lenses have autofocus.
It is also worth noting that even non-AF-S lenses still work on Nikon DSLRs. But you have to focus them manually.
Nikon removed the autofocus motor from their entry-level DSLRs to keep their cameras smaller. This means you can't use autofocus from older Nikon AF-S lenses if you have an entry-level DSLR.
In contrast, Canon has always put autofocus motors in the lenses, not the bodies. That means you get to use older lenses with most camera bodies.
The newest Nikon and Canon lenses perform equally well.
If you prefer modern lenses with the latest technology, then consider Canon. Their L-Series' quality and autofocus are noticeable.
There are more third-party vintage lenses available for Canon, which you can attach to the camera body with adapters.
However, Nikon has its own vintage and manual lenses compatible with their DSLRs. This is not true for Canon.
When it comes to the mirrorless department, Nikon produces fewer lenses. But they are lighter and smaller.
Both brands recently started producing lenses meant to go on mirrorless bodies. This puts them in competition with Sony, leading the market with the Alpha series for years.
Nikon vs Canon—Sensors
As with every camera brand, there are crop and full frame versions of Canon and Nikon.
The term crop factor describes the magnification any particular lens produces when you use it on a crop sensor camera. This number differs between the two camera brands.
The crop factor of Nikon crop sensor cameras is 1.5x. For Canon, the crop factor is 1.6x.
A larger sensor often means better resolution. The 0.1 crop factor difference between Nikon and Canon may seem insignificant. But since crop sensors are already small, even 0.1 helps your images with a resolution boost.
Smaller sensors also create better "magnification." If you are a sports photographer, you can quickly turn a 100mm telephoto lens into a 150mm with a Nikon and a 160mm with a Canon body.
Nikon vs Canon—Ease of Use
One of the most crucial factors in the Canon vs Nikon debate is usability. Many consider Canon DSLRs easier to handle, while Nikon takes the lead with mirrorless.
It is all about what feels right to you. When most photographers choose their brand, they often do not switch. After all, getting rid of your equipment is not easy after spending so much on it. Think hard about your preferences before investing.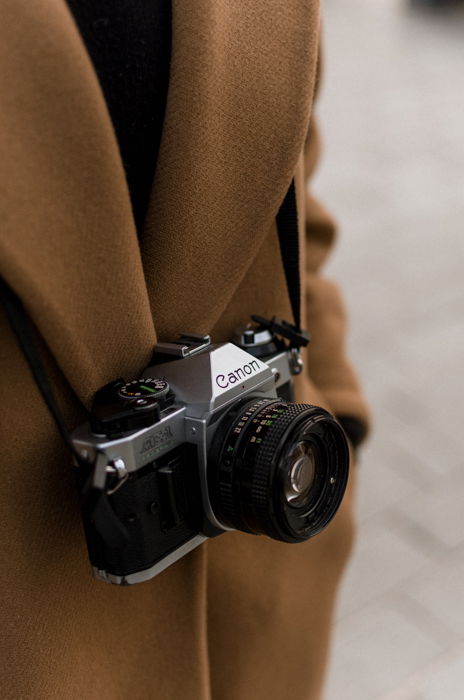 Nikon vs Canon—Which Is the Better DSLR For You?
In this section, we collect cameras from Canon and Nikon for different photography levels and purposes.
Entry-Level DSLRs
When it comes to entry-level DSLRs, Canon has a greater palette. The 4000D, 2000D, and the recently released 250D are great examples of what beginner photographers are looking for.
The 250D can shoot 24 MP images and record 4K videos. Plus, it has a Dual Pixel autofocus system while still being affordable.
Besides the great variety, it is also important to consider how well these camera bodies perform.
Nikon steals this department with the D3500, as it outranks its Canon competitors in almost every area.
It offers a 24 MP image resolution, 60p video recording resolution, and an ISO range of 100 to 25,600. Furthermore, its battery lasts longer (1550 shots). The only drawback is that this body is bigger than its Canon equivalents.
Mid-Range DSLRs
With the current releases of the 90D and 850D, Canon wins this department. They keep improving their mid-range bodies. Nikon only recently came up with two new bodies—the D5600 and D7500. And in Nikon's case, there were no significant updates compared to the previous generations.
Canon's 90D has a 33 MP resolution with a tilting LCD screen, 11 fps continuous shooting, and 45 cross-type focus points. The D7500 only offers 21 MP, 8 fps, and 15 focus points.
It is also worth mentioning that Canon's model includes improved modern features such as a webcam function, focus bracketing, and excellent battery life.
Prosumer DSLRs
This category of Nikon vs Canon is strictly about pro APS-C models and beginner full frame cameras.
Canon has not upgraded its higher-end APS-C model, the 7D Mark II, since its launch in 2014. For this reason, the Nikon D500 easily wins this category.
While Nikon's body offers an ISO range of 100-51,200 (extendable to 102,400 to 1,640,000), Canon sticks to the comfortable ISO 100 to 16,000 (25,600) range. Nikon also has over twice as many focus points as Canon, 99 of which are cross-type. The smaller size and longer battery life are also worth mentioning.
Regarding full frame DSLRs, Canon has the cheapest all-around option, the 6D Mark II. This body was released in 2017 and was a competitor to the universal favorite Nikon D750. But Nikon upgraded the series, coming up with D780 in 2020.
This Nikon camera body outperforms the Canon in every area, from ISO range to video capabilities, image quality, speed, and autofocus accuracy. But there is a catch—the considerable price gap between the two. For this reason, the 6D Mark II remains an affordable and reasonable choice for those looking for a beginner full frame camera.
Top-End DSLRs
In the upper-end full frame cameras, the winner of Nikon vs Canon is not as straightforward. Canon has not upgraded the 5D Mark IV since 2016, while Nikon's D850 is still the market leader.
If we look at the comparison, we can see why Nikon takes the lead here. Nikon's 46 MP (vs Canon's 30 MP), the huge number of focus points (153), its dynamic range, and bracketing capabilities are all determining features.
On the other hand, looking into the absolute best DSLR cameras, a Canon model wins the competition. The Canon 1DX Mark III vs Nikon D6 debate has been going on since the D6's 2020 debut. The general conclusion is that Nikon still does not beat the best Canon DSLR.
While their capabilities are close, the 1DX Mark III still excels in some areas. These include video shooting (5.5K resolution at 120 fps), 20 fps continuous shooting, and built-in GPS.
Nikon vs Canon—Which Is the Better Mirrorless For You?
Entry-Level Mirrorless Cameras
This is the area where Nikon is lacking. There is no real Nikon competitor to Canon's M200.
The M200 is a crop sensor entry-level mirrorless camera. It offers 24 MP resolution, an ISO range from 100 to 25,600, 6 fps continuous shooting, and an internal flash.
It includes several technologies you cannot find in older DSLR cameras. These include built-in Wi-Fi, Bluetooth, and a touchscreen.
Mid-Range Mirrorless Cameras
In this range of Nikon vs Canon, there is tight competition between the Canon EOS M6 Mark II and Nikon Z50.
Both bodies offer an APS-C sensor, an adjustable LCD screen, Bluetooth and Wi-Fi connection, a touchscreen, and webcam function. However, there are some areas where the Z50 wins over the M6 Mark II.
It has significantly more focus points (209 as opposed to Canon's 143). It also has twice as wide an ISO range, a longer flash coverage, and weatherproof sealing.
Top-End Mirrorless Cameras
Like with DSLR top-end cameras, there are different categories in the mirrorless market.
The Canon EOS RP leads the market in the lower end without a real competitor. The Nikon Z6 and Canon R6 compete in the enthusiast full frame mirrorless camera department. The winner here is not so obvious, as the Z6 sensor, handling system, and price are more favorable. On the other hand, the R6 provides better video shooting opportunities and low-light management.
When discussing the best mirrorless camera from these brands, we must mention Canon R5 and Nikon Z7. Here, Canon has a significantly better video and low light management system.
The reason is that Z7 is two years older. Significant improvements in mirrorless cameras have taken place over the past few years.
Nikon is threatening to win both of these categories with the release of Z6 II and Z7 II. Until then, Canon is the camera body to go for if you are looking for the best.
Conclusion
Canon and Nikon are the two most popular digital photography brands. The debate of Nikon vs Canon has been going on for decades and still does not have a consensus.
Both brands have their strengths and weaknesses. Canon is better when it comes to compatibility. But Nikon wins on the mirrorless market.
Our advice is you should not obsess over which brand to choose. Be objective about what you want to achieve in your photography.
Think about your budget and what features you would like to get for it. Hold both cameras in your hand and listen to your instincts. Which one feels better, more natural, more intuitive? The answer is the right camera for you.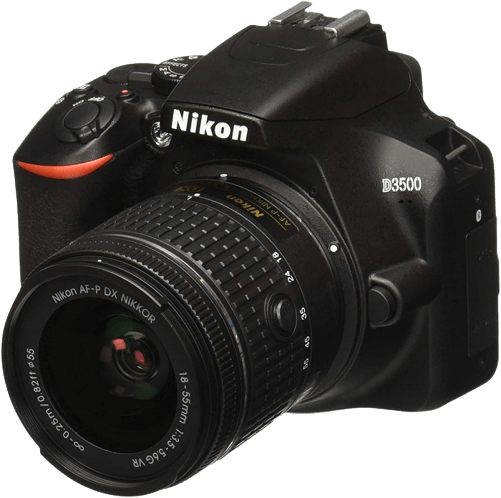 Nikon D3500
If you're comparing Nikon vs Canon, you want a camera that's easy to use and takes beautiful photos. Look no further than this DSLR, perfect for beginners and travel.