Capturing steady and balanced footage while moving the camera is one of the hardest things to do in video making. From big studio movies to art house cinema, filmmakers use camera stabilizers.
If camera shake and unsteady shots are something you want to remedy in your filmmaking, dive into our list of the best camera stabilizers on the market.
[Note: ExpertPhotography is supported by readers. Product links on ExpertPhotography are referral links. If you use one of these and buy something, we make a little bit of money. Need more info? See how it all works here.]
What is a Camera Stabilizer?
A camera stabilizer is a rig that you attach to your camera. It reduces and prevents unwanted movement, stabilizing your camera. It keeps shake to a minimum, giving you smooth video footage.
Mirrorless and DSLR cameras are getting lighter all the time, which is great for handheld photography. You can shoot all day without your arms falling off. But when it comes to shooting video, lighter cameras are more sensitive to movement.
DSLR and mirrorless cameras have excellent video capabilities these days. But when you're shooting handheld video, a lightweight mirrorless camera will pick up the slightest jolt or shake.
These movements are all the worse if you want to do walking or tracking shots. The camera is jerked and jolted with every footfall, making footage unusable. That's why a camera stabilizer is so important.
Camera stabilizers work by counteracting the camera's weight. Every stabilizer is designed for cameras in specific weight categories. You'll need to keep this in mind when purchasing a camera stabilizer.
Camera Stabilizer vs Gimbal
When talking about camera stabilizers and gimbals, things can get confusing. It's easy to confuse one with the other. And sometimes, people use them as synonyms. There is some overlap, but they are not the same thing.
A gimbal stabilizer is a camera mount that pivots, allowing the camera to rotate on a single axis. The gimbal keeps the camera balanced and counteracts any unwanted camera movements.
Gimbals use motors to counteract the movement of the camera. And the camera is often held in a floating position. Stabilizers are purely mechanical, meaning you don't have to worry about battery life or charging.
To complicate matters, some camera stabilizers use 3-axis gimbal technology. So there's no wonder why people get confused between the two.
Some of the stabilizers we'll be looking at have gimbal features, but we'll be sticking to mechanical stabilizers in this list.
15 Best Camera Stabilizers in 2022
Before you buy anything, think about the equipment you already have. Are you using a mirrorless or DSLR camera? What is the weight of your camera? And what is your budget?
We hope to cover all the bases in this list, so here are our top picks for the best camera stabilizers in 2022.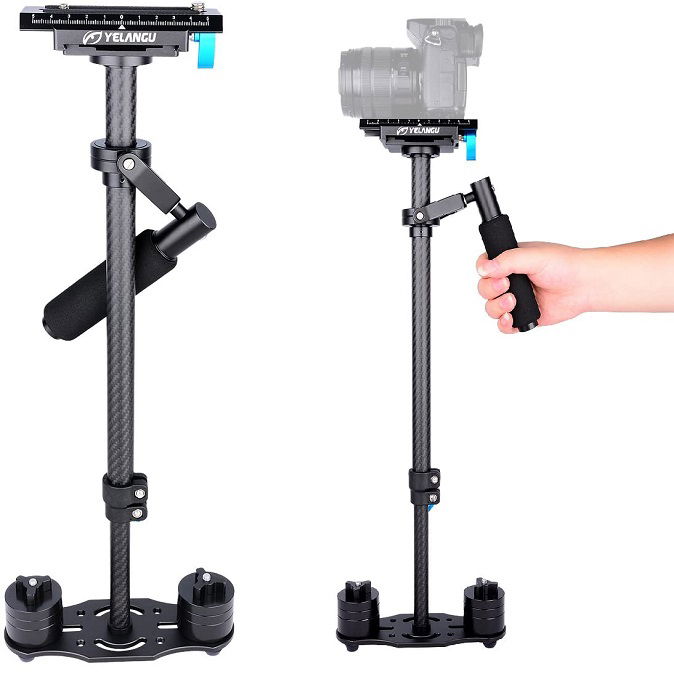 The Yelangu S60T is a simple yet highly effective camera stabilizer. It has an uncomplicated design that achieves a level of stability not found in some more complex models.
The body is made of carbon fiber. It weighs 800g and can support a DSLR camera weighing up to 2.5kg. The central bar is telescopic, so you can easily adjust the length for comfort and balance.
It's comprised of two connection arms and one arm for shock absorption. You can attach it to a stabilization vest if you have one. But it produces good results when used on its own.
The Yelangu S60T keeps your camera steady for a reasonable price. It's simple, effective, and excellent value for money.
The Glidecam HD-Pro isn't exactly a budget option, but it is one of the best handheld stabilizers for mirrorless and DSLR cameras right now. It's professional-grade gear with a professional-grade price tag.
You get a heavy-duty frame with all stainless steel hardware. It's solid, durable, and can hold a weight of up to 4.5kg. That'll hold top-quality DSLRs and mirrorless cameras without issue. And the dovetail quick-release camera plate makes mounting your camera a breeze.
The Glidecam HD-Pro has a 3-axis handheld design. You can adjust the central post for extra length. And the base platform can expand or contract, allowing you to adjust the dynamic balance. The set includes 16 counterweights, which you attach to the base plate.
The weight of the HD-Pro is a bit of a problem. Unloaded, it weighs 3.6kg. With a DSLR attached, that can be a heavy burden if you're shooting all day. The weight and the price place the Glidecam HD-Pro firmly in the professional category.
The FLYCAM Redking stabilizer is a solid piece of equipment. And it has some excellent features that make it one of the best stabilizers you can buy. It isn't the cheapest, but it is good value.
It's a handheld stabilizer with an aluminum frame. There are X-Y adjustments for horizontal balancing. And there's a dovetail quick-release plate for rapid mounting and dismounting your camera.
The telescopic central shaft makes vertical balancing faster and easier. You get the weight disks at the bottom for precise counterbalancing. And the head has a 3-axis gimbal for 360° panning.
It's a sturdy handheld stabilizer, holding a camera up to 5kg in weight. That's easily enough for professional-level DSLR cameras and smaller video cameras.
The main problem is the weight. The unit weighs 7kg without a camera. So when you mount up your shooter, single-handed operations are practically impossible.
The CAME-TV P06 is one of the best handheld stabilizers on the market. It's lightweight and compact. And it works fantastically well for a piece of kit in this price range.
The body is made of carbon fiber, and the unit weight is only 1.65kg. It's strong too, being able to carry a load of 2.8kg. That's enough for most DSLR and mirrorless cameras.
You have a quick-release camera plate, so you waste no time mounting or dismounting your camera. It comes with six counterweights, which have a combined weight of 680g. When all the weights are attached, they also act as legs for the stabilizer.
You can adjust the length of the central rod, giving you a range from 35 to 47.5cm. And balancing your camera is easy with the main padded handle. It's incredibly easy to use, allowing you to respond to the camera's movements.
The Glidecam XR-Pro, much like the HD-Pro, is a serious piece of camera equipment. It has a strong frame and sturdy composition. But the XR-Pro is more geared towards larger video cameras.
The foam handle is comfortable and gives you a good range of motion. And the head has a 3-axis gimbal, giving you smoother footage than most other handheld stabilizers.
The central post is telescopic, ranging from 35 to 63.5cm. The variation in length is excellent for finding the precise balance. And you get 16 weights for the base plate to counteract the weight of your camera.
Like the HD-Pro, the Glidecam XR-Pro is heavy. It weighs 3.5kg without a camera attached. If you're shooting for long periods, your arms are going to know about it.
Steadicam is one of the biggest names in the stabilization game. Their name has become synonymous with camera stabilizers. And their Merlin 2 video stabilizer is worth considering if you're a budding filmmaker.
The Merlin 2 has a unique structure that offers light and agile video shooting. The rubber-padded handle sits directly below the camera, giving you excellent control.
It can support DSLR and mirrorless cameras, any model weighing between 230g to 2.3kg. You can adjust the counterweights for precise balancing. But we found it easier to balance with cameras on the heavier side of the spectrum.
The stabilizer itself weighs 3.5kg. For one-handed operation, that is hefty. After a long day of shooting, some camera operators will feel that in their arms. Another downside is the price. It's expensive for a non-motorized stabilizer.
Neewer is making a name for themselves as a mid-range competitor in photography gear. And this camera stabilizer is a perfect example. It has a solid build quality and offers good value for money.
The main part of the frame is made of carbon fiber. And it's lightweight at only 2kg. The structure gives you excellent support, and it can hold a camera weighing up to 3kg. The head plate has a quick shoe adaptor for quick mounting and dismounting of your camera.
The central shaft is telescopic, which you can extend from 38 to 61cm. This range helps with usability and balance. You also have the weights for the base plate for counterbalancing your camera.
The Neewer handheld stabilizer is designed for top-level DSLR cameras. Mirrorless cameras are compatible if they have the correct screw adaptor.
This stabilizer offers excellent value for money. It's a budget option for camera stabilization. But we think it out-performs its modest price tag.
The Sutefoto S40 is one of the smaller handheld stabilizers on our list. But size isn't everything. And if you need a smaller stabilizer, it's a good option for lighter cameras.
The S40 has aluminum construction, with a weight of 2.2kg. It gives you a sturdy platform to work with. And despite having a lower weight capacity than others on this list, it has a max load of 1.5kg. That's enough for a top DSLR camera.
The head has a quick release plate for time-saving mounting and dismounting. And it gives you 360° Omni-directional shooting. It's perfect for high and low-angle tracking shots.
The central pole can be extended from 30cm to 40cm, allowing for speedy camera balance. And the six removable counterweights allow for more precision when balancing the camera.
The Sutefoto S40 is a versatile unit, perfect for handheld shooting. It's a compact stabilizer at a reasonable price. If you need something smaller, the S40 could be the one for you.
The Roxant Pro has an unorthodox design. But it works well as a single-handed camera stabilizer for shooting video.
When attached, the padded handle sits directly below the camera, with the counterweights connected below. This design gives you excellent control over what you're shooting.
It's designed for smaller cameras and compatible with smartphones, GoPros, DSLR, and mirrorless cameras. The weight limit is only 1kg, so you are limited to lighter cameras.
The unit weight is just over 1kg, so you can shoot for long periods without fatigue. The counterweight system is simple, so you can have the whole thing balanced in a couple of minutes.
The Roxant Pro is limited, and it's certainly not for professional videographers. But amateur filmmakers can get good use out of it. And buying one won't set you back much.
The Ivation Pro Steady Video Rig is slightly different from the others on this list. It's not a handheld stabilizer that uses weights to counterbalance. Rather, it's a frame that uses your body for stabilization.
The rig weighs 2.5kg with no camera attached. And it has a weight capacity of 3kg. You don't need to worry about the combined weight when using it. You'll be using both hands, and you have the shoulder support for extra stability.
It's capable of holding top-level mirrorless and DSLRs, as well as camcorders. Camera weight won't be a problem. And the camera plate has a simple and versatile attachment.
This piece of equipment is fairly conspicuous. You won't go unnoticed when you're using it. But if you're filming for a long time, the Ivation Pro Steady will give you smooth footage without the fear of fatigue.
The CAMVATE Camera Cage is another way to support cameras when shooting video. Like the Pro Steady Rig, the CAMVATE Camera Cage doesn't use a counterbalance to stabilize.
You get a frame that you can screw your camera into. It's compatible with the main models from Nikon, Canon, and Sony. The frame securely holds the camera in place, and you have a handle above to hold and control the unit. There's a wooden handle on the side for extra control.
Unloaded, the cage only weighs 370g. That's lightweight, even when your camera is mounted, so you'll be able to shoot for hours. The cage segments are aluminum, so it's a solid rig.
This kind of stabilization system is more sensitive to bigger jolts and shakes. It won't eliminate them completely. But it'll vastly improve your footage if you're going from purely handheld shots.
With the Autopilot stabilizer, we return to a more traditional design. It's a heavy-duty piece of equipment. And it's a good alternative to motorized stabilizers and gimbals for smooth video with your action camera.
This mechanical stabilizer is made of black aluminum, giving you a solid foundation to work with. At 2.4kg, the weight is noticeable, but it can hold a camera weighing up to 2.7kg.
The AutoPilot stabilizer uses a 3-axis gimbal for increased stability. The gimbal bearing absorbs unwanted camera movements or shake. The motion bearings have a smooth action, and the padded handle gives you comfort and control.
The Autopilot is on the heavier side when it comes to handheld camera stabilizers. But you'll find the price is quite reasonable for the build quality.
The Dazzne S40 is another handheld stabilizer worth considering, especially if you're on a tight budget.
The main body is aluminum alloy and weighs less than 1kg. The central rod is adjustable, giving you a range from 26 to 38.5cm. And the head has a quick release plate for easy mounting and dismounting.
The headpiece uses a gimbal bearing, which gives you 360° stable shooting. And the ergonomically designed handle gives you freedom and control when shooting video.
It can hold a camera up to 1.5kg. That's sufficient for most top-brand digital cameras. And you get a carry case for ease of transportation.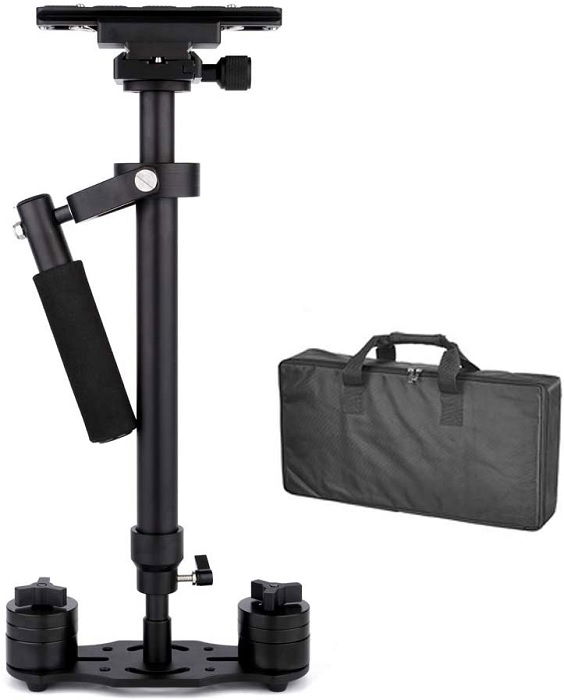 The Luhappy is a budget-option handheld camera stabilizer. It's simple and easy to use. And you get a case for transportation.
The frame is made of aluminum alloy, which is lightweight and durable. The central pole is telescopic, so you can adjust it from 40cm to 60cm. And all the joints have high-precision, low-friction bearings for smooth movements.
The stabilizer weighs 1.9kg and has an impressive weight capacity of 3kg. You can extend the pole and apply the attachable counterweights for a precise balance once the camera is mounted.
The Luhappy stabilizer is a budget option. It's a great way to get started shooting video with a stabilizer. But if you're more experienced, you should stretch your budget a little further.
The final option on the list is a basic yet surprisingly efficient camera stabilizer. The Zeadio Handle Grip gives you a sense of control and smooth footage. And it's a budget option too.
You can use the handle with Mirrorless or DSLRs. And you can also attach flashes and monitors using the hotshoe connector.
The handle is lightweight, weighing only 344g. And it gives you great mobility for low-angle shots. It's perfect for sports photography, especially skateboarding and biking.
The handle is the only thing between you and your camera, so the handle grip doesn't remove all unwanted movements. But it does effectively reduce camera shake when you're filming. It's a simple solution for amateur shoots, and it won't cost you much.
Conclusion
When it comes to mechanical stabilizers, there are many different options. And there are a few things you need to consider. But once you know what you need and why you need it, you're ready to purchase.
Camera stabilizers are a vital part of filmmaking. If you're working on a professional commission or making home movies, you want your footage to be smooth and shake-free.
As you can see from our list, there are different options to choose from, even if you're on a tight budget. I hope you've found what you needed from our list of the best camera stabilizers available today.
Check out our Photography for Beginners course for a fun and easy way to get magazine-quality photos!