The basic function of a camera gimbal is to smooth out a camera's movements. Doing so makes video footage looks more professional. I have a couple of smartphone gimbals. And my DJI OM-5 lets me capture supersmooth behind-the-scenes video clips on location.
However, the models in this review are even better. They can handle APS-C, full frame, and cinema cameras. And some versatile gimbals work with all devices, including smartphones, GoPros, and video cameras.
DJI is the leading manufacturer of gimbals. Others are Zhiyun, Moza (professional and consumer), and FeiyuTech. Our top pick is one of the market leaders. It offers easy control, good battery life, and a large maximum payload.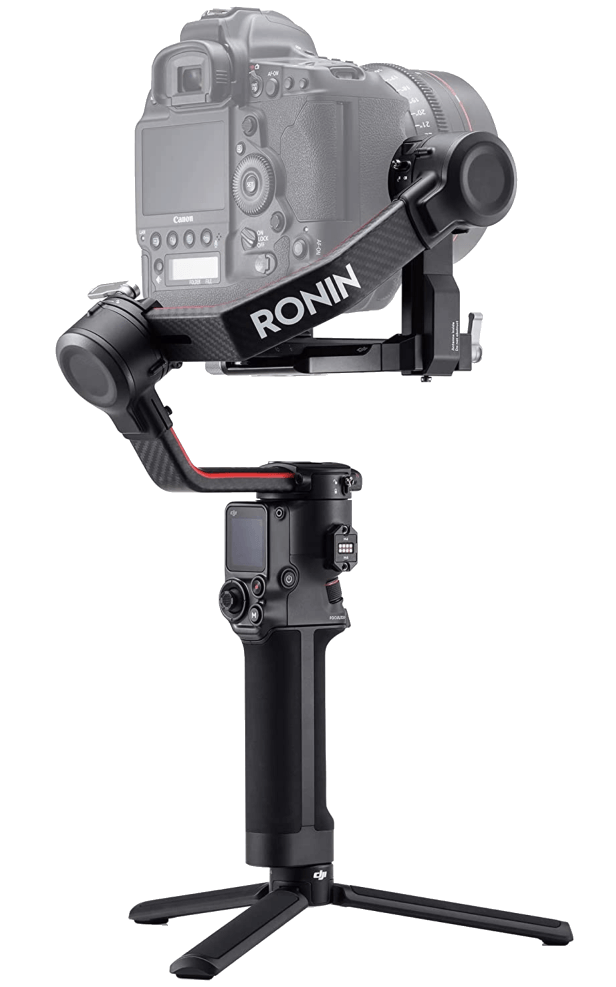 DJI RS 2 Gimbal Stabilizer
It's not cheap. But this gimbal deserves its great reputation for delivering smooth performance for everyday use.
Buy from Amazon
[Note: ExpertPhotography is supported by readers. Product links on ExpertPhotography are referral links. If you use one of these and buy something, we make a little bit of money. Need more info? See how it all works here.]
What Is the Best Camera Gimbal to Buy?
Before we look at the gimbals we've chosen in detail, here is a summary of our recommendations.
Now let's take a closer look at the gimbals, starting with our top pick.
1. DJI RS 2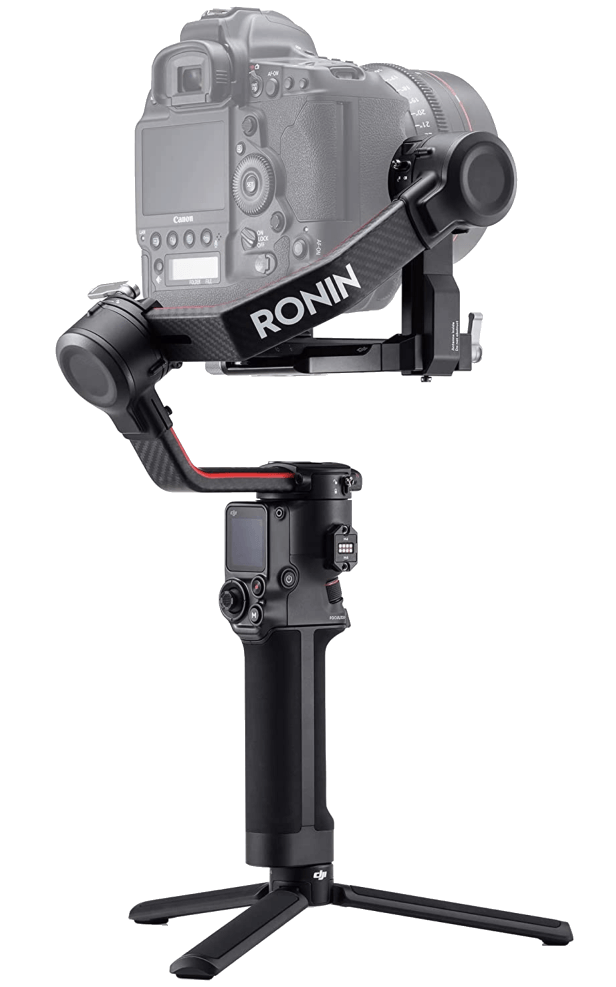 Screen
1.4-inch color touchscreen
Best For
Hardworking, demanding professionals
The DJI RS 2 (or Ronin S 2) replaces the original Ronin S, which came out in 2018 and became very popular. And there are more features than on the RSC 2.
It's a heavy-duty, professional gimbal. So it can handle cameras up to 10 lb (4.5 kg). That means it can handle almost all but the largest cinema cameras.
It measures 16.1 x 10.2 x 7.7″ (410 x 260 x 195 mm). But with new carbon fiber arms, it weighs only 2.9 lbs (1.3 kg) with a handlebar.
The build quality is excellent. DJI designed the gimbal so the arms don't obstruct the lens.
You can adjust the sliding plate and the roll motor. So there's plenty of clearance at the back. It also offers excellent image stabilization due to the updated Titan Stabilization algorithm.
The tripod also doubles as a grip for low-angle shots. But if you then want to put the gimbal down, you have to unscrew the grip. Then you have to reattach it underneath so it works as a tripod again.
Camera Stabilizer Controls
You operate the device using the horizontal scroll and focus wheel and the trigger, record, and function buttons. And everything is made easier with the full-color 1.4″ LCD monitor.
This means you don't have to bother with the smartphone app to swap modes or change settings. You can switch between Panorama, Time-Lapse, Time Tunnel, and Track modes. Or you change the tilt or follow speed or set the gimbal to do 360-degree rolls.
Using an HDMI cable, you can also attach the Ronin RavenEye Image Transmission System to your camera. And you can connect to your smartphone using Wi-Fi. These enable the ActiveTrack 3.0 feature and live monitor on the RavenEye touchscreen and your smartphone.
Battery and Accessories
The battery life of 12 hours is excellent. Although, 6-8 hours is probably a more realistic expectation.
The RS 2's battery isn't built-in. That means you can keep a few spares in your camera bag. And you don't have to buy a whole new gimbal when it gets to the end of its life.
There are three USB-C ports and NATO rails on the sides. The latter is for attachments such as smartphone grips or handles. Just be warned that the optional extras can be quite expensive!
2. DJI RSC 2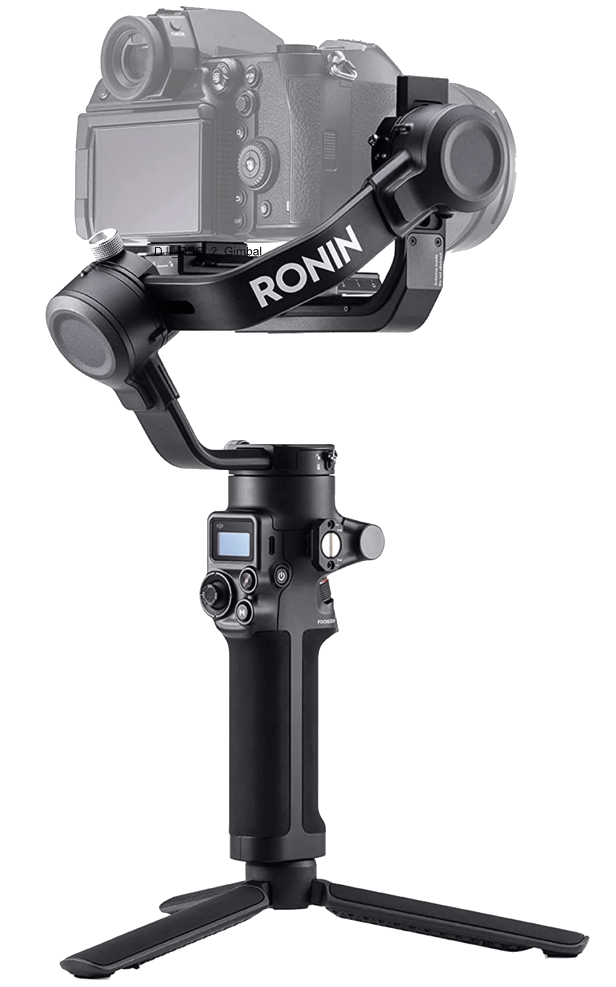 Screen
1-inch OLED screen
Best For
Being used all day on long shoots
The DJI RSC 2 (or Ronin SC 2) is an updated version of the Ronin SC. It has a unique "break-apart" design with an optional tripod mount. So it folds up to 10.2 x 8.3 x 3″ (26 x 21 x 7.5 cm).
It weighs 2.9 lb (1.3 kg) with the camera plate. And it can handle cameras up to 6.6 lb (3 kg).
It has a small OLED that lets you see the shooting mode, battery life, and other settings. But it doesn't have touchscreen functionality.
The battery life of 14 hours is excellent. That's three more hours than the previous model.
Charging is via a USB-C cable, so there's no replaceable battery. That's either a plus or a minus, depending on your workflow. You'll either like using one cable to charge all your devices. Or you'll miss being able to carry spare batteries with you!
There are several operating modes. It has Lock, Pan, Pan Follow, SmoothTrack, Sport, and Tilt Follow.
One cool feature is the ability to program three different memory modes. So you can easily switch between them on the fly.
3. Zhiyun Weebill 2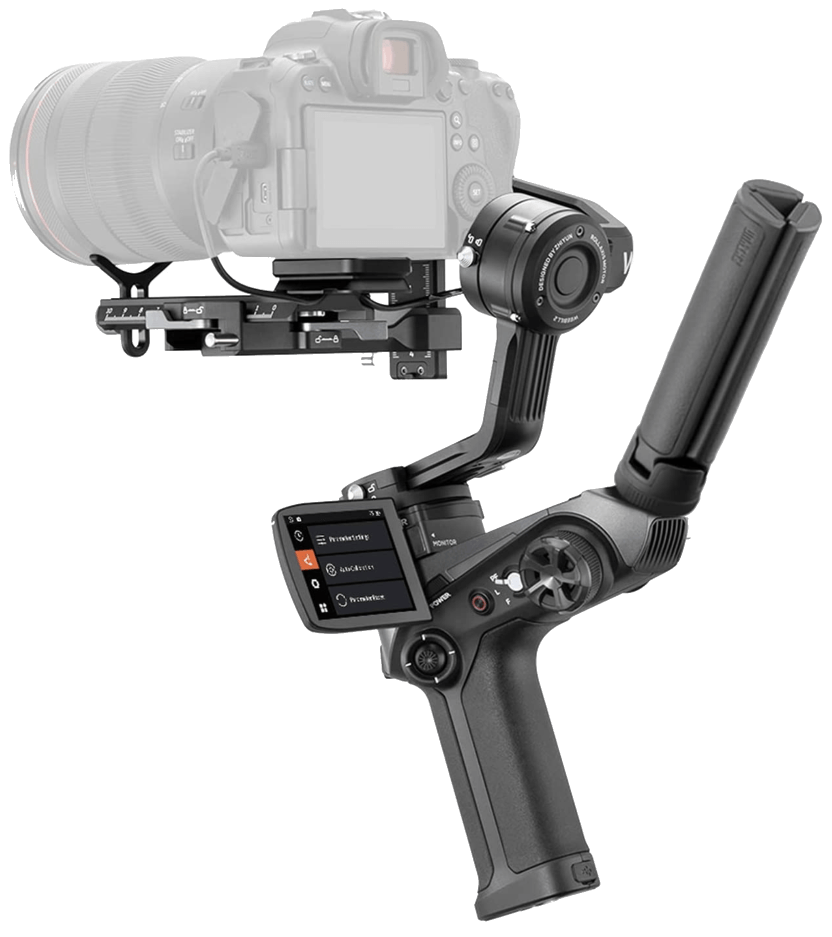 Screen
2.8-inch color touchscreen
Best For
Easy menu access via the large screen
The Zhiyun Weebill 2 is an update to the Weebill-S. It works with APS-C, Micro Four Thirds, and full frame mirrorless cameras up to 7.3 lb (3.3 kg). It weighs 3.2 lb (1.5 kg) and measures 12.6 x 2.4 x 8.9″ (32 x 6.1 x 22.6 cm).
Its major selling point is the 2.8″ flip-out, color LCD touch screen. It helps make setup and menu navigation much easier.
The Weebill 2 can manage up to nine hours of shooting. But there's no rechargeable battery. So you have to recharge via USB-C or run your gimbal on USB power.
Attaching and Calibrating
You can't use Arca-Swiss compatible plates. So you need to attach your camera to the Zhiyun mounting plate. There's an Allen key and hex wrench to tighten the screws. This isn't as convenient as using thumb screws. But you do get a more secure fit.
The plate then slides into the gimbal. And you move it back and forth until it's perfectly balanced using the distance scale.
You can then lock the lever in position. And you repeat the process for the vertical mounting arm and roll axis. This isn't the easiest thing in the world. So you might need to use the visual indicators on the LCD to help you!
Camera Stabilizer Controls and Modes
There are USB-C and micro USB cables to attach your camera to the gimbal. Camera control works with all the main brands—Nikon, Canon, Sony, Panasonic, Olympus, Sigma, and Blackmagic.
Apart from the trigger on the front, all the other controls are on the left side of the handle. This includes a power or sleep button, joystick, and record button.
It also has a control wheel (for aperture, shutter speed, and focus). And a toggle switch lets you flip between the three main stabilization modes—Pan Follow, Low, and Follow.
Available Bundles
The only problem with the Weebill 2's design is that you can't fold it up to make storage easier. So it won't fit in all camera backpacks.
If that's the case, you can always buy the Combo bundle. It includes a case and a quick-release sling grip for low-angle shots.
You get everything in the combo if you upgrade to the Pro edition. It also includes the following:
A wireless video transmission kit to view video from your camera on the gimbal's LCD
A Follow Focus motor to lock the gimbal on target while tracking your subject on the built-in display
Finally, you can buy a MasterEye VC100 video monitor to monitor and control your camera wirelessly. This display boasts a 5.5″ display with high brightness and integrated controls to adjust gimbal tilt and other settings.
4. Zhiyun Weebill-S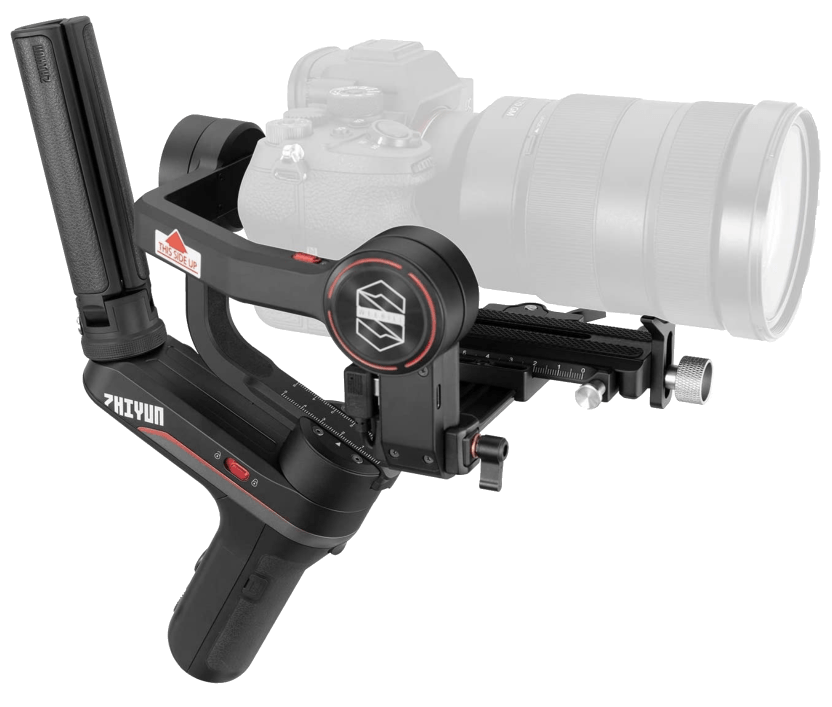 Screen
2.8-inch color touchscreen
Best For
Easy portability
The Zhiyun Weebill-S weighs only 2 lb (0.9 kg) and measures only 11.8 x 7.5 x 5.5″ (30 x 19 x 14 cm). However, it has a maximum payload of 6.6 lb (3 kg) and a battery life of 14 hours.
It's suitable for most mirrorless and DSLR cameras. It can easily handle the weight of a typical 24-70 mm zoom lens. The 2-in-1 release plate is compatible with the Manfrotto RC2 tripod and Arca-Swiss heads.
Camera Stabilizer Controls and Modes
There's a ZY Play smartphone app. It lets you adjust settings, control the gimbal, and upgrade the firmware. However, it's not very user-friendly.
You're better off using the handle and OLED to control motor strength and follow speed, enter key customization, and monitor smoothness and unresponsiveness.
The stabilization is not as rock-solid as other Zhiyun gimbals. And it takes a bit of time to know what works best. However, there are six shooting modes, including Follow, Pan Follow, and Lock.
There are also these three modes:
Go: for faster action
POV: for dynamic shots
Vortex: for 360-degree rolls
5. Zhiyun Crane 3S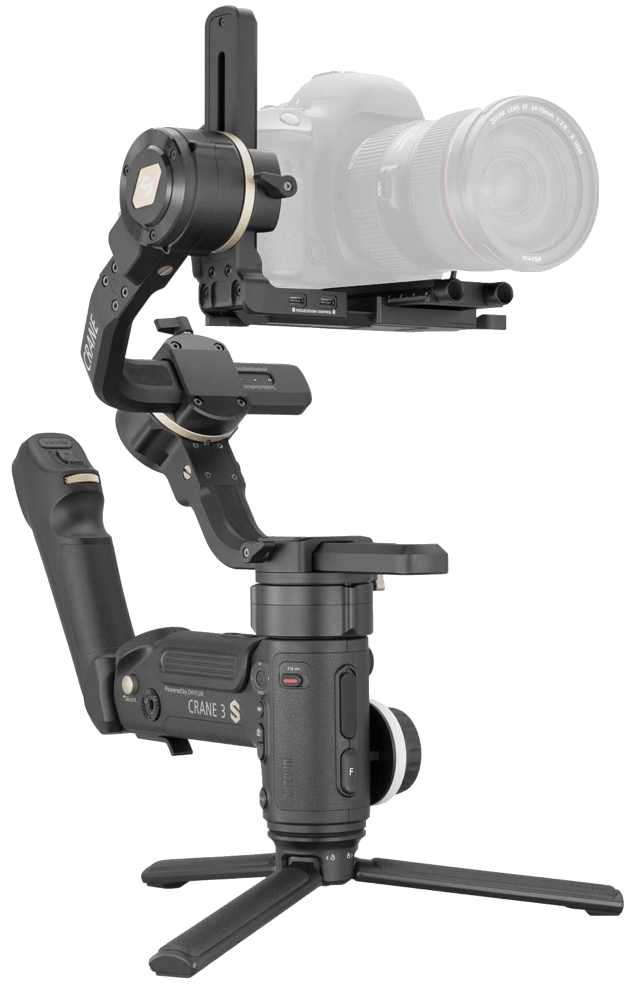 Best For
Heavy dedicated video cameras
The Zhiyun Crane 3S handles the heaviest camcorders and cinema cameras up to 14.3 lb (6.5 kg) without a rig or a vest. The ergonomics are good. There's a large adjustment wheel and SmartSling handle (with duplicate controls and a tiny OLED screen).
However, the whole thing measures 13.6 x 13.5 x 3.9″ (34.6 x 34.4 x 9.8 cm). And it weighs 5.5 lb (2.5 kg). That makes it too big for a mirrorless camera or DSLR.
It's not as expensive as you might think for a heavy-duty gimbal stabilizer. But it's not built out of carbon fiber to save weight. And it doesn't offer touchscreen operation.
It doesn't offer much more than the power of its motors and an app. But it has a 12-hour battery life. Or 18 hours with the PowerPlus battery.
Camera Stabilizer Controls and Modes
There are many switches and controls. But they're well positioned. They include power and lock switches, a record button, and a joystick. Plus these others:
A focus wheel
A function (F) button to re-center the camera or switch to Selfie mode
A Point of View (POV) button for dynamic shots
It comes with fairly standard shooting modes:
Follow: pan and tilt following the stabilizer
Go: for action and sports
Pan Follow: for left and right movement with tilt and roll locked
POV: to capture dynamic scenes
Vortex: for spinning shots like Inception mode
6. Feiyu G6 Max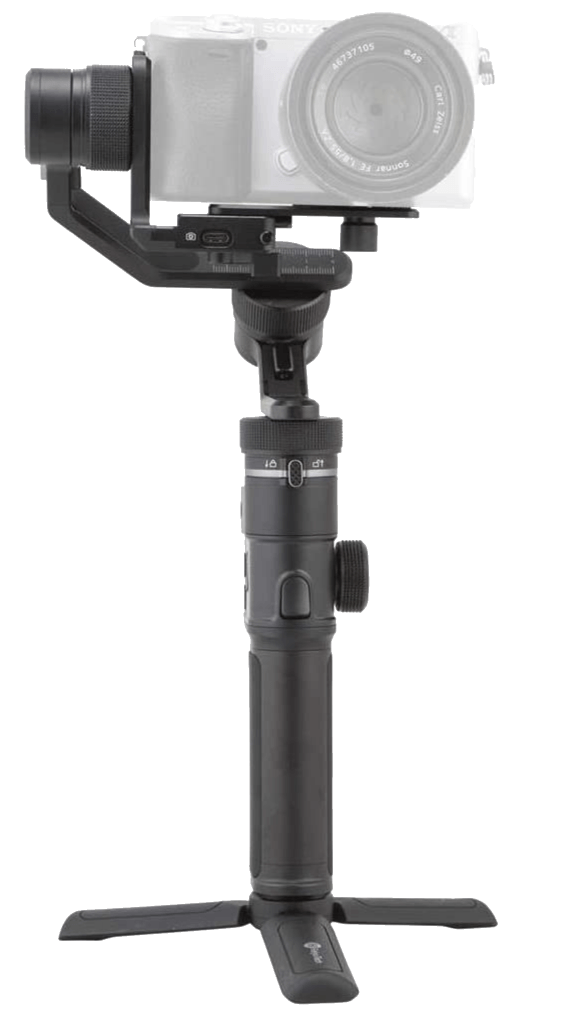 Best For
Light cameras and short sessions
The G6 Max is an upgraded version of the G6 Plus. And it folds up to 11.8 x 7.9 x 3.2″ (30 x 20 x 8.2 cm).
It's a super lightweight, versatile gimbal that weighs only 1.5 lb (0.7 kg). This makes it ideal for vlogging.
The maximum payload is 2.64 lb (1.2 kg). And the hybrid design fits smartphones, GoPros, Micro Four Thirds, or APS-C cameras such as the Sony a6000 and a6300.
The motors are powerful enough to handle lighter full frame cameras. It can easily handle the mirrorless Sony Alpha 7 III with a small zoom such as the 28-70mm kit lens. However, you can't use Inception mode with a camera that large. It catches on the gimbal as it's rotating.
Camera Stabilizer Controls and Modes
A "Magic Focus Ring" controls focus, zoom, and tilt functions. You can monitor everything on the small OLED screen. This shows specifications, working modes, Bluetooth and Wi-Fi connections, camera info, and battery life.
The trigger also allows you to carry out a few basic functions. You can double-tap it to get started. And then triple-tap it to go into Selfie mode.
There are four different modes:
All Follow: allows you to pan, tilt, and roll the camera
Axis Lock: locks all axes so the camera always points in the same direction
Horizontal Follow: locks the tilt axis to pan the camera without any vertical wobble
Tilt Follow: lets you use the pan and the tilt options
Connectivity and Storage
There are two threaded ports on either side of the gimbal. It allows you to attach a monitor or smartphone. And it has a USB-C charging port. The battery life is around three hours.
It comes in a foam case with a tripod base, smartphone clamp, and the standard grip. Plus, a couple of cables that attach your camera to the gimbal.
There's also a useful lock switch. It lets you secure the gimbal's range of movement in all three axes for storage or transportation.
7. Feiyu SCORP C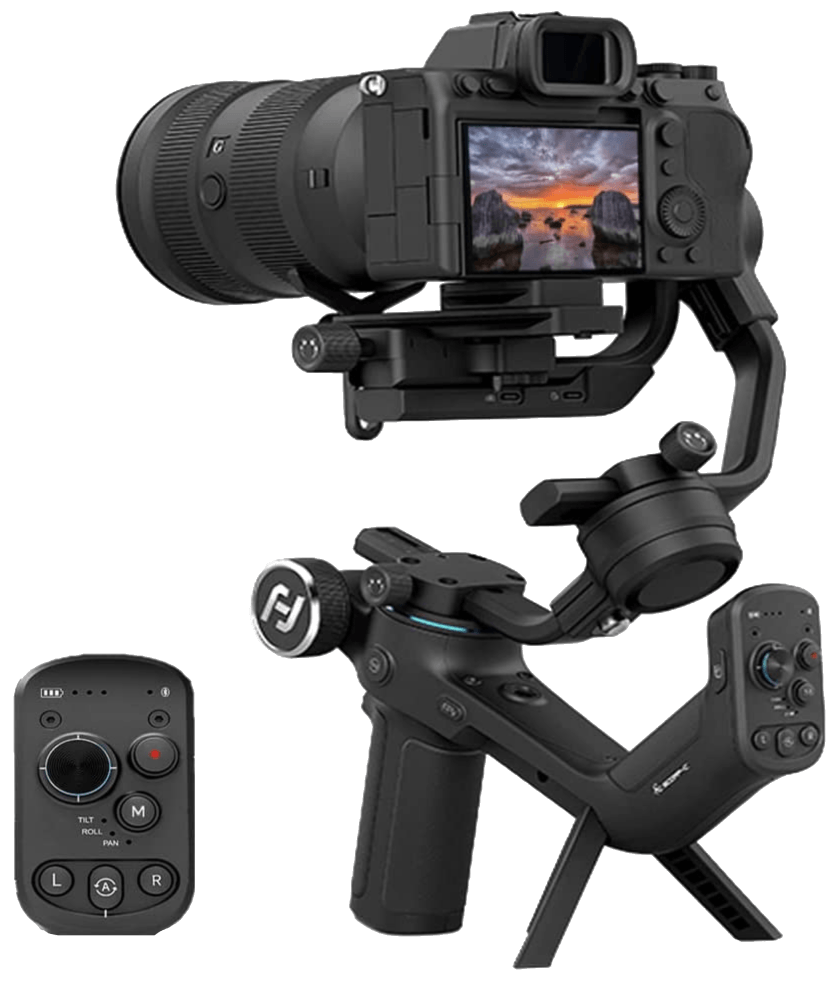 Best For
Medium-sized cameras
The Feiyu Scorp C is a motorized three-axis gimbal stabilizer. It weighs 2.5 lb (1.1 kg) and can hold up to 5 lb (2.2 kg).
Feiyu designed it for mid-size camera systems. It works with the Canon EOS R Series, the Fujifilm X-T4, the Nikon Z6 or Z7, and the Sony a7 III with a standard zoom or prime lens.
The aluminum alloy construction makes it fairly light and portable. It folds up to 2.7 x 8.1 x 13.6″ (7 x 21 x 35 cm).
It's solid and easy to set up as long as you follow the instructions. And it has a versatile design.
The folding tripod legs can also act as an extended handle. It can be moved to the side and turned horizontally if necessary.
Camera Stabilizer Controls and Presets
You can control the gimbal using the buttons, joystick, or OLED touchscreen. Or the trigger when it's attached to the camera by cable. That means there's no need for a smartphone app.
There are also handy locking switches for each axis to avoid movement or damage in transit. And a numbered scale on each arm helps you remember the correct settings.
Finally, a W7 algorithm powers the gimbal for preset shooting modes. They are time-lapse, 360-degree panning, selfie vlogging, and vertical shooting.
Accessories
You can also buy various accessories:
A portrait expansion plate
A monopod
A handle
A wireless microphone
A multi-function bracket
An extension bar
8. Moza Air 2S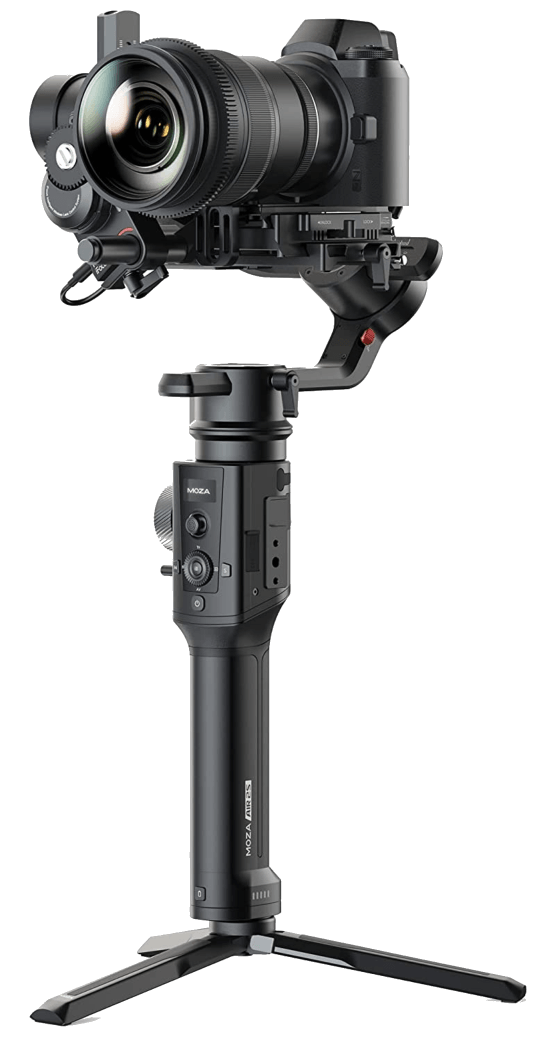 Best For
Precise movement control using the handwheel
The Moza Air 2S is an upgraded version of the Air 2. Moza designed it to hold both mirrorless and DSLR cameras.
It offers excellent value for money. And it boasts a 20-hour battery life after two hours of charging.
It weighs 4.2 lb (1.9 kg) and measures 20.6 x 12.3 x 5.1″ (47.8 x 20.6 x 18.4 cm). And it has a payload of 9.3 lb (4.2 kg). But the build quality is average.
It has various accessories, including a quick-release plate and tripod. And you can buy optional extras such as a hot shoe mount, microphones, auxiliary lights, sliders, and monitors. And it has a three-axis lock design for secure storage.
Camera Stabilizer Controls and Modes
It features AI-assisted auto-tuning, saved profile settings, and one-step balancing. All of these make it quick and easy to set up. But the software is not very sophisticated.
You can also use Object Tracking and Mimic Motion Control to mirror your smartphone's movement!
The unique selling point of the Air 2S is the Smart Micro Handwheel. It lets you control pan, tilt, zoom, lens focus, and follow focus. These are more precise than on most gimbals.
There are three shooting modes. There are Inception and FPV modes like the previous Moza Aircross 2. And there is a Sport Gear mode to capture fast movements.
9. Zhiyun Crane M3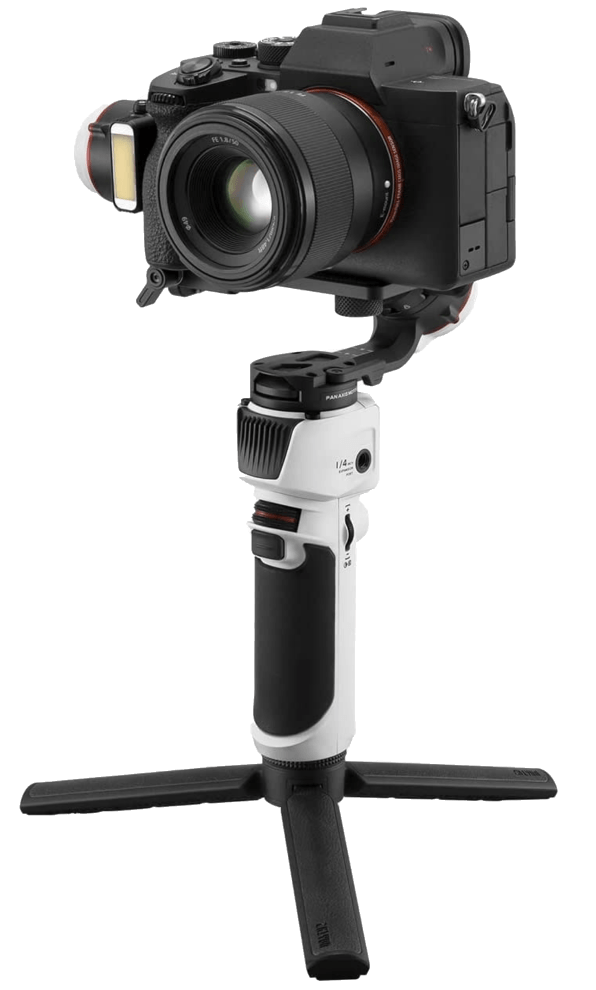 Best For
Smartphones and and mirrorless cameras
The Zhiyun Crane M3 is a compact smartphone, GoPro, and camera gimbal. It measures at only 11 x 6.2 x 3″ (28 x 15.7 x 7.5 cm) and weighs 1.5 lb (0.7 kg).
The payload is only 3.3 lb (1.5 kg). But it can still take an APS-C camera or even full frame mirrorless cameras like the Sony a7R IV with a standard or wide-angle camera lens.
There are also a few packages and optional extras available:
The Combo package includes a smartphone adapter
The Pro package includes a travel backpack, shotgun mic, and expansion base
The wireless image transmission module lets you send images to your smartphone or another connected device
There are a few downsides to its small size. The gimbal's range of movement is restricted with larger cameras.
And the stabilization performance is not quite as good. That means you should switch on image stabilization if you have them. (This is VR/IS on your lens and IBIS on your camera.)
What to Look for in Gimbals
When choosing a handheld stabilizer, you should check its size, weight, and maximum payload. That means finding out how portable it is and whether it works with your devices.
Beyond that, it's a question of usability:
Is it easy to set up?
Does it have convenient controls?
Does it have an LCD or a touch screen?
Most gimbals offer similar features and shooting modes. Three-axis stabilization using brushless motors is now standard.
So you always have the option to "lock" or "follow" with each axis. That means either subject tracking or having the freedom to pan, tilt, or roll the camera without any restrictions.
One novelty is Inception mode. This lets you roll the camera 180 or 360 degrees without worrying about using the manual joystick. And there are also plenty of others depending on the brand and the model.
Conclusion
Smartphones are good enough to take 4K video clips these days. But if you upgrade to a mirrorless camera or DSLR to shoot video, it's best to invest in a camera gimbal. It adds a smooth, professional look to your footage.
The best camera gimbals (camera stabilizers) on our list are the DJI RS 2 and the RSC 2. They're both around the same size. But the RS 2 has a higher payload and more features.
But the one you choose depends on your budget and the size and weight of your camera. I favor the DJI RS 2 and RSC 2 for their build quality, LCD screens, and portable, lightweight design. However, there are plenty of other options to choose from if you want a hybrid model that fits any device.
Our top pick is perfect for everyday use by someone needing excellent performance and reliability.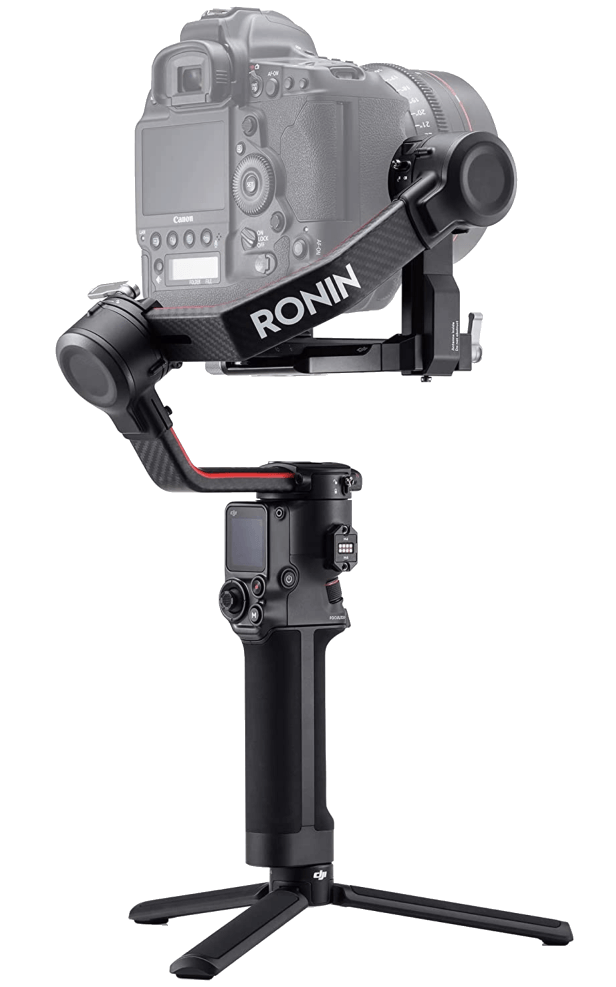 DJI RS 2 Gimbal Stabilizer
It's not cheap. But this gimbal deserves its great reputation for delivering smooth performance for everyday use.
Buy from Amazon