You can use the best camcorder to record special moments, create vlogs, and make movies. The best camcorders should have excellent video resolution and a fast frame rate. They need to be conveniently sized. And they should have extra features that enhance your video recording.
The Canon VIXIA HF G70 is the best camcorder right now. It's one of the latest models from Canon. You can record in stunning 4K with a 30 fps frame rate. There's a 20x optical zoom, and you can use it for live streaming. It's the total package for video makers.
What Is the Best Camcorder?
The camcorder market isn't what it used to be. Many filmmakers, vloggers, and live streamers have turned to DSLR and mirrorless cameras for their video recording capabilities. But some users still want a dedicated camcorder. And thankfully for those people, there are still some fantastic camcorders available.
Canon, Sony, and Panasonic are still producing dedicated camcorders. And they have camcorders for beginners, professionals, and enthusiastic amateurs. They're all featured on our list. And we have some lesser-known brands with some cheap and cheerful options.
All the camcorders on our list record in Full HD or 4K (Ultra HD). That's good enough for most filmmakers. And whether you're shooting family holiday videos or content for social media, a camcorder still delivers the goods.
Here's an overview of our list of the best camcorders. We look at each camcorder in more detail in the section below. And there's an FAQ section at the end if you need more help finding the best camcorder.
8 Best Camcorders
These are the best camcorders available right now. You don't have the widest selection. But that's because the camcorder market has shrunk over the last few years. But the options still available are terrific video cameras for vacations, vlogs, and professional movie-making.
The Canon VIXIA HF G70 is the best camcorder on the market. It's the latest dedicated camcorder from Canon. And it's packed with features that will take your movie-making to the next level. Whether you're going on a fishing trip or shooting a documentary, the VIXIA HF G70 is a top choice.
This camcorder records in glorious 4K with TCC 4:2:0 8-bit color sampling. It uses a DIGIC DV 6 processor for quick and smooth functionality. And you have a 30 fps max frame rate for smooth video footage.
The maximum aperture of f/1.8 gives you excellent low-light performance. And the 8-blade aperture diaphragm helps you achieve a lovely bokeh effect in your shots.
The lens has a powerful 20x optical zoom. The max aperture is reduced to f/2.8 at full zoom. But the camera does have image stabilization to compensate. There's an optical (lens shift) stabilizer. And you have three modes of electronic stabilization. You get standard, dynamic, and powered IS modes.
The Canon VIXIA HF G70 has one of the best autofocus systems of any camcorder. It's fast, smooth, and reliable when shooting video. There are Fast or Smooth AF options. And you can set specific focus points using the camera display. It also has face detection AF with accurate tracking.
There's a bright 3.5-inch LCD touchscreen display. It gives you live view options if you don't want to use the electronic viewfinder. And the LCD screen rotates, allowing you to film yourself. That makes it a fantastic vlogging camera. And the webcam functionality for Mac and PC makes it a top camera for streaming.
The Panasonic HC-V785 is a fantastic camcorder for casual filmmakers. It's a lightweight and compact video camera. It gives you excellent Full HD footage. And it has features that give your videos a more professional finish. It's also one of the best-value camcorders from the top brands.
It uses a 1/2.3-inch BSI (Back Side Illuminated) sensor with a 12.7 MP resolution. This translates to bright and vibrant Full HD video footage. The large pixel size and even distribution give you excellent dynamic range. And it means less digital noise when working in low light.
The camcorder even has an HDR (High Dynamic Range) movie mode. It gives you intensified shots and extracts more detail from blown-out or dark areas.
The fixed lens gives you a 20x zoom with fantastic magnification. And while things can get shaky at full zoom, the camera's optical image stabilization reduces shake and blur. That means you can record by hand without a camera stabilizer.
The Panasonic HC-V785 is a great option for sports and action videos. You can shoot super-smooth slow-motion videos with a 120 fps frame rate. And that's with Full HD definition.
There's a built-in microphone for internal sound recording. It has a wind shield to improve outdoor sound quality. And there are ports for external audio devices. The 3-inch display rotates, giving you better shooting angles. And you can connect the camcorder with a Wi-Fi-connected smartphone for remote filming.
The Sony FDR-AX53 is a fantastic 4K camcorder. It has been on the market for a while now. But it still holds up against DSLR and mirrorless cameras in the video department. It's lightweight, portable, and will fit in any camera bag. And it has advanced features for pro-level video production.
The camera is equipped with a 1/2.5-inch Exmor R CMOS sensor with 8.3 MP. That doesn't sound like much, but it gives you fabulous 4K video footage. You can shoot 4K with a decent 30 fps frame rate. And you can shoot as quickly as 100 fps in Full HD for epic slow-motion videos.
There's no reason to complain about the camera lens. It's a 26mm Zeiss Vario-Sonnar T lens with special quality-enhancing coatings. It also has Extra-low Dispersion (ED) elements that reduce flare and ghosting.
The lens also has a powerful zoom to get you closer to the action. You can zoom up to 30x when shooting 4K. But you get even more reach in Full HD with a 40x optical zoom.
The autofocus is smooth and reliable when shooting videos. And it has tracking for shots that involve lots of movement. You also have an image stabilization system that reduces signs of camera shake. That lets you shoot tracking shots without a camera gimbal.
The creative modes put the FDR-AX53 on another level. You have Motion Shot video that captures multiple images in quick succession. There's a specialist Golf Shot mode for analyzing your golf swing. And there's a mode for time-lapse photography.
The Sony FDR-AX53 has a built-in microphone and a rotating LCD screen. There are manual controls for focus, exposure, and white balance. And you can link the camcorder to your computer for Full HD live streaming.
The Panasonic HC-X2000 is the best camcorder for professional film production. It has advanced video features for creative media producers. It has practical elements that make shooting easy. And it's worth every penny of the price if you want a serious videography camera.
The 4K video footage is sharp, bright, and vivid. You also get a 60 fps frame rate at full resolution for super-smooth footage. It also records in 4:2:2 10-bit color, giving your videos more richness and energy.
Adventurous types will love this camcorder. You have 100 and 120-fps frame rate options for super-slow-motion videos. And that's with an impressive Full HD resolution.
The AF system is fast and precise even at faster frame rates. It has face-detection features, and the color recognition abilities improve subject tracking when recording.
It's equipped with a sharp 25mm lens. That gives you a lovely wide angle, which is great for broad shots. It's also a good lens for vlogging and streaming.
The lens also gives you a 24x optical zoom. And the hybrid stabilization system reduces signs of camera shake. That means you can do more work without a video tripod.
Recording with Live View is easy with the bright 3.5-inch LCD screen. You also have a tiltable viewfinder if you prefer. And there's a two-channel audio input for professional sound recording. The double SD card slot is also something pros will appreciate.
The Panasonic HC-X2000 also comes with a detachable handle unit. This makes it easier to record low or tracking shots. And it has a mic holder, REC button, zoom control, and XLR audio inputs. There's also an LED light for illumination. And it's quick and easy to attach and detach.
The Sony HDR-CX405 is a nifty little camcorder that's packed with features. It gives you fantastic Full HD video recording. But you can also shoot still photographs. And it's the most affordable camcorder from one of the top camera brands.
The video resolution is limited to Full HD, but the footage is crisp, bright, and clear. You also get a 60 fps frame rate for smooth videos when shooting action. And the CMOS sensor also gives you 9.2 MP still images. That's not groundbreaking, but it's great for catching holiday snaps.
The camcorder has a 26.8mm Zeiss lens. You can't complain about the optical quality. And as well as a lovely wide angle, you get a powerful 30x optical zoom.
The lens also has a fast f/1.9 max aperture at the widest focal length. That's great for low-light situations. But the aperture range shrinks dramatically as you zoom in.
The camera is also very sensitive to camera shake at full zoom. Thankfully, the HDR-CX405 has Sony's built-in Optical SteadyShot stabilization. This gives you sharper and more stable video footage.
The built-in USB cable is a handy feature you don't see on many camcorders. That means you can charge or connect the camera to your laptop at any time. And it means fewer cables cluttering up your camera backpack.
The Sony HDR-CX405 is super compact and convenient for travel. The features make it a great option for budding video producers. And the budget-friendly price tag makes it great for families and casual filmmakers.
The Canon XA70 is a camcorder for serious filmmakers. It's the biggest camcorder on the list. But it also has some of the best specs and most advanced features. It's a worthy investment if you want to take your media career to the next level.
The XA70 gives you high-quality 4K footage. And while the max frame rate in full resolution is only 25 fps, it does record with YCC 4:2:2 10-bit color sampling. You also have a 50 or 60 fps frame rate if you record in Full HD. That's a good option for shooting fast action.
The camcorder has a fixed wide-angle lens with a 25.5mm focal length. That gives you a wonderful wide field of view. And you have excellent shot versatility with the 15x optical zoom range.
You don't need to worry about camera shake. The hybrid stabilization system uses optical and dynamic image stabilization to give you five stops of compensation. You get sharp shots without using a stabilizer, camera cage, or tripod.
You get even more creative control with the detachable handle unit. It gives you better control over the camera for smoother walking and tracking shots. And it has a microphone holder and 4-channel audio inputs for professional sound recording. It's a great camcorder for concerts and music videos.
The Canon XA70 also doubles as a webcam for live streams. And the excellent audio and visual capabilities make it a great camcorder for streaming live music over YouTube.
Now, we're venturing into the world of the unknown. We'd never heard of Vahoiald camcorders before. And we'd be surprised if our readers were familiar with them too. And while we haven't been able to test this camcorder ourselves, it's popular with buyers and is well-reviewed.
The specifications do look good on the Vahoiald 4K Camcorder. Perhaps too good to be true…
You can record videos with a 4K resolution at 60 fps. That's sure to give you outstanding videos. And that's certainly better than a lot of video content on social media.
The camera has a 16x zoom range. It should be noted that this is a digital (not optical) zoom. That means the image quality will deteriorate as you zoom in. It's also equipped with 6-axis anti-shake technology to stabilize your images.
The specs sheet claims the camera has a 48 MP image sensor. We've seen some examples, and the images and footage look great. But we're not sure the image sensor has a true 48 MP resolution. That's the level of resolution you'd see on a full-frame mirrorless camera.
There's a built-in microphone for basic sound recording. And it also comes with an external mic for higher-quality audio. It doesn't have a viewfinder, but there is a rotating LCD screen. The camcorder also comes with a detachable handle.
Creative photographers will enjoy the time-lapse and continuous shooting modes. And vloggers and streamers will love the webcam capabilities. The Vahoiald 4K Camcorder also has built-in Wi-Fi connectivity, so you can share media directly to your smartphone.
Alsuoda is another name that's new to the Expert Photography team. But the Alsuoda FHD Video Camera is a good option if you want a cheap and cheerful camcorder. It doesn't break any records, but it delivers the basics to a decent standard. And the price is hard to argue with.
The maximum video resolution is Full HD. That's not quite as sharp and vibrant as the 4K video options we've seen. But this Full HD footage is more than enough for many casual users. It's ideal for vacations and home videos.
With a 16x zoom range, you can get closer to the action. But it is a digital zoom, so there might be quality issues at full zoom. The anti-shake function helps to stabilize your footage. And the AF is impressive for a camera at this price.
The Infrared (IR) Night Vision mode is an interesting feature. You can shoot videos around the campfire or spot Bigfoot sneaking around the forest. You can also have fun with the self-timer, continuous shooting, and playback modes.
Live streamers will love the webcam functionality. All you need is a USB cable to connect to your computer. Then you switch to PC Cam mode and go live online. The camcorder also comes with a remote, allowing you to control the camera from a distance.
FAQs on the Best Camcorders
To help you find the best camcorder, we've answered some of the most frequently asked questions on the topic.
Which Brands Make the Best Camcorders?
Many big brands have quit the camcorder game. Most big camera manufacturers put their energy into mirrorless cameras. But a few heavy hitters still release a camcorder from time to time.
Canon, Sony, and Panasonic are the three big names that produce dedicated camcorders. None of them have a big selection. But the ones they do produce are well worth your consideration.
There are tons of budget camcorders produced by companies that are pretty much unknown. We've included two such camcorders in our list due to their popularity in online stores. But we'd always recommend the more reputable brands before these new kids on the block.
What Features Are Important When Buying a Camcorder?
Video resolution has to be at the top of your checklist. Ideally, you want a camera with 4K resolution. This is true if you're making any kind of video for the public eye. Even a lot of social media content is shot in 4K. You don't want to fall behind.
But for many casual users, Full HD is enough. That resolution gives you wonderful home movies or vacation videos.
Frame rate is always important when shooting video, and 30 fps with 4K resolution is a match made in heaven. But faster frame rates give you even smoother footage. Faster frame rates like 100 or 120 fps can also be used for slow-motion video capture.
Sensor resolution is less important with camcorders than with stills cameras. But many camcorders can be used for still photography as well. That's why it's a good idea to note the MP count before you buy.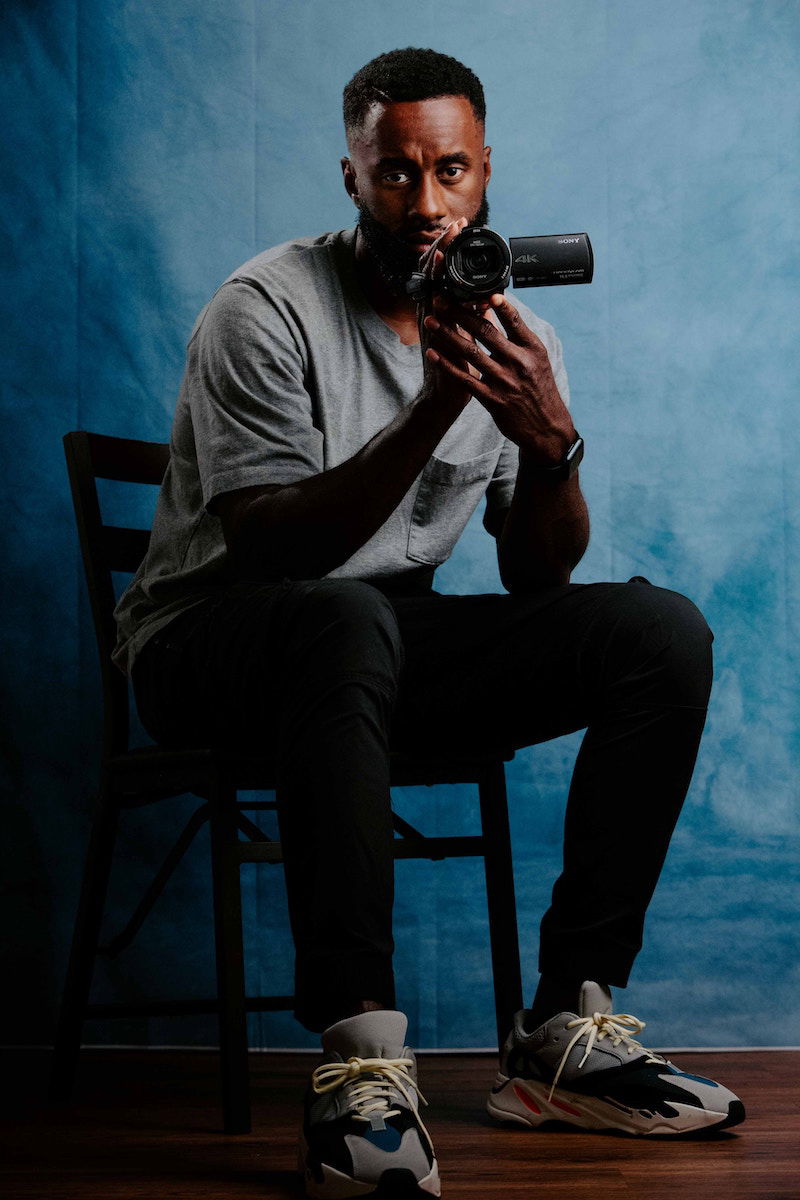 A good zoom is always handy when shooting video. And unlike DSLR and mirrorless cameras, you can't change a camcorder's lens. That's why a good optical zoom improves versatility.
Image stabilization is always a welcome feature when shooting video. It reduces camera shake, giving you smoother videos when shooting by hand.
Video makers of all kinds like a rotating LCD screen. It works as a Live View viewfinder. And it rotates, allowing you to shoot from different angles or film yourself. Pro filmmakers still like to use the viewfinder for more considered compositions. But cheaper camcorders often lack a real viewfinder.
Is a Camcorder Better Than a DSLR or Mirrorless?
This depends on what you want to create. If your main focus is still photography, but you want to shoot the occasional video, a DSLR camera is ideal. If you want to shoot both stills and videos in equal measure, we recommend a mirrorless camera. But if you're a dedicated moviemaker, a camcorder is still a great option.
The video features of some mirrorless cameras are incredible. But much of the price and functionality is taken up by stills-based features. A camcorder is stripped back, streamlined, and only focuses on video. That means you can get high-quality videos at a lower price. And it means a camcorder can have more video-focused features.
Camcorders aren't versatile. But they are special video production machines. And that's why they still have a place in the camera market.
Conclusion: The Best Camcorders
If you love shooting video, you need the best camcorder. Whether it's home movies, YouTube vlogs, or professional motion pictures, a camcorder delivers the goods. There aren't many left in production. But we've seen some fabulous camcorders on this list.
The Canon VIXIA HF G70 is our choice as the best camcorder. It gives you gorgeous 4K video with a selection of frame rates. The lens has a powerful 20x optical zoom. And it has built-in stabilization for smooth footage. It also makes a high-quality webcam for streamers.