The Powervision S1 smartphone gimbal is one of the smallest available. It fits easily in a jacket pocket, and its usefulness doesn't end there. It works as a wireless charger, a power bank, and a mini tripod.
There's no selfie stick, but the PowerVision S1 offers 3-axis stabilization, gesture control, and AI tracking. So, is it a good investment? Our review will guide you through its features and performance. We compare it with other similar gimbals and tell you if it's a good buy. So read on!

PowerVision S1 3-Axis Phone Stabilizer
Looking for professional-grade stabilization for your smartphone? Look no further than this 3-axis anti-shake gimbal with advanced AI tracking and gesture control. Perfect for vlogging, live streaming, and outdoor adventures.
[ExpertPhotography is supported by readers. Product links on ExpertPhotography are referral links. If you use one of these and buy something, we make a little bit of money. Need more info? See how it all works here.]
PowerVision S1 Review—What You Need to Know
The idea behind a gimbal is to smooth the video footage you get from a smartphone and make it look more professional. The design incorporates motors that compensate for any movement while shooting handheld. The best ones work in all three dimensions—pan, tilt, and roll.
Most gimbals can also use modern tracking technology to follow the subject. That's very handy whether you're taking a selfie or trying to shoot a dog chasing a ball.
Is the PowerVision S1 Meant for You?
Compatibility is a big issue in electronics and particularly photography. It's worth checking if the S1 supports your mobile phone. Check its specs or download the PowerVision S1 manual (PDF).
The list of compatible devices on the PowerVision website includes all the major brands—Apple, Samsung, Google, and Huawei. The clamp and phone case worked fine with my iPhone 12 Pro Max.
But the iPhone 13 is not on the list. And the iPhone 13 Pro Max is just a bit thicker than the otherwise identical iPhone 12 Pro Max. That means the case might not fit. Although, you could still use the clamp or the optional magnetic mounting system.
Just bear in mind that the PowerVision S1 is a lot more expensive than other equivalent products on the market, such as the DJI OM 5.
If you're fussy about the aesthetics, you have a choice of black, green, and blue.
Key Features—How Does the PowerVision S1 Gimbal Work?
The S1 is an excellent gimbal with many valuable attributes. Let's go over the primary ones.
What's in the Box?
The PowerVision S1 gimbal comes with a USB-C charging cable, magnetic wall mounts, and a magnetic car mount. You can get a PowerVision S1 magnetic phone case combo with a complimentary magnetic phone case or magnetic, universal mount. But any other mounting accessories are sold separately.
Getting Started
Everything you need is in the box. But you should probably download the PowerVision S1 app (Android or iOS) before starting. If you do that, you can follow the on-screen instructions to unfold the gimbal and connect it to your smartphone using Bluetooth.
The PowerVision app doesn't tell you that it will show you how to do it! It offers a picture of the gimbal, and you have to tap "Next" to find out more. I chose to follow the numbered stickers on the gimbal the first time around. And it was a bit awkward!
Unlike other gimbals, the arm is stored in the main body. The cover does have a slot for your nail to pull it open. But it's not in a prominent place and is almost impossible to see. Unfolding the gimbal arm needs a bit of force. And I was worried about breaking it!
You can use either the clamp or phone case to hold your smartphone. Both connect firmly with the gimbal using a magnetic mounting system on the back. You can also buy a magnetic, universal phone mount. But that's an optional extra.
The gimbal has a built-in PowerVision S1 tripod. But the weight of my phone meant it couldn't support it without toppling over. There is a threaded hole on the base, though. So I managed to screw it onto another gimbal tripod I happened to have.
Hold the power button for three seconds to start shooting. Your smartphone should be stabilized in a horizontal or vertical position. Then, if you click the red button with the camera icon, you're ready to go with the main controls.
The joystick allows you to change the up-and-down tilt or move the gimbal from side to side. Triple-pressing it toggles between the front and rear cameras.
The zoom slider allows you to zoom in and out.
Double-pressing the power button switches from portrait to landscape mode.
The central button takes a picture or starts the video, depending on which mode you're in.
The PowerVision S1 seems ideal if you want to shoot for long periods. It has a 15-hour maximum working time. But my experience suggests you should be a little bit skeptical!
Vision+S1 App
Every smartphone gimbal comes with a camera app. It lets you control the device and provides instructional videos and an editing suite. The PowerVision S1 app is called Vision+S1, and it's pretty straightforward. But I did have to update the firmware.
Pairing is quick and easy. And there's a helpful PowerVision S1 tutorial. There's a series of video clips covering first use, charging, and how to use the magnetic accessories.
The menu system constantly changes depending on what you're doing. And there are lots of different options. But they do try to make it easier by giving you sample clips in the Edit tab, for example. You're eased in gently, and it's obvious how to add filters, adjustments, stickers, and captions.
Three-Axis Stabilization
The PowerVision S1 has three separate panning, rolling, and tilting motors. So it ticks the box for three-axis stabilization. Here are the mechanical ranges for each:
Pan:±150°
Tilt:±90° (a bit limited)
Roll:-214.8° – 96°
It doesn't have the most powerful motors. But it can turn through a third of a circle (120°) every second.
The video is a little shaky, and it struggles at maximum zoom. Here are two short sample videos below.
PowerVision S1 stabilization:
PowerVision S1 stabilization at 6x zoom:
PowerFollow and Object Tracking
Its "PowerFollow" feature uses AI tracking to keep yourself in the same position in the frame when you're live streaming. It works even if you're not online. Draw a square around your head and shoulders—or your subject's—to engage face tracking. Alternatively, you can press the "follow" icon (the running figure), and the gimbal will automatically find your face or your subject's. You can then move around as much as you like, and the camera will follow.
Gesture Control
If you want to take clips of yourself, three useful hand gestures make life a little bit easier:
Holding up five fingers starts or stops tracking.
Holding up two fingers takes a photo after three seconds.
Creating an "L" sign with your fingers starts or stops the video recording.
Charging
If you switch the gimbal off and then press power, the status light flashes orange to show that it's in "Qi" charging mode. You should then be able to charge your phone by simply laying it on top of the gimbal and using it as a power bank.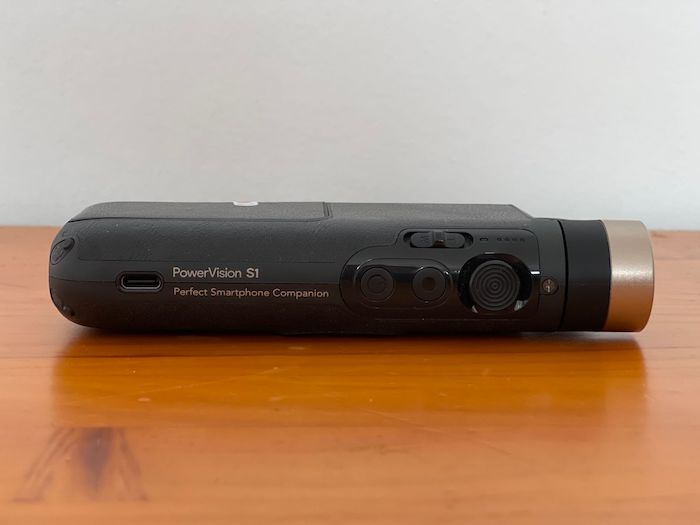 Shooting Modes
There are five basic shooting modes in the app:
Most work pretty well, but the 3×3 panorama shows quite a lot of distortion.
There are also five menu icons at the foot of the screen:
Picture icon—takes you to your pictures and videos.
Camera icon—lets you change your EV (exposure value), shutter speed, and ISO settings in manual mode.
Round shutter button—takes a picture in photo mode or starts recording in video mode.
Four Squares icon—gives you access to various options, including flash, gesture control, video quality, filters, grids, and Beauty mode.
Rotating Camera icon—lets you switch between your smartphone's front and rear cameras.
Alternatives to the PowerVision S1 Gimbal
There are plenty of other smartphone gimbals on the market. These are your best alternatives:
Verdict
The PowerVision S1 is a well-designed, portable three-axis gimbal for smartphones. It has a generally good set of features and wireless charging. I had a few initial problems with mine, but the replacement works perfectly now.
The overall performance, build quality, and customer service doesn't match my DJI OM 5. But the only real problems are its high price, lack of a selfie stick, and rather rickety built-in tripod—which can't hold the weight of my iPhone 12 Pro Max.
Let us know what you think of our PowerVision S1 review and if you end up buying one!
Scores
| | |
| --- | --- |
| Measurement | Score |
| Main Features | |
| Extra Features | |
| Construction and Durability | |
| Handling and Ergonomics | |
| Value for Money | |
| Total Score | |
PowerVision S1 3-Axis Phone Stabilizer
Looking for professional-grade stabilization for your smartphone? Look no further than this 3-axis anti-shake gimbal with advanced AI tracking and gesture control. Perfect for vlogging, live streaming, and outdoor adventures.