Have you ever wondered how you can move your face from one picture to another? Today, we will show you the best face swap apps people use, some of the funniest apps around. Swap your faces with family, see what a new hairstyle would look like, or photobomb a friend's picture.
Whether you want to be the star in the latest blockbuster movie ad or have just some fun with others… You can use the apps on this page to swap your face for someone else's!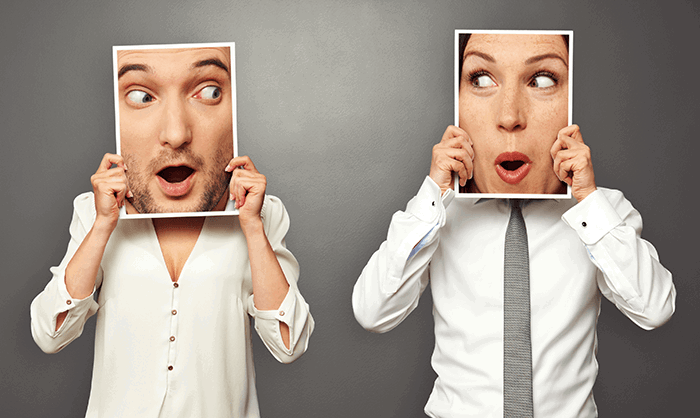 Have Fun With Face Swap App, But Be Respectful
Face swap apps have come a long way in recent years. They can recognise and mask faces, copy and paste faces between images, or use AI to map faces onto other bodies.
Technology is so good that there is growing concern over 'deepfake' images or videos. These are realistic-looking, digitally altered photos and videos of people. And people use them to spread false information maliciously.
With this in mind, we recommend keeping your use of these apps light and fun. Make sure that if you use other people's faces and share these images on your social media channels, they will be okay with it.
We'll be looking at funny but impressive options of face swap apps. Many users even use them to improve portraits with friends and family who aren't looking at the camera. So let's dive into our rundown of the top face-swapping apps out there.
Best Face Swap Apps in 2021
10. MixBooth
MixBooth has a skin-color, auto-adjustment function. It blends your swapped face to its new body for realistic-looking results. You can use pictures from your camera roll, live camera, or Facebook albums.
Auto face detection and cropping make it super easy to use. The app even comes with example photos for you to use. It's a bit of an older app but is free and does the trick.
Face Swap Booth lets you swap faces across multiple photos. A set of automatic, built-in masks let you choose to copy individual facial features. You can save faces and parts of faces to use again and again across different photos. You can also adjust skin tone to match the faces to their new bodies.
The app has mixed reviews, so try the 24-hour trial period. You have to pay a one-month, three-month, or yearly subscription to access the many options.
8. Copy search Face Photo Editor
Copy search Face lets you copy and paste faces between people in different photos. If you don't want to use a whole face, copy features from many different faces and combine them in one look.
This face swap app features advanced blending tools and layer masks. You can even blend your photos with celebrity templates.
The free version allows you to save six faces and reuse them on as many images as you like. Lift all restrictions by subscribing through their in-app purchase. They have yearly and monthly subscriptions available.
7. Faceover – Photo Face Swap
With Faceover, you can edit, save, and share photos from your camera roll. It lets you copy, paste, rotate, and flip faces between people. You can even use it to copy a face from one photo to another.
It is free from Apple's App Store, and it works on your iPhone, iPad and iPod touch. It also has in-app purchases for custom face shapes, tints and colors, and ad removal. Or you can buy a pro version that includes everything.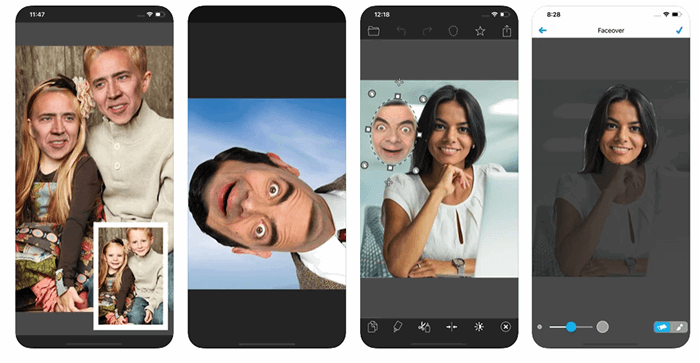 B612 is a 'self beautification' app with a face swap option for live face swap selfies with your besties. Select the face swap filter and snap selfies or record face swapped videos with a friend. While this app doesn't let you swap faces from your camera roll, it is a fun way of swapping faces live. The bonus is that this app is free!
Snapchat is famous for being full of fun, live face filters, one of which is face swap. It won't allow you to use photos from your camera roll, but it will let you swap faces with your pets. You can save stills and videos for sharing through any platform or put your results straight onto Snapchat. It's free with in-app purchases.
4. Face Swap 1.6.0
For the Android device users out there… Face Swap 1.6.0 will let you face swap with their library of images. What's more, it is full of stickers and effects you can apply to your photos.
Its photo swap function lets you swap your face with pictures from your library and use the same face on multiple people in group photos. Plus, you can share your images on Facebook, Instagram, and other apps. It's a free app created by Microsoft.
With Face Swap Live, you can switch faces with photos from your camera roll or live with a friend. You can even record videos of your face on pictures from your phone.
Use just your mouth or eyes to create funny video clips to send to your friends. Built-in face warping features let you stretch and warp your face.
And a library of stickers lets you adorn yourself with new hair, hats, and moustaches. There is an Android version, but it has poor reviews.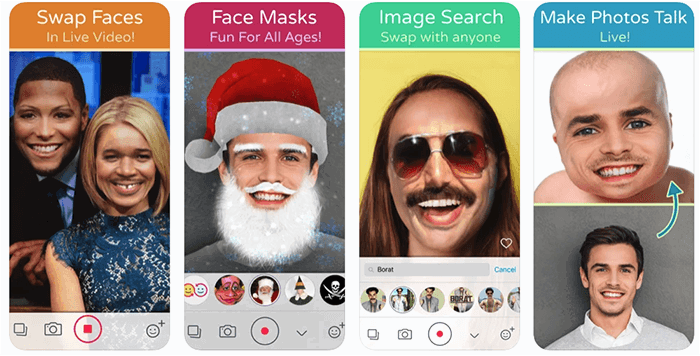 A simple but powerful option for Android users… Swap faces, parts of faces, or portions of photos between pictures. Cupace lets you create funny faces and memes and add text and stickers to your creations before posting on social media. You can also save cutouts in a gallery for future use. It's a free face swap app but has ads.
The best face-swap apps use advanced face-swapping technology. Reface uses AI to map your face onto another, making realistic movements and facial expressions.
You can put your face into video clips from movies, then save them to your camera roll. The library of movies and TV clips is updated daily, meaning you are always the latest big thing or trending celebrity.
You have options to make a GIF or video. And all you need to take is a single selfie. It's free, contains ads, and has some in-app purchases.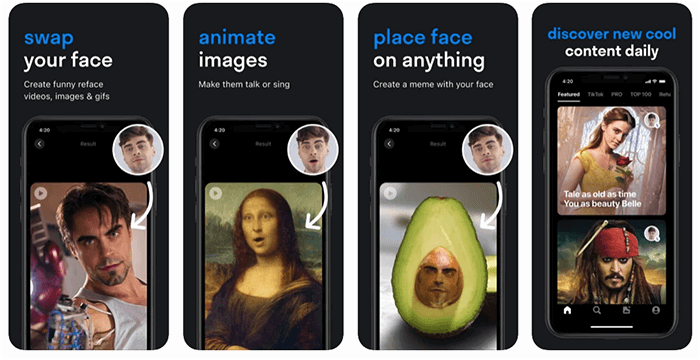 Conclusion
There is a lot of face-swapping technology out there. And face swap apps can make both funny and realistic edits to portrait images. We hope our list of best face swap apps helps narrow down your choices.
Face Swap Live lets you record video of your face swaps in real-time, while Cupace let you see cutouts for later use. But for sheer mind-blowing video face-swapping AI, Reface is our favourite face swap app for 2021.
Are you wanting to take beautiful compositions on your camera phone? Check out our Urban Smartphone Minimalism e-book and cheatsheets to take exciting photos every time you leave your home!