The Zhiyun Smooth X gimbal had a purpose. It was supposed to bring gimbal technology to the masses.
It was designed for smartphones. And, in the end, it delivers! It helps selfie and smartphone photographers capture buttery video footage.
So let's review everything this Zhiyun product offers. And you can find out whether it's the best gimbal for you!

ZHIYUN Smooth X Gimbal Stabilizer for Smartphone
Looking for a lightweight and compact smartphone gimbal stabilizer that's easy to use and perfect for beginners? The Zhiyun Smooth X is an excellent choice! With its foldable design, intelligent gesture control, and innovative "ZY Cami" app, you'll be capturing smooth and professional-looking footage in no time.
What Is the Zhiyun Smooth X?
The Smooth X is a foldable smartphone gimbal designed for regular consumers. i.e., anyone who uses a phone as their primary camera.
Zhiyun is not the only company that offers a smartphone gimbal. Its most notable competitor is the DJI Osmo. But this is the first time we see a device that genuinely addresses all the needs of the selfie-takers and smartphone vloggers.
Smooth X is not only small (it fits in your pocket!); it also works as a selfie stick! It takes both photos and video. Oh, and on the off chance you forget to put on makeup? It even has a feature that gives you big eyes and beautiful skin.
But forget about all the fancy stuff it can do. It's so affordable that even your TikTok obsessed cousin can buy it!
So is it worth all the hype? Let's break down some of its features and find out what it can do.
Key Features
Two-Axis Stabiliser
The two-axis means that the Smooth X can only control the pan and tilt. But it doesn't stabilize the up and down motion of the user. Because of this, it doesn't produce footage as smooth as its 3-axis counterparts.
The Smooth X has Walk and Run Modes that compensate for the amount of movement you make.
In my experience, the footage wasn't as smooth whenever I walked fast, even in Run Mode. I had to do the Ninja walk (filmmaking jargon for tiptoeing) to minimise my up and down movement.
Still, I don't always run when shooting video. So, for the most part, I don't see it as a significant issue. As long as you stroll, your footage will be indistinguishable from an expensive 3-axis gimbal.
260mm Extended Grip
The term "extended grip" sounds quite technical. But it's really just a telescopic selfie stick.
Unlike regular selfie-sticks, Smooth X's version is quite sturdy. It doesn't retract or bend even when I wave it in the air aggressively. It also lets me control the angle and orientation of the phone without having to touch my device.
Of course, the extendable grip isn't just for selfie-takers. It's also ideal for serious smartphone filmmakers. I had a lot of fun using it for both low and high perspectives. I even used it to create a "flying drone" effect where the camera hovers above my subject.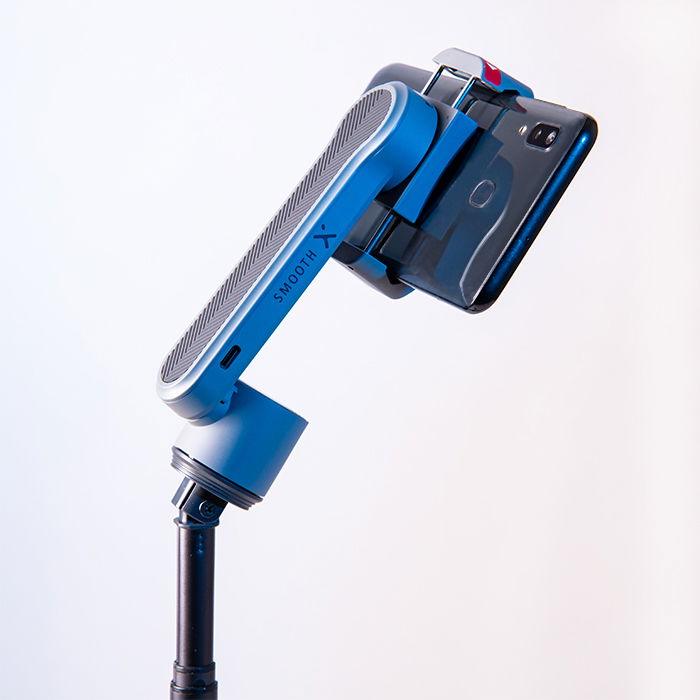 Universal Smartphone Holder
The Smooth X works with both iPhone and Android phones. So it only makes sense for it to have a holder that fits pretty much any phone on the market.
The spring-loaded phone holder extends up to 4-inches, making it compatible with even larger phones. What makes it remarkable that I don't have to remove my phone case to use it.
The phone holder has rubber padding that keeps your phone secure while filming. The only issue is that sometimes I wrestle with the spring-loaded grips to place my phone correctly.
I also noticed that the grips were too close to my Android phone's power button. So if I'm not careful, it sometimes accidentally puts my device to sleep.
The phone holder is connected to the gimbal's servo. Apart from stabilizing my phone, I can also use it to change my phone's orientation.
By pushing the M button twice, I can turn my phone from horizontal to vertical. This feature is handy, especially for creating TikTok videos and Instagram Stories.
Ergonomic Handle
Smooth X's handle is quite beefy. Even though the entire gimbal is tiny, it fits comfortably in my hand.
Smooth X's minimalistic design also makes it less intimidating to regular users like me. There are only two buttons and a joystick which I learned to use in no time. It also includes a zoom button on the side that smoothly slides up and down.
The buttons are in the center of the handle, so they don't get in the way. But at the same time, I can easily reach them with just my thumb.
Mini Tripod
If you buy the entire Smooth X kit, you'll receive a mini tripod. It's quite sturdy, and it's just as compact as the gimbal it supports.
But getting the mini tripod isn't necessary at all. The Smooth X has a thread that lets you attach it to any regular tripod – even the cheap small ones.
App Features
The hardware isn't the only selling point for this nifty gimbal. The ZY Cami app is the second part of the equation that makes this device stellar.
Shooting Modes
ZY Cami's shooting modes resemble that of the iPhone's native camera interface. It was easy for me to navigate through all the shooting modes. And I learned how to use each option in a matter of minutes.
Smart Mode
If you're still not familiar with fancy gimbal moves, then this mode is ideal for you. Smart Mode has a few templates that direct the movements of Smooth X.
So if the video template you shoot includes pans and swivels, your Smooth X will do those same movements when you shoot.
Each template has at least four unique movements that amount to 30 seconds. You can use all those options, and Smooth X will edit them into one video for you.
I like this feature a lot, especially since I am a newbie when it comes to gimbals. It allows me to execute fancy panning moves without having to learn how to do it manually.
Pano Mode
Usually, we take Panos by manually moving the phone from left to right. But since the Smooth X is a gimbal, it pans the phone automatically with precision.
The Smooth X takes a pano using seven shots and stitches them together within the ZY Cami app.
To take a panorama, all you have to do is press the shutter button and let Smooth X capture it. You can either hold the gimbal while shooting or set it on a tripod.
In my experience, I ended up with a few blurry photos while holding it. But when I used the mini tripod, the Panos looked sharp.
Photo Mode
This shooting mode is ideal for selfies. Apart from the self-timer, it also has gesture control. All you have to do is wave your hand to make it follow you and take photos.
Photo mode also includes Glamour Effects (more on this later) to smoothen your skin, make your eyes bigger, and even make you look thinner.
Video
You can enjoy the same features in video mode that you have in photo mode.
Like photo mode, Smooth X's video feature also has Gesture Control and Glamour Effects.
I am quite surprised that Glamour Effects work without any lag even while recording live. When I chose the Enlarge effect, which makes my eyes bigger, it tracked my eyes without any issues.
Like any decent video app, ZY Cami lets you choose your fps and your aspect ratio. But I noticed that it tends to capture grainy footage in low-light situations. So try to stay in bright areas if you don't like to end up with unusable clips.
Time-lapse
What makes the time-lapse feature awesome is that it lets you set the path for video movements. In other words, you can program it to move in various directions as it captures pictures.
In time-lapse mode, you also get to set your interval and duration. That way, you get to control how often and how long the camera needs to take pictures.
Unfortunately, the time-lapse feature doesn't have any manual settings. So if you find yourself in low-light situations, you better hope your smartphone has a reliable auto exposure.
(You can learn how to create incredible time-lapse videos with our Total Time-Lapse course!)
Hyperlapse
The hyperlapse effect has become quite popular in the past few years. And it's always good news to know that the Smooth X has this feature as well.
When in hyperlapse mode, you can change the video resolution and the speed of the video. You can select anywhere from 5x to 30x.
The hyperlapse works excellent in my experience. But you still should do your best to avoid moving aggressively. During the few times I made substantial strides, I noticed some jitters in the final video.
Livestream
The Livestream feature is what makes the Smooth X a bona fide vlogger accessory. This shooting mode supports Kwai Livestream, Restream, and RTMP.
I don't have any accounts for Kwai Livestream and Restream. But I got to try linking my YouTube account through RTMP.
All I had to do is copy and paste my streaming link to the Cami app, and it connected me in just a few moments.
Special Features
Gesture Control
This feature has been in quite a few devices, such as drones and other gimbals, for a while now. But I have to admit that I haven't had the chance to try this technology until Smooth X.
I was skeptical when I turned on the feature and felt silly when I waved my hand in the air. But to my surprise, it beeped and started to follow me around. I was quite impressed by how it tracked my precise location.
Nevertheless, this feature is hit or miss in my opinion. Most times, Smooth X recognised my gesture. But other times, it just didn't respond no matter how aggressively I waved my hand.
But whenever it responded to my gesture, it tracked my movements well. So with a bit of patience, you can still get the results you want.
Glamour Effects
We mentioned this feature several times in this article. But now you'll finally know the details behind it.
You can think of Glamour Effects as a set of TikTok filters. It uses Augmented Reality technology to track your face and alter it in Live View.
I already mentioned that Glamour Effects could make you slim or smoothen your face. I also said that it can even make your eyes look bigger. But did you know it can lighten your skin and even make it rosy as well?
Below Glamour Effects, there's a slider that lets you adjust the amount of effect you want. You can keep everything subtle, or go full Anime with your look.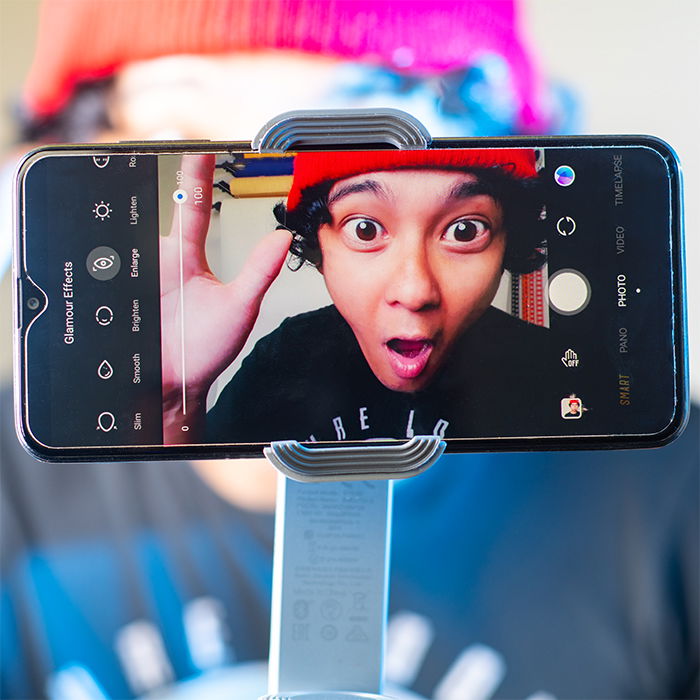 In my experience, Glamour Effects functioned 100 percent of the time.
It worked so well that sometimes I didn't notice it at all. Everything looked so natural that I had to turn up the effects to see if they worked at all. And they did!
Usability
As I mentioned before, I still had to do the ninja walk to ensure smooth footage with the Smooth X. But as long as I walk slowly and carefully, I always feel confident that my clips will look buttery.
My main issue with Smooth X is how difficult it is to unfold.
As you can see in the image below, it looks like the arm and the handle don't fit well together. If you're not careful, you could easily break the arm if you twist it in another direction.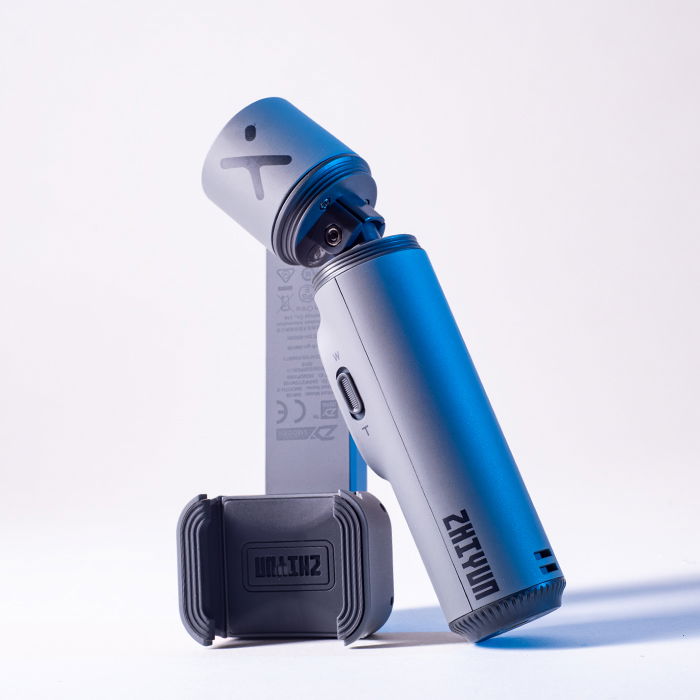 Once you successfully swing the arm out, everything looks elegant and well-designed. It doesn't feel like a toy, and it doesn't perform like one.
Conclusion
The Smooth X may not be as smooth as its 3-axis counterpart, Smooth 4. But I don't mind it at all because it's the reason it's affordable and compact. Surprisingly, it works well in most shooting conditions. I can see myself using it a lot for casual occasions.
In my opinion, this is one of the best entry-level gimbals on the market right now. Considering its price and features, it's definitely worth getting one.
You can check it out on Amazon here.
Don't forget to check out our detailed review about the best camera stabilizers, as well!

ZHIYUN Smooth X Gimbal Stabilizer for Smartphone
Looking for a lightweight and compact smartphone gimbal stabilizer that's easy to use and perfect for beginners? The Zhiyun Smooth X is an excellent choice! With its foldable design, intelligent gesture control, and innovative "ZY Cami" app, you'll be capturing smooth and professional-looking footage in no time.