The life of a photographer isn't always easy, often travelling from one location to another. And then there's the big bag of equipment you need to take with you. And the list of things you need to bring isn't getting any smaller.
That's why the best mini tripods are becoming more and more popular with all kinds of photographers. They're light and easy to carry. And there are some excellent mini tripods on the market.
[Note: ExpertPhotography is supported by readers. Product links on ExpertPhotography are referral links. If you use one of these and buy something, we make a little bit of money. Need more info? See how it all works here.]
Why Use a Mini Tripod?
We all know the benefits of using a tripod. It gives us the stability to shoot in low-light conditions. And they keep our camera in position when we're doing multiple shots from the same point of view.
But there are downsides. They are often big, heavy, and hard to carry in your camera bag. Even the best tripods with telescopic legs can be bulky and cumbersome.
This is where mini tripods come into frame. They're small, compact, and keep your camera steady, no matter what you're shooting.
Many think tabletop tripods are just for smartphones, but that's not the case. Mini tripods give you a stable footing even if you're using a DSLR or mirrorless camera. They are great, from portraits and products to food and fashion.
15 Best Mini Tripods in 2021
Mini tripods are becoming a must-have for photographers. If you're looking for a tabletop tripod, keep reading so you can find the best mini tripod for you.
In this article, we'll be looking at the best mini tripods for cameras. If you want the best mini tripods for smartphones, you can see our list here.
If you're looking for a mini tripod, they don't get much smaller than the Manfrotto MP3-BK. At only 70 grams, it literally fits in your pocket.
The legs fold out independently, giving you a solid base to work on. It's very much a tabletop tripod, as you'll need a flat surface to lay it on. And it only gives you less than 10cm of elevation.
It's about as basic as a mini tripod can be, and it's designed for lightweight cameras. A compact camera or beginner DSLR will be fine, but it can't handle much more than that.
The Ulanzi Select MT-17 is a basic mini tripod with a solid set of legs. It doesn't take up much space in your camera bag, and is fairly light at 147 grams.
The legs are not extendable. But it does give you two height options to play with. The lowest is 10.9cm, and the highest gives you a platform at 15.2cm. That's not a great deal of variability, but it does have an adjustable ball tripod head with good movement.
The Ulanzi Select MT-17 is basic. Even for a mini tripod, its utility is limited. But it's reliable, can hold a max weight of 1.5kg, and won't set you back financially.
The Velbon EX-Mini takes the form of a traditional tripod, except it's made for macro and tabletop photography. It's more of a small tripod than a specially designed tabletop tripod.
It has three extendable legs that you can adjust independently. The head has a 2-way pan and is tilt adjustable. It gives you fantastic versatility because you don't need to worry if your surface is completely flat.
The frame is made of aluminium, which is strong and sturdy. The problem is the weight. For a mini tripod, it's not all that light at 467 grams. And despite the weight, it doesn't seem comfortable with DSLR cameras heavier than 1.5kg.
Mini tripods don't get much more mini than the Oben TT-100. Its simple structure is designed as a quick-use tabletop tripod with fold-out legs.
It's small and still fairly lightweight, weighing 200 grams. Folded up, it measures 19cm, so it fits into even the smallest camera bag. And the build quality is surprisingly good for such a small piece of equipment.
It has an all aluminium construction with strong legs and a mini ball head. Despite its small size, it can hold a max weight of 2.7kg. That's enough for a point and shoot or a beginner DSLR camera.
The Oban TT-100 is small and simple. But it's surprisingly good quality for a tabletop tripod. It has its limitations, but it's not trying to be anything it's not. If you need a simple table tripod, it's good value.
With the Roxtak Mini tripod, flexibility is what you get. The legs are a mix of rubber and metal, so you can move them in nearly every way imaginable. They can be straight and up-standing or bent individually for working on an uneven surface.
The nature of the legs means you don't even need a surface to work on. You can wrap the legs around a post, trunk, or pole. It gives you excellent freedom to shoot from different locations. And the high-quality ball head is detachable.
The Roxtak Mini is compatible with DSLRs and mirrorless cameras. But I wouldn't go crazy with the bendy legs when using a heavier camera. You only get maximum flexibility when you're using a small camera.
The SmallRig Mini Tripod gives you a solid platform on which to work. It has a solid design that can hold the best quality cameras.
Each component of this aluminium tripod fits perfectly and the movement is smooth and easy. The legs are adjustable to two levels of adjustment—14 and 21cm.
The high-quality ball head moves well, giving you a good range of angles to work with. The legs have a non-slip design, so you'll have a stable frame to work on, even if you reach the max load of 5kg. That's sturdy enough for a top-quality DSLR camera.
The overall quality of the SmallRig Mini Tripod is excellent. It's strong and relatively lightweight. It has limited usability, but the price is very reasonable.
The Gitzo Mini Traveller Tripod has a sturdy build, yet it's lightweight. It's one of the lightest mini tripods you'll find on the market. You can stow it with your camera gear, and you'll barely feel it.
The tripod itself weighs only 265 grams, but it has a maximum load capacity of 3kg. You can fit a good quality DSLR camera on there and feel secure.
All the main components are made of aluminium and the build quality is outstanding. And the tripod ball head has a smooth action and provides an excellent range of motion.
The legs give you a maximum height of 17.5cm and a minimum height of 12.5cms. You can move each leg independently. And the rubber feet stop the legs from slipping.
The Gitzo Mini Traveller is one of the best built mini tripods. But it comes with a hefty price tag. Some might consider it the best mini tripod on the market, but the price puts it higher on our list.
Neewer is starting to make a name for themselves in the world of camera gear. Their reputation is improving as they make more reliable pieces of equipment. And their portable mini tripod is a good example.
With all metal components, its build quality is excellent. The legs are strong and have non-slip feet, and the ball head has terrific movement. The mini tripod only weighs 423 grams, but it has a holding capacity of 8kg. That's strong enough for any DSLR with a big lens attached.
The adjustable legs give you two height options—19 and 13cm. It's not a wide range, but for a tabletop tripod, it gives you what you need.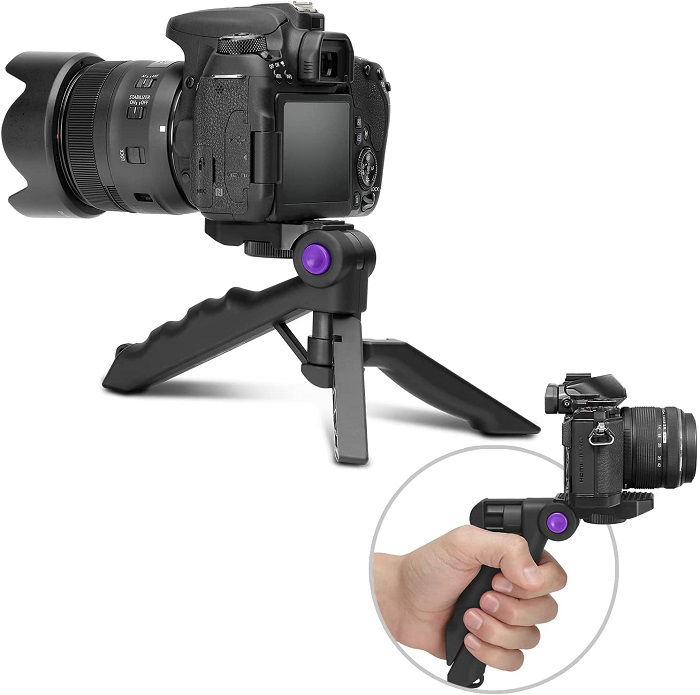 The Altura mini tripod has a unique pistol-grip design. You can use it in its grip formation, giving you support for moving shots. Or you can unfold it into a tabletop tripod.
It's compatible with all types of devices, from smartphones to mirrorless cameras. But the maximum weight it can handle is only 1.15kg, which limits you to smaller DSLR cameras.
The rubber-coated handle offers excellent grip in your hand. It also prevents the legs from slipping when you're using it as a table tripod.
The overall build quality is good, and so is the price. It's limited, with no variable height adjustments. But it's a well-designed piece of camera gear.
The Artcise DT70 is a scaled-down tripod. It's a compact tripod that works well on small surfaces and uneven ground. And it will fit into most camera bags. Artcise isn't one of the biggest brands, but it's one of the most versatile mini tripods you can find.
Made of solid aviation-grade aluminium, the body is solid and durable. It's a compact tripod that only weighs 190 grams and has a load capacity of 5kg. That's strong enough for the biggest DSLRs.
The ball head gives an excellent range of movement and solid device support. The telescopic legs can be adjusted individually and they give you an incredible range in height from 24 to 89cm.
It may not be the best tabletop tripod. In reality, it's more of a scaled-down full-sized tripod. But it's strong and gives you a fantastic range of shooting options. It offers excellent value too.
The Sirui 3T-35K is a specially made tabletop tripod for tabletop productions. The aluminium body has a solid build and is of superb quality. It weighs 250 grams but will support a load of up to 4kg, making it a strong little tripod.
The Sirui 3T-35K also gives you a height range from 11cm to 25cm. And you also have the adjustable tripod ball head, which provides you with excellent mobility.
It folds down into a compact unit, but it's a serious piece of kit. It's a small tripod, but it's varied and versatile. We believe the price tag matches the quality in this case.
The Gorillapod from Joby has a bold and unique design. As far as mini tripods go, there's not much else like it. It may seem almost comical at first, but this is an excellent piece of equipment.
It has bulbous flexible legs that can be bent and manipulated any way you want. It can stand up straight with a maximum height of 30cm. Or you can spread and bend the legs for a lower angle.
The flexibility is great for uneven surfaces and rough terrain—you can even wrap the flexible legs around poles and tree branches. This versatility gives you a world of freedom as a photographer.
The GorillaPod can handle a load of up to 3kg, so you can use a full-frame DSLR. This is pretty good for a tripod that weighs 391 grams. This tripod is as versatile as it is unique.
The Pedco Ultrapod 3 is stripped back and streamlined. Its design is simple and effective.
It's made of durable plastic and weighs is only 133 grams. It takes up next to no space in your pack, and you won't even feel the weight of it. And despite its light frame, it has a claimed load capacity of 4.5kg!
There is no height variability with the legs fixed in position at 12.7cm. But it's a compact and practical piece of equipment. It's not expensive, but it's very useful.
Mini tripods don't come much sturdier than this entry from Neewer. It has a solid aluminium alloy construction. It's one of the best lightweight travel tripods you can put in your camera backpack.
It has independent telescopic legs that give you an adjustable height range from 17cm to 50cm. It works well as a tabletop tripod or on uneven surfaces. It can also double as a travel tripod.
The ball head swivels 360 degrees, giving you a full panoramic view. And it can support up to 5kg in weight, which is strong enough for most DSLR and video cameras.
This option from Neewer is one of the best mini tripods on the market. If you're looking for a small version of a normal tripod, this could be the one for you. It's great value, and they haven't cut any corners in terms of quality.
Manfrotto's reputation and equipment are improving all the time. And in the tabletop photography scene, they have the best mini tripod on the market.
The main body is the tripod's ball head, which gives you a wide range of motion. The three fold-away legs give you five height settings between 10 and 20cm.
Don't be fooled by its small stature. The Manfrotto Pixi Evo can hold cameras that weigh up to 2.5kg. That's everything from smartphones to mirrorless and DSLR cameras.
The Manfrotto Pixi Evo is simpler and stronger than most other small tripods. It's inexpensive and has a fantastic build quality compared to other mini tripods. It's our top pick as the best mini tripod in 2021.
Conclusion
There are many different types of mini tripods, so it's difficult to say which is the best. Some are designed for tabletop photography, while others are made for travel.
We have included a range of different mini tripods, and they are all worthy of your consideration. Think about what you need, then select the best mini tripod for you from the list.
If you're in the market for a mini tripod to take product photos, check out our Products in Focus course to make sure they stand out! 
Photos in this article are partly provided by depositphotos.com.