If you're in the market for a tripod, there's a good chance you've come across the Manfrotto 294. This popular model has been around for years and is often recommended as a starter tripod for those just getting into photography. But what exactly makes it so popular? Is it worth the investment? In this article, we'll take a closer look at the Manfrotto 294 tripod to help you decide if it's the right choice for you.
Manfrotto 290 Xtra Aluminum Tripod
This aluminum tripod is the perfect tool for photographers looking for a lightweight and sturdy support for their camera.
[ExpertPhotography is supported by readers. Product links on ExpertPhotography are referral links. If you use one of these and buy something, we make a little bit of money. Need more info? See how it all works here.]
Overview of Manfrotto 294 Tripod
The Manfrotto 294 A3 is a 3-section aluminum tripod. It's designed to hold equipment up to 5 kilograms, but my experience shows that it's capable of much more while still remaining solid. Its height of 169 cm is significantly more than the standard 140-150 cm.
It's also fairly heavy and long, even when folded up fully.
Please note that the Oben ball head featured in this review is not part of the package, it's available separately. You can get Manfrotto ball heads in a kit with this tripod.
Who Is the Manfrotto 294 A3 Tripod For?
Because of its size, this won't be your travel tripod anytime soon. Instead, it's an excellent choice for landscape photography, cityscapes, or any situation when you need reach and stability.
I've been using this tripod to hold large telephoto lenses, with either a gimbal head or a ball head. In both cases, it's very solid. Even with the old Canon EF 400 mm f/2.8 and a full-sized DSLR on it (the lens alone is 6 kg!), it's working perfectly well.
It will also work great alongside a smaller travel tripod, so you can switch between the two.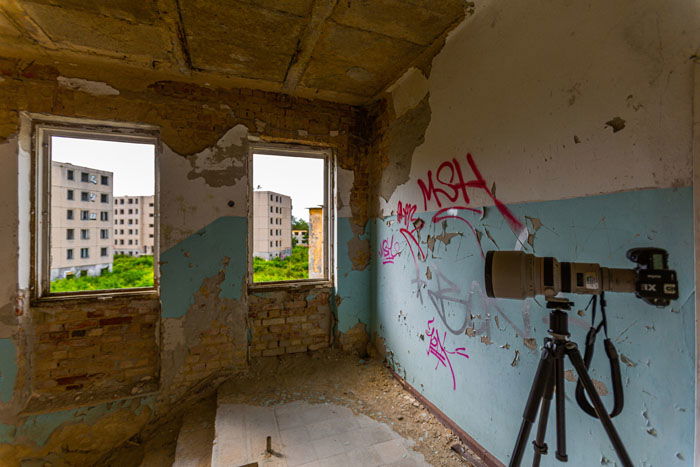 Key Features
Build Quality
This tripod is made of aluminum, but there are carbon fiber and magnesium options available as well. These are lighter, but also more expensive. I don't have any problem with lugging around the extra half kilogram, so the aluminum version is fine.
The latches are made of reinforced plastic, with several screws holding them in place. This assembly is tight, but you can also adjust the tightness with a hex driver.
The center column is held in place by a mixed plastic-and-aluminum housing. All the legs turn firmly, with hex-adjustable tightness.
Overall, it's excellently built, there are no issues with durability.
Adjustability
The Manfrotto 294 A3 tripod has three-section legs, which are 60 cm long when closed up. The maximum height of the tripod, as mentioned, is 169 cm with the center column (35 cm long) fully extended.
There's a two-way switch on the top of the legs that enables them to open up more than by default. Its lowest setting with the three legs spread out fully is around 40 cm, which is not groundbreakingly good. Many tripods are capable of going much lower.
Ergonomics
All the knobs and latches are comfortable to grab and adjust, and this makes the tripod quick to operate.
There is a soft padding on two of the legs for more comfortable operation. This is especially useful in cold environments where you don't want to touch the bare aluminum legs unless necessary.
Compatibility
Just like all consumer-use Manfrotto photography tripods, this one also connects to heads through a 1/4 inch standard threaded screw. You can attach any head with this mount to the 294 tripod.
I use several different heads. The one on the images shown here is an Oben BA-117 head, given to me for testing by a friend.
The heads I use myself are the Movo GH700 gimbal head and the Benro KB-1 ball head.
Size and Weight
Without a head attached, the Manfrotto 294 A3 tripod weighs 1.9 kg, and it's 48 cm long when closed up. Pictured next to the original Canon EF 400 mm f/2.8 lens for better scale.
Alternatives
The Manfrotto 055 series tripods are the most obvious competition. They are slightly more expensive but have a horizontal center column, which can be a lifesaver when shooting product and food photography.
The Vanguard Alta Pro 2+ tripod also has a horizontally adjustable column, and its payload weight limit is much higher than the 055's (although the real difference is probably less significant).
Summary
The
Manfrotto 294 A3
aluminum three-section tripod is a great choice for those who need stability and height and are willing to spare fancy (but undoubtedly useful) features like a horizontal center column. Check it out
here
on Amazon.
Eager to learn more about how to use a tripod for awesome long exposure photos? Why not check out our course Infinite Exposures next!
Manfrotto 290 Xtra Aluminum Tripod
This aluminum tripod is the perfect tool for photographers looking for a lightweight and sturdy support for their camera.