Tripods are necessary for several photography areas, such as landscape, self-portrait, or sky photography. Travel photography involves some of these niches. Therefore, it would be best if you carried a travel tripod with you on your adventures.
In this article, we've collected the best travel tripod options. However, you first need to pick the best tripod for travel that suits your needs. Apart from portability, it would help if you looked at several other factors.
[ExpertPhotography is supported by readers. Product links on ExpertPhotography are referral links. If you use one of these and buy something, we make a little bit of money. Need more info? See how it all works here.]
What to Look for When Buying the Best Travel Tripod
Tripods are necessary for low-light and long-exposure shots. This is why a travel photographer must carry them around. However, the problem with a lightweight tripod is that the lighter a tripod is, the harder it is to make it sturdy.
That doesn't mean your travel tripod is going to dump your camera in the dirt. Only there are a few features that you should look for when choosing the best travel tripod for you.
A Travel Tripod with Counterweight Hooks
Adding a simple hook to the bottom of the tripod's center column may not seem like a big deal. However, this tiny feature allows travel tripods to be more reliable, no matter the travel conditions.
If you can add weight to the tripod, such as your camera bag, you add more stability without sacrificing portability.
These counterweights will help your travel tripod stay put in the wind. However, even in the windiest conditions, most travel tripods will struggle regardless of the counterweight.
A Travel Tripod with Adjustable-Leg Flip Locks
You can adjust tripod legs through either twist locks or lever locks.
Twist locks are slimmer, but if you don't twist them tight enough, they could unlock. Flip locks will add more bulk and tend to take longer to set up. On the other hand, you can trust them to stay locked.
After using a monopod with twist locks that kept self-shortening mid-shoot, flip locks are my preference.
A Versatile Travel Tripod
Travel tripods are even more portable when they do double duty, so you don't have to bring multiple ones with you.
If you want to use both a tripod and a monopod, look for a two-in-one that converts to a monopod.
If you shoot macro or low to the ground, check the tripod's maximum height and look for a versatile height range. You'll save yourself from bringing a tabletop tripod for low-angle photos.
A Portable Travel Tripod
Whenever you buy a tripod, pay attention to the weight specifications. This is especially true for portable tripods.
One is how much weight the travel tripod can hold. Ensure that your heaviest camera body, lens, and accessories fit within those parameters. The tripod with a higher weight capacity will be sturdier even if you only need half the listed weight limit.
The second detail to consider is the weight of the tripod itself. That's how much you'll be adding to your bag's weight on a hike or in your luggage.
A carbon fiber tripod is lightweight and can hold a lot of gear, but it's also more pricey than an aluminium one.
A Travel Tripod with a Sturdy Build
Plan on hiking with a tripod? Look for other outdoor-friendly features besides the lightweight feature.
Retractable feet spikes can help make the tripod a bit sturdier on grass and dirt.
And while waterproof tripods are a bit harder to find, they can survive taking pictures in the rain or standing in the surf.
A Travel Tripod with a Quick-Release Plate
Don't miss capturing a moment because you have to fiddle getting your camera off your tripod. Look for a travel tripod that includes a quick release plate.
Also, watch for small design changes that help with faster set-ups. Unfolding each of the three leg sections takes longer than just unfolding one center column, for example.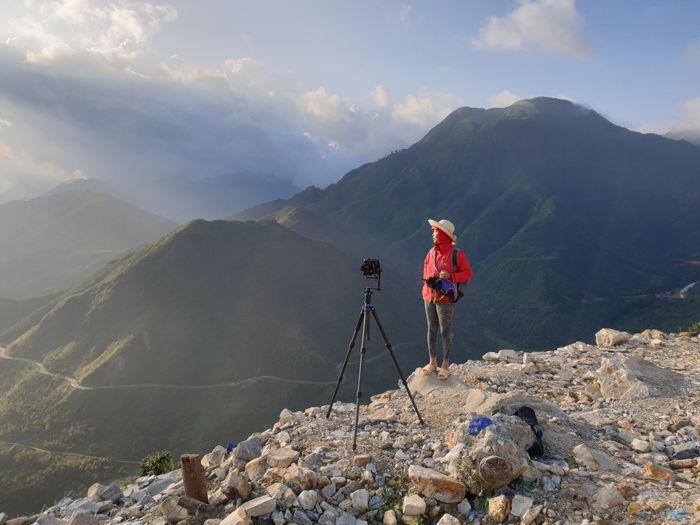 The Best Travel Tripods
Now that you know what to look for let's take a look at our recommendations!
The newest addition to Peak Design's line-up is the revolutionary Travel Tripod. We know Peak Design because of their camera bags, carrier straps, and belt holster systems.
Now, they've added a travel tripod that's turning everyone's heads. What makes it so unique? Quite a few things, actually.
First of all, it's a real travel tripod. It folds down to under 15.5 inches, which is exceptional as it extends to 60 inches when in use. That is more than enough for most travel photography.
There are also two options you can get this tripod in. Aluminium and carbon fiber, where the former weighs 3.44 pounds, and the latter comes in at 2.81 pounds.
The weight is manageable as it weighs similar to other travel tripods. The carbon fiber version is stiffer and lighter but is more expensive.
As a travel tripod, it has a few advantages. It's Arca-Swiss compatible. It has a single ring to adjust the head, which is also an intuitive and compact ball head. And it has four leg extenders. This offers you more versatility in the stable height you can use it.
For the best affordable travel tripod that still comes from a reputable brand, the Benro Slim is a reliable option for photographers on a budget.
At 2.6 pounds, this tripod fits into the travel category. And a weight hook will help negate some of the negatives of using such a light tripod.
The tripod has four leg sections with twist locks. Each leg can be set to one of three angles for more height options. This allows the tripod to extend from 15.7 inches to about 57 inches. You can also reverse the center column for the most height flexibility.
The tripod also includes a ball head with a bubble level.
So what is the reason for the low price? The Benro Slim doesn't fold down as compact as the others on the list without reverse folding legs. This means a faster set-up while taking up about four more inches of space in a bag.
The Slim, like the BeFree, also has one of the lower capacities on the list with an 8.8-pounds limit. And the under 3-pound weight could mean the tripod isn't as sturdy as some of the pricier options.
Despite the naming, this tripod is the juggernaut of travel tripods. It will hold up to 22 pounds, making it one of the heftiest tripods on our list.
This allows you to use heavy camera equipment, which is perfect for destination weddings or sports photography. The extra weight-bearing design will help with added accessories like microphones, lights, or flash units.
The ball head that comes with it is of high quality. As far as tripods go, this one is lightweight, weighing only 3.2 pounds. The most significant benefit I found is the small center column. This lets you get close to the ground for low-angle shots.
For these reasons, this tripod is expensive compared to the others on our list. However, it's worth the money. It has a simple design and construction, making it easy to extend and shrink.
Need to get down low for macro shots? The Vanguard VEO's reversing center column allows you to shoot as low as 16 inches from the ground or as tall as 57 inches. You can also adjust each of the twist-lock legs at three different angles.
Despite the versatility, this Vanguard tripod weighs only 4 pounds. It can handle four times its own weight with a 13.2-pound capacity. When folded, the tripod fits in a space less than 16 inches.
A counterweight hook helps add more stability to the lightweight tripod. With a tripod ball head included, the camera's position is also easy to adjust.
The VEO is designed for quick set-up with the central-column system. The four legs are also easy to adjust because of twist-lock legs.
It's also well-priced for a name-brand travel tripod.
There are some downsides, though. It doesn't include spiked feet, which you can get for a higher price. It also doesn't have the versatility of using one leg as a monopod. But for the price, the feature list is rather tough to beat.
Manfrotto is known for great tripods, and now they have the Element Traveller, made especially for travel photographers. It's a versatile tripod that allows you to move around without feeling weighed down.
Even though the tripod's weight is barely 2.5 pounds, the load capacity is a lot higher. It will allow you to hold up to 8.8 pounds, which is enough for a large professional DSLR and a super-telephoto lens.
The folded length of 13 inches is relatively small. You can shoot from the height of 14 inches up to 53 inches, which is excellent for landscape photography.
The other feature that photographers will enjoy is the aluminium ball head with an independent lock. This makes up-down shoots for food photography or product photography very simple.

We all know Manfrotto for making excellent tripods. Whether large and sturdy or small and portable, they're the go-to company. Their other best travel tripod options on our list are for the photographers shooting up high.
Eye-level vantage points are not the only way photographers want to capture scenes. Sometimes they want to get low for a different perspective. The Manfrotto PIXI Evo offers just that.
This table-top tripod is small, as it will fit in the small accessory pouches of your backpack or your coat pocket.
You might expect it not to deal well with DSLR camera systems. You'd be wrong, as it will hold a weight of 5.5 pounds. This is more than enough to support a full-frame DSLR body with a telephoto lens.
Using it couldn't be easier. Flip out the legs, and you're good to go. The PIXI Evo is the most compact and lightest of our travel tripod picks but doesn't offer you much versatility.
It's perfect for selfies and vlogging, as it offers two different leg angles along with adjustable two-section legs.
Sirui is one of the few brands offering waterproofed tripods. This makes the W-1204 one of the best options for a hardcore outdoor photographer.
The tripod has a sealing system. If you shoot in the rain or place the legs in shallow water, the twist locks will still work.
The feet complete the outdoor design. They can be rubber or spiked by unscrewing the interchangeable feet. The leg sections are held in place using twist locks to reach a maximum height of 65 inches.
This Sirui also has the highest weight capacity of any of the tripods on this list. It supports up to 33 pounds of gear while only weighing 3.1 pounds itself.
A counterweight hook adds even more stability to the tripod. The legs fold around the center column for a more compact folded measurement.
It stands at 19.3 incheses when folded, with only four leg sections. With a height of only 5.7 inches and a removable leg that you can use as a monopod, the Sirui gets points for versatility.
This Manfrotto BeFree tripod is one of the few that use level locks instead of the twist type. Weighing a bit over 3 pounds, this tripod folds down to a little over 16 inches.
You can adjust the legs on the BeFree to three different angles. This allows the tripod to reach as low as 13.4 inches and as high as 56.7 inches along with the compact fold,
The BeFree's mid-line price point, compact design, versatile height, and flip locks make this one of the best tripods for travel photographers.
Like other 3-pound travel tripods, this tripod can be a bit susceptible to wind. Unfortunately, there is no counterweight hook to support it.
The capacity is 8.8 pounds, so it's not designed for the biggest telephoto lenses. The 56.7-inch height limit will also be a sticking point for tall photographers.
However, for the price point, the product offers stable quality and portability.
What you'll notice with this product—apart from the creative name—is the small folding size. The legs fold back on themselves to keep it compact at 14 inches. This beats most of the tripods on this list.
The most significant benefit is that the tripod converts to a monopod. This versatility is perfect for landscape photographers and sports photographers.
The center column also comes with a hook, allowing you to stabilize it further with your backpack. You'll find a head-and-pan lock, keeping your camera exactly how you left it.
Like most other tripods on our list, you can extend the legs using the four extendable sections. This allows you to use it in an array of different heights.
What makes this perfect as an outdoor travel tripod is the materials used. The aluminium alloy tube means it won't damage easily, meaning a long product life.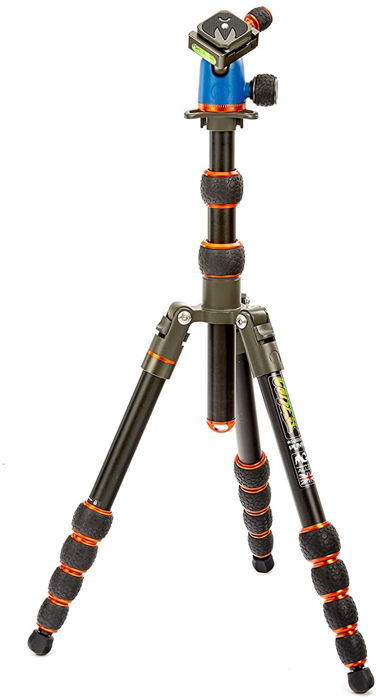 The MeFoto RoadTrip is a tripod that's as versatile as it is colourful. The RoadTrip serves as both a tripod and a monopod with one removable leg. The versatility also extends to the tripod's height range.
It goes from 15.6 inches to about 62 inches when extended. With the reverse-folded legs, the tripod packs away in less than 16 inches of space.
The number of leg sections is a bit too much if you're looking for maximum stability. But all five parts use twist locks, which is a great safety measure. The feet have spikes, and the twist locks help get the tripod set up a bit faster.
MeFoto offers two different versions of the RoadTrip—an aluminium and a carbon fiber edition. The pricier carbon edition option weighs 3.1 pounds and can handle over 17 pounds of gear.
The aluminium weighs a half-pound more, handling the same amount of gear. For those who don't like their photo gear looking like everyone else's, the RoadTrip comes in seven different colours.
Conclusion: Choosing the Best Travel Tripod
Choosing the best travel tripod is not always easy. You have to look at features like adjustability, stability, size and weight before picking the product you'll choose.
If you're looking for the overall best option, go for either Peak Design or Manfrotto models. However, it all comes down to your preferences. Make sure to read through all of our descriptions to see which tripod fits your needs the most.
If you're looking to test out your new travel tripod, learn how to capture amazing photos with our Shooting Skies e-book. It's a fun and easy course suitable for all photographers.