The best tripod for food photography helps make your food look even more juicy and delicious. It provides stability so you can work in any light conditions. And it allows you to shoot from different angles, including overhead shots. The most important thing is to find the best fit for your needs.
The Vanguard Alta Pro 263AP is our list's best tripod for taking food photos. It's a strong and sturdy tripod. The 3-section legs give you incredible flexibility and versatility. And a dual panning head gives you complete control for smooth panning and tilting. We think it's a perfect tripod for food photographers.
What Is the Best Tripod for Food Photography?
A sturdy tripod is essential to any food photographer's equipment list. First, it allows you to shoot with a slower shutter speed without the risk of camera shake. You can work in low-light scenarios and still use your lowest ISO settings for the best image quality.
You need to look for a few specific elements in a tripod for taking food images. The tripod head is a good place to start. Ball and fluid heads give you a good range of movement.
Also, think about flexibility. You need a tripod that can adapt to the environment you're in. Plus, you need to think about size and weight. Does the tripod fit in your camera backpack for location shoots? We have a full buyer's guide on food photography tripods at the end.
Here's a quick rundown of our tripod list. The next section looks at each tripod in detail. And if you're hungry for food photo tips, check out our Edible Images e-book. It's a comprehensive guide to mastering the art of food photography.
7 Best Tripods for Food Photography
The Vanguard Alta Pro 263AP has strong aluminum construction. It isn't the lightest tripod on the light. But it gives you unrivaled reliability and versatility. And with a more than reasonable price, we think it is the best tripod for taking food photos.
The 3-section legs can be adjusted independently. That means you can work on uneven surfaces. For example, you might need two legs on a tabletop with the other on the floor. That type of tricky setup is no problem for this tripod.
You also have quick-release flip locks on the legs. And there are rubber feet for extra grip on slippy surfaces.
The tripod legs can be outstretched fully to give you a low shooting angle. And you can move the central column to a horizontal position.
The swivel stop-n-lock system keeps your camera locked, even at awkward angles. This gives you incredible shot variety. And it can be really helpful when working in cramped restaurants or kitchens.
The dual panning head is ideal for food photography. The Alta Pro tripod gives you excellent control over pan and tilt movements. The movement is smooth. And the built-in bubble levels help you achieve the perfect camera position.
The Manfrotto MT190XPRO4 is a reliable tripod for photographers with heavy cameras. It can take a load of up to 15.4 lb / 7 kg. That's enough for a pro-level DSLR camera with large food photography lenses.
It even has the capacity for extra gear like external screens or DSLR microphones. These are good accessories if you're using a DSLR for video.
The quick power lock and the rotating bubble level give you a smooth food photo experience. And the 4-section legs are easily adjusted with the quick-release locks. This helps you work quickly when you're in a busy kitchen environment.
You can attach an extension arm to shoot overhead. It is stable enough to hold heavier camera-and-lens combos with a counterweight. But be careful not to extend it to its full height.
You need to buy the tripod head separately. But this lets you select the head that suits your needs best. The Manfrotto MVH500AH fluid head is a fantastic option for the MT190XPRO4 tripod.
The K&F Concept 94 is the best tripod for shooting at difficult angles. It has a unique horizontal arm you attach to the center column.
The arm allows you to mount the camera below the head for low angles. Or you can shoot from above for overhead shots. These are important shots food photographers need to master.
This tripod has a 22 lb (10 kg) payload capacity. That's strong enough for high-spec DSLR or mirrorless cameras. And you can use large lenses and extra equipment.
You also get an excellent range of movement from the ball head. You can pan and tilt without camera shake or vibrations.
The legs are comprised of three adjustable sections. And it has special anti-rotation twist locks. They keep everything in position when you're set. But they're also quick and easy to adjust when it's time for the next shot.
The tripod can also be used as a monopod. It's a great way of shooting if you're in a busy kitchen in full swing.
The Concept 94 tripod gives you an incredible range of shooting options. And it's a strong, well-built piece of equipment. It's a brilliant choice for creative food photographers.
Patti by 3 Legged Thing is a lightweight yet strong tripod. It has excellent build quality. And the magnesium alloy material keeps the overall weight low. It can carry a load equal to the K&F Concept 94 (22 lb / 10 kg). But the tripod weighs 25% less!
Patti has a brilliant compact ball head. It gives you 360 degrees of panning movement. This means you can shoot from different angles without remounting the camera.
You can also invert the central column, meaning you can mount a camera upside down. This is ideal for shooting low angles. And it's a great way to get extra close for food close-ups.
The 3-section legs are easily adjusted with the flip locks. And you can adjust each leg independently. That allows you to adapt to any food photography location. Patti also packs away nicely. It's compact and lightweight, so you'll have no problem taking it from shoot to shoot.
The Peak Design travel tripod may have been designed for travel, but it's also perfect for food photography. It has the sleekest look among the options on this list. And it also has a smartphone mount for mobile food photography.
Also, let's not forget the 20 lb (9.1 kg)) load-bearing capacity. It can hold a mirrorless or DSRL body with a telephoto lens.
The legs splay to give you a low shooting angle of 5.5 inches (14 cm). This is ideal for low-angle shooting on a tabletop or kitchen surface. You also get a decent max height for high-angle shots. And the adjustable legs make it a versatile tripod for food photography.
The ball head is ideal for shooting food. It gives you a wide range of movement. And the action is super-smooth and vibration free.
You can control the level of movement with the locking ring. It gives you more control than knobs. And it doesn't get in the way. So it's a thoughtful tripod design.
At 3.4 lb (1.5 kg), this Peak Design tripod is a light and compact choice. You can use it for on-location shoots without breaking your spine. And its robust design also means it will last for years, whether you're in the studio or traveling abroad.
Check out our full list of the best travel tripods.
The Sirui 3T-35 tripod is perfect for tabletop food photography. It weighs nothing more than half a pound (250 g). And it's so compact it basically fits in your pocket.
But despite its small size, it's surprisingly strong. It can't support a full frame DSLR or mirrorless camera. But the 8.8 lb (4 kg) weight limit is enough for APS-C and smartphone cameras.
The ball head gives you smooth panning and tilting. It helps you get the perfect food composition when shooting from a tabletop or kitchen surface.
You can also adjust the center column for a higher or lower shooting angle. So it's more versatile than you might think.
You can fold the legs vertically to transform the tripod into a handle. This is a handy feature for food vloggers and streamers. You can film yourself and your surroundings when exploring food markets and culinary hotspots.
If you're interested in vlogging, check out our list of the best vlogging cameras.
The Manfrotto 055 tripod is a professional-grade piece of equipment. Professional food photographers need to know the tripod can handle their expensive gear. And thankfully, this tripod can hold up to 19.8 lb (9 kg) of gear. This is enough for full frame mirrorless and DSLR cameras.
With a removable center column, this tripod gives you overhead shooting options. You can mount the column horizontally. And this makes it easy to position the camera above your delicious subject.
You can also adjust all three legs independently for maximum adaptability. And the secure flip locks make adjustments quick and easy.
No tripod head is included with this option. But the Manfrotto XPRO ball head is one of the best options for the 055 tripod.
3 Reasons Why You Need a Tripod for Food Photography
There are three main reasons why every food photographer must have a tripod.
Sharper Images: The tripod prevents any camera shake your hands may cause. It stabilizes your camera to create crisp images even when doing long exposures. And it lets you keep your ISO low and use a slow shutter speed.
Efficient Styling and Composition: These are absolute keys when shooting food photography. When you build your set, it's tedious to keep putting down and picking up your camera. A tripod gives you more time to style and compose your food photos.
Consistency and Precision: These are crucial in making commercial food ads. A good trick is to mark your tripod's placement on the ground with a piece of tape. Then you can always get the shot from the same position. It's impossible to achieve consistent positioning without a tripod.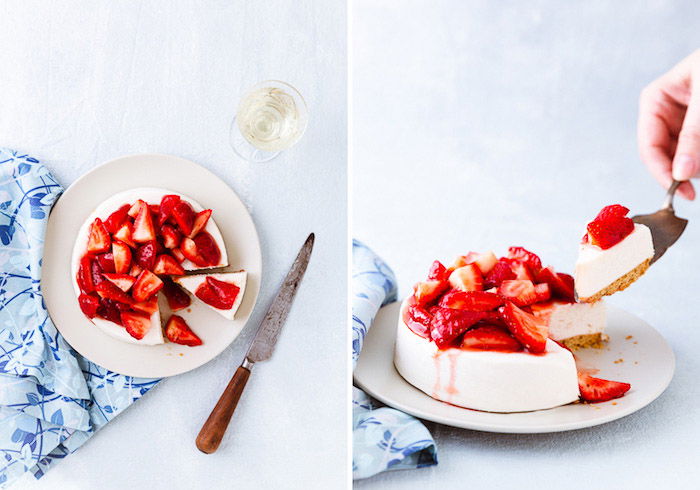 3 Tripod Features for Food Photography
What a food photographer needs in a tripod differs from what a landscape or portrait photographer needs. Here are three specific features to look for.
1. Stability to Handle Setup Weight
The most crucial requirement is stability. You need a tripod that can handle the weight of your food photography camera, food lens, and other items like a bracket or extension arm.
So ensure it has a high "payload." This is how much weight a tripod can withstand.
Most sturdy tripod starts at around the $100 mark. Any tripod that costs less likely won't be a good investment. On the plus side, once you invest in a sturdy tripod, it will last you decades.
2. Adjustability for Overhead Food Photography
When shopping for a tripod, look for one with both adjustable height and orientation. This means it needs to have a center column you can move.
For overhead food photography, you need a tripod with a horizontal arm. Sometimes the arm is the central column. Other tripods have a separate segment that works as an arm for horizontal mounting.
You need to know about overhead shots with food photography. And you also need to consider flat lay photography techniques. We have an e-book, Flat Lay Photo Fever, if you want to learn more.
3. Rubber Feet and Heft to Prevent Slippage
Make sure your tripod has rubber feet to avoid slipping. And your tripod must be heavier than any combination of camera and lens you put on it. It also helps to have a hook or center column to hang objects to offset weight.
It's usually worth disregarding cheaper, lightweight tripods for something more substantial. It does you no good saving money on a poor-quality tripod only to have it topple over and break your camera.
3 Essential Parts of a Tripod
There are three important parts of tripods that you must examine closely before buying.
1. The Central Column
The column is the middle part that rises up and down according to the height you need. There are three types of columns that you can choose from.
A quick-release column can move up and down by loosening a single knob. This is usually the cheapest option. It's better for photographers out in the field rather than studio photographers.
The better ones have a cushioned release. It prevents your camera from jostling about when you move the column.
But the best column choice for food photography is a geared center column. It lets you move your camera up and down to a precise height. It's a convenient feature to have if your camera and lens combo is quite heavy.
2. The Head
The head is the part you attach your camera to. You need to buy this separately when choosing professional tripods. For food photography, these are the two types of tripod heads that you should be looking at:
Ball Head: This comes in several different designs. But they all stabilize your camera and provide faster, more accurate rotation. A ball lock is an essential adjustment on this type of head. It keeps the ball from moving around when you want it to stay in one position. Make sure yours has a single twist knob so your camera doesn't drop or slip.
Pan-tilt Head: This lets you turn or rotate your camera left and right or up and down. You can also tilt your camera's horizontal line. It helps you get the horizon in the image straight, so you don't have to straighten the image in post-processing. The pan-tilt head is recommended for food photography if you have the budget. It's not as quick to use as a ball head. But it's well-suited for still life photography.
3. The Legs
Tripod legs extend out like old telescopes. Most are aluminum, but the best ones are typically carbon fiber.
The legs keep your whole setup sturdy. How far the legs can splay out depends on the tripod, so you should check this information before deciding on a model.
They could be as short as 3 feet (less than 1 m). But some can extend up to 5 feet (1.5 m) or even more. Look for the tallest option you can find. Then you can take overhead flat lay shots without any issues.
Tripod legs also have different locking mechanisms. Most of them have flip locks with tabs for securing sections into place. Others have twist locks that you need to tighten after adjusting the height.
The best are flip locks since they take only a second to tighten.
3 Tripod Accessories for Food Photography
Here are three tripod accessories to buy for the best food images.
1. Overhead Lateral Arm
This accessory is a must-have for food photography. Most food photos are overhead shots, for which this arm is the perfect tool.
You attach a lateral arm directly to your tripod for overhead images. Some tripods have a center column that will flip out and allow you to do this. But most of the time, you must buy a separate arm.
We recommend the Manfrotto 131D Side Arm.
2. L-Bracket
An L-bracket allows you to change your orientation between horizontal and vertical. This is important if you want to take overhead shots. Most pros take food pictures in landscape orientation. But interactive web design demands images shot in portrait.
If you are shooting for client websites, you will likely need to do it in both orientations. An L-bracket will allow you to do so.
We recommend 3 Legged Thing's Zayla, a dedicated camera L-bracket.
3. Sandbags
Your tripod should have a high payload and be able to bear the weight of your camera. But you might have to provide a counterbalance with a sandbag. You can also use sandbags at the bottom of the legs to stabilize your tripod.
You can buy sandbags for photography online or at a camera store. As for the sand itself, you can buy sand meant for children's sandboxes at most hardware stores.
Conclusion: The Best Tripod For Food Photography
The best tripod for food photography allows you to work in various locations. It helps you achieve a variety of shots to make the food look fantastic. And it should provide stability and reliability.
All the tripods in our list tick all those boxes. And we've included different types of tripods to help you find the perfect tripod for you. But the Vanguard Alta Pro 263AP is the best tripod for food photos. It's strong, reliable, and gives you excellent versatility.
The panning head gives you excellent camera control when mounted. And the price is more than reasonable. Food photographers won't regret buying this one. Also, don't forget our fantastic Edible Images e-book. It's the complete guide to delectable food photography.