A tripod is a necessary tool for every food photographer. It helps you take overhead shots and also provides stability. It is important to choose the one that best fits your needs. Your images of food look professional with minimal effort. But what is the best tripod for food photography?
We have compiled a list of the best food photography tripods and accessories to help you choose the perfect option!
[ExpertPhotography is supported by readers. Product links on ExpertPhotography are referral links. If you use one of these and buy something, we make a little bit of money. Need more info? See how it all works here.]
Why You Need a Tripod for Food Photography
There are three main reasons every food photographer must have a tripod.
Tripods result in sharper images. The tripod prevents the camera shake that your hands would cause. It stabilises your camera, which creates crispy images even when doing long exposures. It allows you to keep your ISO low and use slow shutter speed.
Tripods help you with efficient styling and composition. These are absolute keys when shooting food photography. When you build your set, it's quite tedious to keep putting down and picking up your camera. Using a tripod gives you more time to style and compose your photos.
Tripods create consistency and precision, which are crucial in commercial food photography. A good trick is to mark your tripod's placement on the ground with a piece of tape. That way, you can always get the shot from the same position. It is impossible to achieve consistent positioning without a tripod.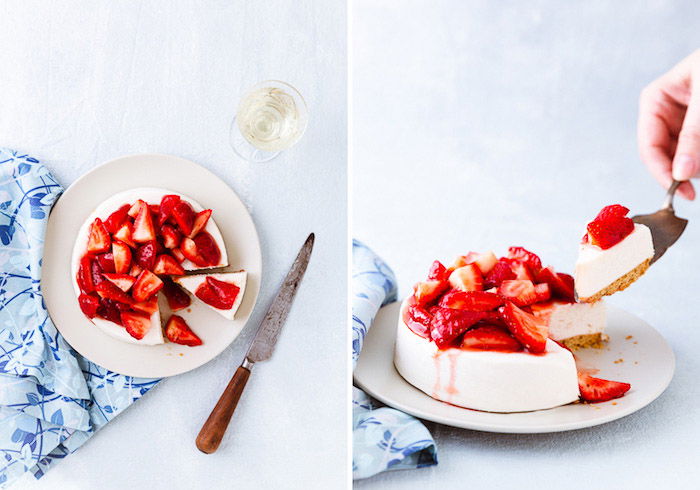 Choosing a Tripod for Food Photography
What a food photographer needs in a tripod is different from what a landscape or portrait photographer needs.
Stability to Handle the Weight of Your Camera
The most crucial requirement is stability. You need a tripod that can handle the weight of your camera, lens, and any other additions such as a bracket or extension arm.
It's worth it to disregard the cheaper, lightweight tripods for something more substantial. It does you no good saving money on a poor quality tripod, only to have it topple over and break your camera.
Adjustability for Overhead Food Photography
When shopping for a tripod, look for one with both adjustable height and orientation. That means it needs to have a centre column you can move.
If you are into food photography, you'll be interested in flat lay overhead shots at some point. For overhead food photography, you have to check whether the tripod includes a 90-degree tiltable central column to which you can mount your camera. This column ensures that your tripod is suitable for overhead shots.
Rubber Feet That Prevent Slipping
Make sure your tripod has rubber feet to avoid slipping and that it has a high payload. Payload refers to the amount of weight the tripod can withstand. Your tripod must be heavier than any combination of camera and lens you put on it.
A decent tripod starts at around the $200 mark and goes way up. Any tripod that costs less than that is not likely to be a good investment. On the plus side, once you invest in a sturdy tripod, it will last you decades.
Parts of a Tripod
There are three main parts of tripods that you must examine closely before buying.
The Central Column
The column is the middle part that you rise up and down according to the height you need. There are three types of columns that you can choose from.
A quick-release column can move up and down by loosening a single knob. The quick-release is usually the cheapest option. It's better for photographers who are out in the field rather than studio photographers.
The better ones have a cushioned release. It prevents your camera from jostling about when you move the column.
The best column choice for food photography is a geared centre column. It allows you to move your camera up and down to a precise height. It's a convenient feature to have if your camera and lens combination is quite heavy.
The Head
The head is the part where you attach your camera. You need to buy this separately when choosing professional tripods.
For food photography, these are the two types of tripod heads that you should be looking at:
The ball head comes in all several different designs, but with the same goal: stabilising your camera. They provide faster, more accurate rotation for the photographer. A ball lock is an essential adjustment on this type of head. It keeps the ball from moving around when you want it to stay in one position. Make sure yours has a single twist knob and that your camera doesn't drop or slip.
The pan-tilt head allows you to turn or rotate your camera left and right or up and down. You can also tilt your camera's horizontal line. It helps you get the horizon in the image straight so that you don't have to straighten the image in post-processing.
The pan-tilt head is the recommended type of head for food photography if you have the budget for it. It's not as quick to use as a ball head. It's also well-suited for still life photography.
The Legs
Tripod legs extend out like old telescopes. Most are aluminium, but the best ones are typically carbon fibre.
The legs keep your whole set-up sturdy. How far the legs can splay out depends on the tripod, so you should check this information before deciding on a model.
They could be as short as 3ft (less than 1m), but some could extend up to 5ft (1.5m) or even more. Look for the tallest option you could find. That way, you can take overhead shots on tabletops without any issues.
Tripod legs also have different locking mechanisms. Most of them have flip locks with tabs for securing sections into place. Others have twist locks that you need to tighten after adjusting the height.
The best are flip locks since they take only a second to tighten.
Tripod Accessories for Food Photography
This accessory is a must-have for food photography. Most food photos are overhead shots, for which this arm is the perfect tool.
You attach a lateral arm directly to your tripod for overhead images. Some tripods have a centre column that will flip out and allow you to do this. But most of the time, you will need to purchase a separate arm.
An L-bracket allows you to change your orientation between horizontal and vertical when you are shooting overhead. Most pros take food pictures in portrait orientation. But interactive web design demands images shot in landscape.
If you are shooting for client websites, you will likely need to do it in both orientations. An L-bracket will allow you to do so.
Your tripod should have a high payload and be able to bear the weight of your camera. But you must still provide a counterbalance to that weight with a sandbag. You can also use sandbags at the bottom of the legs to stabilise your tripod.
You can buy specific sandbags for photography online or at a camera store. As for the sand itself, you can buy children's sandboxes at most hardware stores.
Best Tripod for Food Photography
There are plenty of tripod brands out there. The most popular ones include Manfrotto, Gitzo, Vanguard, and Peak Design. Here is our collection of the best tripods for food photography.
This is a budget tripod that, despite the low price, provides excellent quality and sturdiness.
The Alta Pro 263AP has aluminium construction, which makes it heavier than its carbon fibre counterparts. Because of its weight, it is harder to transport than its competitors.
But it has all the other features that expensive options have, such as a multi-angle central column and three bubble levels. It even comes with a tripod head and even has an overhead mount.
At 4.6 pounds, this is a compact yet reliable tripod. It's easy to carry it on restaurant shoots and you can use it in a studio as well. The quick power-lock and the rotating bubble level make sure that you have a smooth food photograph experience.
You can attach an extension arm to shoot overhead. It is stable enough to hold heavier cameras and lens combinations with a counterweight. You just have to make sure not to extend it to its full height.
This model has a load capacity of 19.8 pounds, indicating that it will hold even your heaviest gear.
Like all the other Manfrotto options, this one is an overhead tripod. It has a 90-degree centre column. That way, it extends vertically and horizontally, even while the camera is attached.
The Easy Link connector makes this tripod compatible with a variety of camera accessories. You can attach reflectors, flashes, or an extendable arm for the tripod to hold.
This is the best overhead food photography tripod on the market. It has a sufficient height (44-217 cm), which is excellent for flat lay shots.
Your back can get very sore from constant bending down to the floor to compose overhead shots. Due to the tripod's widely extendable height, it is perfect if you want to work at a table.
This is the most expensive but most heavy-duty tripod on this list. It supports up to 39 pounds of weight, which is an unusually high payload.
It's a serious professional tripod, which is also indicated by its price. But it is good value for money. It has a carbon fibre body, which makes it not only light but also extremely durable. It can withstand rough use in landscape photography. So, it can definitely withstand the safe conditions of food photography.
This tripod may have been designed for travel, but it's also perfect for food photography. It has the sleekest look among the options on this list. Also, let's not forget about the 20pound load-bearing capacity that can hold your gear safely.
At 3.4 pounds, it is a light and compact choice. You can use it for on-location shoots without breaking your spine. Its robust design also means it will last for years, especially if you keep it in a studio environment.
This tripod is unique because it has a horizontal arm, as opposed to the rest of the products on this list. The central ball head allows you to move the camera to a vertical position as well.
The tripod has a 22-pound payload, which provides stability for your camera. In case you want to have a lighter option, you can convert this tripod into a lightweight monopod.
It is one of the best choices if you are looking for a flexible and adjustable tripod for food photos.

Conclusion
To pick the perfect tripod for overhead food photography, take a look at the main brands at any camera store. Get a feel of how they look and function in real-life. Don't forget to consider the weight of your camera or the shooting location.
It isn't necessary for you to buy a new tripod. You might also be able to find a great used tripod for a much lower price, especially if the options you have are out of your price range.
Using a tripod consistently might take some getting used to. But it will help you improve your food photography so quickly that you will wonder why you didn't invest in one sooner!
Looking for a solid head-start in food photography? Check out our eBook Edible Images for styling tips, composition, camera angles and more!