Tripods and monopods tend to be pricey. They can easily cost you hundreds, if not thousands of dollars. But do the best tripods and monopods always have to be the most expensive?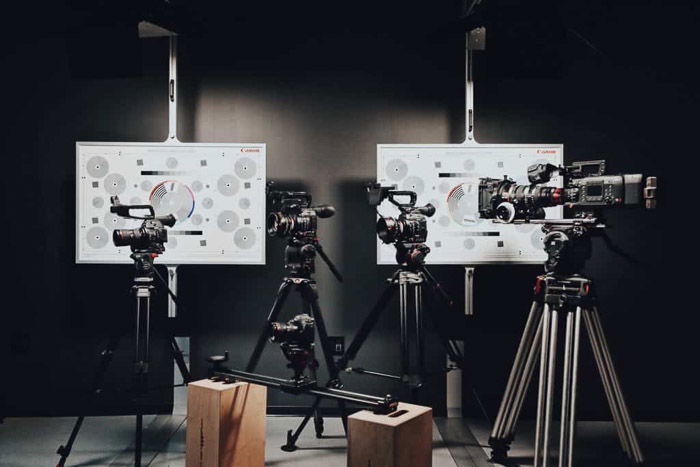 [ExpertPhotography is supported by readers. Product links on ExpertPhotography are referral links. If you use one of these and buy something we make a little bit of money. Need more info? See how it all works here.]
How to Choose a Budget Tripod
Choosing a tripod for cameras can be intimidating for beginners. So before we pick the best budget tripod, let's answer a few questions to help you make the right decision.
Where Can You Buy Tripods?
Typically, you can buy tripods for cameras in camera stores. Unfortunately, not many physical shops exist anymore. But you can still find a few options in large retail stores such as Walmart and Target. However, we can't personally vouch for the quality of the tripods they sell.
These days, the best way to find tripods for cameras is online. Amazon offers a variety of options at different price points.
You can also look at dedicated online photography stores such as Adorama and B&H. They offer professional assistance in case you need help.
How Much Does a Tripod Cost?
Tripods vary a lot in price. Most professional options can potentially cost you hundreds of dollars.
But if you're a beginner, you don't need fancy tripods just yet. You can get a high-quality tripod for less than 100USD. The secret is knowing which ones to choose!
The most important thing to remember is that budget tripods are designed for budget gear.
You should only use an entry-level digital camera with a tripod that's less than 100USD.
If your equipment is expensive, then consider investing in a tripod that can handle it. The payload of a tripod is crucial.
What Should I Look for in a Tripod?
When shopping for a tripod, always check the weight capacity. A tripod with a higher weight capacity is going to be sturdier.
Make sure your tripod's capacity doesn't exceed the weight limitation written in the manual. Besides your camera body and lenses, always consider the weight of accessories like flashes.
If you use a lightweight camera, you shouldn't have any issues. But we don't recommend using heavier devices or lenses on cheap tripods at all. If you do, there's a danger your equipment might tip over because it's top-heavy.
Another important specification is the tripod's maximum height. A budget tripod that's too short may cost you more in the long run. Not to mention that you'd have to endure the pain of crouching over to see through the viewfinder.
If you're on the tall side, it will be tougher to find a good tripod under $100, but not impossible. In most cases, 5ft. or 65 inches should suffice. You may have to stoop down a bit, but it's way better than getting a version that's only three or four feet.
Picking up a tripod with a basic head can also cut down the cost without sacrificing stability. Video heads tend to be more expensive. So if you're only shooting photos with the tripod, stick with a ball head.
You can also choose a pan and tilt head since it allows you to make more precise adjustments. But it can also increase the price point.
What Is the Difference Between a Tripod and a Monopod?
Sports and wildlife photographers often use monopods because they move around a lot.
Having a monopod allows photographers more mobility than tripods. But at the same time, they also offer the stability that normally only tripods can offer.
Of course, the downside is that a monopod is that it's not free-standing. In other words, you have to hold it and your camera all the time. With a tripod, you won't have this issue at all.
Shopping for a budget monopod carries similar specifications for weight and height.
But for the most part, you can get away even with flimsy options since you're still holding the camera anyway. You can always catch it in case it tips over for any reason.
Monopods are also less expensive. While they're not the best for long exposures, they help take the weight of your gear off your neck. And they add a bit of stabilisation, especially when using long telephoto lenses.
You can buy dedicated monopods. But you can also get tripods that double as monopods if you want. We'll go through the options below to help you pick the best one.
Best Tripods and Monopods for Under $100
The AmazonBasics tripod may be the cheapest option on this list, but it's packed with lots of features.
This fantastic tripod has a simple fluid head that lets you pan and tilt your camera quickly. It also has a crank that raises and lowers the centre column with precision and stability. Furthermore, it features bubble levels to let you confirm if your tripod is straight or not.
The AmazonBasics tripod is not the most compact option on this list. It would surely stick out if you try to place it in your backpack. But that's a minor issue when it comes to this piece of equipment. What matters is that it's quite robust. It can support up to 6 pounds. Which means it can handle bigger cameras. And its wide aluminium legs ensure that it's not going to snap or topple over easily.
Kodak has been a household name for at least a century. So when they come out with a budget tripod, you can expect it to have decent quality.
Kodak's tripod has all the features that come standard in most budget options. It has a fluid head, a crank to adjust the centre column, and a quick-release plate.
But what makes Kodak tripod different is the simplicity and build-quality. It has a beautiful aluminum finish that's sturdy. The tripod head may be plastic, but it looks sleek and high-grade as compared to its competitors.
If you love to travel, this compact tripod is the best option for you. Despite having an aluminium body, it still only weighs 2.99 pounds. That's quite a feat since it rivals its more expensive carbon fibre counterparts in that aspect.
What makes the K&F Concept tripod attractive to travel photographers is that it can fit in small bags. That means you can place it in plane cabins without any issues. Despite the K&F Concept's compact size, you can extend it up to 62 inches.
But the best feature of this tripod is its centre column. You can configure it so it can support a camera for low-angle shots. You can even remove it and turn it into a monopod if you want!
Most of the options on this list only extend up to 62 inches. But what if you're a tall photographer who needs the extra height for a tripod? Then The Ravelli APLT6M is for you.
This tripod is relatively compact, but it extends at least one foot taller than most tripods. And apart from the size, you can also convert the centre column into a monopod.
The only potential issue with the Ravelli is that the plastic feels a bit cheap. But if you take care of it, it will surely last you a long time. After all, this is one of the few affordable tripods with a whopping 72-inch height.
Manfrotto is a famous brand among professional photographers. But it also has a few great options for beginners! One of their budget best-sellers is the Manfrotto Compact Action tripod.
As the name suggests, the Compact Action is so portable that you can put it inside a small book bag. It also features a pistol grip that allows you to adjust your camera more quickly and accurately than a ball head.
The downside of using Compact Action is that its legs are a bit flimsy, and they don't go up as high. But if you have a lightweight camera, then it shouldn't cause any problems at all. After all, this tripod is specifically for entry-level DSLRs and mirrorless options.
This is a solid and easy to use tripod, recommended for those who are taking photography seriously. It tripod handles 5.44 pounds which is more than enough for an entry-level DSLR.
This Manfrotto has a maximum height of 53 inches. For lower angle shooting, the lowest it can go is about 16 inches.
It uses a unique feature called Quick Power Lock. It allows you to lock and unlock sections separately, until complete extension. This way, you can keep tweaking the legs with only one hand. It also offers a 90° column system, so that you can take photos from any perspective.
The Manfrotto 190XPro4 also includes features like a bubble level and an easy link connector. It's a reliable option for enthusiast photographers.
This Vanguard tripod's build-quality, stability, and portability are its best selling point for enthusiasts.
The tripod has detachable legs and a removable centre column. That means it can be combined to form a monopod. It can also extend up to 65.5 inches but can also shoot as low as 9.5 inches from the ground.
The ball head is removable, lets you til it 91° tilt in portrait orientation and 360° in independent rotation.
The reversible centre column and the low angle adaptor make this tripod perfect for low angle and macro photographs.
The AmazonBasics 67-inchMonopod checks all the prerequisites for the perfect monopod.
Despite being under 1 pound, it can carry up to 6 pounds of weight. With a universal 1/4 inch mount, you also can attach any tripod head to it for additional stability. But its best feature is its four-section shaft that extends up to 67 inches. Now that's a big plus, especially if you're a tall photographer.
What makes the AmazonBasics monopod unique are the added details built into the product. For instance, apart from having a rubber foot, it also has a retractable spike if you need that extra stability. It also features a cushion grip and strap, which allows you to use it as a hiking pole!
Camera supports don't get much cheaper than the Vista Trailblazer. Its seven-pound weight capacity is on the low side for monopods, but then again, so is the price.
For photographers with lightweight gear that want to try out a monopod, it's hard to beat the price of this name-brand monopod.
The Vista Trailblazer extends up to 68 inches. But it can also fold down to 21 inches for low angle shooting or packing. Flip-style locks adjust the monopod's height.
At one pound, the monopod isn't going to add much weight to your bag. The bottom foot has a spike, which you can retract to use the rubber foot instead.
The Vista Trailblazer isn't the most full-featured monopod out there and won't tote around the heaviest gear. But it's a good deal for the tightest budgets and photographers who just want to try a monopod.
Finding a budget monopod for lightweight gear is easy to do. But the Benro MAD38A Adventure Series 3 Aluminum Monopod is capable of handling a robust 35.3 pounds, yet still slides in at a low price point.
The higher weight capacity makes the monopod excellent for handling heavy lenses. The monopod extends to 62.8 inches and when closed, the monopod is 20.7 inches long.
The monopod will only make a 1.37-pound dent in your gear bag, so it's a great travel tripod too.
Unlike most budget monopods, this Benro has a rubber foot that helps keep the monopod in place. The foot articulates, so the monopod still allows for different angles. Other perks include flip-style locks for quick height adjustments and a foam grip at the top.
There are cheaper monopods on the market. But the Benro offers pro-level weight capacity at a rather affordable $50, considering all the features.
If the budget has a little more wiggle room, the monopod is also available in carbon fibre. But the weight reduction is small, and the price hike is steep.
Like most monopods, there's no head included. Picking up a tripod head will allow for further camera angle adjustments outside of that articulating foot at the base.
Conclusion
The secret to getting the best tripod or monopod is by doing a lot of research. Remember that not every piece of equipment is perfect for every shooting scenario. Especially since these budget options either have to sacrifice build-quality or minor features.
Figure out how you want to use your tripod or monopod. Do you think you'll take it outdoors all the time? Do you intend to take it with you when travelling? Do you plan to expose it to harsh elements? Those are just some of the questions you need to ask to determine which one would hold up the best for your particular use.
Tripods are a must-have for long exposure shots. Don't miss out on our long exposure course – Infinite Exposures!