Are you looking for the best phone gimbals? Look no further! This article explores the eight best phone gimbals you can buy this year.
From the Hohem iSteady Pro 2 gimbal to the Zhiyun Smooth 4 gimbal, we'll cover the features and benefits of each product. The DJI OM 5 Smartphone Gimbal is our top choice. It's easy to use, works with most phones and has many shooting options. But we've included several alternatives to give you the best selection of phone gimbals.
DJI OM 5 Smartphone Gimbal Stabilizer
Capture smooth, professional-quality videos with this handheld smartphone gimbal stabilizer.
Buy from Amazon
[Note: Readers support ExpertPhotography. Product links on ExpertPhotography are referral links. If you use one of these and buy something, we make a little money. Need more info? See how it all works here.]
What Are the Best Phone Gimbals?
A gimbal is a device with motors and sensors that allows your camera to rotate smoothly around an axis. It stabilizes your camera while you tilt, pan, and roll and helps you film fluid, steady footage when you're moving. So it helps with shaky hands!
The best phone gimbals are a godsend for making video footage look professional. And it all comes down to three-axis stabilization motors that eliminate camera shake.
The traditional gimbal market leaders are DJI and Zhiyun. These brands top our list. But some excellent alternatives are worth your consideration. Here's a quick peek at our list. You'll find more information on each phone gimbal in the section after.
The Best Phone Gimbals in Detail
All the smartphone gimbals on our list have three-axis stabilization. It smooths out camera movements and buoys their electronic image stabilization. And they're all compatible with iOS phones and Android devices. But remember that these devices aren't meant to hold action cameras, mirrorless cameras, or DSLRs!
1. DJI OM 5
Dimensions (Folded)
7 x 3 x 1.5 inches / 17.4 x 7 x 3.7 cm
Smartphone Size
2.6 x 3.3 inches / 6.7 x 8.4 cm
Extension
Yes (8.5 inches / 21.5 cm)
Key Features
Built-in telescopic extension pole and mini tripod
Pros
Excellent build quality and elegant design
Pocket-size and very portable
Extension pole gives extra perspective
Fast, simple pairing with user-friendly Mimo app
Pouch and mini tripod included
Cons
Digital joystick can be fiddly
Hard to find the right angle when on a tripod
Hinge on extension arm too easy to turn
Fill-light phone clamp not included
No USB port to charge the phone
The DJI OM 5 is a two-in-one combination of a lightweight gimbal and a selfie stick. It boasts all the usual gimbal features. But it has the added benefit of shooting from a higher or lower angle or turning the camera around to create a better selfie.
The phone is attached to the gimbal using a magnetic phone clamp in a unique magnetic mounting system. On the grip itself, there are a limited number of buttons and controls:
Front joystick, record and rotate buttons
Side zoom slider and power button
Back trigger and USB-C port
The DJI Mimo app controls the gimbal and gives you access to various features, including Active Track 4.0, CloneMe pano, and video modes. The latter includes story mode templates, dynamic zoom, time-lapse, motion-lapse, hyper-lapse, and panoramas. There's also a SpinShot gimbal movement mode.
The ShotGuides menu includes stylized clips designed to create a more cinematic feel without too much effort on your part. You can launch ShotGuides by tapping the icon in the DJI Mimo app. But the window also automatically appears if you're in video mode and point the camera at your subject.
ShotGuides is divided into various sections, each containing several different options. The Chilled section, for instance, includes seven different scenarios. It includes options like Nostalgia and Summer Days.
If you shoot six clips and tap the video generation icon, the app enables Shot Reel and creates a video for you. By attaching a fill light phone clamp, you can add fill lighting with many brightness options and color temperature levels.
For more info, you can check out our DJI OM 5 review.
2. Hohem iSteady
Dimensions (Folded)
12 x 4.5 x 4.3 inches / 30 x 11 x 10.8 cm
Smartphone Size
2.3 x 3.5 inches / 5.8 x 8.9 cm
Key Features
Long battery life, 600-degree panning, and facial recognition and tracking
Pros
Produces smooth and clean footage consistently
Excellent facial recognition and tracking features
Simple button layout makes it easy to use
Exceptional 600-degree panning
Long-lasting battery life of up to 12 hours
Cons
Plastic construction isn't very durable
Jittery and laggy digital zoom
No locking mechanism for the arms
No USB-C port
The app is disappointing compared to rivals'
The Hohem iSteady is a mid-range, black, metallic alloy phone gimbal. It was designed to compete with the FeiyuTech Vimble 2S and Moza Mini S. It's an upgraded version with an adjustable roll arm and trigger button.
Here is the arrangement of the buttons and controls on the grip:
Front joystick, mode and power buttons, T / W switch (Telephoto / Wide-angle), and two LEDs (for Bluetooth connection and mode)
Side LED indicators (four), microphone screw hole, micro USB charging port, and USB-A port
Back trigger button
It offers four shooting modes—Pan Follow (PF), Pan and Tilt Follow (PTF), All Lock mode (AL), and All Follow (AF). The Hohem Gimbal app—which can be temperamental—controls everything else.
Six modes are available—Standard, Slow Motion, Motion-lapse, Time-lapse, Long Exposure, and Light Trail. Stabilization is quick and smooth, including panoramas, and all the usual features are present.
It is also possible to customize all the most crucial exposure, camera, and gimbal settings. This includes exposure value (EV), ISO, white balance, resolution, and shutter sound. You also control video stabilization, zoom speed, follow speed, and joystick speed.
3. Zhiyun Smooth 5
Dimensions (Folded)
12 x 6.6 x 2 inches / 31 x 17 x 5.2 cm
Smartphone Size
2-3.5 inches / 5-9 cm
Key Features
Strong weight capacity, tripod attachment, excellent smartphone software
Pros
Durable and reliable build quality
Strong weight-capacity for larger smartphones
Good range of buttons for fast and easy changes
Tripod attachment included
Excellent full-featured software
Cons
Fiddly and time-consuming setup
You have to rebalance and rotate when switching between landscape and portrait
Hard to remove silicone USB-C port cover
Smartphone app can be unreliable
Weak battery life compared to competitors
The Zhiyuh Smooth 5 is an upgraded version of the Zhiyun Smooth 4. So it costs a bit more. It offers all the features of the Smooth-Q3. But it has a stronger motor capable of handling larger, heavier smartphones like the iPhone 14 Pro Max.
The control and editing app is the same, but there are far more controls on the grip. That means this isn't a good choice for the beginner!
Front mode has an indicator light, menu button, mode button, capture button, joystick, and center-fill light button. There's also an adjustment wheel for resolution and frame rate. And you can pull up ISO and exposure adjustment, display, and the photo album.
Side focus and zoom wheel, with a power button and customizable function button. There's also a quarter-inch threaded hole (for a gimbal stabilizer or extension bar).
Back trigger button, roll axis lock, and USB-C port.
The combo package includes a protective bag, wrist strap, fill light, and four color filters. It also includes a ZY Cami one-year prime service card. You can also attach two 300-lumen fill lights (max) and various color filters for 360-degree illumination.
Note that some of the Smooth 5's features aren't available on Android phones. So it's worth checking the compatibility with your phone before you buy one.
4. Zhiyun Smooth Q3
Dimensions (Folded)
1.8 x 6 x 7 inches / 4.5 x 15.4 x 18 cm
Smartphone Size
2.8 to 3.5 inches / 6 to 8.8 cm
Key Features
Built-in time-lapse and hyper-lapse modes, smart tracking features, and analog joystick
Pros
Fantastic fill light for better illumination
Smart tracking and follow features
Time-lapse and hyper-lapse features built-in
Tripod included
Buttons work without the app being active
Cons
Thin plastic body doesn't feel durable
Multi-function buttons can be confusing to use
Very little guidance for beginners in the app
Some app features are locked behind a paywall
Variable battery life can interfere with shoot plans
The unique selling point of the Zhiyun Smooth-Q3 is its built-in reversible fill light. It has three brightness levels and is very helpful if you want to vlog or take selfies in low light. There are also the usual controls on the grip:
Front indicator lights, mode button, capture button, and joystick
Side USB-C charging port and zoom rocker
Back trigger button and power button
The ZY Cami smartphone app offers live streaming. Plus, it provides creative shots with gesture control, instant dolly zoom, time-lapse, and hyper-lapse. The Smart Follow subject tracking and panoramic modes are particularly impressive. And there's also a MagicClone pano that lets you appear several times in your shots!
The app lets you edit your video by adding music, subtitles, filters, and stickers. You can also change the playback speed, reverse the video, zoom, rotate, change colors, etc. You can also buy a combo package, including a storage bag, wrist strap, and ZY Cami's one-year prime service card.
5. JOBY Smart Stabilizer
Dimensions (Folded)
7.7 x 5 x 3 inches / 19.5 x 13 x 6.8 cm
Smartphone Size
Up to 3.3 inches / 8.4cm
Extension
Yes (7 inches / 18 cm)
Key Features
Extendable pole and tripod and case included
Pros
Excellent value for good build quality
Built-in extendable selfie stick
Excellent app manual for getting started
The app also has quality creative features
Tripod, zip-up case, and cables all included
Cons
Face tracking is unreliable
Multi-function buttons make controls confusing
The body doesn't fold down
Tripod is flimsy and doesn't provide much support
Battery life isn't the best
Joby is perhaps better known for its Gorillapod flexible tripods. But they now produce this black plastic smartphone gimbal with a built-in selfie stick.
The buttons and grip controls are straightforward:
Front joystick, shutter button, and on-off button
Side zoom slider
Back multi-function trigger
The joystick is for manually moving the angle of the phone's camera. And you can press and hold the shutter button to start a video instead of taking a photo.
Feiyu makes the Smart Stabilizer app. It has advanced features such as dolly zoom, light trails, slow-motion, time-lapse, and Motion Control mode. Plus, there's a helpful adjustment to level the horizon.
But the max payload won't be enough if you have an oversized smartphone like the iPhone 14 Pro Max. And face-tracking doesn't work if you move too quickly or let the subject leave the frame for more than a fraction of a second.
6. FeiyuTech Vimble 3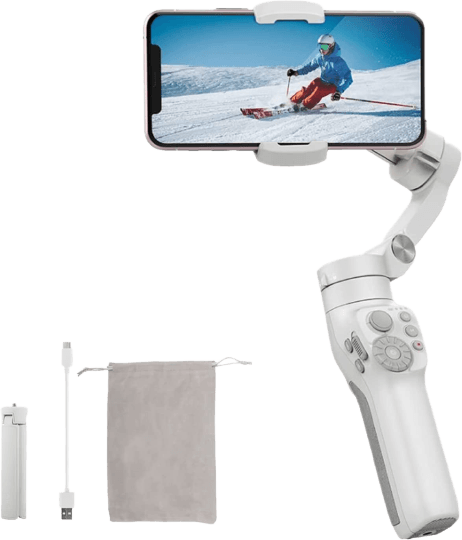 Dimensions (Folded)
5 x 3.4 x 11.8 inches / 13 x 8.6 x 30 cm
Smartphone Size
Up to 3.3 inches / 8.5 cm
Extension
Yes (7 inches / 18 cm)
Key Features
Extendable pole, good tracking features, and 360-degree panning rotation
Pros
AI Tracking module for fantastic subject tracking
Excellent manual controls on the gimbal handle
Switch between landscape and portrait without rebalancing
360-degree rotation on all these axis
Supports heavier smartphones than previous models
Cons
Some jerky movements when motor moves the phone
No screen display on the gimbal handle
App adds a watermark to photos as default
Time-lapse mode isn't always reliable
Included tripod legs are not very strong and offer little flexibility
The Vimble 3 is FeiyuTech's best smartphone gimbal to date. It has an excellent selection of buttons and manual controls that make it easy to operate. There's a built-in extension rod. And there are many valuable features. It has gesture controls, filters, HDR shooting, a timer, Beauty, Light Rail, and Panorama modes.
The Feiyu ON app automatically connects the gimbal to the phone, which is handy. And it's possible to charge your phone from the gimbal via a cable using the built-in micro USB port.
With performance, the tracking and stabilization are excellent, and the gimbal offers 360 degrees of rotation on all three axes. The gimbal head can hold phones weighing up to 260 g (9.2 oz). That's enough for the latest iPhones.
The AI tracking module gives you enhanced subject tracking. And this is built into the gimbal, so you don't need to run it through the app. It helps you keep your subject focused, no matter how much movement there is!
7. MOZA Mini S Essential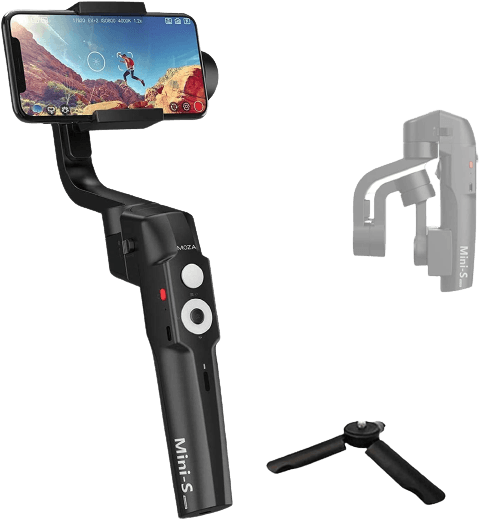 Dimensions (Folded)
7.6 x 5 x 2.6 inches / 19 x 13 x 6.8 cm
Smartphone Size
Up to 3.3 inches / 8.5 cm
Key Features
Quick to balance on three axes, hyper-lapse, slow-motion mode, and foldable body
Pros
Simple manual controls on the body
Reliable and accurate subject tracking
Excellent time-lapse, hyper-lapse, and slow motion
Foldable design makes it easy to store and carry
Setup is fast and easy with the app
Cons
Must remove smartphone case before mounting
No extendable arm
All-plastic body could be stronger
Relatively short battery life compared to other gimbals
The app is overly complicated with too many menus
The MOZA Mini S entry-level smartphone gimbal is made from plastic, but it's solid enough. And the ten-degree tilt in the handle makes it more comfortable to hold for long periods. Because it's not made of metal, the price point is much lower than you might expect for something so feature-rich.
Its foldable design makes it very portable. It's also easy to set up and operate with various buttons and controls on the grip:
Front joystick, battery indicator, and operation, playback, and photo buttons
Sides focus controls, power button, gimbal lock, and charging port
Back multi-function trigger
It has all the usual features of a phone gimbal. This includes different shooting modes, subject tracking, and smart gesture control. The stabilization is very smooth—albeit with the occasional lurch!
The MOZA Genie app controls the gimbal and phone. It offers the possibility of basic video editing. It also includes features to cut, splice, and paste. And you can add filters, effects, transitions, music, and subtitles. It's a decent smartphone gimbal for the price.
8. PowerVision S1
Dimensions (Folded)
5.6 x 2.3 x 1.1 inches / 14 x 5.8 x 2.8 cm
Smartphone Size
2.6-3.3 inches / 6.7-8.4 cm
Key Features
Portable and lightweight, simple controls, gesture controls
Pros
Easy to set up and operate
Reliable and responsive gesture controls
Compact and lightweight body
App includes introductory videos to help you get started
App also features basic video editing tools
Cons
Weak built-in tripod topples with heavier phones
No extendable pole or selfie stick
Lacks many creative features found on rival models
A bit pricier compared to similar models
Battery life isn't always as long as advertised
The PowerVidion S1 has an ingenious, compact design. That means it's very portable. It also offers most of the expected features of a smartphone gimbal. So it has three-axis stabilization, gesture control, PowerFollow, object tracking, and reverse charging.
Several introductory tutorial videos make it relatively easy to get started. And there are many different shooting modes, including time-lapse, slow motion, video, photo, and panorama. There are also only a few simple controls:
Capture button
Joystick
Power button
Zoom slider
But the panoramas show noticeable distortion, the built-in tripod is rickety, and the video is not well stabilized at full zoom. So all of that doesn't quite justify the relatively high price.
You can read about our experiences with it in more detail in our PowerVision S1 gimbal review.
Conclusion
A phone gimbal is a must-have piece of equipment for anyone making media with their smartphone. Whether you're an influencer, travel vlogger, or videographer—it doesn't matter. Everyone needs to find the best phone gimbal for their smartphone media. They give you the step up from amateur to pro videography.
The DJI OM 5 is the best phone gimbal right now. It ensures your smartphone footage is super-smooth and shake-free. The app works well and is full of creative features. And you get a solid piece of equipment for a good price!
DJI OM 5 Smartphone Gimbal Stabilizer
Capture smooth, professional-quality videos with this handheld smartphone gimbal stabilizer.
Buy from Amazon