The Zhiyun Smooth XS is a versatile smartphone gimbal. It helps vloggers and budding filmmakers record smooth-looking videos.
We reviewed the previous model, the Zhiyun's Smooth X. And We were impressed by its features and affordable price.
Now, the company has released yet another winner. Read on to find out how they differ and if the Smooth XS is for you!
ZHIYUN Smooth XS Gimbal for iPhone
Looking for a way to take your smartphone videos to the next level? The innovative slide design of this 2-axis motorized gimbal supports up to 235g smartphones and comes with a 10″ selfie stick and intelligent app for creative gesture controls.
What Is the Zhiyun Smooth XS?
You can think of Smooth XS as Smooth X's little sister. It's sleeker, more colorful, and feels more fun. It comes in Ivory White, Pearly Pink, Lemon Yellow, and Navy Blue.
The Smooth XS shares many similarities to the Smooth X. It's a two-axis gimbal, and it even uses the same phone app to operate.
But what makes the Smooth XS stand out is its design. When you look at this gimbal beside the Smooth X, you'll see that it has colorful buttons and a much edgier look that appeals to young consumers.
The XS also has a better design, making it more compact and ergonomic than Smooth X. And that's quite frankly enough to convince some (including me) to switch to the XS.

Just like the Smooth X, the XS comes with a small tripod. But it only comes with a pouch instead of a hard case.
Yet, for some reason, it's a few dollars more expensive. Let's find out if the extra cost is worth it.
Zhiyun Smooth XS Key Features
This gimbal's playful design makes it perfect for teens and young vloggers/Instagrammers. The fact that it's compatible with virtually any iPhone or Android devices increases its appeal.
Two-Axis Stabiliser
As we mentioned before, the Smooth XS is a two-axis gimbal. It can control the panning and rolling without any issues. But since it doesn't have a stabiliser to correct pitch movement, it's not as smooth as three-axis gimbals.
You'll find the XS's lack of the pitch axis evident when you shoot while walking. The device features Walk and Run Modes that adjust the device's sensitivity to movement. But you'll still notice some wobbling even when strolling.
You have to tiptoe to ensure smooth results (more about this in the video section).
260mm Telescopic Rod
Just like the Smooth X, the Smooth XS also features a telescopic rod that extends about ten inches. It consists of thick aluminum shafts that won't buckle like a cheap selfie stick.
It also stays in place even when you swing it around aggressively.

It was an excellent decision for Zhiyun to retain the telescopic rod on the XS. Vloggers need it, especially for recording themselves.
But the telescopic rod is also useful for young, adventurous filmmakers. They can always use it to reach into small spaces and even film from unconventional angles.
Ergonomic Handle
The handle on the XS is slightly smaller than the Smooth X. But somehow, it still feels more comfortable to hold. The shallow grooves down the handle help you secure your grip.
The Smooth X and Smooth XS's handles share the same configuration. All the buttons on the XS are in the same location as the X.
The only difference is that they look more colorful and the zoom slider is on the left side instead of right.

In the middle, you'll find a joystick that controls the pan and the roll of the phone. Below that, you have the Mode button, which allows you to switch your phone's orientation from vertical to horizontal.
Next to it is the record button that activates your phone to start recording. On the side of the handle, you'll see the zoom button. You slide it up or down for closeups or wide shots.
App Features
The Zhiyun Smooth XS works with the ZY Cami app, which is the same one that the Smooth X uses.
At first, I was quite impressed with all its features. But after using it for a while now, I can't help but feel it's still unfinished.
On the home page, it has a social media-type interface that features videos from other users. But I never found it to be quite engaging. It has too many stock videos that "advertise" Zhiyun.
Thankfully, the camera app itself is easy to understand and use.
Zhiyun stuck with a familiar interface that feels much like an iPhone's user interface. If you own an iPhone, you'll know where the modes and the shutter button are located right away.
Even if you're an Android user, it's still quite easy to figure out the layout.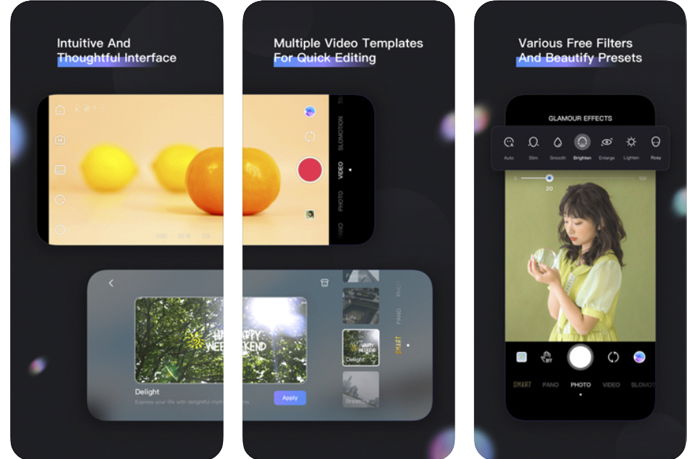 Shooting Modes
It was easy for me to navigate through all the shooting modes since it was similar to the iPhone's native camera app. But the ZY Cami offers a whole lot more options than the iPhone as you'll see below.
Smart Mode
This mode offers free templates that let you create movies with a push of a button. It can also act as a director, guiding you on which angles to shoot to create incredible videos.
I never really had much use for it since most of the options don't fit my style. However, it's ideal for those who want to create quick and engaging Instagram stories in a matter of minutes.

Pano Mode
Since the Zhiyun Smooth XS is a smartphone gimbal, it does panos automatically for you.
All you have to do is select Pano Mode and press the shutter button. The smartphone gimbal automatically takes a few photos as it pans from left to right. It then stitches the images for you into one excellent panorama shot.
When using this mode, remember to use the tripod that comes with the package. That way, you can ensure your panoramas look straight.
Photo Mode
The Zhiyun Smooth XS comes with a selfie stick. So it's quite difficult to resist taking selfies with it.
Since the handle has a shutter button, all you have to do is press it to take a photo.
If you want to take a portrait away from this smartphone gimbal, you can always set your self-timer. Or better yet, use the gesture control, instead!
Smooth XS reads your gesture and takes a picture of you after a 3-second count down. How cool is that?
Video
Sure, taking selfies with the Zhiyun Smooth XS is fun. But its real strength lies in video. After all, it's a gimbal in the first place.
As we mentioned before, the XS lacks a tilt stabiliser which normally corrects the up and down motion while walking. Consequently, it's not as smooth as its 3-axis counterpart Zhiyun Smooth 4.
But as you can see in the video below, you can still get cinematic results by walking slowly and tiptoeing. Doing so minimises the jerky movements when strolling.
Admittedly, the footage is still not the smoothest, but it's a whole lot better than going handheld.
Time-Lapse
No video app is complete without a time-lapse function. With the ZY Cami, you get to choose how many shots you want to take as well as the interval.
You have control over the look and duration of your video like with professional intervalometers.

(You can learn how to create incredible time-lapse videos with our Total Time-Lapse course!)
Hyperlapse
Hyperlapse is simply a moving version of the time-lapse. You can use it to capture scenes while walking around or riding a vehicle.
When using Zhiyun Smooth XS's hyperlapse mode, you can change the video resolution and the speed of the video. You can go anywhere from 5x to 30x.
The higher the number, the faster the movements become, and the shorter the duration.
The downside of the hyperlapse mode is that you'll notice some wobbling if you use it while walking. I shot this video inside my car and it still wasn't as smooth as I wished. Nonetheless, I was quite satisfied with the result.
Livestream
The Livestream feature is what makes the Zhiyun Smooth X a bona fide vlogger accessory. This shooting mode supports Kwai Livestream, Restream, and RTMP.
However, I do wish that it would connect directly to Facebook or Instagram, which a lot of people prefer to use.
Special Features
Gesture Control
The Smooth XS's gesture control is a bit inconsistent.
In Photo Mode, I found that the Smooth XS quickly recognised my peace sign. I successfully took photos using gesture control without any issues.
But I find that the ZY Cami app struggles when it comes to Video Mode.
Sometimes, you may end up waving your hand relentlessly, and the Zhiyun Smooth XS still won't record. Even if it recognises your gesture, it sometimes fails to follow you as you move.
On the few times that it works, though, it feels as if you have a personal cameraman recording you! And that's quite a neat feature.

Glamour Effects
I was deeply impressed the first time I used the Glamour Effects on the ZY Cami app. With a single tap on your phone screen, you could make yourself look skinny or have googly eyes.
You even have the option to have glowing skin or rosy cheeks!
Usability
Sure, the Zhiyun Smooth XS is technically just like the Smooth X. But for some reason, I liked using it a lot more. Is it because it feels smaller? Or the bight colors? I'm not really sure.
All I know is that it felt good in my hand, it looked nicer, and I enjoyed it more.
Even when it comes to the practical side of things, I will still choose the Zhiyun Smooth XS. Why? Because the Smooth XS solves one glaring issue that Smooth X had. Smooth X's gimbal arm required a lot of twisting in weird ways to extend it.
If someone didn't know how to swing the X's arm properly, they could potentially break it.
Thankfully, Zhiyun fixed this issue and created a better design with the XS. Now, you can slide the arm out of the grip and swing it out seamlessly.
Unlike the X, the XS feels like one solid piece of equipment when you shrink it. You know it's not going to get snagged because a part is still sticking out.
Once you extend the XS, it works as you expect it. Despite being a high-tech device, it's extremely user-friendly.
Most times, it just felt like using a regular selfie-stick, and I mean that as a compliment.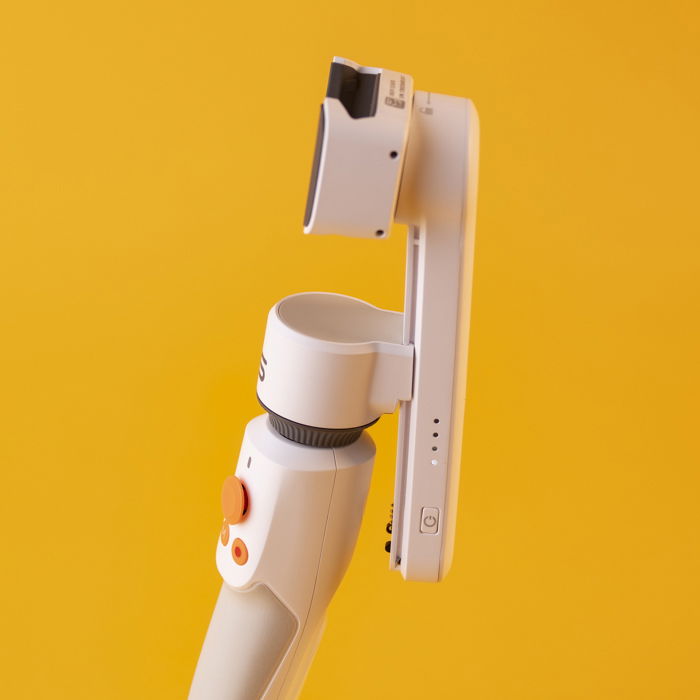 Conclusion
The Zhiyun XS is a fun smartphone gimbal that perfectly fits a younger lifestyle.
Sure, it's more expensive than Smooth X despite having the same features. But being a person who's young at heart, I don't mind shelling out a few more dollars so that I can have those colorful buttons. The psychological effect it has on me makes me want to get creative.
For me, the Zhiyun XS doesn't feel much like a gimbal. Instead, it works more like an automated cameraman. It's the best accessory to use if you film yourself a lot.
It's not the smoothest option out there. But the tracking and gesture control should be enough to convince you to get one.
The Zhiyun XS is also ideal for young filmmakers who love to experiment with their smartphones. With all the smooth actions this device can create, the creative possibilities are endless.
You can check it out on Amazon here.
amzn_assoc_tracking_id = "expertphotog-20";
amzn_assoc_ad_mode = "manual";
amzn_assoc_ad_type = "smart";
amzn_assoc_marketplace = "amazon";
amzn_assoc_region = "US";
amzn_assoc_design = "enhanced_links";
amzn_assoc_asins = "B08G1MLQ8Q";
amzn_assoc_placement = "adunit";
amzn_assoc_linkid = "902d6428f7a86f1ce7c8927c47128c16";
Don't forget to check out our detailed review about the best camera stabilizers, as well!

ZHIYUN Smooth XS Gimbal for iPhone
Looking for a way to take your smartphone videos to the next level? The innovative slide design of this 2-axis motorized gimbal supports up to 235g smartphones and comes with a 10″ selfie stick and intelligent app for creative gesture controls.