Instant film and instant cameras are a fun way to add creativity to your photography if you want to ditch your digital camera for a while.
Nothing is more iconic than shaking the print until development nor the white border of the image.
The world was stunned by the bankruptcy of Polaroid in 2008. The Polaroid film and cameras they made were an institution in the photographic world, as the instant film was such a groundbreaking success.
In the time of film photography, Polaroids were a great way to see a scene a few minutes after its capture. Otherwise, you'd have to wait until film was developed and printed to see your photos.

[ExpertPhotography is supported by readers. Product links on ExpertPhotography are referral links. If you use one of these and buy something we make a little bit of money. Need more info? See how it all works here.]
Where Is Instant Film Now?
Currently, the company The Impossible Project picked up where Polaroid left off, stating that the instant film was just too good to lose. Now, their name recently changed to Polaroid Originals.
Fujifilm used to create pack film that would work perfectly with these collector cameras. However, they also folded and currently focus all of their instant photos attention into their Instax range and Instax mini format.
Lomography, Leica and now Mint have also joined, picking up the slack.
So, which one is the best polaroid camera? Well, let's see.
The Fujifilm Instax Mini 90 is the best instant camera you can buy today. As you can see, it has a trendy retro design, making it a pleasure to take out and show around.
It is perfect because you can adjust its settings according to the lighting conditions. And it provides you with high-quality prints in seconds.
The mini 90 has a macro mode for those up-close shots. It has a slow shutter speed mode, great for capturing light trails and movement. On top of these features, as if they weren't enough, it even has a double exposure mode, capturing two scenes on one print. Neat!
This camera doesn't have as many colors as the mini 70, even if falls into the type of point-and-shoot Instax cameras. The viewfinder is a good touch, and if your arm is long enough, its great for a selfie or two.
Not only is it available in brown, but it also comes in a cool black too. Grab your mini 90 neo classic here. I have this camera, and I find this the best polaroid from Fujifilm.
Overall: ★★★★★

Lomography, like The Impossible Project, picked up where another company failed. The Lomo Instant Wide is just one of their instant camera possibilities. The Instant Wide uses the larger Instax Wide film, meaning the images are almost 2x bigger than the Instax Mini 90.
It comes in a few different colors, but we found the black one to be a little more fitting and serious. The Lomography Lomo'instant is great for instant photography and is more similar to the Fujifilm Instax wide 300.
One of the best points about this camera is that you can change the lenses, and there are accessories galore. It lets you control the Exposure Value, allowing you to set it -1, or +1 above or below the normal. You are given the options for Automatic, Bulb or 30-second exposure.
It does fall behind in its use of ambient light for correct exposure metering, where using the flash gave you an over-exposed image. But hey, Lomo photographs are supposed to be throw-away and creative. You can sync an off-camera flash if you wish.
We prefer the Lomography Lomo'Instant Wide over the Lomography Lomo'Instant Automat due to its manual controls overexposure.
For me, it's fun to use and the best polaroid from Lomo. You can find the Lomo Instant Wide here.
Overall: ★★★☆☆

We know. Every time you see Leica, you wince at the possible price tag. As much as you don't want to fall in love with this camera, I'm not going to make it easy. This camera is well worth splurging for.
Not only does it have a very strange, yet beautiful yellow-orange color, it perfectly brings vintage and modern together, in one system.
It has a plethora of shooting modes. Self-portrait, action, macro and double exposure come along with a fully automatic mode. It takes a rechargeable battery that will last for 100 shots before it needs a charge.
Leica does have its own developed paper, but the camera will work with any Instax mini film. This is the closest to the Instax mini 90 that you can get.
We like the viewfinder to ensure brilliant captures from this beautiful instant-print camera. The yellow color is distracting, but still the best polaroid from Leica.
You can find it here.
Overall: ★★★★☆

The InstantFlex from Mint is a fresh look at the instant camera design. It copied the look of an old Twin-Lens Rolleiflex camera, which makes it look trendy and cool.
The apertures run from f/5.6 to f/22, and even has a setting for Bokeh too. The lens is a 61mm beauty, meaning you need to stand back from your subject to get them in your frame. The focusing starts from 48 cm to infinity.
It hosts a built-in flash for shooting inside, and takes 3AA batteries, allowing you to swap and change them, instead of having to recharge it after a few shots (which you will inevitably forget). It utilizes the Instax mini film, where color and black and white are easily accessible.
The best thing about this camera compared to the other instants is the range of accessories. You can grab three neutral density filters (ND2, ND4, ND8) and close-up up lens.
We find this is a perfect camera for street or candid photography. The difference here is that you look down into the camera for framing, allowing the camera to stay away from your face.
You can find the best polaroid from Mint here.
Overall: ★★★☆☆

So far we have only considered instant cameras, but there are other ways to get that Polaroid or instant print. Enter the Fujifilm Instax SP-3 Mobile Printer. This is a great way to print images snapped on your cell phone, transferred via WiFi.
It uses the Instax square instant film to bring you high-quality images in seconds. 13 seconds to be exact.
It even comes with an editing app, allowing you to make changes before the printing starts. 160 prints before a recharge is necessary, makes this a great gift, even for yourself.
You can find it here.
Overall: ★★★☆☆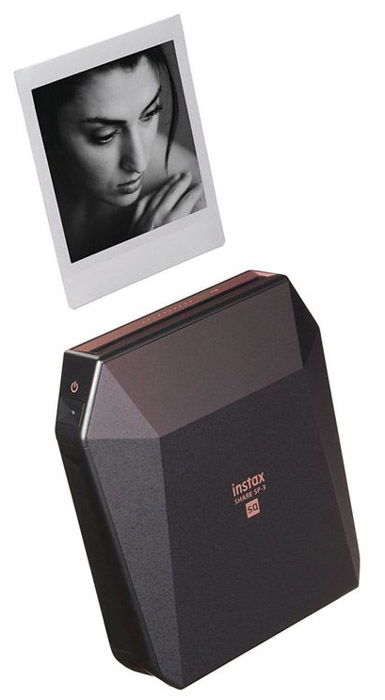 Conclusion
Any instant camera is a benefit. They provide you with an image instantly, that you can hold in your hand. Instant film cameras are a genius idea that allows you to be creative while still being a serious photographer.
Looking at the range of cameras you can get in 2021, there is one clear winner; the Fujifilm Instax 90 Mini Neoclassic. If we were talking about Polaroid cameras of all time, then the Polaroid 180 Land Camera would win. But there is the small problem of the lack of film.
The Mini 90 gives you many options that are fun and creative to use. The images are smaller than the Lomo Wide, but a smaller image is easier to store in your wallet or small photo book. Unlike the Lomo, this camera is small enough that you don't notice the missing space in your bag.
The Mini 90 doesn't have the close-up lens from the InstantFlex, nor the ND filters, but the intuitive light settings found in the mini are more attractive. Get me one, please!
Other options that didn't make our list include the Kodak Printomatic, Instax Mini 9, Instax Wide 300 and Fujifilm Instax Square. If you're looking for a selfie mirror, the Fujifilm Instax Camera Mini 8 and Mini 7 has these as accessories.
You might want to check our article on must-have film cameras too.
Want More? Try Our Beginner Photography Course
Do you want to master the basics of photography so that you can take stunning photos in any situation?
If you don't know which settings to use, you will often miss capturing beautiful moments.
But cameras are complicated and it's hard to know where to start. That's why we created this course.