The best online photo printing services are quick, easy, and cheap. They give you simple but professional prints. And there are no shortages of online print services.
The hardest part is picking the right option with the best print quality. But we've examined the top options available and the areas where each excels.
So you'll get to know the right places to go to create large canvas prints, photo books, and more! Our favorite option is Mixtiles. They have an excellent range of quality print options and simple installation!
What Are the Best Photo Printing Services Online?
Here is a quick roundup table of our top choices. Read further to find out which service is best for you!
13 Best Photo Printing Services
Now let's take a look at each web service in depth.
Mixtiles is a superb online print service. They make the process from picture to print as simple as possible.
Some services provide frames and easy hanging options. And Mixtiles provide every print in frames with the easiest hanging option. You simply peel off the backing and stick it straight onto the wall!
Mixtiles understand it's hard to pick one image to put on our walls. This is why their service is designed around wall art consisting of multiple images.
You can select a simple grid formation. And then, you can add or design funky placements easily.
Or you can buy a pre-planned sequence that fills your wall in a visually pleasing way. The levels of customization Mixtiles provides are great.
There are different styles of frames, different window mounts, and even no-mount options. They even prioritize centerpieces.
This means you can select a larger main image to which all the other photos respond. This can be a photo, a quote, or even a map!
Mixtiles is at the top of this list thanks to the range of photo print styles available. This service is ideal for casual phone photographers to high-end professionals. There is no easier way to get home prints!
Shutterfly is one of the best online photo printing services. It has reasonable prices for excellent-quality prints. And this balance makes it the best all-around print service worth trying.
They have some great extra features. The one I like the most is an annual print plan for photographers who print regularly. This plan offers prints at a discounted rate at different annual intervals.
Apart from this, they offer a huge range of alternate services and printable products. They have customized T-shirts for your dog! And they even make photo books.
Making your own photo book can be quite a laborious process. But if you don't have the time, Shutterfly offers a Make My Book service where you only have to upload the images.
Overall, their print quality is among the best for online print services. They give you a nice selection of paper types. And the whole process, from start to finish, is pretty streamlined.
If you need prints quickly, they also offer a one-hour print option. You can pick up your work from CVS pharmacies or Walgreens.
Printique is often at the top of people's lists of photo printing services. It's mostly due to their professional approach. Even before delivery, you know you'll be satisfied when you receive prints.
They have excellent, secure packaging. So it's one less thing to worry about. Many print services don't pay as much attention to packaging or their delivery process. And both can often ruin prints!
I also like how Printique offers the widest variety of photo paper to print on than any other printing service on our list. So if you want a certain look, they likely have you covered.
They let you upload TIFF files, which is incredibly important for professional photographers. And they also have one of the largest maximum file upload limits (200 MB) compared to others.
Plus, they let you upload images from online sources and social media. And they have Express and Detailed modes if you're rushed to order prints.
The Express mode lets you upload all your images. And Printique prints them all at the same size. The Detailed mode lets you choose different sizes and options for different prints.
Another feature I like is that they allow you to print text on the back of your prints. This means you can easily document information and notes right on your photos!
Snapfish is one of the top print labs you can trust. It has established itself as one of the best online photo printing services due to its image quality and longevity.
It's slightly pricey for the results you get. But you are guaranteed good prints.
My favorite Snapfish service feature is its easy import interface. It makes a huge difference when working with printed gifts and products. You can see how your image actually looks on products.
The upload interface is also extremely easy to use. It features small editing adjustments to fine-tune your images.
And it lets you pull photos from your computer. Or you can get them from web-based programs such as Google Photos, Facebook, or Instagram.
Another top feature is same-day pickup from selected stores. This is great if you are inspired to start a new scrapbooking project or are excited to print off some photos.
As one of the top online print services, you also get a huge range of print options (small to large). Their canvas prints also have plenty of options to fine-tune the print.
And when it comes to gifts and extras, Snapfish is filled with different choices of products to print on. You'll never run out of present ideas ever again!
One of the most important features of online photo printing services is their upload interface. Customers can easily get fed up with the process without an easy-to-use setup.
Mpix has my favorite upload interface. It incorporates easy uploading from social media sites and provides easy photo editing options.
And their app is just as good as their desktop version. They make your picture-to-print process much quicker!
You can almost categorize Mpix as a high-end printing lab because it offers the choice of producing giclée prints. These are high-end quality prints that are usually archival or museum quality.
And there's another professional photo service Mpix provides. They develop film. No other online print service on our list offers this.
Plus, you can use Mpix as a photo-sharing website! So you can upload and share images from their site even if you won't send them to print. This is handy for sharing pictures with clients or friends.
Overall, Mpix's printing service shines. They have created a fantastic process that's well thought out. Their print quality might not be at the top of our list. But it definitely comes close.
CanvasPop makes our list for the amazing quality of their big prints. They only produce these types of wall decorations. And unlike most other photo printing services, they do not offer other gift products.
They also don't offer many variations in the styles you can choose. They only give you a choice of canvas or a framed print.
Normally, this means the print house hasn't bothered providing more customizable services. But here, they have refined their service with fewer options.
And because they produce big prints, they accommodate big files. It's handy that their site supports JPEG, PNG, and TIFF formats. It makes a huge difference to the print quality of your work!
They also offer a Picture Perfect service. They have in-house designers who work on your images to produce the best quality prints.
This is ideal for someone who isn't skilled in photo editing but still wants the most out of their photo. On top of this, they have excellent customer service.
One of the best aspects of CanvasPop is their "love it or money back" guarantee. They are confident in producing prints everyone will be happy with. So you're reassured waiting for your new work to arrive.
Nations Photo Lab is one of the best online photo printing websites. It produces amazing high-quality prints. But you may notice this photo printing service is expensive compared to others on this list.
It's not an unfair markup in price, though. They use high-end materials. So you may pay more. But there is a noticeable difference in print quality.
Also, like Printique, they provide excellent packaging for your photo prints. So you never have to worry about products being damaged in the mail.
They also provide third-party integration with a Nations Photo app. It offers even more control in the printing process.
And it lets you upload photos from your phone's native app, Facebook, Google Photos, or Instagram. The platform also allows TIFF files. So this makes the service ideal for professionals.
But if you do not use a third-party website, ensure you do all your edits before uploading. They do not offer on-site photo adjustments.
I found the website can be hard to navigate. But it isn't too much of an issue.
It also seems like Nations Photo Lab has relatively slow shipping times. But again, this isn't a huge issue. The print quality alone is worth it.
Zazzle is a photo printing service that has found its place in the market as a creative online hub. They were one of the first big companies to realize the popularity of personalized gifts.
And they have become one of the giants in this sector. Their officially licensed merchandise emphasizes this approach.
Zazzle has partnered with some of the most popular franchises. This includes Disney, Marvel, Harry Potter, and more! You can now include your favorite characters in your prints.
They do focus more on set designs. So they don't provide a huge range of customization with photo prints. But they don't compromise on image quality. All their products look good printed.
Zazzle focuses on photo gifts, apparel, and alternate designs. So photo uploading isn't a huge focus for them.
You can only upload about ten images simultaneously. And it makes the process quite long and laborious. So if you're getting a lot of prints done, it may be worth going elsewhere.
One aspect I do like about Zazzle is its marketplace. You can create your own designs and sell them through their website.
This can be a great option for sharing fun apparel with friends. It's especially helpful if you can't afford to pay for everyone's item.
Bay Photo Lab is a photo printing service aimed at professionals. This means they produce high-quality photo prints. So you also pay a high-quality price.
They have a dedicated desktop program (BayROES). It streamlines the printing process for those who print regularly.
And it offers you more control over your work. So this could be for you if you're looking for regular service.
They also offer specialized retouching of your images and drum scanning for those who still shoot on film. And there are a range of other print materials, such as business cards and yard signs.
I like how they give you several display options if you print lots of pictures or a body of work. They make your work look like an expertly composed portfolio with little effort!
They are also one of the only places offering custom print sizes. So you don't have to compromise the crop of your photo. Overall, I think Bay Photo has pretty good print quality and provides great service.
Walmart has entered the photo printing sphere. And they have come out pretty good. Convenience is the best part of their service. Most towns or cities in the United States have access to a Walmart.
So they can offer a same-day pickup service that's easy for people. And even without the pickup service, they still provide the fastest delivery times on our list.
The other strong appeal of Walmart prints is their prices. They are among the lowest on this list.
Walmart also has a huge selection of photo gifts, apparel, and toys to personalize. And they make this process fairly simple.
I even ordered a personalized blanket from there a few years ago and was extremely happy with it for such a low price. They aren't the best in their print quality. But they certainly aren't bad for their prices.
You can only upload JPEG and PNG files. And there aren't too many customization options with Walmart's photo paper and picture frames.
But you do get the option to upload your pictures through social media. Plus, you can make some small photo adjustments in the upload process.
RitzPix is a printing service that offers a few options you may not find on other websites.
For instance, you can get a floating frame canvas and peel-and-stick prints! These options are useful if you have specific uses for your pictures.
They offer a lightning-quick one-hour pickup service. They partner with CVS pharmacies, Walmart, Walgreens, and Duane Reade.
And they also integrate social media with many photo sites. This includes Dropbox, Google Photos, Facebook, and Instagram.
You can personalize these services and a huge range of gift products. This makes it a print site worth considering.
But I'm not a fan of the 40 MB limit on each image you upload. It isn't an issue for small photo prints. But it can be a reason for losing print quality if you order one of the larger sizes.
RitzPix also has an app. But I'm not a fan of this either. I find it confusing to navigate, which is a huge turn-off. Also, their packaging isn't great. So it's not super surprising if your prints turn up damaged!
Amazon is known for getting almost anything to your door within a few days. So it makes sense Amazon has a print service for your photos.
And if you use it a lot and have the Amazon Prime service, they give you unlimited photo storage for your work on top of this print service.
From what I've seen, Amazon offers decent-quality prints for a low price. But I've heard their printing can sometimes be inconsistent. And this can be a major issue if you are particular about your photos.
Because their prices are so low, you should expect this inconsistency. So it's best not to use this service for important work.
They have a great app that's easy to navigate. And they offer a nice selection of photo products like calendars, mugs, and metal wall decor.
When it comes to print customization, they fall a bit short. You get a limited choice of standard glossy, matte, or luster photo paper. And pearl paper is available for large prints.
And another downside of Amazon Prints is their packaging. It isn't very robust. So your purchases aren't too safe from wear or tear, especially big prints.
Mixbook focuses on producing quality photo books. But they also produce canvas prints alongside other photo products.
Their focus also extends to personalized cards. And they have many templates you can explore.
But their card selection doesn't come close to options for designing photo books. Mixbook has made making photo books fun and easy.
They have taken out as much of the laborious work as possible. Now, you can drag and drop your images into set templates that match the theme you decide to pick.
When it comes to canvas prints, they don't have many options. They only have five sizes available.
But it doesn't mean they make compromises with their service. You still get well-constructed, customizable prints.
And if you're looking to make a photo book without all the hassle and stress of formatting, Mixbook is for you!
If you use Google Photos regularly, you're in luck. It provides its own Google Prints service.
Google is a huge tech giant that has set the standard for simple interfaces. So they have an incredibly easy site to navigate to get your prints.
Google Prints also offers a same-day pickup service from CVS pharmacies, Walmart, and Walgreens—adding to their ease of use. And their services are simple.
They only offer prints, photo books, and canvas prints. So they don't have all the bells and whistles of other print websites.
And they don't have many customization options. But they're great if you want cheap, straightforward prints. Plus, the Google Photo app works with smartphones and tablets and is extremely easy to use.
They also provide a monthly print service. So you can get a bunch of prints sent to your house each month.
With such an easy app, it is almost like having an instant camera. You can quickly have printed photos in your hands instead of just having them in digital spaces!
Who Uses Photo Printing Services Online?
Online print services are for those who don't have easy access to good printing equipment in their houses or neighborhood.
Professional photographers often have photo printers in their homes. So they may not need to use these sites.
But they may need a printing process they can't perform. This includes tasks like photo book binding or printing on products.
If you only have a regular document printer at home, it's likely not worth trying to print your photos. These printers often create obvious "banding" even if you buy top-quality photo paper.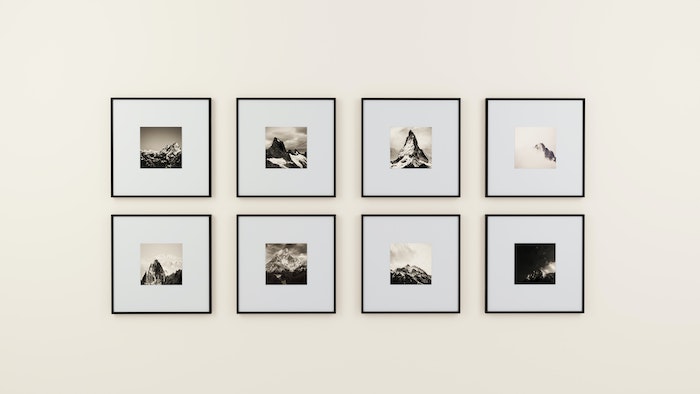 Banding is where you have lines across your print. The printer causes this by shifting the paper when the printer isn't perfectly in sync. So don't use a low-quality printer. Use one of the services on our list.
These print services can be for anything photo related. You may be a seasoned scrapbooker.
Or perhaps you want to make a personalized photo gift. Online photo printing services provide many options—not just simple prints.
Of course, you can also just print a selection of small prints. Or, on the other end of the spectrum, you can print a single large canvas.
A Guide to Online Photo Printing
Here we'll review some of your main print options. Then we'll tell you how to prepare your prints and buy them.
Photo Print Options
Every online photo printing service gives various photo print sizes and styles. Photo print sizes usually start from 4 x 6 inches and go up to even larger sizes.
These larger sizes vary greatly between different printing sites. This is due to the different equipment each printing service has. Their maximum size is often based on what their printers can handle.
You get a lot of additional options to choose from when preparing your prints on various websites. Normally, the photo print service offers variations.
There's usually a choice in paper type (often between matte and glossy), size, file format, frames, or other photo display methods.
CanvasPop, Mpix, Printique, and Shutterfly provide the best-quality prints from our list.
Photo Books
Creating photo books is a popular option for both professional and amateur photographers. It's a great way to commemorate special events or seasons.
It's become a form of scrapbooking. And photos and designs can be uploaded to print sites.
Online photo printing services also offer various choices for constructing these books. They range from the covers (hardcover, linen, leather-wrapped, etc.) to the book size.
Some sites even offer different layouts to drag and drop your images into! We recommend looking at Mixbook or Shutterfly to create your photo book.
Photo Gift Products
My favorite feature of online photo printing services? The amazing product selection you can customize with images. There's everything from mugs to mats to photo tiles!
These options often give you interesting ways to display photos on everyday items. Or you can create gifts with a personalized touch, like a photo puzzle or just a t-shirt. There are many gift options.
You can embarrass best friends, show off pets, celebrate people, or remember a favorite vacation. Check out Amazon Prints, Zazzle, or Shutterfly for the best selection of print products.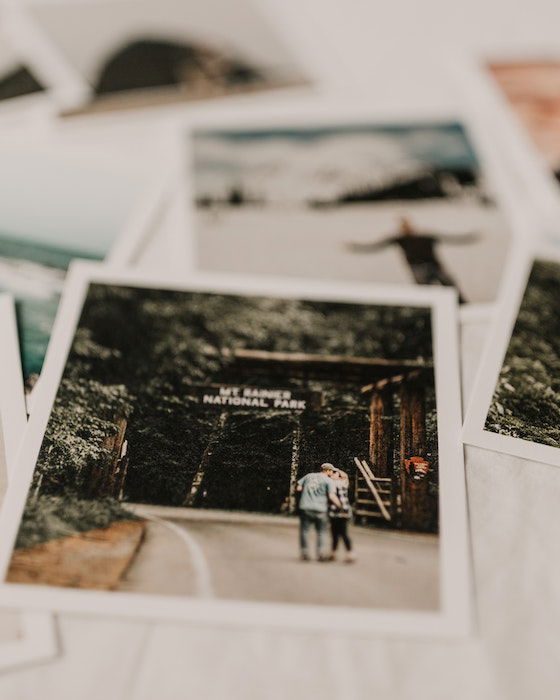 How to Check Your Files for Print
Experienced photo printers will tell you the biggest mistake is not having the right image size for the intended print size. This is the most important factor if you want to produce high-quality prints.
To check the size of your image file, open the image in an editing program that lets you see all the image's metadata.
You can right-click your image on a Mac and use Finder or Preview. Or right-click your image on a PC and choose "properties."
But the best program for this is Adobe Photoshop. Photoshop lets you see the size of your image in various forms—pixels, centimeters, or inches (Go to File > File Info in the top menu).
The other information you see is your image's PPI. This number is the "pixels per inch" of your photo. The more pixels there are, the higher the quality.
A high-quality photo will have a PPI of at least 300. If you print any lower than this, you notice a loss in quality. And it would not be considered a high-quality print.
If your photo is low-quality, see our articles on shooting in RAW format and enlarging photos for printing. Once you have ensured it's a high-quality image, you can upload it to print!
How to Get Your Prints Online
After checking that your images are the size you want to print them, you have to get them on the photo printing site.
Each site has different methods and interfaces for dealing with your images. Some are better than others.
The first step varies but is often between choosing the product or uploading your images. Either way, one of these steps will follow the other. But be mindful of the website's maximum upload size for files.
If you have already resized your image, it is most likely within the file size requirements. If you are printing very large, you may need to send your big files via email or other methods specified.
After you've uploaded your image, some sites give you an example of how your image looks on the selected option. Then you can resize the image and maybe even do smaller edits to the final product.
After this, you should be all good to go. It's just a case of reviewing the final product and then paying for your item.
Conclusion: The Best Photo Printing Services Online
It's tough to decide on the best online photo printing service. But it depends on what you want to use your photos for. If they're going on your wall, it's worth spending more. So it's hopefully up for years!
But it may be worth going for cheaper options. You might want to print holiday snaps or give someone a fun trinket. And print quality on these sites is still fairly good.
Mixtiles is the best choice for an easy, cost-effective way to print photos for your walls. They offer high-quality prints with fast delivery. It's an ideal choice to turn digital photos into physical keepsakes.