Flowers are beautiful. Photographing fabulous flowers is easy in one sense because the subject matter is so good. But it is also quite a skill. That's why Photzy's e-book, Photographing Fabulous Flowers, sets out to help you get the very best out of your blooms.
We've reviewed the e-book to let you know if we think they do a good job. So read on to decide if this e-book is for you. We also look at a couple of alternatives for you to consider. So let's take a look at what it has to offer.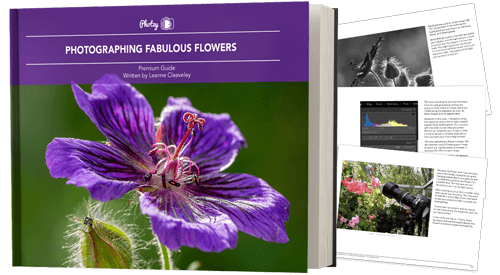 Photzy's Photographing Fabulous Flowers
Capture the beauty of nature with an inspiring eBook that covers everything from camera settings to editing techniques for photographing fabulous flowers. Perfect for moderately experienced photographers seeking inspiration.
This ebook is made for moderately experienced amateurs who want to dive deep into the beautiful world of flowers.
Before purchasing it, note, that you need to have a basic understanding of your camera and photography, in general, to fully utilise it.
About the Authors
'Fabulous Flowers' is written by Leanne Cleaveley, a still life photographer. She teamed up with Photzy, a popular photography education site.
I have previously reviewed several of Photzy's products. Generally, their quality fluctuates quite a bit, but this particular ebook is definitely one of their stronger products.
If you're interested in buying more of their products, check out my other Photzy reviews:
Contents
'Photographing Fabulous Flowers' consists of seven main chapters:
01 What You Need to Creatively Photograph Flowers
03 Natural Light
04 Artificial Light: When and Why You Should Use It
05 Composition
06 Getting Creative: How to Visualize and Create a Great Shot
07 Setups and Props
08 Editing and Printing Your Photos
The most important points are marked as 'Key lessons'. In addition, at the end of each chapter, you'll find self-check questions.
Pricing
You can get the 'Fabulous Flowers' guide for $19 at the time of writing. This is a fairly low, introductory price.
What I Liked
Coverage
'Fabulous Flowers' is a well-rounded ebook. It covers most situations you can encounter when shooting flowers.
It also shows you the process from A-Z. From the underlying ideas through setups to post-production.
While the topic itself is not a very broad one, I don't think anything important was left out.
Images
The photos in this ebook look beautiful and inspiring, and illustrate the content well.
They are the author's own creations – this is particularly welcome, as it endows the ebook with extra credibility.
Accuracy
The ebook is cautiously put together. It pays attention to small details, as well as the general flow.
It might be that Leanne is simply more thorough in her writing than others. Or, it can be that Photzy's quality control has become more prudent recently. Either way, I could hardly find inconsistencies or mistakes.
Detail
In general, the ebook is very detailed.
Many educators struggle to adequately present their knowledge and tend to unnecessarily oversimplify things. This is not the case with 'Fabulous Flowers'.
Overall, there's great attention to detail everywhere, starting from lighting tips to post-production tricks and shortcuts.
I've particularly liked the Editing section. I've only seen such detailed descriptions of the process in videos, almost never in an ebook (with the exception of The Photo eBook).
It's very hard to teach editing in an ebook successfully. But I think that this one does a great job.
Language
The writing in this ebook has a friendly and interactive tone but doesn't go over the top. It's very easy to follow and read.
The experience of the author becomes clear from the style and carefulness of the wording.
I love that while Leanne gives detailed explanations on every point she makes, she doesn't present them as the ultimate truth. Rather, she aims to teach you the thought processes and proper approach.
When she talks about subjective factors (such as colors), there's always legitimate reasoning behind why she does things in a certain way.
She treats her ebook as a solid guideline – not a recipe. Still, she remains very confident and precise throughout 'Fabulous Flowers'. You can decide to exactly follow the steps or interpret them however you'd like – and there's advice for that, too.
Areas to Improve
Not enough illustrations
While the images are great, there are not a lot of additional illustrations. In places where Leanne explains lighting setups, editing tricks, or even camera settings, it would make sense to include infographics or sketches.
There are only a handful of images. Including more would help the flow of the ebook quite a lot.
Self-Check Quizzes
Having the quizzes at the end of chapters is great but they have a significant issue. This is something I've found in all the other Photzy ebooks, too.
The questions are not answered explicitly.
If you're unsure about the right solution, you have to scroll back and find the answer in the ebook. Photzy should include an answer sheet right after the self-check quizzes.
Alternatives
'Wildflower Photography' by Steve Berardi of PhotoNaturalist is similar in scope and coverage, and slightly lower in price. It covers a bit more on technical details but focuses on a narrower field of flower photography.
'Fine Art Flower Photography' by Tony Sweet comes at a similar price, but places more emphasis on fine art, as the title suggests. It's shorter and covers less of the preparation and technical stuff. It focuses more on the artistic approach.
Our Verdict
Flower photography is a narrow, but popular field. It offers many possibilities for aspiring artists.
'Photographing Fabulous Flowers' is a great ebook for those wanting to dive into it. If you're interested in this genre, I definitely recommend checking it out. You can do so here.
Scores
To standardise and compare our product reviews, we've decided to use a scored-based ranking system. To learn more about interpreting these numbers and how other courses measure, please visit our review roundup page here.
Measurement

Measurement

Score

Coverage

Coverage

Accuracy

Accuracy

Ease of Learning

Ease of Learning

Production Value

Production Value

Uniqueness

Uniqueness

Community and Learning Support

Community and Learning Support

Value for Money

Value for Money

Total Score

Total Score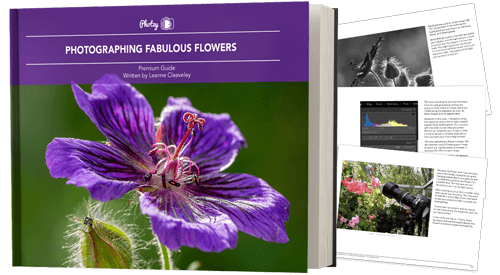 Photzy's Photographing Fabulous Flowers
Capture the beauty of nature with an inspiring eBook that covers everything from camera settings to editing techniques for photographing fabulous flowers. Perfect for moderately experienced photographers seeking inspiration.