Having made our first tentative steps into photography, it's easy to stagnate. Photzy Snap Cards are designed to get you over this hump. Photzy describes the product as "a training boot camp in your bag." The idea is that you print them out and toss them in your bag. Then you use them as you set off on your photo shoot. Of course, they would work just as well on a tablet.
The question is, do they live up to their claims? We've reviewed the Photzy Snap Cards to see if they are worth your money. We think you should read on to find out!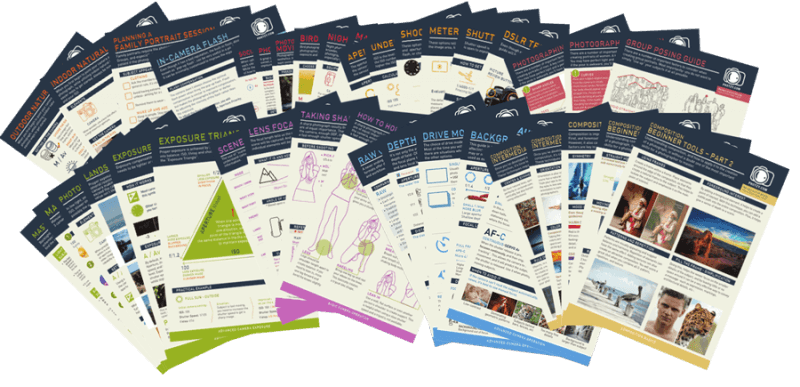 Looking for a portable and concise way to master the fundamentals of photography? Check out these cheat sheets, perfect for intermediate photographers.
Overview of The Photzy Snap Cards
The Snap Cards are designed to cover all the topics and issues you may encounter when photographing. Indeed, I don't think they particularly miss out on anything.
There is 44 of them, divided into nine categories, which are:
Basic Camera Operation (4 pg.)
Advanced Camera Operation (6 pg.)
Camera Exposure Basics (6 pg.)
Advanced Camera Exposure (7 pg.)
Composition Basics (5 pg.)
Basic People Photography (3 pg.)
Advanced People Photography (4 pg.)
Basic Camera Flash (1 pg.)
Special Techniques (8 pg.)
These sections are colour-coded. All the pages are carefully designed, they are full of colors, infographics, and photographs. Moreover, they feel inspiring.
The bundle costs $29 at the time of writing. In case you're not satisfied, you can claim your money back within a year from purchase.
Photzy's website states that the standard price is $220. I don't believe that's actually the case, because for that price these cards would be a terrible deal. But for $29, they're great.
Now, let's discuss what sets Snap Cards apart from other photography tutorials.
The Card Format
Three years ago, in 2017, when Snap Cards was launched, this concept was a pretty new thing. The format is a result of lengthy experimentation into what works best for giving on-the-field help to photographers.
Advantages
Whether you photograph people or landscapes, these cards are designed to cover all fields and help you get the best out of your work.
The great thing about these cards is that as soon as you buy them, you download them and can use them straight away.
They are designed to be printed at A5, which is the preferred size, or even A4 without loss of quality or readability. We've actually printed them in A4.
They are quickly replaceable: if one gets lost or destroyed, you just reprint it. They can be printed double-sided or even smaller (to be used with a magnifying glass) for a concise set. They can also be laminated for increased durability. Depending on the size you choose, they will comfortably fit in your camera bag. You can bring them along anywhere. And you don't always need to take the whole set with you.
The benefit of this system is that you can also send them to your smartphone or tablet. No printing necessary. However, storing them only digitally is not so great if you plan to spend a long time away from civilisation, where you can't recharge your device.
Downsides
What I find difficult is that, unless you ask a company to print them (which could cost quite a lot), they can be a hassle to resize, print and laminate yourself. Not everyone has a printer tray with A5 paper. In order to keep things as cheap as possible, two A5's need to go on one-page of A4. This all requires software and a patient mind to organize. I also find that using more paper is harmful to the environment, takes space, and adds weight to an already bursting camera bag.
I would have much preferred to see a table of contents, and page numbers on the bottom of the pages. Right now, if you're looking for something specific, you have to flick through all 44 pages.
Using them for any type of photography that involves your clients' patience and time is a no-no. For portrait (or wedding, if you've even thought about it) photography, they won't work. These areas of photography require a more professional workflow and are too fast-paced to dip into your Photzy cards easily. Plus, nobody really wants to see the photographer reading a manual.
Accuracy of Information
The card system is very concise. A professional photographer and educator has evaluated them, as the sales page states. On one hand, this gives certain credibility. But it also raises an uncomfortable question: are they not designed by a professional in the first place? We all know that when amateurs teach amateurs, information is lost along the way.
I did find plenty of spelling errors, typos, and more importantly, inaccuracies. Many definitions and explanations are oversimplified. For example, the page about depth of field is quite inaccurate. It's nicely designed, with large graphics illustrating how the depth of field changes in relation to distances, focal length, and f-stop. But, the proportions and the placement of the sharp areas on these graphics is wrong.
These make the cards feel a bit rushed.
While there are plenty of inaccuracies, I don't feel they'd hinder the product that much. These cards are best treated as practical guidance and reminders, and most people will see them that way. If you have good common sense and some experience, you'll most likely simply not follow the wrong advice and concentrate on the good advice. There's much of that, too.
What I Really Liked
The pages are categorized in a practical manner – thanks to their color coding – and do not go overboard on any topic or problem. There are also practical examples to really hone in on what you should be getting from each area.
Photzy has found a way to simplify the information for intermediate photographers, who already understand the basics and just need a quick reminder.
The cards leave confusing information out, instead, they focus on one or two points at a time. The illustrations are also helpful overall, work well together, and are placed nicely within each topic.

The Snap Cards are great for providing motivation and inspiration, too. While this might not be their primary application, I suggest that you print some of them and hang them on your wall. That way, you're constantly exposed to information and you can just take a glance to learn. You can swap them from time to time, too.
Of course, that won't substitute actually exercising photography. But it's a great way to subconsciously evolve.
Who Are The Cards For
I'm the type of photographer who much prefers to learn by watching video content and practising. I do read photography books, too. But those are not technical, they're rather about ideas, people, or artistic considerations. They're also often dense and long, not exactly the sort of thing most people prefer.
But if someone doesn't have the time (or patience) to develop their instincts and dive deep, Photzy's Snap Cards will be a perfect choice. Needless to say, the cards are only about how things work in photography, and not why they work so. But that's really not something you need in the field.
With the help of the cards, the time you need to properly photograph a landscape or a portrait will be significantly reduced.
To truly enjoy Photzy's Snap Cards, I would say that you need to have some basic photography understanding. But by no means do you need to be a weathered photographer. An intermediate photographer would get the most out of them.
Are There Any Alternatives?
There's not a lot of direct competition to Snap Cards.
Expert Photography actually has a similar product. Our Quick Capture Cheat Sheets contain more graphic elements and less text. They, too, focus on the fundamentals, with some differences in coverage. You can get them for $37.
Conclusion
Putting aside that the cards lack some attention to detail, I still think they're a great tool to use.
They are a breath of fresh air in an overly crowded world of information. Portable, concise, and indestructible (unless you delete them), the Photzy Snap Cards can offer advanced beginners and intermediate amateurs some much-needed advice.
Scores
To standardise and compare our product reviews, we've decided to use a scored-based ranking system. To learn more about interpreting these numbers and how other courses measure, please visit our review roundup page here.
Measurement

Measurement

Score

Coverage

Coverage

Accuracy

Accuracy

Ease of Learning

Ease of Learning

Production Value

Production Value

Uniqueness

Uniqueness

Value for Money

Value for Money

Total Score

Total Score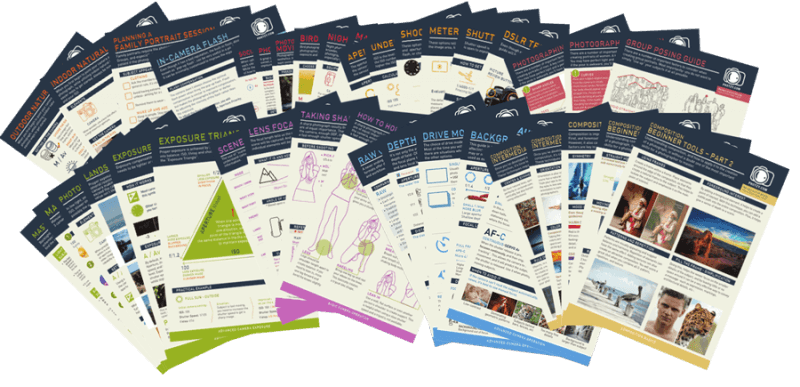 Looking for a portable and concise way to master the fundamentals of photography? Check out these cheat sheets, perfect for intermediate photographers.