Finding the perfect gifts for loved ones can always be a challenge. Often, the best photo gift ideas are ones with a personal touch. So we'll give you a hefty collection of presents for family and friends. We'll also have a few ideas if they are avid photographers!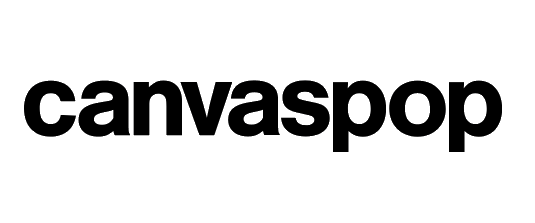 Canvaspop Canvas Printing
Looking for inspiration for photo gift ideas? Check out this article featuring a variety of personalized options. Transform your favorite photos into beautiful wall art with canvas printing from our store.
Creative and Personalized Photo Gift Ideas
Let's dive in and look at 33 creative and personalized photo gift ideas for family members and friends!
If you know of a single image that means a lot to someone, a canvas print is one of the best gifts you can give. Maybe it's a scene from a momentous occasion or a memorable family vacation. Many sites, such as Canvaspop, produce an easy service from start to finish. You can choose from a selection of canvas styles and sizes.
If a canvas print is too big, consider putting together a series of photographs in an elegant frame with a white mat. These are great gifts for people to keep family favorite photos on their desk or wall at work or a home office. Framed photos are a simple present to spruce up someone's home.
Instead of printing pictures and putting them in a photo album or a regular frame, why not put them in a digital one? A digital frame automatically cycles through different photo collections. They can be family photos, beautiful landscapes, or favorite memories!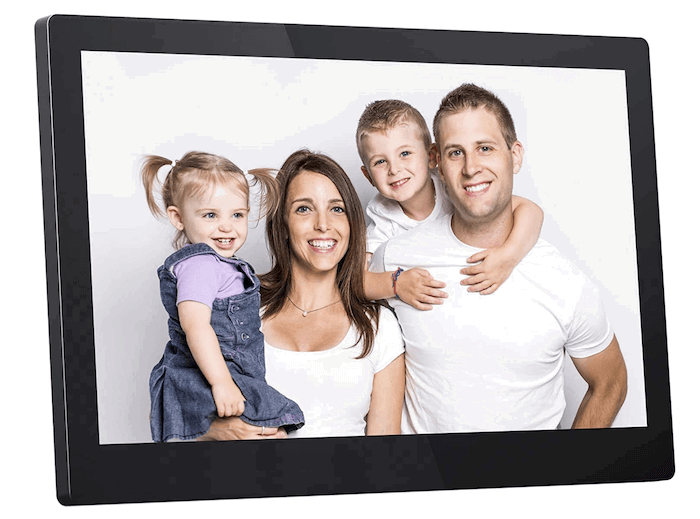 A photo book by Snapfish is a perfect gift to encapsulate your favorite memories. It's an easy way to share your favorite photos with friends. Or, you can take a collection of pictures from a memorable event and sequence them together.
Photographs generally exist in the digital sphere nowadays. So printing a photo book is a fantastic personal gift. The photo collection will survive as long as it's taken care of. Plus, there's no need to worry about accidentally deleting images!
A great way to have an everyday reminder of good times is to make a personalized notebook through Photobox. So whether someone is taking notes or writing in a personal diary, those words will always be accompanied by great pictures.
What if someone has too many photographs in their house? Or maybe they prefer something a bit more stylized? Silhouetted wall art could be for you. Silhouette art is where a photograph of your choice is turned into a simple outlined image. Get these made at Not On the High Street. Select picture style, background color, frame, and even a personalized tagline to go with your images.
If you think having one image printed and on display isn't enough, how about having 12 of your favorite photos? A photo calendar is a wonderful, functional way of sharing pictures. Mixbook provides an excellent photo calendar service where you have a selection of designs to choose from.
A photo mousepad is a practical gift that can be useful for a long time. I still use my personalized photo mouse pad from my trip to Disneyland about 20 years ago! Find a great selection of mousepads at Shutterfly.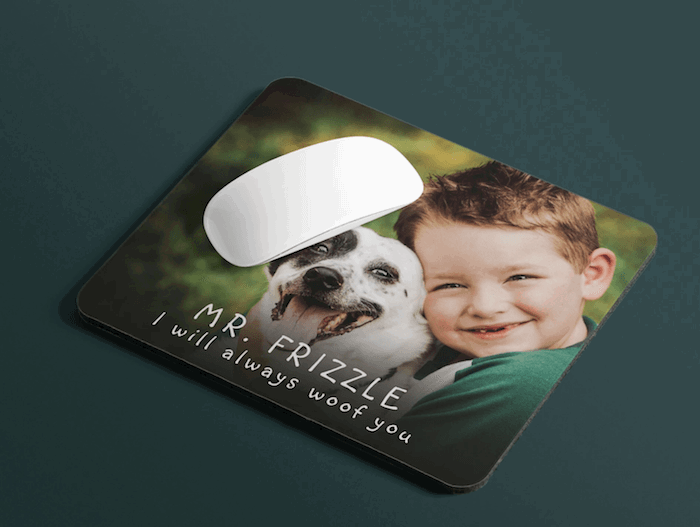 A photo keyring is another present almost guaranteed to be used and seen daily. Places like Shutterfly give you plenty of options to find the perfect style for your family or friends.
Consider a locket if you are looking for a more elegant photo gift. Loved ones can experience the magic of opening it to find an intimate family photo. You can find these photo gifts from Etsy, Amazon, your local jewelry store, or a flea market.
Any photo printing shop will help you out with the miniature print. Take in the locket, and they can judge the size and shape. It is a gift someone can treasure forever!
There is something exquisite about pressed glass frames. Presenting images this way makes them look as though they are suspended in the air. This is a great way to preserve your special keepsakes if you have older black-and-white photos or polaroids.
Consider a personalized snow globe if you're looking for something small to fit on a desk. It's like having a photo frame but with an added touch of Christmas or winter.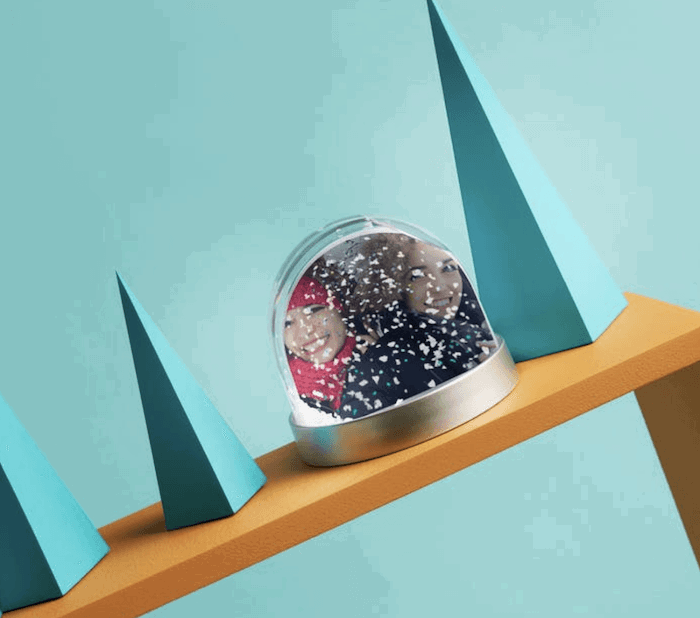 Bottles of wine are always a treat for some people. Why not take it one step further with a personalized photo on the bottle? You can find wineries that provide the wine and a way to add a custom label to the bottle. But you could just as easily find a place to print photo stickers and put them on a favorite bottle of wine!
For people who want mementos in the kitchen, a fridge magnet is a great place to put family vacation photos or other memories. You can revisit special days as you cook. Snapfish provides an excellent service. You can choose from different design templates and styles.
Do you have the perfect image to tie in someone's living room decor? Or maybe you want to give your friends a comfortable couch companion? A personalized throw pillow could be the answer to your problems.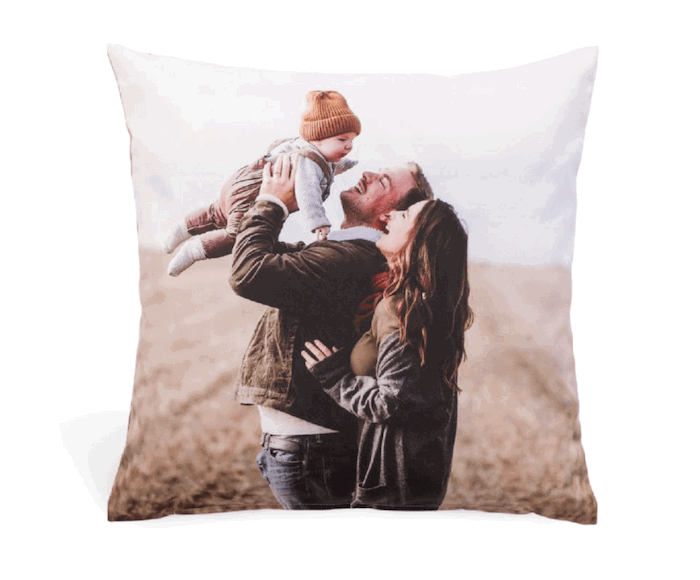 There is no better crossover between fun and functionality than a custom photo blanket. There are many ways you can lay out your images. Most places will give you a template to help you with your layout.
If you are confident in Photoshop, make a document the same size as your desired blanket. Your imagination is your only limit!
What if you want to get photo gifts for a friend or family member who is environmentally conscious? A reusable bag is your answer. Ensure your friends don't use single-use bags for shopping anymore. They can take the same custom bag out every time!
Avoid accidentally picking up someone's suitcase by getting a personalized suitcase. Dyefor gives the option to have a full print on both sides of your bag. This is the perfect photo gift idea for the jet setters out there.
A thoughtful gift to get someone is a custom phone case. It adds a personal touch to the everyday. Not only is it protective of your smartphone. But it can also be a warm reminder for the person you give it to. You can create an original design with your favorite photos, picture collages, digital collages, and more.
What if you already have the perfect gift but want to add a custom touch? How about making your own wrapping paper? You can select from a range of styles and easily upload images to put in patterned templates.
The ultimate party pleaser is having your own photo on your cake. This used to be an expensive choice where you would have to go to a particular baker. Now, you can order the layer of icing with a custom message online!
Are you looking for a way to add an extra-special touch to a party set-up? Get some personalized bunting. What better way to show the different faces of the guest of honor around the whole room?
A classic option. Giving the gift of a nice, personalized mug goes a long way, especially with an image that warms the soul as much as a nice cup of tea.
A great small way to personalize any household is with photos on coasters. You can select how many you want and whether they have the same image or different images on each one.
If you're looking for a present for the avid photographer, why not add a simple addition to their kit with a camera strap? There are plenty of materials to choose from and different degrees of personalization. It's an easy, thoughtful gift without going over the top.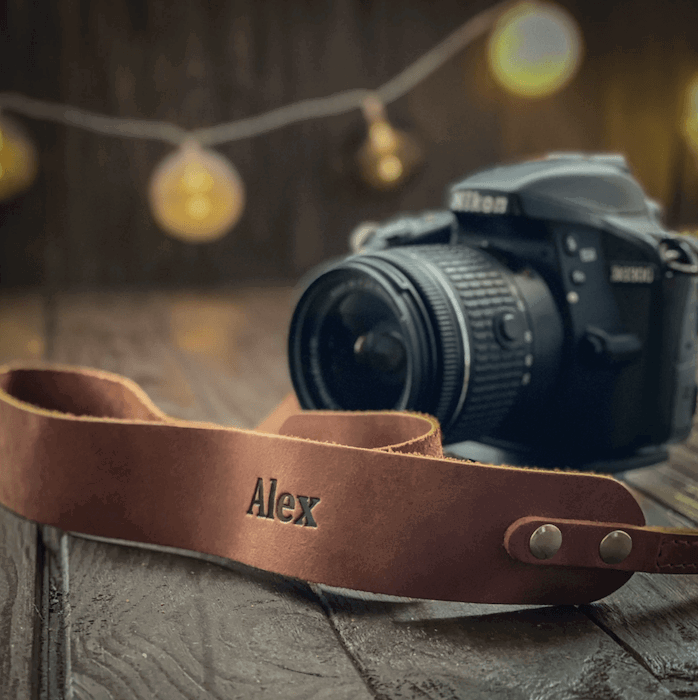 Are you feeling nostalgic? Do you want to pass on memories to younger family members or the whole family? Maybe they'll get a kick out of this great Photo Reel viewer. Photo Reel viewers are a fun way to see photographs in an intimate way. Uncommongoods makes the viewers, along with your own customized picture reel.
If a friend has a sweet tooth, give them customized M&Ms! This well-known chocolate brand lets you print a small portrait onto each small piece of chocolate. Pick your colors, photos, and package.
Are you looking for a present that adds a bit more style? How about getting a personalized hat? You can turn your image into a vector and have it embroidered. Or, if you want to stick with a photograph, they can print a patch to stick on.
There is no better way to keep a personal photograph close to your heart than by wearing it on your chest! You can find fantastic customized T-shirts on Amazon.
Do you have someone who won't wear pictures on a T-shirt? Custom photo socks could be the right personalized gift to give someone. You'll find a wide selection of design templates to choose from. Some options even cover the whole sock!
Looking for a family activity with a personal touch? A custom photo puzzle is a unique gift idea for whole families or problem-solving friends. Putting a puzzle together is a great way for people to spend time together and enjoy your selected photo. You can select the puzzle size and how many pieces there are.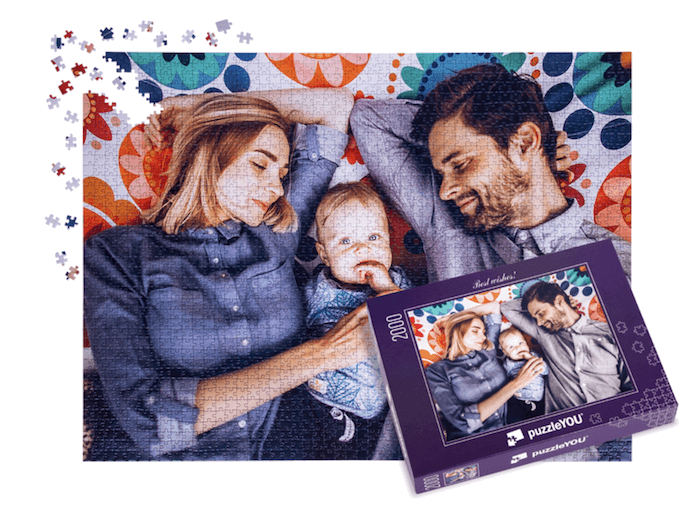 A pack of cards is common to have around for games night. Why not make it that much more fun by adding your own photos to them? Personalized PlayingCards.com specialize in this. They give you a choice of different card types—some are even poker-quality! They also have a great option to create your own tarot cards.
CanvasChamp makes a great selection of fun ways to show photos. You can find this in their custom Rubik's Cube section. Not only do you get the choice of putting your favorite photos on a Rubik's cube, but there are also fun magic cubes that reveal your images in exciting ways.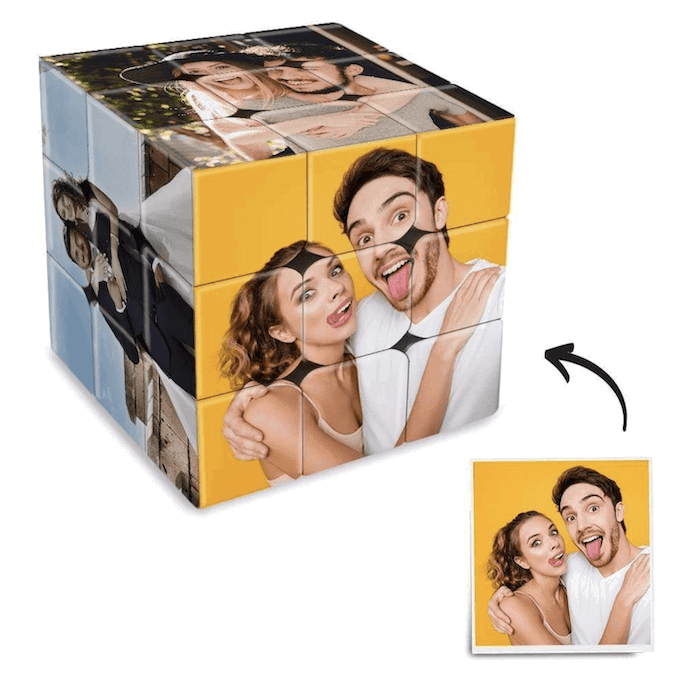 Conclusion
After going through this list of photo gift ideas, you will have more than enough gift options for your loved ones. Make sure you read each website's size and image resolution requirements. The quality of your photos will make or break the gift, so ensure you provide the highest quality possible.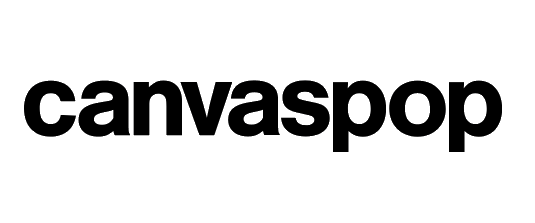 Canvaspop Canvas Printing
Looking for inspiration for photo gift ideas? Check out this article featuring a variety of personalized options. Transform your favorite photos into beautiful wall art with canvas printing from our store.