There are many, creative things you can do with images and they can be used as personalized photo gifts.
They are perfect for anyone, for any occasion throughout the year. Share those heart-warming memories today.
Here, we collected the best photo gift ideas, so you only have to think about who you are going to surprise! Some of them can be handmade at home, and soma should be ordered online.
Photo mugs are popular gifts. It's also a practical object that can be spiced up with your favourite photos.
A mug is a fun gift for friends, family members or even colleagues. You can add texts or drawings, but photos are the most personal choice.
You don't necessarily have to put family photos or group pictures on it. Any of your nice photos or shared memories can make a nice and fun custom photo gift!
You can give the person's favourite tea or coffee as an additional gift to it.
There are even heat changing options. Surprise your loved ones with a seemingly plain mug that reveals it's secret when they pour a hot beverage into it!
Mugs are especially popular gifts in the winter holiday season.
Luckily more and more people realise that we shouldn't buy more disposable plastic bottles.
This makes custom bottles popular.
If you give them as a present, you can encourage people to use their own bottles instead of always buying a new one.
They are going to give a good example to everyone around them by taking water in these and refilling them from the tap.
Vary images and different texts to spice these bottles up!
You can find different stainless steel bottles with and without a straw. Or you can have kids water bottles too.
People love expressing themselves with their phone cases. This is something a lot of people see in our hands, so we use them to show a tiny part of our personality.
This is why a custom photo case is a unique gift.
It's a practical gift as it protects our phones. Besides this, it can be a great conversation starter if someone asks about who is on the picture.
You might feel that putting your face on a loved one's phone would be too much. In this case, print an image of a memory you shared together. A nice landscape from when you were hiking together, a fun party or a concert can also be perfect.
Or get photos of the person's pets!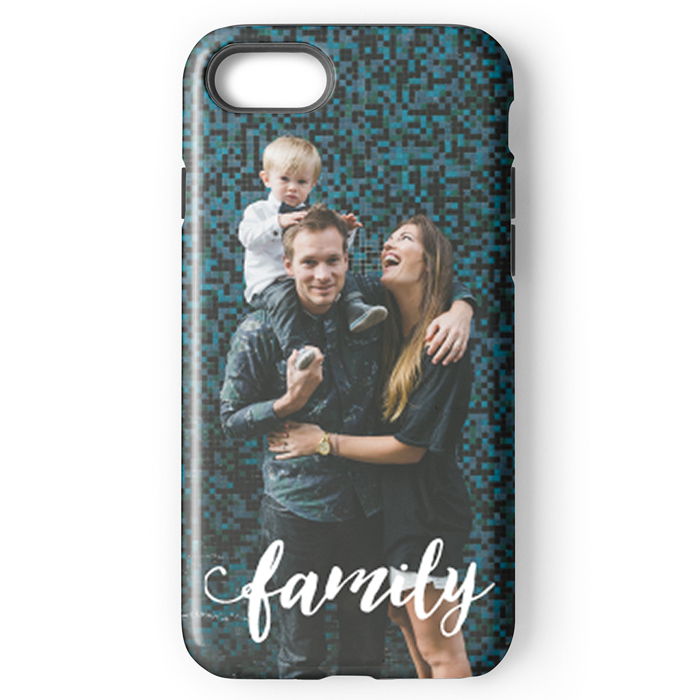 A bookmark is a cheap but fun and unique photo gift.
They encourage your loved ones to read, which is a healthy and calm activity.
If you buy someone a book, these personalized photo gifts are perfect additions.
You can get creative and use any kind of photographs to these. For those, who like reading more books simultaneously, you can even make more bookmarks.
Colouring books are getting more and more popular among adults too. They have a great impact on our mental health by allowing us to relax and slow down a bit.
What could be a better gift than a colouring book of someone's favourite photos?
Turn your photos into colouring pages and then make a book from your illustrations.
This way you are not only giving a personalized photo gift but a little motivation and time to chill too.
These can be great gifts for children, of course. Make a collection of their best adventures and let them build a story around them. Or, if you are inspired enough, you can even write a tale about them and make them the heroes of their own stories!
Did you know that you can transfer your photos to fabric at home?
This opens new gates for unique photo gifts. You can make for example one of a kind tote bags with this technique.
You just need an idea, a printed photo, fabric, a transfer gel, a clean brush, water, a hairdryer and an iron.
These gifts can turn out so cool, I bet you are going to make a few for yourself too!
A quite easy, yet unique and personalized photo gift!
You can transfer your favourite photos to wood at home and there are two ways you can do it. One of them is with Modge Podge and the other one is the Label Backing Paper Method. You can find a detailed guide for both of them in our article.
This way you can create the perfect gift for those who like decorating their homes in a unique and personal way.
The natural texture of the wood makes your photos even more interesting.
You can not only make "simple" pictures as wall art, but there are a lot of other objects you can decorate. Buy a plain wooden box, a plate or anything else and get creative!
You can make a photo book or a photo zine and give them as gifts to a friend or family.
Both of these solutions are nice personalized photo gifts as they are elegant and beautiful. They can be a nice addition to someone's art book collection.
Also, you can have a copy to keep for yourself. This is a great benefit for those who (just like me) find organising their photos a bit difficult. Now at least you'll have your own photo book.
You can use less artistic images, like family photos to make photo books or photo zines. You can vary them and make a creative and personalized gift.
Before the time of digital photography, everyone with a camera had photo albums too.
I often hear my grandparents complaining about how we don't have albums anymore.
It's much better to see our family photos printed and collected in an album than trying to zoom in them on our phones.
So it's a nice gift to anyone. Buy an album, have your photos printed and just place them in the album.
It's a beautiful and evergreen gift that is going to be flipped through many times.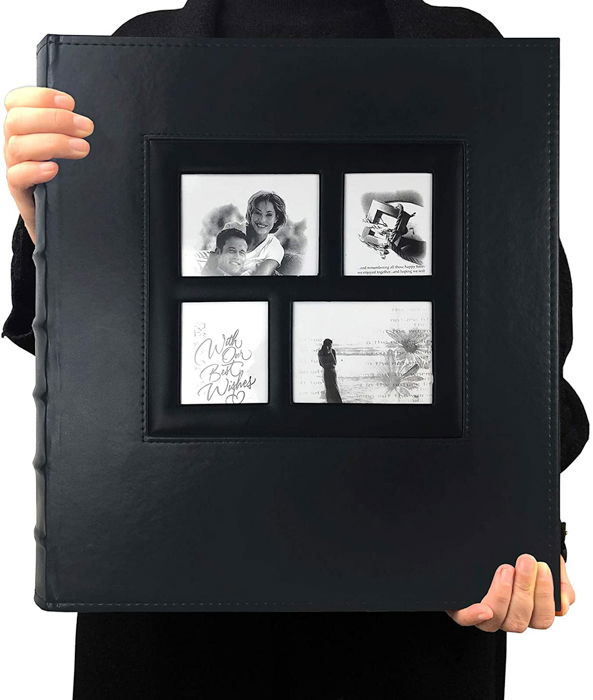 This box is a perfect gift for your loved one. It's more for your partner, but you can give it for example to your siblings too.
It's unusual to have the images not in a photo frame or an album but in a box.
You can get creative and put stickers or other small decorations in it. It's surprising when people open it and it just "explodes", revealing it's personal secrets.
You can even hide a small gift, like a piece of jewellery in the inner box.
This object is going to become a nice package of memories for the years to come.
One of the easiest, yet most personal photo gift ideas.
It's a youthful and fun idea to hang images on LED string lights. You can turn your photos into beautiful wall art this way.
You can order a package with clips and everything, but you can easily buy the pieces separately. These are cheap products that can be bought almost anywhere.
Print photos or make polaroids together and clip them on the string!
It can be a housewarming gift to a friend as usually decorating the walls is not the first thing someone does when moving in. There is a high chance that they have an empty place on their walls for this.
A custom photo calendar is something people will look at all year.
Grandparents, other family members and even friends are going to love it.
At first, they might seem to be too basic, but you can get creative.
They are not only for decorating a home but they are also practical photo gifts. You can mark important dates, anniversaries and birthdays in it before giving it to someone.
Or if you plan little surprises, you can write them in the calendar too. Like a lunch next week or a summer trip.
And again, you can use family photos or group pictures with your friends. But you can use more artistic and sophisticated images too!
A photo puzzle is a fun gift that can bring the family together. You give it as a present but then it offers you and your loved ones a nice activity to do.
The completed photo can be put in a photo frame so it becomes a nice decoration.
Even kids are going to love it!
You can have the photo printed to make piecing it together easier. But if you don't, it's a fun part when the person who got the present is trying to guess what's on the photo.
The most creative photo gift for kids!
They love memory games and they are even beneficial as they develop them. Print their favourite people, pet, food or places on the cards.
It'll even help to learn names and new words while playing.
These are better than massed-produced items as you can really customise them for the kid. Also, it draws their attention from smartphone and computer screens.

Photo prints are obvious but important among photo gift ideas.
They are perfect for every occasion. They can serve the best as a housewarming gift, but as a birthday, Christmas, graduation or wedding gift as well.
They are timeless and can be varied greatly. Use fun memories you shared together, or a more artistic image you took.
The variation can't only be about the image you use, but the technique and form the images are printed and framed.
Photo prints can come in different forms. For example, Shutterfly offers a lot of choices.
Simple, hanging and framed canvas prints are a few of the most popular ones. But if you visit Shutterfly, you can order framed, metal, acrylic or even wood art. Photo posters can also look great and stylish.
Photo albums and prints are great, but can you wear them?
You can think of less conventional picture gifts, like clothes. They can be fun but even elegant choices.
If you print a picture of yourselves on a piece of clothes, that's a fun one. But if you print a more artistic image, you can create unique pieces people can wear almost anywhere.
Get some information in advance about the size of clothes your relatives or friends wear if you are not sure.
Choose a T-shirt, a hoodie, socks or a baseball cap for someone sporty. You can vary the style of the T-shirt and make it more elegant.
Or be more creative and print on underwear. But make sure to give it to someone who gets the joke.
There are even baby onesies available so it can be an awesome gift for people who just became parents.
Add different signs to spice them up even more!
Crystal Prints are evergreen gifts with the main function of decorating rooms.
They can be also used as pendants on necklaces or key-holders. You can personalise them as you wish. Choose your favourite memory and order it drawn with laser in a crystal.
Add texts that mark dates, names or even places. But if you choose an image, they are great just by themselves.
These can be elegant gifts and they look really nice on someone's shelf.
Order one with a sign like "to the best father" and it's going to be like a trophy. You can get creative with these gift ideas too!
Personalised photo cards are never getting old. You can give them as presents for any occasion.
Celebrate holidays, birthdays, anniversaries, Valentine's Day or the New Year with custom photo cards.
Thank you cards or wedding greetings are also popular.
Make your own custom card and use images of you and the person you are giving the card to. Or use your family pictures to show that all of you are thinking about the person.
The possibilities are endless again. You can twist it by adding signs or writing quotes on the cards depending on your creativity.
Use your own artistic images to create something more elegant.
A lot of people collects magnets. For them, this is the best one.
But even those who don't collect them, are going to be happy seeing these small heartwarming gifts.
You can choose from a lot of different sizes and shapes for the magnets. You can even create a small magnetic calendar!
Add signs or quotes to them. Or make collages using a few images and create a small collection of the nicest memories.
Using images of pets is a great and kind idea too.
Who wouldn't love a soft blanket?
If you are looking for a creative and useful gift, this is the one. It can be varied greatly as you can add texts, quotes and any kind of images to them.
Shutterfly offers these too. You can choose a fleece photo blanket as a gift for your family members, but it's also a great idea for children too. Print their pet or their favourite place or memory on it.
These can be the best gifts around Christmas or any other winter holiday or occasion. Everyone's going to love them!
A custom notebook is a great present for anyone who likes to keep some of their notes offline.
More and more people are using only their phones or computers to write notes. But sometimes it's better to have them collected in a nice notebook.
If you know someone who prefers using one, make a customized notebook with photos and text on its cover!
Conclusion
Photo gifts are something almost anyone can appreciate. Luckily the possibilities are almost endless. You can make photo books or order a canvas print, any personalized photo gift ideas can make someone happy.
Order custom made products, or make them at home. Your friend or family member is going to love it, and their house guests or the people they meet anywhere will surely notice them.
If you plan to give a photo gift to someone, make sure to choose something that fits the person you are buying for.
Don't buy a huge print, a LED sting or a calendar if you don't know how it would look in their homes. There is a high chance that they will never hang them on the walls if it's not their style. So as it is with everything, you should be a conscious consumer.
If you are not 100% sure what they might like, choose a smaller and safer gift, like a photo book or a small print.