When it comes to home decor, there's nothing quite like a beautiful canvas print. Not only are they stylish, but they can also be a great way to show off your personality and unique style. And thanks to the ever-growing number of online printing services, it has never been easier to get your hands on one of these prints.
But with so many different services available, how do you know which is the best for you? To help make your decision a little bit easier, we have compiled a list of the 12 best apps for ordering canvas prints online. So whether you are looking for a high-quality service that offers affordable prices. Or, if you want one that has a huge range of customization options, we have got you covered.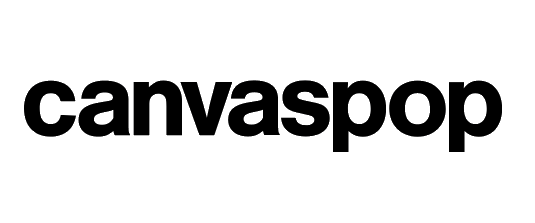 Canvaspop Canvas Printing
Looking for convenience and high-quality canvas prints online? Look no further than this top canvas printing store, offering a variety of sizes and materials to turn your photos into stunning works of art.
[ExpertPhotography is supported by readers. Product links on ExpertPhotography are referral links. If you use one of these and buy something, we make a little bit of money. Need more info? See how it all works here.]
What Is a Canvas Print Service and How to Buy Canvas Prints Online
Canvas print services are companies that turn any picture into a canvas print (or other product). You can upload any photo from your phone, computer, or Facebook. And the canvas print service provider will turn it into a beautiful piece of art.
The best thing about these services is that you can get them in any size to fit your needs:
Small for an everyday decoration
Medium-sized for a home interior design project
Large for an entire wall
Some canvas print services offer the option of designing your own artwork. Others allow you to upload an image they will resize for you.
Canvas print services offer different types of canvases for you to choose from. Options include framed, wrapped, mounted, and unmounted. All these canvases will have special laminates on top to help preserve your images.
What to Look for in a Canvas Print Service
There are three important things to consider before ordering a canvas print online:
Quality of canvas
Quality of ink
Price
To suit your needs best, order your print from a company that offers a wide range of canvases and finishing (framed, wrapped, or mounted). And ensure the ink they are using is up to your standard.
Also, if you order a custom canvas print as a last-minute present, ensure the company offers speedy or same-day shipping.
12 Best Services to Order Canvas Prints Online
Here are our top 12 recommended canvas print services.
CanvasPop is a website that offers the best quality canvas prints. They have HD printing technology and use high-quality materials to create durable yet affordable wall art for your home or office.
Theirs is a wide selection of canvases, wooden frames, and other accessories. And they make it simple to customize your order with just a few clicks.
I am a fan of their simple interface. Usually, these websites can be overloaded with visual material that can be distracting. CanvasPop does a great job of keeping random graphics to a minimum.
The site has customizable features and high-quality products. And this makes it one of the best canvas print services available online.
CanvasPop discount coupon code: EXPERT55 for 55% off canvas prints
Pricing: $$
Shipping: US, Canada, and EU
Delivery: 7 to 10 days
CanvasChamp provides a vast selection of sizes, styles, shapes, and quality custom canvas prints. Their canvas options vary from traditional prints to hexagon-shaped ones to wedding canvases with lyrics.
You'll find many other customizable home decor items at CanvasChamp. There are wood prints, photo pillows and blankets, and photo moon lamps and mugs, to mention a few.
CanvasChamp regularly offers seasonal discounts on its products, like Black Friday deals.
They also have a lowest-price guarantee. If you find any other company offering a lesser price, they will match it and provide an additional 10% discount!
I do find their interface a bit busy. The saving grace is that they make a special effort to present their prices in a streamlined manner. This helps reduce your time on their website before you get the final quote.
Pricing: $
Shipping: US, Canada, India, United Kingdom, and New Zealand.
Delivery: 3 to 7 business days
CanvasHQ puts a huge emphasis on the quality of its products. When ordering from them, you can choose matte, semi-gloss, glossy, iridescent, and vintage canvases.
They also offer a "100% Satisfaction Guarantee." If you are not over-the-moon happy with your order, they will remake it for you or refund your money.
They direct a lot of their effort to be transparent with their processes. This is great, as it makes a difference in knowing the particulars of each element.
You can find all these details in their website's "Why We're Better" section.
Pricing: $
Shipping: US
Delivery: 7 Days
Shutterfly is a leading company when it comes to personalized gifts. You can find the canvas print section under "Wall Art'. This is also where you will find the numerous options available.
Besides high-quality canvas prints in every shape and size, they also offer photo books and water bottles. They even have personalized face masks! You can get everything in one place that you'd need for a unique gift pack.
Just make sure you don't leave the site buying a whole new decor for your house!
Pricing: $ to $$
Shipping: Worldwide (except Belarus, Burundi, Central African Republic, Cuba, Democratic Republic of Congo, Iran, Iraq, Lebanon, Libya, North Korea, Russia, Somalia, Sudan, Syria, Ukraine, Yemen, and Zimbabwe)
Delivery: 6 to 10 business days. Super-rush orders are available within 1 to 2 business days.
Photobox provides some of the best canvas prints. They use professional-grade canvas material and state-of-the-art printing technology. This produces a flawless finish that can last for years to come!
What's more, they offer a unique "110% Satisfaction Guarantee." If you don't like your order, they will credit your account with 110% of your order value.
Photobox's design and simplicity are also winning factors. Often printing sites can be hectic as there are so many options to choose from. The design interface could make it hard to get around their website. But they have managed to keep the navigation effortless with big thumbnails.
Pricing: $ to $$
Shipping: Europe, Australia, and New Zealand
Delivery: 2 to 6 days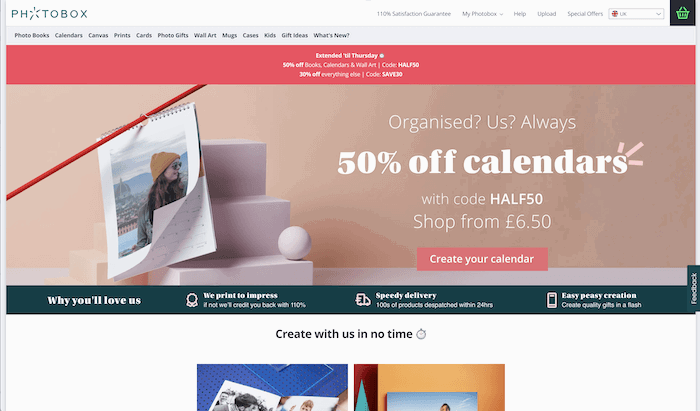 Photo Canvas Land promises museum-quality canvas prints for the lowest price. These high-quality services are always a great aspect to look out for. It usually means their lower, entry-level services will still provide great prints.
The company has been active since 2000 and has provided quality prints. The interface does seem a tiny bit dated. This could be a good sign that they favor product quality over flashy design.
Not to say the interface is bad. I still enjoyed navigating the site. As with most printing services, it is straightforward.
Photo Canvas Land provides you with various canvas or regular printing options. Both come with additional mounting options as well. I am a fan of their selections, as none of these options will remove your image's prominence.
Pricing: $
Shipping: US and Canada
Delivery: 15 to 21 business days
Mixbook is a service that doesn't specialize in canvas printing. Instead, it specializes in putting your photographs on everything you can imagine.
They produce work with fantastic quality, especially the level of detail they put into their canvas printing section. Here, you have a lot of choices to refine your print. You are even able to make adjustments in a program they provide.
Pricing: $$
Shipping: International
Delivery: 8 to 12 business days
PhotoBarn is your option if you want to have a little more fun with your photo printing. As the name suggests, most of their products conform to a barn aesthetic. This aesthetic is increasingly popular in people's homes nowadays.
This aesthetic is evident when you see they have a service that prints on burlap. This option will give you a more textured surface that your image will sit on. It reduces the quality of the print but fits the aesthetic well.
Photo pallets, ornaments, and hexagonal photo tiles are among some of the various printing options they offer you. These can be fun for family images or images celebrating a special occasion. If you want quality photographs you can appreciate, I don't think this option is for you. But these can be excellent niche presents for friends and family.
As well as a personal printing service, you can pick up other items that match the barn aesthetic. This includes various signs that you can hang around your house.
Pricing: $$
Shipping: US and Canada
Delivery: 5 to 7 business days
Great Big Canvas is one of the services that specialize in stock image prints. This can be a good sign, as they are used to dealing with online issues and orders that could go wrong.
They have a service that gives you an online assistant to make your process as smooth and quick as possible. They also provide a unique UVB laminate for extra protection. Another nice, unique feature is the option of having a floating frame.
Especially good for large canvas prints.
Pricing: $$ to $$$
Shipping: US, Canada, Australia, New Zealand, and UK
Delivery: 8 to 12 business days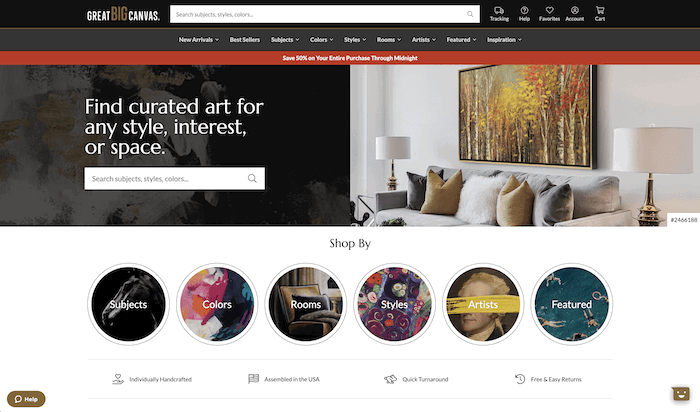 Elephant Stock focuses on providing a print service aimed at selling stock images. They are named after the size of their image database and boast an incredible number of images. This can be helpful if you plan to decorate, especially as you can browse the database by color.
As they produce many of their stock image prints, you can have faith that they will produce quality prints of your work. It means they have refined identifying how an image will look based on the file size and quality given.
Their canvases are all layered with a special protective laminate. This laminate has UV, scratch-resistant, and waterproof capabilities. This means your prints will last longer without a significant loss of quality in the images.
Don't let their price turn you off. They often have huge sales, which dramatically reduce their prices. So it's always worth checking before you buy.
Pricing: $$$
Shipping: US and Canada
Delivery: 3 to 4 business days
iCanvas is your average canvas printing service. They provide another big database for stock images. I enjoy the way you can browse—they have a great system to search through their database. You can look through sections organized by different house rooms, subjects, and colors.
The personal printing service is excellent. After you upload your images, you are presented with a page to edit every aspect of your print. This is convenient, as you can clearly see all your options. iCanvas also provides a proofing service to see what your image will look like directly on the print.
I would say that iCanvas is not the best at blowing up low-resolution imagery. This is fair, as it is up to you, the buyer, to provide quality prints.
Pricing: $$$
Shipping: International
Delivery: 8 to 12 business days
How to Order a Canvas Print (Step By Step)
Ordering canvas prints online is easy. All you have to do is follow a few steps, and in a few days, your canvas will be delivered straight to your door.
Choose a photo you want to turn into wall art. Make sure the file meets the minimum required size.
Examine the photo carefully. Zoom in on it so you can spot imperfections and blurriness that would be noticeable when printed.
Choose the style of canvas on the print service's website.
Upload your photo.
Pick a size for your canvas, select a material, and add any additional accessories, like a frame, that may suit it.
Submit your order.
Conclusion: Best Services to Order Canvas Prints Online
We live in a time when it couldn't be easier to put your favorite images on a wall. If you wanted to do this in the recent past, it would have taken you months and cost you dearly. Now, the process of taking an image from your computer onto a canvas is fast and seamless.
One of the sites on our list will provide you with great canvases to put up in your home. The selection should come out of preference and ease. Don't settle for any less than a print you will be happy with. These canvases can last for years!
The most important point I would remember is to check your file sizes! These companies cannot make good prints of bad images. It is worth checking how big your image files are and how big they can be before losing quality. I would suggest asking a friend who can check the size for you. Or, you can learn how to do it yourself in Photoshop.
You can also check our list of the best acrylic photo print services, too! And if you want to create your own colorful, unique wall art? Check out our Urban Smartphone Minimalism e-book with projects to create beautiful compositions.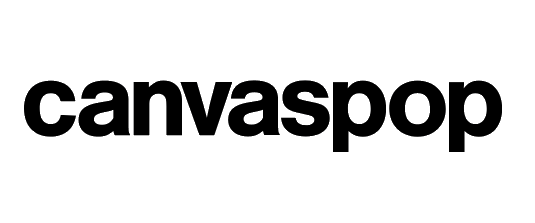 Canvaspop Canvas Printing
Looking for convenience and high-quality canvas prints online? Look no further than this top canvas printing store, offering a variety of sizes and materials to turn your photos into stunning works of art.