Although we live in a digital world, there is still nothing quite like looking at the photos you're holding in your hands. And what photographer doesn't like having their best photos displayed on the wall in all their glory?
The problem is that choosing the appropriate printer and the best photo paper to print your masterpieces can be confusing. A quick online search of my local electronics shop has returned 154 results for "photo papers."
So we're going to narrow down your choices and bring you the best photo paper for your inkjet printer. Inkjet printers are a modern miracle that we take for granted. But getting the best out of them means choosing the right paper and ink carefully.
What is Paper Weight?
We live in a connected world, but there are still some significant areas of divergence. One of these is how we define paper types. In the US, paper weight is expressed in pounds (lbs). And everywhere else in the world, it's listed as grams per square meter—g/m2 or, more commonly, "gsm."
[Note: ExpertPhotography is supported by readers. Product links on ExpertPhotography are referral links. If you use one of these and buy something, we make a little bit of money. Need more info? See how it all works here.]
With US paper, you might also find the type of paper included, listed as "80 lb cover paper" or "80 lb text paper." These are two different weights of paper—216 gsm and 118 gsm, respectively. And weight, of course, measures thickness. The heavier the listed weight, the thicker the paper is. The everyday printer paper we use for printing our essays and letters to the bank manager is usually 80 gsm. This same paper is listed as 54 lbs in the US.
In general, fine art papers will be thicker, and everyday papers will come in a variety of weights.
Choosing the Correct Paper Size
And to add to the fun, the sizes are often different. US letter size is standard for regular office printing, whereas others would use A4. The good news is that a normal photo, the kind you might send your granny for the holidays, works well in both imperial (6″ x 4") and metric (15 cm x 10 cm).
Even better news, this is the same ratio of a full-frame or APS-C photo, which is 2:3.
How to Decide What Paper is Best for You
When choosing the best photo paper for inkjet printers, we have to make a few choices. Which paper is better—glossy or matte? What weight is best?
Most of the answers to these questions will be determined by a few factors:
What do you want to do with the print?
How and where will you display it?
What are your printer's capabilities?
If your printer doesn't have a direct paper path, you will be limited in the weight of paper you can use. It's worth checking, as many printers will have a rear slot for envelopes or heavyweight paper. Check the manual to establish the maximum weight that will work in your printer.
A relatively cheap photo paper will let you print out photos for making cards or putting them in a display.
But for higher-quality display purposes, you'll want paper with a heavier weight. You'll also want a better finish you get from high-quality photo paper.
What Else Should I Consider?
Your final photo prints will result from a number of decisions, even once you have taken the photo and edited it.
It seems obvious, but the quality of your printer will have a big impact on the quality of your prints. If you want fine art photography prints, then you will need a high-quality printer to print on high-quality photo paper. You will also need to know about pigment inks and how they react with the surface of the paper.
Do you need archive-quality art paper that will be resistant to UV light? Do you want a textured matte finish, like canvas, or do you need sticky-backed photo paper?
If you want to preserve our environment, one of your criteria might be increased sustainability. Some papers carry certification from the Forest Stewardship Council (FSC). This certification addresses sustainability factors in the production, packaging, and transportation of goods.
What Finish Should You Choose?
The surface finish of the paper has a significant impact on the final print. It can affect how visible the image is, especially if there's glare where you're displaying it. You also want to consider finish if you're displaying it behind glass. The finish can also determine how much your picture "pops" off the page.
Glossy Paper
Glossy paper is more vibrant, like the prints we used to get from the processing labs. It works well for rich, bright colors. It is the best printing paper for sharing prints with others.
Glossy paper isn't a great choice if your prints will be handled a lot, as the photos show fingerprints very easily. It is also not the best choice if they will be on display under strong lighting or sunshine because of glare. This is even more true if you're displaying them behind glass.
Matte Paper
Matte paper is often the best photo paper for black and white photos and with more mellow scenes in color. You won't get the same problem with reflections, either. There is a range of finishes, with some matte photo paper having a textured finish.
My feeling is that because the ink doesn't sit "on" the surface quite as much as with a glossy photo paper, a matte photo paper print doesn't look quite as sharp as its glossy counterpart. But you may feel that a matte finish works best for your style.
Luster Photo Paper
Luster photo paper (sometimes called "pearl") offers something between glossy and matte. Depending on your view, or the situation, it can be either the best or the worst of both worlds.
It's good for showing off quality prints, but won't suffer from fingerprints if handled incorrectly. It will also cope better with bright light, as it won't reflect it the same way glossy paper does. But, it can look a little lifeless compared with glossy.
What is the Best Everyday Photo Paper?
We don't always want exhibition-grade prints from our photos. Sometimes we just want something better than standard copier paper. What's the best option for economic prints?
Size: 6" x 4" (15 cm x 10 cm)
Weight: 53 lb (200 gsm)
Finish: Glossy
It's also available in 7" x 5" (178 mm x 127 mm) and US Letter (215.9 mm x 279.4 mm).
At 56 lbs / 200 gsm, this glossy paper will probably be the lightest paper you would want to use for a durable record of your photos. It is treated with a smudge-resistant surface designed to prevent tackiness.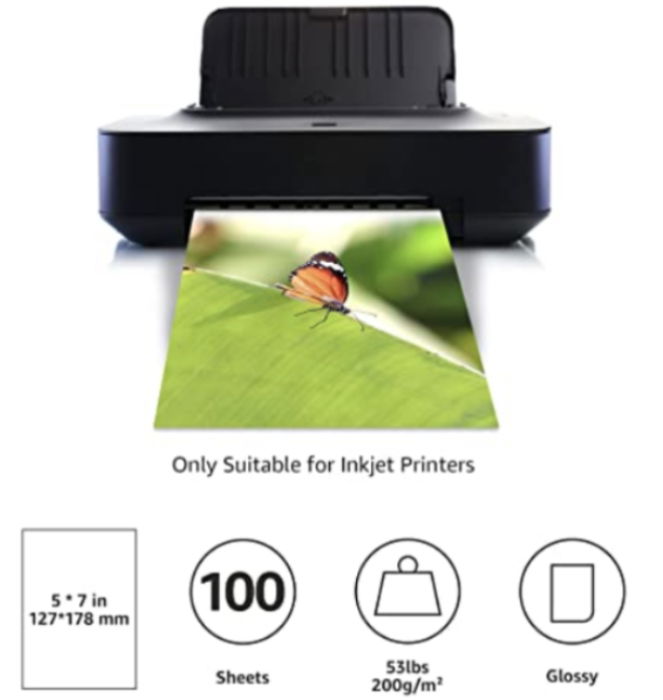 Size: 6" x 4" (15 cm x 10 cm)
Weight: 53 lb (200 gsm)
Finish: Glossy
As with all the major inkjet printer manufacturers, HP recommends using their proprietary inks with their photo paper for added print durability. This is another reliable everyday glossy photo paper with the added appeal of an FSC certification.
Size: 8.5" x 11" (216 mm x 279 mm)
Weight: 27 lb (102 gsm)
Finish: Matte
From the weight of this matte paper, you can see that it is more multi-purpose than the glossy paper reviewed so far. By its very nature, matte photo paper also produces excellent text quality. This means that paper designed for brochures and reports will also produce sharp images.
This paper is a bit flimsy for passing back and forth a lot between friends. But your black and white prints will look good without breaking the bank.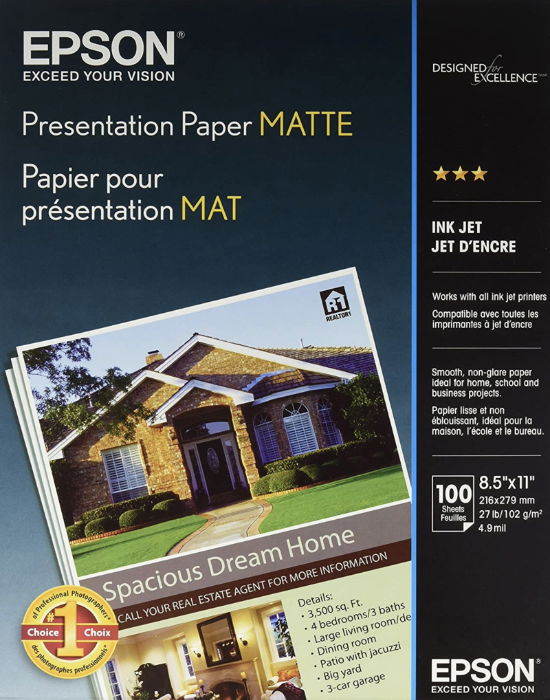 What is the Best Premium Photo Paper?
So far, we've looked at papers that are great for everyday use. But what about situations where you need higher-quality prints? Here are some suggestions for premium paper.
Size: 8.5" x 11" (216 mm x 279 mm)
Weight: 69 lb (260 gsm)
Finish: Luster
Hitting that sweet spot between glossy and matte, this Canon luster photo paper will lift images without making them sparkle. It is ideal if reflected light will be a problem. And at 260 gsm, it has some heft.
The finish helps to resist smudging. And Canon, of course, recommends using their own inks. Photographers will appreciate the range of sizes available, which goes up to 13" x 9".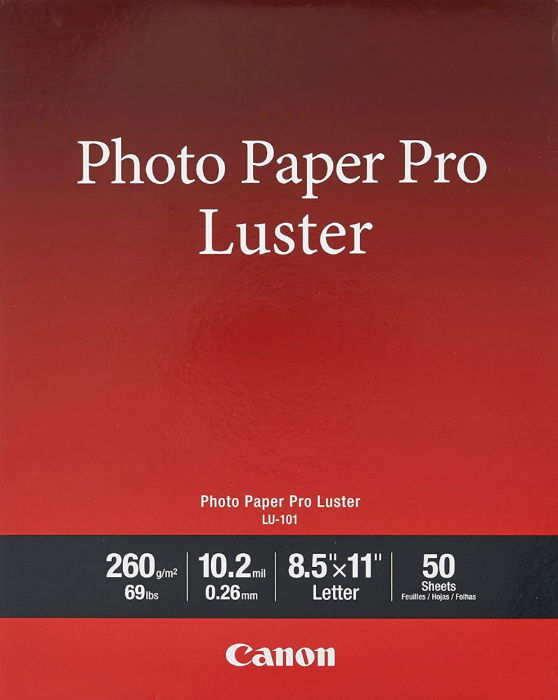 Size: 8.5" x 11" (216 mm x 279 mm)
Weight: 67 lb (251 gsm)
Finish: Semi-gloss
There's not much to choose between luster and semi-gloss. And this Epson premium photo paper is designed to replicate the resin-coated papers of a photo lab. Epson claims that when you use their inks, it has a degree of water resistance that means an accidental splash won't spell disaster.
This is a weighty paper that should give fine results for display purposes. And it's available up to 13" x 9".
Size: 6" x 4" (15 cm x 10 cm)
Weight: 310 gsm
Finish: Luster
Red River is very much a specialty photo paper producer. Big Bend Baryta is the successor to their popular San Gabriel Baryta. The "baryta" in the name refers to the traditional barium sulfate whitening process. This process produces tones that photographers appreciate. And especially photographers who work in black in white.
At 310 gsm, it is a substantial paper stock, and the price will put some people off. It costs roughly twice as much as the Canon Pro Luster and is not recommended for HP desktop printers. If you want to see what a specialist paper manufacturer has to offer, Red River offers a trial pack of two sheets of nine different papers. It's worth a try if you're curious about the difference a high-quality paper like this makes.
Size: 8.5″ x 11″ (216 mm x 279 mm)
Weight: 310 gsm
Finish: Glossy
This is another baryta photo paper, this time from the highly-respected German company Hahnemühle. Hahnemühle has been manufacturing paper on the same site since the 16th century. And they've set the standard for their environmental credentials. This photo paper gets the "rag" in its name because it's made from 100% cotton fibers left over from textile manufacturing.
At 315 gsm, this is another heavyweight photo paper aimed at long-lasting displays and fine art. A high gloss finish provides crisp detail, and the cotton paper gives a natural warmth to highlights.
It's available in various sizes, including rolls up to 64" wide. Like Red River, Hahnemühle offers a sample set of six different photo papers that includes two sheets of each. If you're really technical, you can download ICC profiles for all their photo papers.
Size: 8.5″ x 11″
Weight: 80 lb (300 gsm)
Finish: Glossy
At 300 gsm, this has a quality feel to it. And the glossy finish produces clear, crisp images. This photo paper almost always receives high praise in customer reviews and is another HP photo paper that is FSC certified.
The glossy surface is water-resistant and resists smudges by drying instantly.
Size: 8.5″ x 11″
Weight: 310 gsm
Finish: Luster
Ilford has been making photo paper since 1879. And it was one of the first traditional photo paper manufacturers to move into digital media. Their Galerie Prestige Smooth Pearl Photo Paper has a non-reflective surface that dries instantly.
Used with HP Vivera inks, this photo paper has been assessed by Wilhelm Imaging Research as having a permanence rating in excess of 200 years.
Ilford Galerie Prestige Smooth Pearl Photo Paper is available in a range of sizes up to 17" x 22".
Size: 8.5″ x 11″
Weight: 80 lb (300 gsm)
Finish: Glossy
Canon's flagship premium glossy photo paper is a development from the previous Paper Pro PR-101. The Platinum PT-101 combines deep, rich blacks with a neutral, natural-looking white. The glossy surface gives crispness to the final print. And the surface of the coating helps improve drying times.
Size: 8.5″ x 11″
Weight: 79 lb (297 gsm)
Finish: Glossy
Instant-dry and compatible with all printers, Epson's Ultra Premium Photo Paper produces images with brilliance and deep gloss. Color rendition is bright and accurate.
The ink dries instantly and has a degree of water resistance in case of accidents.
It is available in various sizes up to 8.5" x 11".
Size: 8.5″ x 11″
Weight: 37lb (130gsm)
Finish: Matte
To finish off our review of the best photo paper for inkjet printers, we have this stock from Uinkit. What sets this matte paper apart is that it is double-sided. Not much use if you're hoping to display your photos, but in that case, you would probably opt for a heavier weight stock.
But it does offer a solution for a number of situations beyond printing reports. Cards, brochures, and leaflets will benefit from having a smooth, printable surface on both sides.
Despite being relatively inexpensive, it produces bright colors. And the surface and thickness help to avoid the bleed-through that you would get with ordinary 80 gsm office paper.
Probably not a paper you'd use every time you want to print your photos, but it's ideally suited to very specific purposes.
Conclusion
Finding the best photo paper to show your work off can be difficult. There are many things you need to consider. What is the audience for your prints? What stock will work with your printer? How much can you afford?
The answers to those questions will help you to make this decision. Once you know that, then it might even be a case of trying out different papers. The combination of your photo style, editing habits, and printer parameters is unique for everyone.
I think that for everyday use, balancing decent image quality with affordability, the Amazon Basics Glossy Photo Paper is a good choice. For fine art or exhibition photos, think about Ilford's Galeria Prestige or Hahnemühle's Rag Baryta.
Check out our Photography Unlocked ebook to take stunning photos that are worthy of displaying all over your home!