If you are interested in printing your photographs, knowing about luster vs glossy finish is a must. Whether you're a professional photographer or not, it can be tricky to choose the right finish.
The most common options for photo paper finishes are lustre and glossy. But which one is best? This article will look at both and explain their differences. And we'll look at pearl and satin finishes and metallic prints as well.
If you're looking for information on lustre vs glossy finishes for your photo prints, consider a type of paper that produces rich, vivid colors with a bright, glossy finish that resists fading for decades.
Everything You Need to Know About Lustre vs Glossy Finishes
There are plenty of things to consider when choosing between the two finishes. So let's dive right in.
What's a Lustre Photo Finish?
Lustre photo paper is a hybrid of glossy and matte prints. This finish provides the benefits of both styles. It delivers bright colors, yet, it is not as shiny as glossy paper.
Lustre paper comes with a semi-gloss that doesn't reflect light too much. It is closer to a matte finish than the glossy paper.
There is no doubt why it is a favorite of photographers. Lustre photos have vivid colors, sharp details, and rich color saturation.
The lustre finish also looks stunning with black and white images. It delivers deep blacks and smooth tones.
Another benefit of this photo paper? It is not prone to fingerprints. Like matte photos, you can handle it without concern.
Lustre paper also comes with a slight texture that gives a professional look to the photographs. So this paper is perfect for photography portfolios or gallery prints.
Photographers use luster paper often for wedding and school photos. But you can use it for a wide range of photography styles.
If you want to buy this photo paper online, Canon's luster photo paper (8.5×11″ and 13×19″) or Kodak's professional inkjet lustre photo paper (8.5×11″) are some excellent options.
Are There Any Photo Finishes Like Lustre?
Other photo papers like lustre are pearl, satin, and matte.
Pearl finish is very much like lustre but slightly shinier. This finish is usually a good choice for printing landscapes. The gloss in the paper makes the colors more vibrant without being too reflective. Promaster Pearl inkjet photo paper (4×6″ and 8.5×11″) is our top recommendation for this kind of photo paper.
Satin finish is less common than pearl finish. It is often called semi-gloss. It is glossier than the pearl finish but less reflective than the glossy finish. It offers high color vibrancy, specifically for orange and red tones. We suggest Premium River Stone satin rag paper (13×19″ and 17×22″) if you are looking to buy this paper online.
Matte finish is durable and non-reflective. This photo finish is soft and texturized. It does not show fingerprints and smudges like luster photo paper. This makes it perfect for being frequently handled. A great example of matte photo paper is Kodak's matte photo paper (8.5×11″).
What Are the Advantages of Lustre Photo Paper?
Shows accurate skin tones
Lower reflection of light for the viewer
Easier to see from various angles
It has both a semi-gloss and matte look
Softer texture than glossy paper
It is not prone to fingerprints or stains
Great for printing portfolio or gallery photos
Looks good under glass
Great for displaying large prints on the walls
What Are the Disadvantages of Lustre Photo Paper?
It doesn't reflect the most amount of light
It is not as neutral and natural as the matte finish
The texture does not allow you to print photograph details sharply
What Does Glossy Print Mean?
Glossy prints are photos printed on matte paper with a shiny, extra layer. They have a natural shimmer and reflect as much light as possible.
Glossy photos are one of the most popular print finishes. It is one you usually get when you print your family photos.
The glossy paper makes colors look vivid. It accentuates the image contrast, making whites and blacks look more intense.
This reflective photo finish allows you to show image details with clarity. This kind of photo print is perfect for photo albums. They are not suited to be framed under glass as they are already shiny.
Some great examples of glossy print paper are HP Premium Photo Plus glossy photo paper (4×6″, 5×7″, and 8.5×11″) or Canon's Pro Platinum photo paper (4×6″ and 8.5×11″).
What Are the Advantages of Glossy Photo Paper?
Provides vibrant, saturated colors
The details are sharper on glossy paper
High contrast with deep blacks and bright highlights
What Are the Disadvantages of Glossy Photo Paper?
Extremely prone to fingerprints and smudges
Difficult to see in sunlight or bright places because of the intense glare
Not suitable for framing as they can stick to the glass
What's the Difference Between Lustre and Glossy?
The main difference between lustre and glossy photos is reflectivity. Glossy paper is very shiny, while a lustre finish is semi-shiny.
Colors are more vibrant in glossy prints. But a lustre finish shows more accurate skin tones.
Also, a lustre finish is more resistant to fingerprints, smudges, and scratches. In contrast, glossy photos get dirty easily.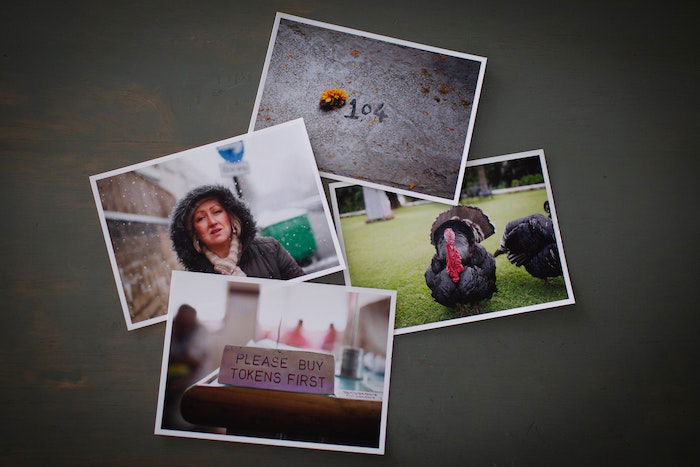 Lustre vs Glossy—Which is Better?
Both finishes make photographs look beautiful. When it comes to lustre vs glossy papers, you need to ask yourself, "What kind of image am I printing?"
A glossy photo finish works well on photographs where color vibrancy is relevant. Some examples are landscapes or children's portraits.
A printed image in a glossy finish is also a better choice if you want to keep sharpness or fine details.
Also, keep in mind where you are planning on placing the prints. Glossy photos will be hard to view if placed in a bright room. In that case, lustre or matte papers are the best options.
Lustre prints are a good choice if you need some softness in the image. Artistic photos or portraits are good examples of this.
If you are printing a photo that will get handled often, you should go for the lustre finish. Lustre prints are the best choice for wedding photos or postcards. It takes the best of matte and glossy finishes and leaves their negative features behind.
Lustre vs Matte—Which is Better?
Lustre photos are not the same as matte photos. Lustre has a slight gloss, while matte does not.
Both matte and lustre finishes work well on portraits, wedding photos, or professional prints. Unlike glossy prints, both finishes look good under glass, as they are not reflective.
Yet, photographers consider a lustre finish more professional, as it boosts the colors. And matte photo prints show a lot of texture and work great for black and white photos.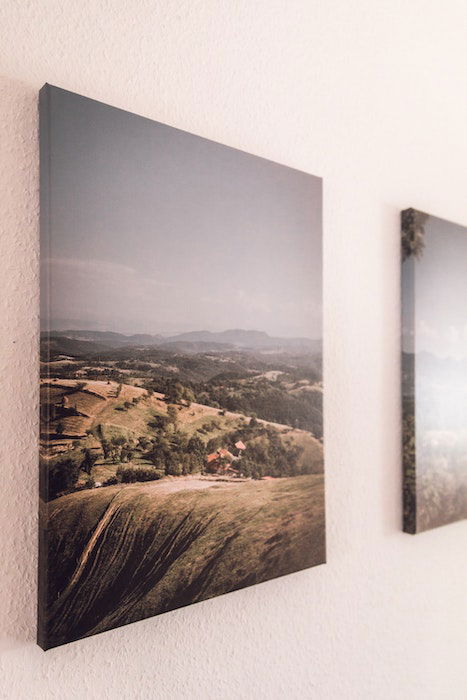 What's a Metallic Photo Finish?
Metallic photo paper is a professional product offered to photographers by photo labs. This photo finish is printed on an aluminum panel. It comes with a unique pearlescent effect that provides exceptional detail and depth.
Metallic prints are durable and resistant to scratches and tearing. Yet, they are highly prone to fingerprints. We suggest that you go for a metallic print if you do not plan on handling the photos too much.
Unlike glossy, the metallic paper will not reflect light. It will absorb it.
Metallic photo paper offers a glossy finish that gives photographs a 3D effect. Photos printed in this glossy metallic style are vibrant, sharp, and defined.
Metallic prints are usually more expensive than other photo finishes. This paper is thicker and more high-quality. Hence, it can last a lifetime.
A great examples of professional metallic photo paper are Hahnemühle Photo Rag Metallic (8.5×11″ and 13×11″).
Lustre vs Metallic—Which is Better?
Lustre and metallic finishes are both used by professional photographers.
Choosing between a lustre or a metallic print comes down to personal preference. Both provide vibrant colors and high-quality photos.
If you want to hang up a photo in your home, we suggest the metallic finish. They are resistant and durable and do not need a frame or glass. Metallic images have a modern, clean style.
Also, take into account the kind of image you are printing. For example, metallic finishes best portray stunning landscapes. Water reflections also look great in metallic finish.
In contrast, portraits or school photos will look much better in a luster finish. And a lustre finish is the best choice for frequently handled photographs.
Or you can get the best of both worlds with a metallic lustre combo, like Epson's Professional Media metallic luster photo paper (8.5×11″, 13×19″, and 17×22″).

Conclusion
The type of photo finish to print with is a frequent debate among professional photographers and hobbyists. The answer, in our opinion, depends on how you will use or display the photos. Will you frame photographs? Or will you place them in a photo album?
You must also think about what kind of photographs you are printing. If it's an artistic, black and white, or landscape photo, lustre is best. But we suggest a glossy print if this is a photo where color vibrancy and texture are essential.
If you want to frame a photo and get good visibility, you should go for a matte print. Or try a metallic finish if a modern, minimalist style is what you want. Your choice of lustre vs. glossy is partly subjective. But some finishes work best for certain kinds of photos or situations.
If you're looking for other glossy printing options, check our list of best acrylic photo print services, too!
Try out our Dreamy Childhood Portraits e-book to capture print-worthy photos you'll cherish forever!
If you're looking for information on lustre vs glossy finishes for your photo prints, consider a type of paper that produces rich, vivid colors with a bright, glossy finish that resists fading for decades.