The Canon EF 100mm f/2.8L IS USM macro has long been among my favorite lenses for macro and portrait photography. It's a genuine macro, giving 1:1 reproduction, and at 100mm, it's the perfect length for portraits. The f/2.8 maximum aperture delivers smooth bokeh. And the excellent image stabilization helps when even that f/2.8 isn't fast enough.
Canon's L-series lenses have a well-deserved reputation for optical quality. And so they should, as they come with a hefty price tag. Does this Canon EF 100mm f/2.8L IS USM macro deserve the famous red ring of quality? Let's take a closer look at this lens and see if it really is the best macro lens for your Canon camera.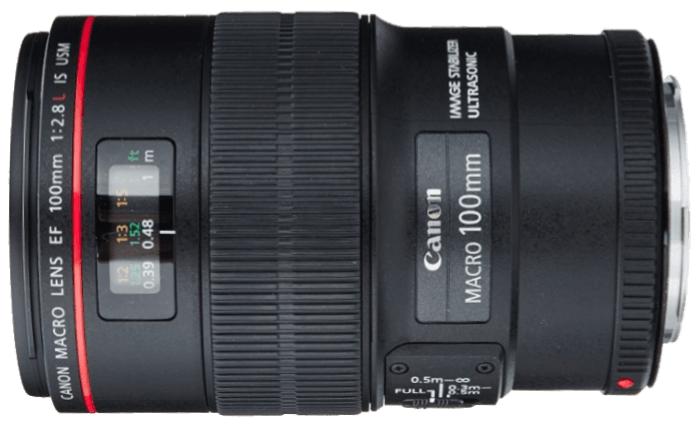 Canon EF 100mm f/2.8L IS USM Prime Lens
Pristine optics, a fast max aperture, and built-in stabilization make it a fantastic macro lens. It more than lives up to the price tag.
Buy from Amazon
[ExpertPhotography is supported by readers. Product links on ExpertPhotography are referral links. If you use one of these and buy something, we make a little bit of money. Need more info? See how it all works here.]
Canon EF 100mm f/2.8L IS USM Overview and Specifications
Canon EF 100mm f/2.8L IS USM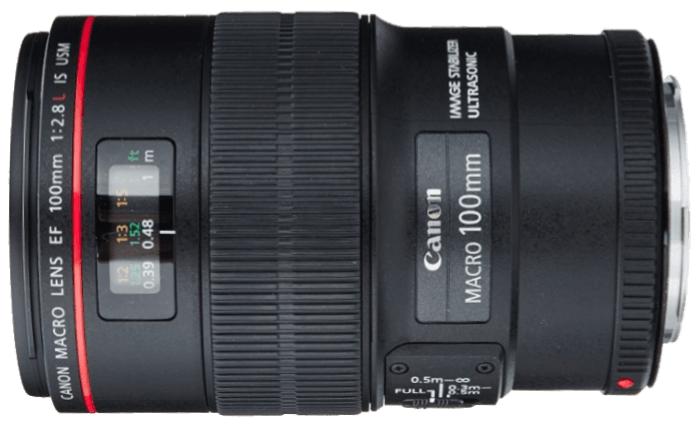 Image Stabilization
The
EF 100mm f/2.8L IS USM
macro is a fairly new optic as far as EF lenses go. It was introduced in 2009 to partially supersede and improve upon its predecessor, the
100mm f/2.8 USM
macro lens.
It's unlikely that we will see an update in the upcoming years. But there is a dedicated RF version for Canon's full frame mirrorless cameras.
Currently, it's the highest-grade macro lens Canon offers, along with the super-rare, super-niche MP-E 65mm 5:1 macro lens. But the latter is far less versatile.
Compared to its cheaper predecessor, it offers slightly better image quality, weather sealing, and hybrid image stabilization.
As a true macro lens, this lens gives you a magnification ratio of 1:1. This essentially means that subjects appear in their real-life size on the sensor at the closest focusing distance. When you view the image on a screen, this results in an impressive close-up experience.
When you open the box, you'll find a few accessories. The package includes a plastic lens hood (ET-73), a leather carrying pouch, and the front and rear caps.
As it's part of Canon's professional L-series lenses, it's not exactly cheap. But it's the cheapest L prime lens available. Several less expensive dedicated macro lenses are available if you don't have the budget.
If you'd like to dive deeper into the mesmerizing world of macro photography, I recommend checking out our course, Macro Magic. We actually use the Canon EF 100mm f/2.8L IS USM macro lens in the course, along with budget alternatives.
Who Is the Canon EF 100mm f/2.8L IS USM Macro For?
The Canon EF 100mm f/2.8L IS USM macro is ideal for many uses. It's great for professionals who often need macro capabilities to justify buying a dedicated macro lens.
For example, it's excellent for wedding photography. Not only is it perfect for the ring shot and other detail images, but it's also a great general portrait lens. It might just be your choice on your second camera body.
It will find its way just as easily to the bags of food, architecture, and portrait photographers. Although for the latter on its own, there are better choices. We even used it to shoot landscapes in our Simply Stunning Landscapes course because of its exceptional image quality.
Enthusiasts also benefit greatly from this lens if looking for a versatile, high-quality macro lens. You will need a compatible interchangeable-lens camera to use this 100mm lens. But as you'll see shortly, the list of these is quite long.
Key Features
Mount and Compatibility
The Canon EF 100mm f/2.8L IS USM macro is made primarily for full frame EF-mount cameras. These are the Canon EOS 6D, EOS 5D, and EOS 1DX/1Ds series of digital cameras and all of Canon's 35mm film cameras since 1987.
But the lens will work perfectly on crop-sensor EOS bodies (such as the 7D, 10D-90D series, and all the Rebels). It can also be adapted flawlessly to Canon's full frame mirrorless R bodies (currently the R, RP, R6, and R5).
It works just fine with a slight drop in autofocusing speed on Canon's crop-sensor mirrorless EF-M-mount cameras (e.g., the M100, M50, M5, and M6).
You can also use any EF mount adaptor with this lens. These include adaptors to Sony E-mount, Fujifilm X-mount, Micro Four Thirds, Nikon Z-mount, Leica L-mount, and more.
Autofocusing speed and reliability on these off-brand cameras depend on the quality of the adaptor used.
The lens's image circle is large enough (with IS turned off) to cover smaller medium-format sensors, like those in Fujifilm's GFX cameras. As macro lenses for these formats are quite rare, and even if they exist, they cost a fortune, the 100mm is a real prospect here.
Image Quality
In my experience, the Canon EF 100mm f/2.8L IS USM macro is a very sharp lens. But it's not the all-time sharpest I've used.
A large portion of the frame is tack-sharp already at f/2.8, except for the extreme corners. As you'd expect from a macro lens, close-up image quality is identically excellent.
The corners finally match up to the center area entirely at f/5.6.
It's basically distortion-free. This is usually not an issue at focal lengths in this range. But such performance is exceptionally good.
Chromatic aberration is also almost non-existent. A minor purple-green coloration of out-of-focus edges is present, but it's only noticeable when shooting grey or white subjects.
The quality of the out-of-focus backgrounds is really pleasing and creamy. Obviously, this is a major consideration in a macro-joint-portrait lens – much of your frame can be blurry in both instances.
The lens responds to direct sunlight in a decent way. There's a slight loss of contrast and a quite apparent flaring – but this can even be appealing if done on purpose. For general shooting, I recommend keeping the lens hood on.
Focusing
The Canon EF 100mm f/2.8L IS USM macro is equipped with quick autofocus and a sensitive manual focus ring. During my tests (conducted on 5D Mark III, 5D Mark IV, and 7D Mark II camera bodies), the 100mm generally performed really well.
It's extremely consistent. Even though it's not the fastest I've used, its speed is still more than decent.
It's quick enough to capture street scenes full of motion or keep close-up subjects constantly in focus in servo mode. If you flick the limiter switch and cut off the closer distances up to 0.5 m, it's even faster.
The manual focus ring is mechanically connected to the focusing elements, but it's coupled only one way. The motor doesn't turn the ring when focusing. Therefore, it offers full-time manual override even during autofocus mode.
Speaking of the motor, it's an almost completely silent ultrasonic drive motor (reflected in the name "USM"). When focusing, the front element stays completely still. This ensures better sealing and filter usability.
Furthermore, this 100mm lens offers a distance scale on the lens, which is particularly useful in macro photography. As mentioned, there is a limiter switch between 0.3m infinity and 0.5m infinity. This makes focusing on macro situations quicker.
Stabilization
One of the big hit features of the Canon EF 100mm f/2.8L IS USM macro is its hybrid Image Stabilisation (IS) module. Canon developed it specifically for close-up applications. So this system has greater leverage on the lens axis than most other systems.
Thanks to this, I can hand hold a shutter speed of 1/20 s at maximum magnification. That's almost five stops better than without stabilization, which is a great feat.
Handling and Build Quality
This lens is primarily built of plastic, except for the lens mount, which is metal. Unfortunately, it feels like one of the most fragile L-series lenses I've used… and I've encountered many of them.
Yet, it's weather-sealed. So it should withstand rainy, dusty, or sandy environments pretty well. I have first-hand experience for the first. And I have no doubts about the other conditions.
It has a 67mm filter thread. This puts it in the same league as Canon's 70-200 f/4 lenses. Filters of this size are not too expensive.
There are three switches on the side:
A manual and autofocus (M/MF) switch
A stabilization on/off switch
The focus limiter switch mentioned earlier
They are easy enough to be flicked quickly without much effort. But they're occasionally hard to switch because they're slightly below the surrounding surface.
The lens measures 123mm in length and 78mm in diameter and weighs 625 grams. It balances really well with 90D and 5D-sized camera bodies. It's coated in black, except for the signature red ring of the L-series towards the front.
The included ET-73 hood is made of plastic and doesn't feel too solid. But it does the job in all other aspects. Plus, it has a light-absorbent surface on the inside. With the hood on, your working distance shortens to around 5 cm at 1:1.
I don't recommend keeping it on when shooting macro. But it's useful when capturing portraits.
Alternatives
There are several alternatives to the Canon EF 100mm f/2.8L IS USM macro lens:
Tamron AF SP 90mm f/2.8 Di VC USD: This is the most comparable. It offers similar build quality, stabilization, and image performance at a slightly lower price.
Sigma 105mm f/2.8 EX DG OS HSM Macro: This is another third-party lens with comparable specifications on paper, and it's significantly cheaper than the Tamron and the Canon lenses. But it's known to have some reliability issues, especially with autofocus. So for professional applications, it might not be ideal.
Canon EF 100mm f/2.8 USM Macro: This is the predecessor of the 100mm f/2.8L mentioned earlier. It's slightly behind in image quality and doesn't have stabilization like the previous two. But the lens is also quite cheap. And some say it's better built than its "L" counterpart.
Canon EF-S 60mm f/2.8 USM Macro: This offers a 100mm-equivalent view and great close-up performance for crop sensors. Its image quality is exceptional among EF-S lenses. But it lacks image stabilization. The lens is also not too expensive. But crop-sensor lenses are generally cheaper anyway.
You can also convert your existing lenses to decent-enough macro lenses if you only need macro capabilities occasionally. You can read my article on macro photography gear on a budget.
Our Verdict
The Canon EF 100mm f/2.8L IS USM macro is an excellent lens. In my opinion, it's worth the price. The lens lives up to the expectations of the L-series in all areas, except maybe build quality. But if that's hard to justify for you, it also has less expensive, more than decent alternatives above.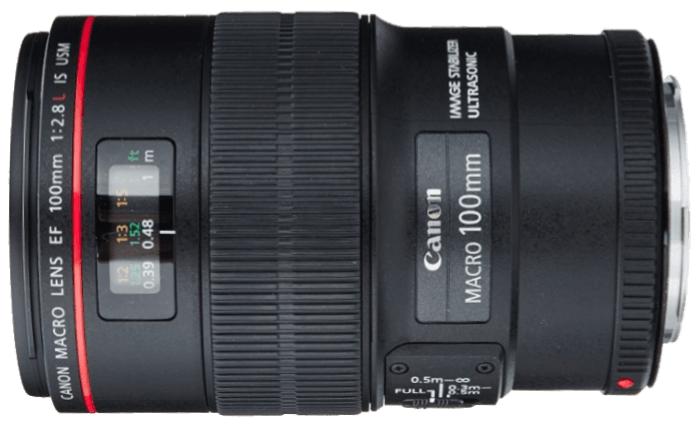 Canon EF 100mm f/2.8L IS USM Prime Lens
Superb image quality, lightening-fast, silent autofocus, and phenomenal stabilization.
Buy from Amazon
Scores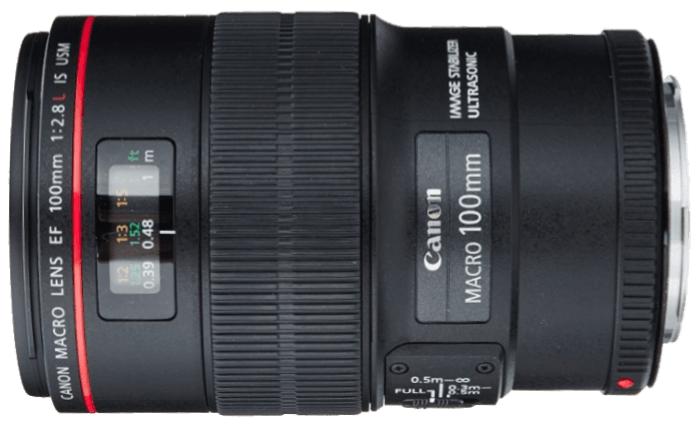 Canon EF 100mm f/2.8L IS USM Prime Lens
Pristine optics, a fast max aperture, and built-in stabilization make it a fantastic macro lens. It more than lives up to the price tag.
Buy from Amazon