Our Top 3 Picks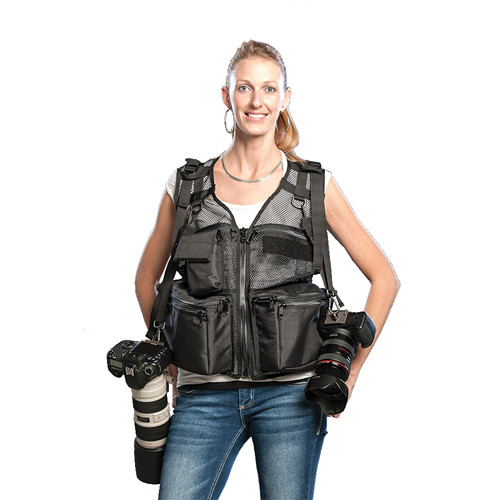 7. THE VEST GUY Wedding Photographer Mesh Photo Vest (Medium, Black)
A photographer vest or jacket is a great way to carry camera gear and items without using a camera bag. This helps to cut down on space while having access to everything you need, wherever you are.
For the 10 best photography vest and jackets, read on. We have a wide range for you to choose from.
[Note: ExpertPhotography is supported by readers. Product links on ExpertPhotography are referral links. If you use one of these and buy something, we make a little bit of money. Need more info? See how it all works here.]
What Are Photographer Vests and Jackets?
A photographer vest or jacket is a way for a photographer to carry camera gear and extra items. They are great for photography areas where a camera bag might not be advisable. These include photojournalism, adventure or safari photography.
They all work just like any other vest or jacket. Worn on the top half of the body means the items you carry are close to your persona and center of gravity. They come in a huge range of colors, shapes, and sizes.
Benefits and Drawbacks of Photographer Vest and Jackets
Benefits
The biggest benefit to a photo vest or jacket is space. With a vest, you might only need a small camera bag, or perhaps not at all. They are designed to be worn on your person, making the weight of any equipment equally distributed.
Other benefits include having the items close to your person. They are close to your center of gravity, making it easy to carry. As they are so close, it is easier to keep an eye on them.
Being never far away means quick gear changes and less chance of accidentally leaving gear laying around.
What I like is that they can look professional. If you see a person wearing this kind of jacket in any political or social situation, chances are they are photojournalists or press photographers. These vests and those photographers go together like cheese and wine.
Personally, the benefit I like is that they can be hidden. A jacket over the vest allows you to keep your gear away from prying eyes.
Drawbacks
Photo vests and jackets can often stick out like a sore thumb. They aren't the best thing and most casual thing to wear to a wedding or a product release party.
On top of that, the bigger vests can look bulky and out of place. They can't all hold the heavier gear items without the pockets being weighed down and looking strange.
Plus, if you like using photo vests, you might find that one doesn't fit every scenario. Having a few different styles and colors is both space-wasting and costly.
10. Gihuo Men's Reversible Outdoor Travel Vest
Cotton

Machine Wash

Casual outdoors, travel, sports, fishing, hiking cotton vest

Multi-functional design

10 Pockets: 7 exterior and 3 interior
The Gihuo Men's Reversible Outdoor Travel Vest is the perfect addition for the photographer who does it all. The khaki color works well for safari trips, while the green can help camouflage you in areas of vegetation.
You could opt for the black instead of the khaki, which is better suited to more formal event photography. It looks neat, well made and durable, which is what you want from this type of apparel.
What I like about this photographer vest is that the pockets aren't too big. They don't come off as bulky and a nuisance. The pockets have either zip closures or fasten with buttons, allowing for searching for items with speed.
10 pockets mean you can carry a multitude of items, bot inside and out. Great idea, so your more expensive items can be well hidden, yet accessible, especially when the jacket is reversed.
9. Rothco Uncle Milty Travel Vest
8. Flygo Zhusheng Men's Mesh 16 Pockets Photography Travel Vest
Zipper closure

Quick-drying and Durable

16 Functional Pockets of varying sizes

1 big zip back mesh pocket
The Flygo Zhusheng Men's Mesh 16 Pockets Photography Vest is the perfect way to carry your gear into the wild. With this photography vest, you don't need a bag.
16 pockets cover all your needs – whether lenses, memory cards, or even including cables and other devices. It is a little on the bulky side due to its versatility.
This is what you want in hotter climates. The mesh allows you and your body to breathe. Safari photographers will definitely get a kick out of this.
No matter what photography field you decide to cover, there is a color for you. Just choose from the seven available options.
What I like about this, is there is a mesh pocket located on the back. This allows you to carry something out of sight, and even a sign saying 'photojournalist' can help separate you for the pack.
7. THE VEST GUY Wedding Photographer Mesh Photo Vest (Medium, Black)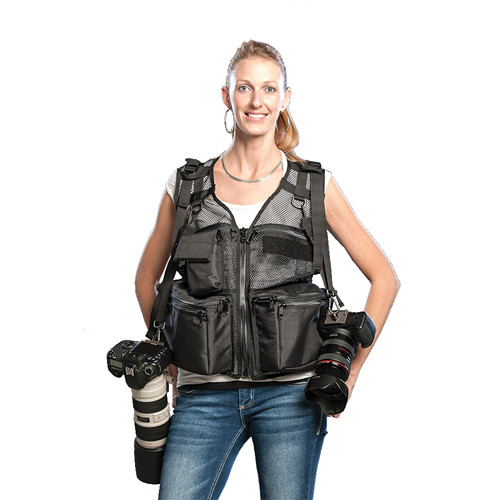 For DSLR & Lens, 70-200mm, 3 Lenses
Rear Pocket Fits 9.7″ Tablet
Top Touch-Fastened & Zip Mesh Pockets
Dual Base Cargo Pockets With Dividers
For the bulkiest photographer vest around, you need to go for the Wedding Photographer Mesh Photo Vest. It has all the space you would need while creating a place to carry your cameras.
That's right! You can clip your cameras to this photographer vest, negating the need for extra, separate straps. With this and the versatility of pockets, you no longer need a bag.
It is sold as a wedding photographer vest, but I personally would be reluctant to wear this for such a formal event. The black color does make it possible with other clothing types but looks too bulky.
The benefit you'll see here that the other photographer vest doesn't have is a tablet pocket. This way, you can show the clients your images as you shoot. The back area even has a place you can attach a tripod.
It is durable, allows you and your body to breathe while creating a versatile space for everything you need.
6. Beat the World Men's 9 Pockets Work Utility
If you are looking for a more elegant photographer vest, look no further than the 9 Pockets Work Utility photographer vest. It comes in black, fitting to most high-end photography situations.
For lovers of other colors than black, there are 11 other colors to choose from.
The pockets are subtle, and not bulky in any sense. You might not find space for your bigger lenses, but a 'nifty fifty' might fit perfectly. It is simple, well constructed and allows you to keep the necessities close to hand.
You'll still need to carry your camera equipment with you. But, you can place it down while you run around capturing bride and grooms, to animals on safari.
I like the internal pocket, perfect for a wallet and ID's, as you can feel safe they are well hidden.
5. Domke PhoTOGS Vest (Medium, Khaki)
100% cotton

Mesh panels for cooling ventilation

18 pockets in all with cargo pockets and pockets with weather-tight zipper closures

Padded and quilted shoulders with raised collar

Heavy-duty double-pull zipper
From a photographer's standpoint, we all know that Domke makes photography camera bags. It would translate that they must also make a great carrier system when it comes to photographer vests.
I trust this company more than most others, as they are in the photography market. Some of the others brand their vests as 'outdoors' or something more specific as 'fishing'.
With Domke, you know they have photography in mind when designing a vest like this.
There are 18 pockets in total, which is great for versatility. Most are well hidden, making the bag easier on the eyes. This vest is longer than most others, giving you more space to drop your items.
The larger pockets will take most types and sizes of lenses. The smaller pockets are great for those items you just can't do without.
What I like are the padded pockets. This little addition helps your comfort level when carrying the heaviest gear items. It will work well when combined with a strap, such as the Black Rapid Breathe.
4. Gihuo Men's Casual Cotton Summer Outdoor Photo Vest
Cotton – lightweight and durable

Casual outdoors

12 multi-functional outside pockets and 2 inside pockets

Zipper closure and button closure

Full length between 24.80″ and 26.77″
As far as photographer vests go, the Casual Cotton Summer Outdoor Photo Vest is one of my favorites. The style is sleek and minimal, especially compared to some of the bulkier alternatives.
It is designed for summer, so the lightweight cotton is perfect for running after subjects in hotter climates. The green is a little more stylish, but there is a khaki version if you prefer that.
The photographer vest is casual and looks good enough to be worn at most events. The color scheme makes it more attractive to use outdoors and will hold enough stuff not to need an extra bag.
3. The North Face Men's McMurdo Parka III
Ultra-warm, Waterproof, breathable, seam-sealed DryVent™ 2L shell
Internal emergency gaiter built into the hood
Removable faux-fur ruff
Secure-zip lower hand
chest handwarmer pockets
Internal pocket
The North Face Men's McMurdo Parka III is a photographer jacket, not a vest. For this reason, this is the perfect apparel item for colder weather. The benefit here is having a warm coat with all the space you need for your gear.
Not being weighed down by a camera bag is great when chasing after subjects. The only difficulty with this is, your gear stays in your jacket if you need to take it off.
The benefit of the photographer vest option, is you can often wear a jacket over the top of it.
With this photographer jacket, you have all the benefits that come from a coat made by an outdoor manufacturer. Internal emergency gaiter and handwarmer pockets come as standard, making your excursion more enjoyable.
I like the internal pocket, keeping your important documents at arms reach while keeping them safe and secure.
2. Gihuo Men's Outdoor Utility 16 Pockets Summer Vest
If you're looking for a photographer vest for the summer? If so, the Gihuo Men's Outdoor Utility 16 Pockets Summer Vest might be right up your street.
You'll find that it is thin enough for the heat, yet thick enough to hold your equipment easily. It isn't all cotton, but the polyester mix makes it durable and machine-wash friendly.
This is a nicer and more elegant choice than the ones with bulkier pockets. I even prefer this over the mesh photographer vests you'll find above, in our list.
1. Humvee by CampCo Safari Photo Vest (X-Large, Khaki)
100-percent lightweight cotton
Black or Khaki colors
Simple and easy to use
21 Pockets for ample storage
Item Weight (Oz): 21.60
Dimensions – 29″ L x 24″
My favorite photography vest so far is the Humvee by CampCo Safari Photo Vest. I find this to be the best fit for me as a photographer who covers photojournalism, street photography, and events.
The front bottom pockets are big without being bulky. They stay close to the vest when not in use. The pockets are also well thought out, as many of them have different sizes and shapes.
This is something I like as each pocket has its own function. Knowing where I keep my spare batteries and memory cards saves time in the long run. There are 21 pockets, which gives you ample space for anything you need.
It's lightweight, 100% cotton and comes in two colors. Simple to use, and allows you to keep your cool, even in the hotter climates.