Our Top 3 Picks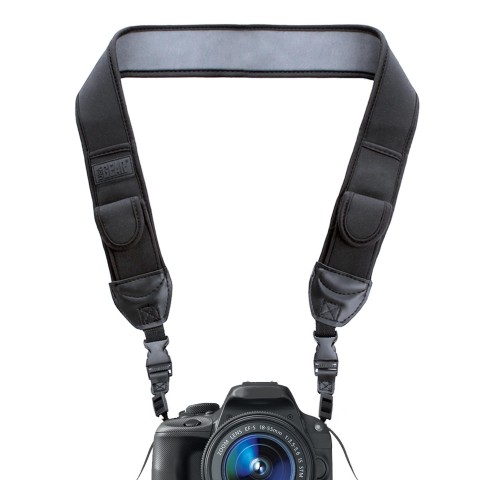 7. USA GEAR TrueSHOT Camera Strap
All of our cameras came with straps, usually a neck strap. But these are hardly the best camera strap options. They might work in a pinch, but for most of us, they aren't practical.
This is why we came up with this list of the best camera straps on the market, from best mirrorless camera straps to best leather camera strap, camera wrist straps, and camera harnesses.
You'll definitely find something to replace that Nikon, Canon, Sony, or Olympus camera strap (or whatever other camera brands you use).
We also found great inspiration from this article about pure leather camera neck straps – why not check them out yourself!
10. OP/TECH SLR Wrist Strap
Fits most SLR cameras and binoculars

Neoprene strap secures comfortably around the wrist

Recommended load: up to 10 lbs (4.53kg)

Made in the USA
There are plenty of straps you can use with your camera. The OP/TECH SLR is a wrist strap, allowing you much more freedom when moving and capturing.
I love the wrist strap idea. The camera is already in my hand when I want to take a picture. I don't need to reach for it at my side or grab it from around my neck.
While using a wrist strap, I find I am much more cautious when moving from place to place. Sometimes, I forget my camera is around me somewhere when I use a neck strap.
This is one of the best types of camera straps, and I recommend having one wrist strap and at least another camera sling strap. Having both allows you to shoot in all areas easily.
9. BlackRapid Breathe Curve Camera Strap
Cross-Body Strap for Right-Handed Users

Allows Easy and Fast Access to Camera

Nylon Webbing, 65.8″ Adjustable Length

Durable, CR-3 ConnectR Locking Carabiner
BlackRapid is one of the best camera strap manufacturers. They make kickass DSLR camera straps. They look great and are as functional as you need them to be.
The Curve Breathe is the updated version of one of Black Rapid's original straps. It is one of the best types of camera straps, that is, one that slings around your body.
It is a comfortable camera strap, and you will soon forget you are wearing it. So beware of bumps and scratches. The padded camera strap has reviews that show just how good people find it.
The mesh material helps it stay breathable when being used. The airflow is a very admired feature, especially for hot climates.
Its ease of use makes this one of the best camera straps out there. Get it, wear it, use it.
8. ONA - The Presidio Camera Strap
Handcrafted with premium waxed canvas and leather

Designed for camera kits weighing up to 6 pounds

Neoprene-padded neckline

Drop length: Adjust from 19.5″ to 23.5″
If you are looking for an elegant DSLR camera strap, this is the one for you. The ONA brand is well known for its beautiful camera bags, and now DSLR camera straps.
This strap fits around your neck, keeping your camera close without it having to be in your hand the whole time. It's one of the safest ways to carry your DSLR, both against theft and accidental knocks.
It is a leather camera strap, which makes it a comfortable camera strap. It is nicely finished with chrome buckles and comes in two brown options, Cognac and Truffle. This is something you would use for high-end events and weddings.
This is one of the best DSLR camera straps (or mirrorless camera straps) as it looks great, feels great and holds the heaviest of cameras.
7. USA GEAR TrueSHOT Camera Strap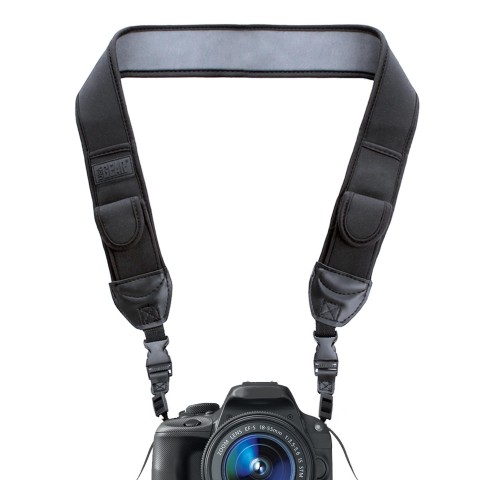 Very comfortable stretch neoprene padded system

Dual quick-release buckles

3/8″ adjustable reinforced loop straps

Protective memory card storage pockets and side pouches
The TrueSHOT is a no-nonsense camera strap, made for heavy-duty photography sessions. This could be hiking up that hill range or mixing with the protestors.
It is another camera neck strap, but it can be extended into a shoulder strap too. This way it'll go over the shoulder for faster access. It is easy to use, and the neoprene makes this a very comfortable camera strap.
There are two pockets, one on each side for memory cards, spare batteries, lens caps, pens and more. What we like are the dual quick-release buttons on both sides for when the strap gets annoying.
We find this to be one of the best camera straps out there. It is non-slip, and serious at holding weight. The neoprene makes you want to use it as a digital camera strap 24/7.
6. RucPac Slide Camera Strap
Multi-use; cross-body, neck, shoulder, professional sliding camera strap

Reversible seatbelt material slides one side and silicone grips the other

Three-button quick release (POM) pinch clips ensure security

Tested to hold over 100kgs (220lbs)
RucPac started as an idea in a British photographer's head. He started with a simple idea which grew into a company offering over 20 different products.
The Slide camera strap is a worthy choice in carrying your camera without the need for a bag. The material allows you to quickly grab your camera for every shot. On the reverse, silicone strips keep the strap where you need it.
It is no-nonsense and simple to use. Wide enough for stability and durability, yet comfortable for long durations.
The metal rings serve as connectors, allowing you to attach different styles of cameras. Not every strap manufacturer takes this into account.
5. Think Tank Camera Straps V2.0
Fits 1 gripped or 2 standard DSLRs

Simplified and durable attachments

Metal clips provide attachment points

Weight: 0.2 lbs (0.1 kg)
The Think Tank Camera Straps V2.0 is one of the best camera straps on the market. It's not so much of a camera strap, and more of a support system or utility belt.
I imagine this is what is given to combat photographers. These straps are designed to be used alongside Think Tank backpacks.
These straps lock into the backpack's arm straps, keeping your camera at your chest. Perfect for travel and other photographic situations where you need your kit close to you.
It allows you to shoot at a moment's notice while seeing where your camera is at all times. Even if you forget, it is protected. This is a very comfortable camera strap idea, and we stand behind it.
4. Custom SLR Glide One Strap
Unique Gliding Mechanism

Distributes weight evenly

Swiveling Quick-Release Buckles

Cushy neoprene padding with binding
The Custom SLR Glide one is a great camera strap to work with. As one of the different types of camera straps, this is one of the camera slings or cross-body straps that is, for some, better than the neck versions.
Attaching your camera to the sling takes place with an anchor that fits into the tripod female thread at the bottom. It is stable and holds your camera around your waist.
When you are ready to shoot, its right there. This DSLR camera strap doesn't weigh down your head or neck or immobilize your hand. You may notice you forget its there.
Beware – this is a great way to knock your camera around, so keep your eye on it.
3. HoldFast Gear Sightseer Sling Strap
Rugged good looks
Expands as you need
Allows lens pouches
Made entirely in the USA
HoldFast is a name I want to be associated with my DSLR camera strap. I don't know about you, but a DSLR with an 85mm prime lens can get heavy fast. There's no way I want that to fall.
Not only does it look great, but it is also a really comfortable camera strap. This falls into the different types of camera straps as it is a cross-body strap. This means it sits on your shoulder and runs under the opposite arm.
It looks elegant, it feels very tough and I trust it to look after my DSLR. From reading the best camera strap reviews, people love this strap manufacturer.
2. Peak Design Slide Camera Strap
2 durable aluminum quick-pull adjuster handles

Internally-padded webbing

45mm (1.8in) wide

Anchors easily hold 200 lbs (90 kg)
One of my favorite camera straps is this Peak Design strap, the Slide Camera Strap. This is because it looks nice and elegant enough to use for high-end event photography. It's also durable enough not to get damaged easily.
The two lock mechanisms allow you to extend or reduce the strap as you see fit. You can do this with one hand, for quickly changing situations.
This is my g0-to strap. It becomes small enough to use around my neck and extends long enough to act as a sling. As a cross-body strap, it does well both for comfort and durability.
The strap works well with other Peak Design products, which are of creative design and practical usability. For me, and many of my photography friends, this is one of the most comfortable camera straps out there.
1. HoldFast Gear MoneyMaker Two-Camera Harness
Harness Worn in "X" Pattern Across Back

Holds Two Cameras Near Your Hips

Speed Clutch Slides Camera Up/Down Strap

Includes Two 1/4-20″ Camera HoldFasts
The HoldFast manufacturer team know exactly what they are doing. Two of their products have ended up on our list, and to the surprise to no one.
This MoneyMaker is designed for two DSLRs, one at each side. It is definitely made for the gentleman photographer who photographs quality events and weddings where multiple cameras are needed.
The leather joins at the back make it one of the most comfortable camera straps you can imagine. The front offers you speed straps, allowing you to access your cameras as fast as you need.
It is completely hands-free, and a complete joy to work with. The camera strap reviews offer nothing but glorious examples of how well this system works, no matter what you capture.
Premium strap for lightweight cameras
+1. Harber London Adjustable Leather and Felt Strap
Reversible colour, black and tan, for any occasion.

Re-imagined end lugs for extra comfort when changing.

Slide for adjusting or for security.

Made with Full Grain Vegetable tanned cowhide leather.

Handcrafted by expert craftsmen in Spain.