Most cameras come with a strap, which is usually a neck strap. These are hardly the best camera strap options, though. They do their job, but most of the time, they are not practical.
This is why we came up with this guide to finding the best camera straps on the market.
[Note: ExpertPhotography is supported by readers. Product links on ExpertPhotography are referral links. If you use one of these and buy something, we make a little bit of money. Need more info? See how it all works here.]
What is the Best Camera Strap to Buy?
There are different kinds of straps for cameras. You have to decide which one fits your photographing style the most.
You should consider the size and weight of your camera, as well as its length and adjustability. Even your body shape can determine which strap is the most comfortable. It also depends on how much time you spend photographing. Even if you find the best type, you can choose from different brands' different colours and styles.
In general, there are four kinds of camera straps: neck, shoulder, two camera harness, and hand/wrist straps. Each comes with advantages and disadvantages depending on the kind of photographer you are. For example, a neck strap may weigh you down during long shoots. Or, if you are only shooting with one camera, then you would not need a two-camera harness.
You can turn this one into a shoulder and a neck strap. Peak Design Slide has a great design that matches almost any kind of photography style. It's stable, durable, easy to use, and last but not least, it looks great. Nice choice if you would like to make camera carrying fun.
Best Camera Strap for: Travel and street photographers who like to have an adjustable and versatile camera strap.
This handmade strap will be a great company for your photo walks. A Leica Camera Rope is stylish and also durable because it is made of high-quality climbing rope. It's not too wide, so you can use it with smaller cameras. It comes in two sizes, 100 cm and 126 cm. The longer option is better for using as a shoulder strap. You can more comfortably wear it as a cross-body camera strap.
Best Camera Strap for: Street photographers with smaller cameras.
This BlackRapid Breathe camera strap is a nice choice for longer photoshoots because it sits stably on your shoulder. Its shoulder pad and nylon webbing make this a really comfortable shoulder strap. Thanks to the shoulder pad, it distributes the weight of your camera, so the strap will not cut into your shoulder. Due to the nylon webbing, it can breathe, so you will not need to take it off all the time when shooting in a hot environment. It uses a Locking Swivel Carabiner and a Lock-Star Safety Gate to secure your camera.
Best Camera Strap for: Photographers who shoot a lot outdoors.
This camera strap is a neck strap, but it's surprisingly comfortable. The neoprene padded system makes it one of the most comfortable ones. It has two pockets for small camera accessories, so you won't even need camera bags for shorter photo shoots. You can keep here, for example, your memory cards, lens caps, batteries, cleaning cloths. It's non-slip, so you will not have to worry about stability either. We would recommend using it as a neck strap, but it can be extended into a shoulder strap.
Best Camera Strap for: Shorter photoshoots.
One of the best camera straps for those who carry two cameras at the same time. It's attached in an X-shape across the back, which makes it comfortable. You can hold your two cameras near your hips, so it's easy to take photos without changing your lens all the time. It can also save you from having to carry cour camera bags. Great for events, where you can leave your other stuff somewhere and concentrate on the two cameras with you. It's completely hands-free, so it gives you great freedom. At the same time, you will have the possibility to grab your cameras as fast as you need. It's made of leather which gives it a unique and stylish look.
Best Camera Strap for: Event photographers.
This handcrafted waxed canvas and leather neck strap is an elegant choice. Great for your DSLR cameras and your mirrorless cameras as well. The ONA brand is well known for its beautiful camera bags and now DSLR camera straps. This is something you would use for high-end events and weddings. This strap fits around your neck, keeping your camera close without it having to be in your hand the whole time. It looks great, feels great, and holds the heaviest of cameras.
Best Camera Strap for: Smaller cameras or shorter photoshoots.
This OP/TECH camera strap is one of the best choices if you look for something simple yet comfortable. It's easy to attach, and it's fully adjustable with a non-slip grip. Due to its neoprene pad (with a slight curve), it's comfortable as a neck strap, but you can also use it as a shoulder strap.
Best Camera Strap for: Photographers on a budget.
This Think Tank camera strap is a great and easy-to-use one. It's simple, comfortable, durable, and stylish. What else would you want? You can use it as a neck strap and, of course, a shoulder strap. Great for DSLRs and mirrorless cameras. It has non-slip material on both sides, so you can use it safely. Also, it's easily adjustable and stable, as it holds your camera at two points.
Best Camera Strap for: Photographers on a budget.
The Altura Photo Rapid fire is the strap we talk about when we say shoulder strap. It's light, easy to adjust, non-slip, and comfortable. It includes a zipper pocket for storing small accessories such as memory cards and batteries. You can attach it to the bottom of your camera. It's secure and allows your camera to slide on it, so the strap itself will not move on your shoulders. You just raise your camera, and it slides comfortably to your eyes.
Best Camera Strap for: Street or event photographers.
Last but not least, here is one of the best wrist straps. It's perfect when you want to have your camera ready. You do not have to reach for it at your side or grab it from around your neck. It has one strap around your wrist and one on your palms, making it really stable and secure.
It's fully padded, so it will not cut in your hands. Having it around the wrist makes you connected to your camera. Not only physically, but your attention will be more focused on it too. It's easy to use and not so easy to drop your camera with it.
Best Camera Strap for: Photographers who always want their camera in their hand.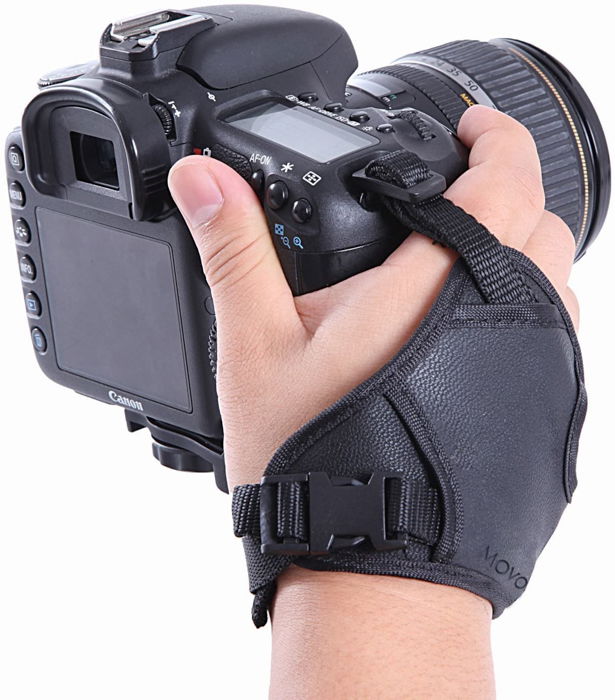 Conclusion
It's not easy to find the best camera strap, as they come in different shapes, sizes, styles, and colours. Some prefer leather products, and some prefer other fabrics.
There are not any certain recipes for this, as it depends on a lot of things. You need different kinds if you have a compact or a mirrorless camera or a DSLR. A lot depends on what you are photographing. When you carry two cameras, of course, a simple neck-strap will not be enough.
Try following our tips above, and take a look at our recommended products, so you can more easily choose the best camera strap for you.
We also found great inspiration from this article about pure leather camera neck straps – we recommend you check them out yourself.