No doubt you have already heard about the nifty fifty lens. If not, we are here to tell you it is an essential part of your camera gear.
In this article, we explain what the 'nifty fifty' is and why it is important. We will also list some of our favorite nifty fifty lenses. Trust us, it's definitely something you want in your camera bag.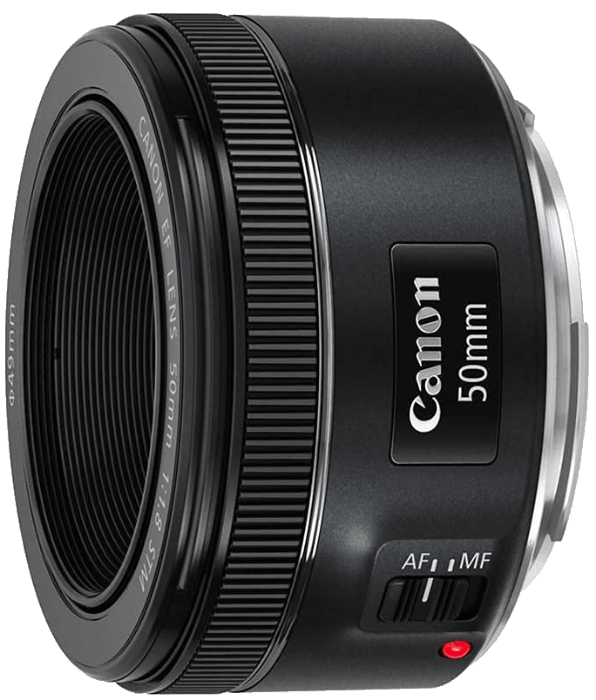 Capture stunning, sharp images with beautiful background blur with the versatile and affordable nifty fifty lens. Perfect for portraits, action, and nighttime photography.
What Is the Nifty Fifty Lens?
A nifty fifty is a fast 50mm lens. The "nifty" part comes from a very wide aperture—under f/1.8. The "fifty" refers to the focal length.
A fast 50mm lens is the closest you can get to the human eye. This means low amounts of distortion and a similar field of view. These lenses are on the cheaper end of the spectrum.
The Canon EF 50mm f/1.8 STM or Nikon AF-S Nikkor 50mm f/1.8G are perfect examples of the nifty fifty.
Why Are Nifty Fifty Lenses Important?
Now that we know what makes a nifty fifty lens, let's look at what makes them great.
When you see a scene you want to capture, the 50mm will capture it as similar to your vision as possible. Using a wider or telephoto lens will give you a different view, fitting more or less into the frame than the 50mm.
A Shallow Depth of Field
Nifty fifty lenses offer wide aperture values, ranging from f/1.8 to f/1.2. An element of the exposure triangle, the aperture has great importance in your photography. The wider the aperture, the brighter the image.
Apart from exposure, aperture also has an impact on the depth of field. Depth of field is created by combining the focal length and the aperture value of the lens. 50mm primes generally have a shallow depth of field because they feature a wide aperture.
Perfect for shooting live music or indoor events, shallow depth of field is also what creates a bokeh effect.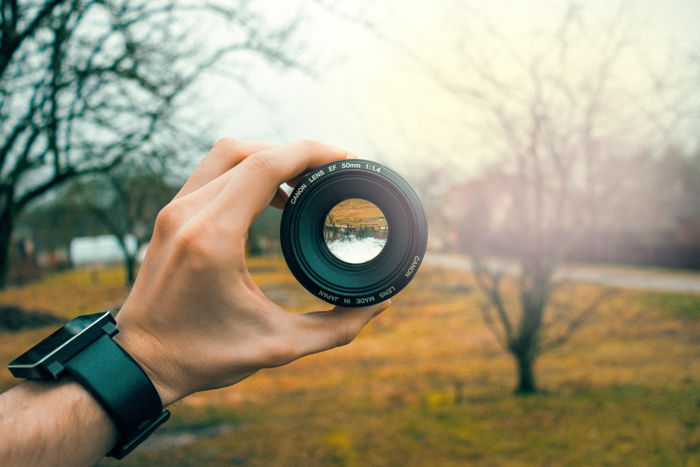 They Will Not Break the Bank
The majority of these lenses are affordable. The Canon EF 50mm f/1.8 STM is one of the cheapest autofocus prime lenses you can buy.
Looking at the price, this is one of the most cost-effective prime lenses. However, keep in mind that sometimes owning only prime lenses with different focal lengths can cost the same amount as a premium travel range zoom.
For instance, Nikon's latest 24-70 f/2.8 telephoto lens costs around seven times as much as a 50mm f/1.8 prime. But if you take a look at the range of focal lengths in this zoom lens, it might make more sense to buy it instead of many different primes.
In the end, it all comes down to the photographer's preference and budget.
Smaller and Lighter
Ergonomics are essential to photographers. This gets more important when you carry gear for longer periods.
A zoom lens can be heavy due to the motors and extra glass. Wide-angle lenses also have a lot of heavy glass in them. They are also more vulnerable.
The nifty fifty lens is built to be easily portable and lightweight. It will fit into your camera bag much easier than those larger lenses.
Train Your Photographic Eye
Photographers are always looking to get better at photographing their subjects. The nifty fifty is great for this. As it is a prime and not zoom lens, you need to move to get closer or further away from your subject. There is no cheating here. You need to move. And every time you do, you learn more about framing, distance, and a workable image.
You will spend more time thinking about each shot. It also gets you to recompose photos by walking.
Versatility
A wide-angle lens is perfect for landscape photography but not great for close-up or still life. Wide-angle lenses have more lens distortion and will create strange effects when used at close range.
A telephoto lens is perfect for portraits, but not great for street photography. Telephoto lenses are enormous and will draw attention to yourself.
A 50mm, however, is a great all-rounder. You can use this for landscape, portraits, and street photography.

What Are the Best Nifty Fifty Lenses?
Whether you are using a DSLR or a mirrorless system, there is a range of 50mm lenses to choose from. For DSLRs, our recommendations are the Canon EF 50mm f/1.8 STM or Nikon AF-S Nikkor 50mm f/1.8G. They are cheap and cheerful lenses, with a wide aperture for great depth of field and quality.
If you are looking for faster and higher quality 50mm lenses, Canon EF 50mm f/1.4 USM and Nikon AF-S 50mm f/1.4G are great choices. We recommend the f/1.8 over the f/1.4 and the f/1.2 because it's cheaper, and although there is a slight difference in the depth of field, the effects are negligible.
We recommend Canon RF and Nikon Z fifties for mirrorless systems: Canon RF 50mm f/1.2L USM and the Nikon Z 50mm f/1.8 S. You cannot go wrong with the Fujifilm 35mm f2 R WR, Sony 50mm f1.8 FE, or Olympus 25mm f1.8 either. The Fujifilm 35mm, when used on the cropped sensor of the X-T4 or X-T3, gives you an equivalent focal length of 53mm.
The Sony 50mm works well with the full frame Sony A7R IV, and it gives you a 7-blade circular aperture for beautiful bokeh effects.
The Olympus 25mm becomes a 50mm equivalent lens, as the Olympus OM-D E-M10 Mark II works on a Micro Four Thirds cropped sensor.
Conclusion
Getting a nifty fifty lens as your first prime lens has many advantages. The 50mm focal length is versatile for several niches of photography. It also offers a fast aperture and accurate autofocus while being affordable.
Are you using a 'nifty fifty' for portraits? Check out our Profit from Portraits course for the fastest way to Launch a highly profitable portrait photography business!