Mirrorless cameras are quickly closing the gap that many DSLRs have left in their wake. The sensors and resolution used in these mirrorless systems are becoming better and faster at capturing amazing images.
They have the ability to shoot in raw, allow you to change lenses and many offer great settings that we are still waiting for from the DSLR world. Mirrorless systems are cheaper, faster, and can photograph silently, which is perfect for those budding street and event photographers out there.
They are smaller and therefore lighter than the equivalent DSLRs, which make them great cameras you need to take a long distance.


The Lumix GH5 is no different than any other mirrorless system, in the way that there is no mirror. If you are used to DSLRs, you will notice that the mirror can be somewhat of a pain.
It can cause noise, distracting those being photographed. They can also cause camera shake from their constant flicking up and down. It can also slow down the number of frames per second (fps) you can photograph.
The Lumix GH5 is the latest in the line of Panasonic's top-of-the-range GH series of mirrorless cameras. The GH4 came out in 2014, and quickly made waves in the photographic world.
The GH5 was next to be released in spring 2017, and is still the hybrid camera, designed with video and stills photography in mind.


It has a 20MP four-thirds sensor, which means that is it smaller than the full-frame sensors of other mirrorless or DSLR cameras. If a full frame has a sensor of 36 mm × 24 mm, then the four-thirds has an imaging area of 17.3 mm × 13.0 mm, basically half of the former.
This can affect quality through a lower resolution from pixel count and being able to photograph in low light conditions.
Although this camera has been designed to be a very powerful video capturing machine, this review will focus entirely on its stills photography.

Panasonic GH5 Specs
The specifications of the Panasonic GH5 surpass its older brother in many different areas. Here, we shall show the differences of the GH5 in black and the GH4 in red.
20MP Four Thirds sensor (no OLPF)

16 MP with a low pass filter

100 to 25,600 ISO range 

100 to 25,600 ISO range 

225 AF points

49 AF points

5-axis in-body image stabilization system with 'Dual IS 2' support

no shutter stabilisation

9 fps shooting with continuous autofocus

7 fps shooting with continuous autofocus 

Advanced DFD autofocus
Dual UHS II card slots (V60 ready)

Single card slot

Autofocus point joystick
802.11ac Wi-Fi, NFC and Bluetooth

WiFi

Pre-configurable rack focus mode
Waveform and vectorscope monitors
Paid upgrade to enable V-LogL video capture with LUT-based preview display

What else you will find on the Panasonic GH5 that isn't present on the GH4 is the new customised AF settings. AF sensitivity and area switching sensitivity are customisable. It even has moving object prediction software.
The shutter stabilisation is something new to the Panasonic GH5, as the technology had not been developed at the time of the GH4.
The Dual IS 2 combines sensor and optical stabilisation for a total of 5 stops of compensation in the GH5 means it is great in low light conditions for slow shutter speeds.


The GH4 has a 2.36 million dot OLED EVF with 0.67x magnification. The GH5, however, raised the resolution to 3.68 million dots. This is a first for an OLED electronic viewfinder found in a mirrorless camera.
The GH5 has the same features as the GH4, such as time-lapse and stop-motion photography, but also includes image stacking. It is 13% bigger than the GH4, but the better-designed body means easiness of carrying.

Lenses
Panasonic, due to creating the GH4 and other mirrorless cameras has enough native lenses to go around. The great thing about the Panasonic GH5 is that with an adapter, you can use lenses from your other systems. Nothing goes to waste.
What you may find difficult to comprehend straight away is that the crop factor here is at a ratio of two. Due to the four-thirds sensor, a 20mm lens on the Panasonic GH5 is a 40mm lens in reality. This goes all the way up, through all sorts of lenses.
This is great for macro and telephoto lenses as you get that increase without having to buy adapters.
[Note: ExpertPhotography is supported by readers. Product links on ExpertPhotography are referral links. If you use one of these and buy something, we make a little bit of money. Need more info? See how it all works here.]
For prime lenses, the Panasonic 20mm f/1.7 II is small and lightweight. The Panasonic Leica DG Summilux 25mm f/1.4 is twice the price but packs quite a punch.


For zoom lenses, nothing is going to beat the Panasonic Lumix G X Vario 12-35mm f/2.8. This lens will give you a 24-70mm 35mm equivalent, more than enough for most general purpose photography.


As wide angle lenses go, Panasonic Leica DG Summilux 12mm f/1.4, and the Panasonic LUMIX G Leica DG Summilux 15mm f/1.7 are great choices.


Standard lenses come in the form of the Panasonic LUMIX G Leica DG Nocticron 42.5mm f/1.2 and Panasonic LUMIX G 42.5mm f/1.7


The telephoto lenses for the Lumix GH5 aren't native, but you can borrow the M.Zuiko Digital ED 75mm f/1.8 (delivers a 150mm equivalent) and 300mm f/4 IS PRO (600mm equivalent) from Olympus.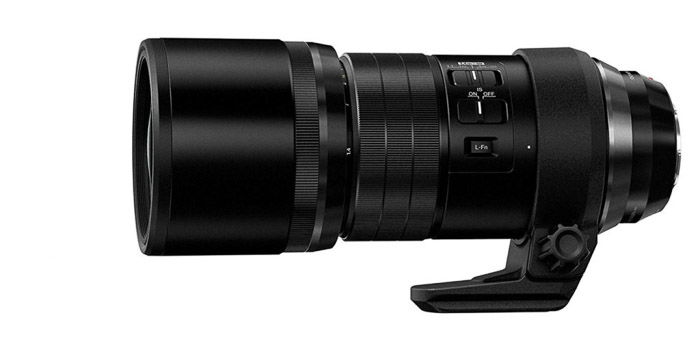 The macro lenses are the Panasonic LUMIX G MACRO 30mm f/2.8 and the Panasonic Leica DG Macro-Elmarit 45mm f/2.8.

Differences to Other Mirrorless Cameras
One of the main contenders against this GH5 is the Sony A7II. The GH5 surpasses the A7II as it has a better lens selection, the LCD viewing screen is a touchscreen and it is about $400 cheaper.
The A7II is a full frame sensor camera, with a resolution of 12.2 MP, whereas the GH5 boasts almost double the MP, while being a four-thirds camera.
The GH5 starts up faster, has dual card slots and photographs more raw fps, coming in at 11.9 vs. 5 on the A7II.


The main competitor of the Lumix GH5 is the Olympus OM-D E-M1 II. Both are four-thirds cameras, yet the E-M1 is smaller and lighter of the two. they are similar in their level of control over an image, but the GH5 offers customisable n buttons on the rear.
The GH5 sports a dial around the menu pad, which can be a difference of flexibility, whereas the E-M1 only has directional buttons.
Both are 20MP, feature 5-axis image stabilisation systems, GH5 coming in at 5 stops whereas the Olympus model boasts a 5.5 stop for the body alone. Its a little similar to that one-up conversation you have with children in the playground, but that extra could go a long way.
One of the biggest differences is that the GH5 includes the Post Focus option. This lets you decide on the point of best sharpness in the frame after capture
The E-M1 is better for sports and action photography, due to its 121-point AF system, and being able to photograph 60 fps burst shooting and 18 fps with a continuous focus. Wow. The other great feature is the clever Live Bulb option. This lets you see long exposures developing as they are captured.

Conclusion
As a photographer, I aimed for and bought a high-end DSLR many years ago. The beast is still in my possession, and it is still my main camera. I know how it works inside out, and I also know what it's limitations are. As it is now a few years old, the limitations become more and more apparent.
Now that my main photography focus has shifted from interior and live concert photography towards street and documentary photography, I have started to try out different camera systems and brands.
My Canon 7D is a workhorse, and it covers all these things I have tried so far, except three areas. It is a heavy thing, meaning most gimbals cant cope with it (not can my arms), it suffers in low light conditions and it isn't at all silent. This means it isn't a great camera for candid images or event photography.
When I bought this camera in 2010, the mirrorless systems were not as technologically advanced as they are today. They were not an option to me. Now, from trying this mirrorless system, I am sold. Not only is it lighter, smaller and better, I noticed it focuses faster using many more points than my high-end DSLR.
For street photography, it is the perfect camera compared to my Canon 7D. It photographs silently, it is compact enough to keep photographs candid and the flip LCD screen means shooting from the hip is easier and more productive.
I really love the 12-35 lens, working fast and with ease. My only qualm is that I was unable to try other lenses, as I didn't have the opportunity nor did I have the adaptor ring allowing me to use my Canon and Sigma lenses.
The only downside to getting a new camera is the cost. Cost of the body and of the lenses. With this model, I can use my own previously bought lenses until I can afford others. Buying a new camera body will have to happen at some point too, so It is inescapable.
The mirrorless camera Panasonic GH5 would be my choice in camera due to the fast capture rate, the inbuilt image stabilisation and the DFD autofocus system.
I find these too good to miss, and wish that the Sony A7II had this. Then it may have been a contender.
Images Taken With the Panasonic GH5