Despite its small size, the Olympus OM-D E-M1 Mark III produces amazing images and has features like weather sealing that you'd expect on a more expensive camera. The challenge with fitting great features in a small space is making sure you don't lose quality.
The big question is, has Olympus pulled it off? Read my review to find out what I think of this new Olympus OM-D E-M1 Mark III and see if it might be right for you.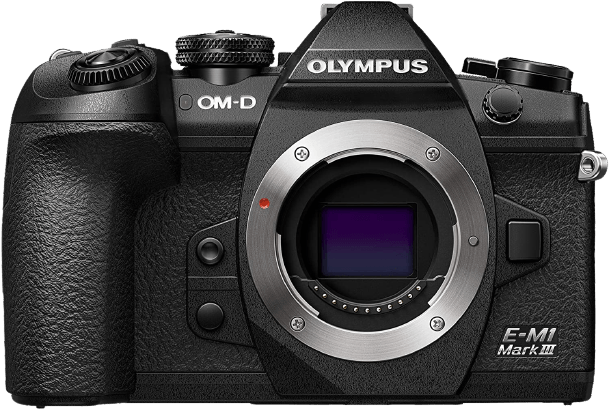 Olympus OM-D E-M1 Mark III
Discover the ultimate camera for astrophotographers and landscape photographers with exceptional image stabilization and advanced features. Capture stunning photos with the Olympus OM-D E-M1 Mark III.
Olympus OM-D E-M1 Mark III Overview and Specifications
Olympus OM-D E-M1 Mark III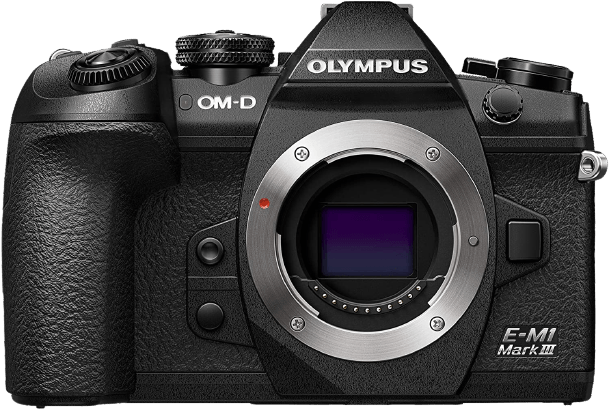 Released

Released

2020

Sensor Format

Sensor Format

Micro Four Thirds

Lens Mount

Lens Mount

Micro 4/3

Megapixels

Megapixels

Autofocus Points

Autofocus Points

Maximum ISO (Native)

Maximum ISO (Native)

Frame Rate

Frame Rate

In-body Stabilization

In-body Stabilization

Video

Video
Let's jump to the part that most of us care the most about- the specifications. The
Olympus OM-D E-M1 Mark III
features some improvements over its predecessor. It has better autofocus, build quality and brand new features.
This camera has 20-megapixels, but it features a 50MP Handheld High Res Shot. If you pair the camera with a tripod, the high res mode can produce 80MP RAW and JPEG files. The 20-megapixel resolution doesn't do too well if cropped in too tightly or altered a lot in post-processing. If you use the high-resolution mode, that is a different story.
This is a micro four-thirds camera. This means that its sensor is smaller than the average DSLR and Mirrorless camera. This allows for smaller and lighter weight cameras and lenses. This system is used exclusively by Olympus, Panasonic, and Kodak.
The Olympus OM-D E-M1 Mark III has an impressive frames-per-second rate. At 15 fps for the mechanical shutter and 60 fps for the silent electronic shutter. Capturing action is a breeze!
Extra specs include 4k video recording resolution, built-in neutral density filters, USB Type C charging, and a 400k shutter life.
Build
The Olympus OM-D E-M1 Mark III is a pocket-sized camera that packs quite a punch. Pair it with Olympus's compact M.Zuiko PRO lenses for a compact set up.
Sized at 90.9mm tall, 68.9mm width, and 134.1mm long- this camera is very easy to pack in a big and run! Weighing in at only 20.5 ounces, you might even forget that you packed it.
Despite the small size, the grip is comfortable. I have small hands, and I found the grip to be a great size for me. It is still wide enough for someone with larger hands to be able to hold easily as well. Some grips may feel comfortable at first, and then cause some hand cramping during use. This one didn't do that for me – a big plus.
The control layout is easy to reach and use even when you're shooting. Be prepared for a bit of a layout shock if you're switching to Olympus from another camera system. Quite different! Buttons are dextrous and comfortable to click and use.
This camera is tightly weather sealed with high-quality gaskets around important seams. This prevents moisture, dust, and other nasties to get to the sensitive part of your camera. The body is made of magnesium alloy, a very sturdy material.
Olympus did include dual card slots, rather than one like in other cameras. No need to fumble with switching cards while on a mountaintop.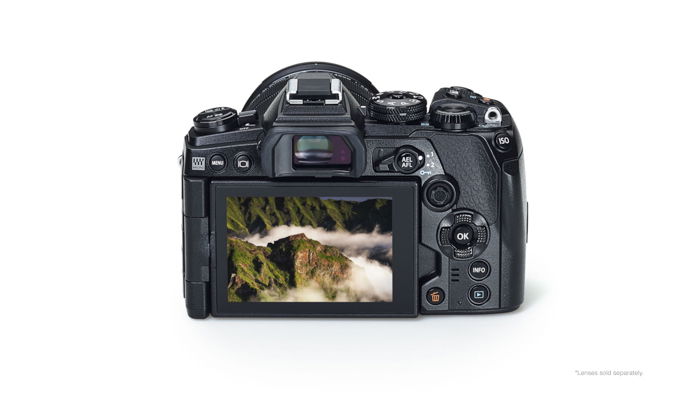 Unfortunately, the electronic viewfinder was not an improvement over previous systems at all. The variable angle touch screen is very comfortable and helps achieve unique angles without breaking your back.
The actual quality of the screen left a lot to be desired. I tend to show clients my back of the camera preview during shoots, and they would not be thrilled on what they see here. Not as vibrant, and the refresh rate took a bit more time than I'd like.
Olympus OM-D E-M1 Mark III Features
This little camera's slogan revolves around making impossible shots possible. For some subject matter, such as the night sky, this is true!
A big selling feature is the image stabilization system. It is a 5-Axis Image Stabilization with up to 7.5 Shutter Speed Steps Compensation with Sync-IS. What this fancy lingo means is that the camera is able to stabilize a large variety of accidental and spontaneous movement. This system is so powerful that you can shoot some long exposures hand-held and without a tripod.
How image stabilization works is that the sensor tends to be placed on a gimbal. The gimbal then counteracts shake by moving in the opposite direction. The more axis you have, the more able the gimbal is to oppose the unwanted movement, keeping your image free of motion blur and shake! In video, this allows smoother footage.
Along with this, the camera has built-in ND filters which is incredible. No need to bring any!
For the astrophotographers, the Olympus OM-D E-M1 Mark III has a brand new Starry Sky mode. This can actually focus on the stars. This feature is brand new and exclusive to the brand. It doesn't work as fast as most would like, but considering this has never before been accomplished, the results are incredible.
The autofocus system is up-to-date with other camera brands. It includes both face detection autofocus and eye detection autofocus. In the portrait set up at the booth, this worked accurately and quickly.
The High Res Shot Mode also worked excellently. It increased the photograph resolution to 50 megapixels and 80 megapixels respectively.
This section needs to be prefaced with the following information: This is not the camera for pixel-peepers. Photographers that seek large sensors and extreme sharpness will not be satisfied with this camera. However, the average photographer who wants an easy companion to take along on adventures will be thrilled with the quality that the Olympus OM-D E-M1 Mark III can produce.
The colors are lovely, though still a wee bit on the neutral side in comparison to the poppy colors from the new Canon cameras and new Sony Alphas. That being said, this is an easy retouching fix. The battery life is splendid. I can see myself going camping with this camera and not worrying about the battery for a good while.
Astrophotographers and landscape photographers would enjoy this camera the most. Its lightweight size makes traveling easy. Many of the features are specific to nature enthusiasts. This allows photographers to hike up to the ideal vantage point easily.
I fully admit I am a pixel peeper myself. Using this camera in the studio set-up at the WPPI show, I wasn't too taken with its performance in relation to other cameras. However, keeping the slew of features and specifications in mind, paired with Olympus pros sample images, I see its usefulness in the outdoor world.
Pros
Superb image stabilization system.
Unique never-before-seen features, such as Starry Night mode.
Face detection and eye detection autofocus.
Ability to increase resolution via High Res Shot Mode.
Compact and lightweight, with great weather sealing and build.
Variable angle flip screen.
4k Video, dual card slots, and other great features.
Cons
Limited by the micro four thirds sensor.
EVF and LCD leave much to be desired.
Only 20 megapixels.
Colors are not as punchy.
Conclusion
In conclusion, this camera isn't a showstopper in comparison to other releases. It does have some unique features that are exclusive to the Olympus OM-D E-M1 Mark III. These features may be the deciding factor, especially those that chase after outdoor endeavours.
At a price point of $1,800, the camera is not the most expensive on the market for the specifications that it offers. It can be a good choice for social media mavens who love to share their adventures in high-quality photographs!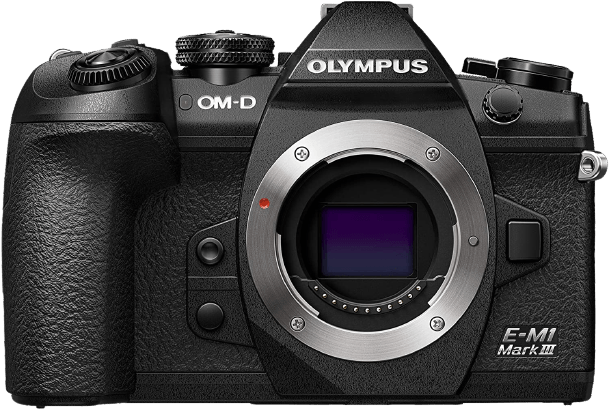 Olympus OM-D E-M1 Mark III
Capture stunning images and videos with this powerful mirrorless camera, perfect for professionals and enthusiasts alike.