We all know that cameras require some serious investment. We all have our little stories about how we had to save up to buy our first DSLRs or mirrorless camera.
But what if money wasn't an issue? Let's see the most expensive cameras ever manufactured.
Fujifilm GFX 100 102MP Medium Format Camera
Discover the most expensive camera ever made and satisfy your curiosity with a large format camera that redefines boundaries and limitations, capturing 102MP images with amazing color fidelity and dynamic range.
1. The Most Expensive Camera: Leica O-Series No. 122
£1,767,870 (originally $2.79 million)
The Leica O- Series No.122 was sold during the 32nd WestLicht Camera Auction after starting at $444,000, making it the world's most expensive camera to date.
The price came to be so high due to it being kept in such a fantastic condition. Ernst Leitz made 25 of these test cameras in 1923, and only three managed to stay intact.
Leica was previously the world's priciest camera with the No. 116, sold in 2012 for 2.16 Million.
2. Susse Freres Daguerreotype
£617,000 ($775,000)
The Susse Freres Daguerreotype was the priciest camera ever sold – until the Leica No. 122 beat it to the top spot. This camera was made in 1893, making it the second oldest camera ever built.
There were only two cameras produced, made by Alphonse Giroux and signed by Jacques Mande Daguerre. It's quite a beautiful piece, especially at over 126 years old.
3. Discovered Daguerreotype
£502,689 ($792,333)
The third camera on our list of expensive cameras is a Daguerreotype found in a German attic. The experts who evaluated it estimated that it was built before 1839, making it the oldest camera every built.
It was sold to an anonymous bidder online in 2007 by the WestLicht Camera Auction house in Vienna.
4. Gold-Plated Leica Luxus II
£380,000 (originally $620,000)
This Leica Luxus II is truly one of a kind. It made headlines when it debuted in the popular TV program The Antiques Road Show.
Made in 1932, there's no doubt the Luxus II is quite old and collectable. But its gold-plated body makes it unique and yes, pricey. Oh, and did we tell you it comes with a crocodile-skin case?
Experts expected the Luxus II to make $1.6 million at auction. The Hong Kong auctioneers didn't reach that target. But it still fetched $620,000 in 2013. And that's more than enough for this luxury item to make it to our expensive cameras list!
5. Hasselblad Space Camera
£178,212 ($281,250)
Who doesn't want a camera that went to space? Here we have one of the famous Hasselblad cameras they managed to bring back to Earth.
An American astronaut who was also an amateur photographer bought the camera. He then passed it on to a 'space historian' who says (all jokes aside) it's in good hands.
6. Hasselblad H6D-400c
£38,233 ($48,000)
Hasselblad is one of the most famous camera manufacturers, specializing in medium format photography. They started in the days of film but have transitioned to digital, offering some of the most cameras expensive in the world.
Their Hasselblad H6D-400c has a 100MP sensor. But it allows you to capture up to 400MP through pixel-shifting technology.
If you have a cool $48k, Hasselblad is kind enough to give you a free Lightroom subscription. Now that's quite a bargain.
7. Diamond Canon IXUS
£29,381 (€40,000)
Ever wonder what's the most expensive Canon camera ever? No, it's not a DSLR or even a mirrorless camera.
Back in the early 2000s, the Canon IXUS became quite an icon in the consumer digital camera market. It was sleek, elegant, and it took great pictures.
That's why it only made sense that Canon celebrated the tenth anniversary of the Digital Elph with the Diamond Canon IXUS point-and-shoot. It was Canon most expensive camera ever built.
The Diamond Canon IXUS was auctioned off for charity and promised to add some 'bling' to images. I mean that literally since it had a diamond-encrusted camera body.

8. PhaseOne XF IQ3 Digital Back
£24,799 ($31,949)
PhaseOne is best known for its digital medium format camera range. The IQ3 has an 80MP sensor and can capture video up to 60 minutes without a break.
It's insanely pricey, so only the bold and wealthy should read on.
If you decided you don't need 80MP, there is a 50MP version, which still costs $26,990.
Apart from the image quality, it also provides you with up to 14 stops of dynamic range. For some, that's enough reason to buy such a camera. Of course, that's if they have the money to spend, though.
9. Mamiya Leaf Credo 80 Digital Back
£22,779 ($28,495)
Mamiya is a Japanese company known for its well-built film medium format cameras. Some of their best products include the Mamiya Leaf Credo, which happens to be one of my favourite cameras.
Mamiya continues that tradition of excellence through their line of digital medium format cameras. And among their most expensive cameras is the Leaf Credo 80 Digital Back.
Featuring an 80MP sensor, it produces images of unparalleled beauty and detail. The sensor is large at 53.7×40.3 mm. So, before buying it, make sure you have the right hardware to process your files.
10. Leica S (Type 007)
£12,900 ($16,619)
Leicas make up 1/4 of our list, which surprises no one. And it's no surprise either that their Leica S is one of the most expensive full frame DSLRs on the market.
But this James Bond camera truly is distinct from the other full frame cameras on our list. The double 00 comes from the fact that in the movie, Goldfinger used a Leica.
The Leica S comes with a 37.5MP resolution sensor and no low-pass filter insight. It also has a sleek design that makes it unique from the other Leicas on the market.
11. Doryu 2-16
£9,000 ($11,595)
Created in 1955, this Japanese police camera was supposed to be used by police officers to capture images during protests. That's why it's not a coincidence that it looks like a gun.
The Doryu 2-16 is so small that it had to use 16mm film to capture 10x10mm photos. The image quality must have been terrible. But the fact that it can take pictures in the first place is quite mindblowing.
This exceptional camera was sold in 2013 for $11, 595. It's by no means the most expensive, but it's undoubtedly one of the most unique!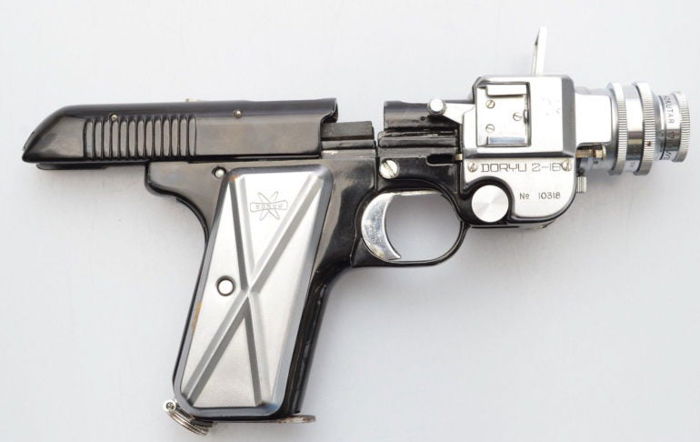 12. FUJIFILM GFX 100
£7,761 ($9,999)
The Fujifilm GFX 100 made our list because it has a price tag of $9,999. But that's nothing when compared to the other expensive cameras on this list.
Sure, $10,000 is a lot of money. But the Fujifilm GFX 100 is an excellent deal for a commercial medium format camera. In contrast, its competitors not only offer less resolution but they also easily cost twice the GFX 100's price.
Nevertheless, the truth is the majority of photographers still can't afford the GFX 100. $10,000 doesn't even include a lens! But if you're a budding commercial photographer who's starting to rake in enough money, then this is the perfect camera to help you step up your game.

Conclusion
All these pricey cameras are a testament to the fact that they're not just artistic tools. They are also works of art. Apart from the fact that you can shoot with them, they also look great on display.
How about you, do you own a camera that you think might cost a lot someday?
Want to find out how you can make money from photography? Why not check out our ebook Profit from Portraits next!
Looking for more ideas on what the best cameras are? Check out our post on The Best Compact Cameras next!
Fujifilm GFX 100 102MP Medium Format Camera
Discover the most expensive camera ever made and satisfy your curiosity with a large format camera that redefines boundaries and limitations, capturing 102MP images with amazing color fidelity and dynamic range.