360 cameras are all the rage with influencers and vloggers. Facebook and Instagram are ablaze with 360-degree photos and videos. The panoramic views you get from a 360 camera makes them great for landscape photography. And now real estate photographers are getting excited about 360 cameras too.
They're fun and easy to use. And they're becoming an essential tool in many areas of photography.
In this article, we've gathered our 11 favourite 360 cameras for you to choose from!
[Note: ExpertPhotography is supported by readers. Product links on ExpertPhotography are referral links. If you use one of these and buy something, we make a little bit of money. Need more info? See how it all works here.]
How Does a 360 Camera work?
The basics elements aren't so different from a traditional camera. You have a sensor and a lens that work together to create an image you can view on your electronic device.
As with any DSLR, the 360-degree camera has a flat sensor. The difference is that it uses two spherical lenses back-to-back. Each lens provides a 180-degree view. And the processor puts these together to make the 360-degree image.
360 photos give you the freedom to navigate left or right. Or sometimes up and down. But to do this, you need a digital device. A computer is great, but a smartphone will also work. Some cameras will link directly to your phone when you use their mobile app.
The Best 360 Cameras to Buy in 2021
"The best" is a difficult thing to define when it comes to 360 cameras. Some cameras offer different functions, and others specialise in certain areas.
Think about what you want from a 360 camera to help you decide which is the best for you. Why do you want a 360 camera? What do you want to achieve? And what is your budget?
We'll go through our top picks and their features to help you make an informed decision when buying a 360 camera.
Resolution: 5.7K
Phone Support: Android/iOS
Memory: Micro SD
Battery Life: 80 minutes
Water Resistance: 10 metres
The Insta360 One X2 is an upgrade of the One X. On paper, the specifications don't look too different. But the One X2 still goes straight to the top of our list.
The One X2 has a 360 image resolution of 5.7K. And it has a 6-axis "flow-state" image stabilisation system. It's the same as the One X, but it's still top of the range.
The first significant upgrade you'll notice is the touch screen. Something the previous model lacked. It allows you to see what you're shooting through the eye of the camera. So you can make sure it's the shot you want without having to consult your device.
You can charge the camera with a USB connection. And the battery life is better than before. It's also waterproof up to 10 metres straight out of the box.
One fun feature is the Invisible Selfie Stick mode. If your selfie stick is visible in the footage, the camera will automatically edit it out!
Resolution: 5.6K / 16.6MP
Phone Support: Android / iOS
Memory: Micro SD
Battery Life: 1 Hour
Water Resistance: Splashproof
The GoPro Max is an excellent all-round action camera. You can shoot traditional-style stills and videos in excellent quality. But you also get 5.6K video resolution for 360-degree image capture.
5.6K video resolution may not sound like much when it comes to 360 cameras. But the GoPro Max will give you fully immersive 360 photos and footage. And your immersion is enhanced by the six-mic 360 audio.
One unique selling point is the GoPro Max Hero mode. When shooting regular video footage or photos, the camera will lock on to the horizon. This helps stabilise the image—no matter if you're sideways or upside down!
The GoPro Max also allows you to select mics from either side of the camera. This gives you directional audio to go with your footage.
The battery life is good, and it is waterproof, robust, and compact. The GoPro Max is a solid choice for a 360 action camera.
Resolution: 5.7K
Phone Support: Android / iOS
Memory: MicroSD/128GB
Battery Life: 1 Hour
Water Resistance: None
The Vuze XR isn't the cheapest camera on this list. But it does have some unique features that set it apart from the crowd.
The image sensor has a resolution of 18MP, which isn't far off DSLR standards. And the camera also has 5.7K resolution for 360-degree images and video.
The real point of difference is the 3D imaging capabilities. By using two cameras, you can use the stereoscopic mode for 180-degree 3D images. You can also change to spherical mode to get a full 360-degree 3D image. This will take your social media content to a different level.
You can edit your photos and videos using Vuze VR Studio on your computer. Or you can download the Vuze XR app to your smartphone. The mobile app will enable you to use the camera remotely and edit photos from your phone.
The Vuze XR isn't an action camera, like the GoPro. Unfortunately, it isn't waterproof, so you have to be careful with it.
Resolution: 5.7K
Phone Support: Android/iOS
Memory: Micro SD
Battery Life: 1 Hour
Water Resistance: 10 metres
The Insta360 One R is a versatile action camera with excellent 360 image capabilities.
The camera has an innovative modular design with three parts. These are the battery base, the core, and the lens. The core of the camera features a handy touchscreen.
In this set, you get two interchangeable lenses. There's one spherical lens for 5.7MP 360 image capture. You can change to the flat lens for 4K video resolution and standard photos. They only take seconds to change, and they both have excellent image quality.
The FlowState stabilisation is a great feature that keeps your image in focus for action shots.
The Insta360 ONE R has an accompanying mobile app, which is available for iOS and Android. The app features great AI editing software. It includes a selection of editing templates that you can play around with.
Resolution: 7.7K / 29.5MP
Phone Support: Android/iOS
Memory: 64GB Internal / Micro SD
Battery Life: 90 Minutes
Water Resistance: None
The Kandao QooCam Enterprise is a bit pricey. But for image quality, it's second to none.
The QooCam has two 1.7-inch sensors, Each with 20MP image resolution. The lens design also reduces noise and flare even when lighting conditions are complex.
The video capabilities set the QooCam Enterprise apart. It'll take your vlogging to a completely new level with its 8K video quality. And the resolution is good enough for business streaming and virtual tours.
It's possible to connect the QooCam directly to the internet using an Ethernet cable. This connection enables you to perform real-time live-streaming.
We love the camera's pocket-size design, and the touchscreen is very user-friendly.
Resolution: 4K
Phone Support: Android / iOS
Memory: 19GB Internal
Battery Life: 1 Hour
Water Resistance: None
The Ricoh Theta Z1 is an excellent camera that specialises in 360-degree stills and video.
The Z1 has two 1-inch CMOS sensors, which produce 360 photos with 24MP resolution. That's getting close to DSLR quality. And it has a sensitivity of ISO 6400, giving you great images in dark situations.
The Ricoh Theta Z1 offers 4K resolution for 360-degree videos. It's not the highest on the market, but the quality is still excellent. The 3-axis rotational image stabilisation maintains the quality, whether you're rolling or spinning!
You can capture images in RAW format for easy editing in post-production. And post-production is easy with the accompanying Ricoh Theta apps.
The battery life is very good for a camera with these specifications. It will allow you to take up to 300 stills or 60 minutes of footage. One downside is that the camera isn't waterproof, so take care.
Resolution: 5.8K
Phone Support: Android/iOS
Memory: Micro SD
Battery Life: 1 Hour
Water Resistance: None
The Rylo 360 gives you top-level 360-degree image capture. And it won't break the bank.
You can shoot regularly framed videos when you select the right shooting mode. But the camera's speciality is the fully immersive 360 video mode. And the footage is all in 5.8K resolution.
You also have the possibility to shoot your reaction to the action you're shooting. The picture-in-picture mode gives the option of dual-camera shooting. The Rylo 360 also has excellent image stabilisation for ensured quality.
Play around with the time-lapse options for a variety of videos and stills that'll stand out on your social media. You can also change the point of focus after the fact by simply tapping on the area you want to change.
The only major downside is the Rylo mobile app. After several years on the market, users often identify the app as the camera's biggest weakness.
Resolution: 3840 x 1920/30fps
Phone Support: Android / iOS
Memory: 14.4GB Internal
Battery Life: 30 Minutes
Water Resistance: None
The Vecnos IQUI is simple and fun to use 360 camera. We don't recommend this camera for professional use, but it's great fun if you're looking to spice up your social media content. It's a good budget option too.
The IQUI has a simple design. It's not much bigger than a pen, so it's easy to carry around.
For 360-degree images, the camera shoots at 30 frames per second. And, using the app, you can turn this into a mini-movie.
The mobile editing app is straightforward and doesn't give you many options for editing. But it is easy to upload your images online. You can take a 360 image and post it online in a matter of seconds.
The battery life is good, considering the size of the camera. It'll capture 100 images before you need to charge again. It also has a fair 14.4GB of internal storage.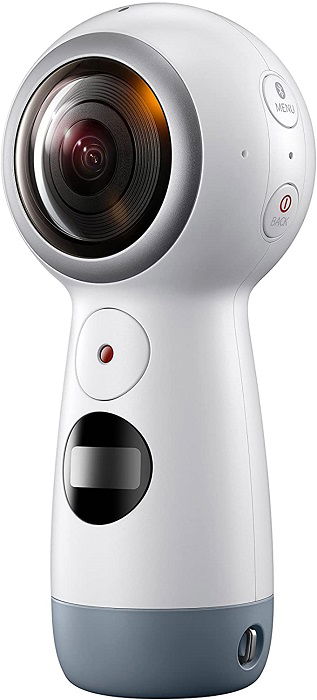 Resolution: 4096 x 2048 (24fps)
Phone Support: Android
Memory: Micro SD
Battery Life: 1 Hour
Water Resistance: Splashproof
The Samsung Gear 360 has been on the market since 2017. Some of the specs have now been surpassed, but it's still a good option in 2021.
The camera uses dual 180-degree cameras, one on either side of the shaft. It gives you 15MP photos and shoots 4K video. It's more than enough to make your social content stand out.
The camera app makes it easy to edit and upload your images. And it's available for Android and iOS phones. If you have an up-to-date Samsung model, you can upload straight to social media.
You can also use the Samsung VR app to create 3D images and VR footage.
The camera is basic, and most of the features are on the app. But with great quality 360 images, this is a good option for anyone on a tight budget.
Resolution: 1080P / 16MP
Phone Support: Android/iOS
Memory: Micro SD
Battery Life: 1 Hour
Water Resistance: Splashproof
The Kodak Pixpro SP360 is a basic action camera you can have fun with. It gives you great 360-degree images if you're on a budget.
For 360 image capture, you get a resolution of 16MP and a frame rate of 10 per second. These stats aren't record-breaking by any standard. But this is not a camera aimed at pros. The SP360 is an entry-level camera for beginners and enthusiasts.
There is only one spherical lens. If you do want full-sphere capture, you'll need two cameras back to back.
You can control the camera from your smartphone using the Kodak app. It's quick and easy to share your images online. One problem is the lack of internal memory. You'll need to buy a memory card separately.
We also like the compact and portable design. But the model is not completely waterproof, so you'll need to take care around water.
Resolution: 5.7K
Phone Support: Android/iOS
Memory: Micro SD
Battery Life: 1 Hour
Water Resistance: Optional Housing
We started the list with the newer One X2. But the Insta360 One X is still a good value option in 2021.
The image capture specifications are very similar to the X2. You get 18MP images and 5.7K video resolution. And it has the same 6-axis image stabilisation as the X2.
The One X is also compact and slim. You could easily carry it in your shirt pocket.
Unlike the X2, the One X isn't waterproof out of the box. It'll need additional treatment for that. You'll also have a much shorter battery life on the One X. This model doesn't have a touchscreen, either.
Despite its age, the One X still surpasses many of its competitors for image quality. The functions still work well, and you'll have a lot of fun with it. Its time on the market also means the price has gone down. As a result, the One X is excellent value for money.
Conclusion
360 cameras are great fun. They offer something completely new in the world of photography. We can now show off full 360-degree panoramic landscapes. And we can even film videos in 360.
Whether you are looking to bring your social media content to a new level or shoot high-quality real estate photography, we hope this list will help you find the best 360 camera for you.
If you want to learn more about real estate photography, check out our Picture Perfect Properties eBook!