Real estate photography is one of the best ways to make money as a photographer. There will always be people selling and buying properties. So there will always be a demand for real estate photographers.
But how can you become a real estate photographer? And how do you take property photography for clients with high standards?
There is a lot to consider if you decide to get into the real estate photography business. In this article, we give you the complete guide for real estate photos.
eBooks and Courses for Everyone
Property Photography: Getting Started
There is a high demand for interior photography. It is the best way to provide first impressions about a property. Remember, a picture is worth a thousand words. Real estate agents want to make sure to show the most beautiful photos of the house they sell.
If you are new to real estate photography, it is a good idea to start with taking a few shots of interiors. You don't need to put yourself under a huge pressure to serve a real estate agent with high standards.
Start with getting the grasp of shooting interiors, even if it's not for selling purposes.
Read this article about how to get started with photographing interiors.
When you are confident with the basics of interior photography, you can start to improve your indoor photography skills. It's a very good way to learn to tell a story about each room in a property.
When you know the tricks of indoor photography, you get confident around any interior. You won't be afraid of shooting in various indoors conditions.
Get comfortable with shooting indoors, learn everything from lighting to settings. Understand when to use natural light and when to apply artificial ones.
Master your indoor photography skills. You will look confident and your client will trust you.
After experimenting with interior photography, you may find this genre very appealing. You might want to take your skills to the next level. To create images that look like they could be featured in interior magazines.
Keep in mind that real estate and interior photography are different niches! They have lots of common aspects. But the latter one is more collaborative and detail-oriented. You need to work together with interior designers or architects.
There are many real estate photographers who started with interior photography. Then they moved to real estates later on. It is a good way to learn to serve clients who have high expectations. Read our post if you want to know how to take magazine-worthy photos of interiors.
Once you are confident with interiors, you can dive into real estate photography.
The purpose of real estate photos is to sell or rent out the property. You need to take photos of the interiors and the exteriors. There are more factors to keep in mind when shooting real estates. Follow the photography tips about how to get started with real estate photography.
After the basics, it's time to leave your comfort zone and improve the quality of your real estate photos.
Did you know that professional real estate photographers have a standard shot list? Following it helps them to become more efficient. Read the rest of the 9 photo tips for taking impressive pictures of the properties!
When you start doing something new in photography, you are going to make mistakes. It's fine because this is the way you learn and get better with time.
There are a few common mistakes that real estate photographers make in the beginning. For example, you forget to give clear instructions to the client about preparing the space for the photoshoot. When you arrive, the place is a mess and you have to declutter yourself. Or take photos in the untidy environment and getting unimpressive results.
Work smarter, not harder! We collected the 10 common mistakes in real estate photography. Read them, so that you can avoid and save your precious time
Gear and Equipment
When you become a professional real estate photographer, you want to have the best equipment. It is a way to make sure your final results stand out from the crowd and are better than your competitors' offer.
What is the best camera for real estate photography? Should you choose full frame or a cropped sensor device? And which cameras are appropriate for taking real estate videos?
Read our post to learn about the best cameras for real estate photographers.
When you have your camera, the next tool you want to invest in is a camera lens. A lens has a huge impact on how your real estate images turn out.
The best lens should allow you to cover all different kinds of spaces. You want to make sure you shoot from the right angle and with perfect sharpness.
Choosing the ideal lens will get you great images and make your client happy. We introduce you the best wide-angle, zoom and tilt-shift lenses you can get for real estate photography.
In general, a wide-angle lens will keep you going when it comes to real estate photography. But you might want to experiment with more architecture photos. Or you want to make sure your exterior perspectives are on point.
Tilt-shift lenses help you get correct perspectives, even if you photograph tall buildings. The optics in the lens can be tilted and shifted. Some newer lenses even rotate.
The biggest advantage of a tilt-shift lens is that it allows you to photograph from impossible angles. This lets you get the perspective rights. It will help you keep the vertical lines in the right position.
If you want to know how you can use these lenses in real estate photography, read our post on the topic.
A tripod is also an essential tool for real estate photography. You need to keep your camera steady in various lighting conditions. The only way to do so is by using a tripod.
The right tripod will allow you to get sharp images that make your client satisfied. It also lets you shoot from different angles to get the best possible perspective. You can leave your camera set up on the tripod while you go around and arrange the scene in the room.
Check out these tripods to make sure your real estate images are outstanding.
Once you have your essential gear and equipment, the next thing you need to think about is lighting. When you photograph real estates, you want to make sure you highlight the property's realistic features.
Use natural light when you can to provide a realist impression. If you use a flash, you might trick the viewer into thinking that the room is brighter than it is in reality. To avoid this, make sure you choose the right time for your photoshoot.
Natural light is the best around sunset or sunrise. Using the conditions of the Golden Hour can get you the best real estate images.
Besides using natural light, you might need to set up flashes or use fill light in the room. Check out the best advice on real estate photography lighting in the article.
The idea of using an iPhone for professional real estate photography may sound weird. But if you have a newer iPhone, why wouldn't you take advantage of its capacities?
For example, an iPhone 11 has two lenses: an ultra-wide-angle and a wide-angle lens. These will allow you to photograph a property with perspectives similar to using a DSLR camera.
Even if you are shooting with a smartphone, you should remember the essential real estate photography tips. Use a tripod and natural light. Pay attention to the composition rules. Make sure that vertical lines stay vertical in your images.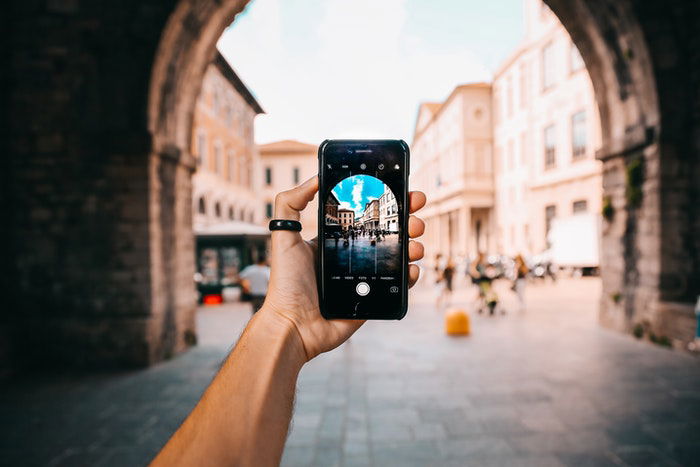 Niches
When you start your real estate photography business, you might want to find a market niche that is not oversaturated. Why not become a professional Airbnb photographer? The company offers a professional photography service in several regions. You can become a freelancer photographer for them.
All you need is an online portfolio and a real estate photography gear. Airbnb has guidelines you have to follow when you take photos for a client. They recommend you using landscape orientation only. This is how they upload the photos on the website. The company doesn't allow you to use ultra-wide-angle or fisheye lenses.
Their pricing depends on the region you live in. Check out our post to learn more about Airbnb photography.
Do you have a passion for traveling? Then you should consider getting into the hotel photography business!
When you take photos of a hotel, you have to follow the key guidelines of real estate photography. But you have to involve the client more. Hotels have a detailed marketing strategy they follow. They also have a consistent brand image. Hotels want to create an aspirational story through the images.
Hotel photos are not selling the rooms. They are selling the experience of staying at that specific property.
Many people consider office photography a sub-genre of interior photography. But often you also need to photograph the exteriors to show the surroundings of the building.
Office photography is a very specific and small niche. Few real estate photographers choose to pursue it.
When it comes to composition in the office, the less is more rule applies. You want to make sure that every object and furniture in the image has a purpose. You need creativity for office photography too. But you have to highlight a different aspect of the property.
You can also decide to be different and take real estate photography to a new level. When shooting with a drone, you can create photos from new angles.
You can also get a great view of the property in its environment. You can create virtual tours of the house and provide videos to your client.
Real estate drone photography is a new niche. It can be more lucrative than the traditional method. Read our article to learn about the gear, the license and about the conditions you need for using drones in real estate photography.
Post-processing
When it comes to interior or real-estate photography, HDR plays a key role in shooting and editing. HDR makes your photos look more realistic and detailed. Using it can help to balance the exterior and interior conditions in the same image.
If you are a real estate photographer, you have to make sure to provide excellent images to your client. Photo editing is the final and unavoidable step of real estate photography.
You don't need to create unrealistic effects. But cropping the image and adjusting some basic features are necessary. You can correct exposure, highlights, white balance or even angles.
To make your photo editing easier, shoot in RAW. It allows you to correct problems that JPG format wouldn't let you do. Your images will be of higher quality.
For photo editing, you can use Lightroom, Photoshop or any other editing software.
Despite all the preparation and planning, mother nature could trick you and ruin your real estate photography. A property looks more impressive with blue sky than with storm clouds forming in the background.
You don't have to redo your whole photoshoot. You can learn a few tricks in Photoshop and enhance your images. Read this article to learn how to replace the sky with Photoshop.
Although changing the sky is not cheating, never replace the views of a property. When you edit your images, make sure you only enhance them. You don't want to create false impressions.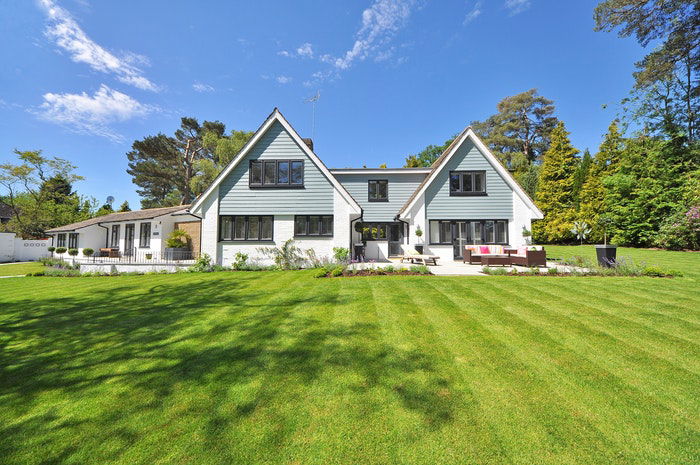 "The grass is always greener on the other side of the fence", and in real estate photography.
Changing the greenness of the grass is not cheating. The image will look more inviting with a fresh-looking lawn than with some dry grass patches. You are not tricking the new owner by changing the hues of the current grass. Anybody can achieve the same results with some basic gardening skills. It's only to make the property look more impressive.
If you were to photoshop an ocean view that the real estate doesn't have, that would be wrong. But adjusting the color of the grass is like spraying vanilla scent around the house before potential buyers arrive. It adds a familiar aspect they can relate to.
Business and Marketing
Once you are ready for shooting real estates, it's time to build your business. You don't need a degree in economics to get clients. You only have to follow a few strategic steps.
It's handy to complete thorough research on the market and on your competitors. You have to know your proposition and your place in the niche to be able to position your business. What does make you stand out from the rest of the photographers?
Based on your research, you can move onto planning your marketing tools and your pricing. You can start networking and ask your first clients to recommend you to their friends.
When you decided on your business strategy, you can start promoting yourself. Real estate photography is about business and a big part of it is using the right marketing tools. Follow our tips to attract your customers.
Find something that differentiates you from your competitors. It can be your style, your extra services or the niche you specialised in. You can start highlighting your unique qualities when you promote your business.
Get to know your potential clients! Use every opportunity to network and to get new contacts. Set up a website and use social media channels to establish a presence and show your portfolio.
Knowing your worth and how much to ask for your work is crucial in any business. You are not the only real estate photographer who struggles with deciding on the price.
There are a couple of tips you can follow to make your pricing method easier. Study your competition and their rates. Ask real estate agents about their expectations and needs.
Taking photos is only a part of your work. You have to spend time setting up your equipment and editing photos afterwards. Communicating with the clients and getting to the property also takes a fair amount of time. Consider every extra factor when you set your price.
Read more about how to price your real estate photography in the post above.
Legal
When you make money from your photography, you should have a proper contract. This is to protect you, your business and establish boundaries.
A contract isn't about not trusting your clients. It's about securing your legal position. Making sure what both sides will deliver is essential for your business. You don't want to lose profit only because you didn't have the proper documentation.
You should always have a fixed cancellation and payment policy to avoid losing money. There are contract templates available for download. But when you can afford a lawyer's review, we recommend you to do so. This will turn your contract into a legally binding document.
A real estate photography contract may need some extra parts and clarifications. Some realtors may only want to finalise your payment when they sell the property.
Others might want you to shoot only for them in a specific zone. If your client wants to involve drone photography, you need to add a special form too.
Knowing what you should include in your contract can save you from future headaches.
A property release form is a type of written contract between the photographer and the client. As the name suggests, a property is in the focus of this release form.
Every release form has different conditions. Some of them include financial details and time periods. They also regulate whether you can use your images for advertising or in magazines.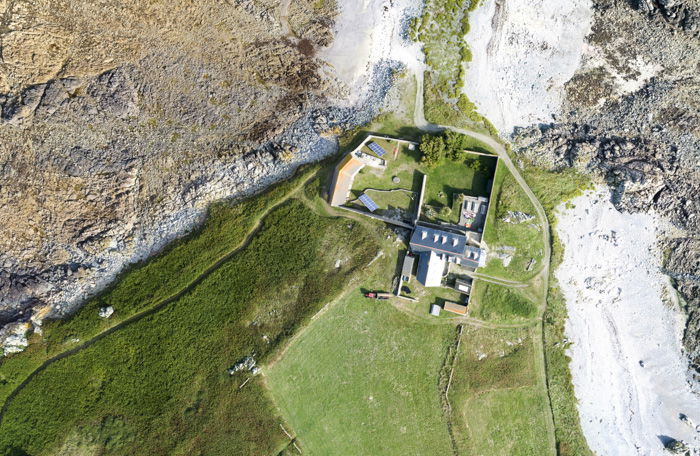 The legal background of photographing buildings can be tricky and confusing. You don't want to get into trouble only because you didn't know what the copyright protection for architecture was. Learn more about it in this post to make sure you know when to use it.
If you need a complete step-by-step guide on how to start a real estate photography business, check out this detailed article. It will also help you figure out whether this is the right niche for you.



eBooks and Courses for Everyone