Are you wondering how to get into real estate photography? Well, you've come to the right place.
Photos sell houses better than anything else. So, your real estate photos can be nothing but perfect.
How do you get those magazine-worthy images? Let me show you.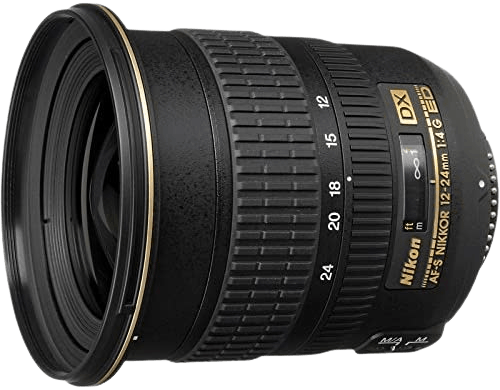 Nikon AF-S DX 12-24mm f/4.0 IF-ED
Get into real estate photography with a lens optimized for Nikon digital SLR cameras. Capture wide-angle shots with minimized chromatic aberration and low distortion.
Get Into Real Estate Photography: What is It?
The purpose of real estate photography is to sell or rent out a property. It includes taking pictures of exteriors and interiors. And it requires skills in architectural and interior photography.
Photos should show space, features, lighting, layout and follow specific rules. In other words, you need to take both wide-angle and more detailed shots.
Typical real estate photography clients are estate agents, designers, architects, decorators, and builders. But you might even shoot for magazines and work with editors and publishing houses.
The range of expectations in real estate photography is high. And competition between photographers and businesses is also high.
Recommended Real Estate Photography Gear
A suitable camera, tripod, and wide-angle lens are essential equipment for any real estate photographer.
Lenses
Ultra-wide-angle prime lenses often result in crispier sharpness and less lens distortion. But I recommend zoom lenses over prime lenses because of the flexible zoom capability.
For cameras with a crop sensor, a lens with a focal range of about 10-24mm would be perfect. Some brands will have varying focal ranges. It's not a big deal to choose a different focal length, like 10-22mm or 12-24mm.
For a full frame camera, a wide lens will also do the job. Something like 14-24mm, for instance. But I recommend going one step further and using a lens like the 16-35mm. It's more versatile. And you don't shoot that wide all the time.
Lighting
Some real estate photographers use extra lighting. If you're one of them, you'll need several external flashes.
One of the most popular brands for flashes is Godox. It offers a full range of settings needed for real estate photography. I recommend the Godox V1, and you need at least 2 of those.
You can also consider using a softbox to create diffused lights.
Lighting Techniques for Real Estate Photographers
Lighting is the most controversial part of real estate photography.
There are two types of real estate photographers:
Those who use natural light
Those who use flashes
Both approaches have their own advantages and disadvantages.
With natural light, you don't have to carry a truckload of equipment. And you also finish shooting much faster. But in post-processing, you have to use HDR a lot of times. It would be best if you blended several exposures to form a final shot.
With flash photography, it's much easier to create a more even dynamic range. But it's also easy to overdo and create unreal and theatrical scenes.
I prefer natural lighting and try to avoid flashes.
Tips and Techniques to Shoot Perfect Real Estate Photos
1. Use a Low Camera Height for a Realistic Perspective
Camera height is important because it affects perspective. In my experience, it should be lower than a person's height.
My rule of thumb is to position the camera 20-30 cm above the highest surface. A table will still look like a table, not like a plank of wood.
Some areas, like the bathroom, will look better if the camera is a little lower than in other rooms. The surfaces are lower, and everything is very close together.
Another rule of thumb is to put the camera even lower in narrow areas.
2. Keep Vertical Lines Parallel to Avoid Distorted Impressions
An essential rule for real estate photography is to keep vertical lines vertical. They shouldn't curve, they shouldn't bend, and they shouldn't fall to either side. All those lines should be vertical.
You might want to consider using a tilt-shift lens. Architectural and interior photographers use this lens to ensure lines are parallel. Or it can take a lot of time to fix it in editing.
Some cameras have a built-in function showing the alignment of the photo. It helps, but you still need to fine-tune the vertices in editing. It's straightforward to do in Adobe Camera Raw (ACR) or Lightroom. I'll show you how to do it in the real estate photography editing section below.
3. Use Natural Light for More Pleasing Real Estate Images
I don't have a preference for having the lights on or off inside a property. Most of the time, it depends on what the client wants and what their property has.
Once, I shot an apartment with bare lightbulbs, and it was a painful experience. It didn't look good at all, and each bulb overexposed the area around it.
When shooting interiors, some properties have decorative lighting that adds to the photo. Some don't.
Also, some properties may have a lot of natural light as a feature. That's very helpful with interior photography.  Natural light is more beneficial when adjusting white balance. Plus, it gives a more organic feeling of the space.
One important detail. Shoot the whole property in one united style. Do not mix lighting styles. The only exception is the bathroom. It may be too dark to shoot without any artificial lighting.
4. Take Lots of Pictures to Achieve Correct Exposure in Post-Production
Correct exposure for real estate photography is a tricky concept. It's rare when you can expose correctly with one shot.
More often than not, real estate photographers need to take many shots during the photoshoot and blend them in Photoshop later. There are two main techniques:
For HDR blending, take 3 or 5 exposures per photo and then combine them later. It would help if you used exposure compensation for them. Shoot -1.5, 0, +1.5 for 3 images. Take 2 overexposed, 2 underexposed, and 1 correctly exposed for a total of 5 image exposures. If you choose the HDR technique, you'll need more time to edit the final photos.
For flash photography, the idea is to take as many shots as required. Move the flashes around to create proper shadows, flares, and anything else you need. The critical detail when using flashes is to point them right at the windows. That way, there won't be any light bleeding over the edges of the frame. Avoid flares on the windows!
How to Correctly Expose Window Views
The other important detail is whether to expose the outside view in windows correctly.
One approach is to blend images in a way that shows the outside properly exposed. This includes showing a blue sky, houses, trees, etc. The other method is to overexpose the view in windows, making them white and bright.
What you want to do depends on the situation.
If the view outside adds value to the image, I'll show it. I'll create a natural blend so that the view will still be a bit brighter than the interior. If the view outside doesn't add any value, I'll overexpose it.
5. Avoid Using The Widest Angle to Avoid Exaggerated Distortion
How wide is wide enough? That's a counter-intuitive question when you're starting in real estate photography. It would be best if you didn't use the widest possible lens at the widest angle for most of your shots.
Some real estate agents will ask you to. But that's only because they like to exaggerate the area, making it look bigger.
It would be best to use focal lengths of 18-24mm on a full frame camera in regular scenarios. Those numbers signal the equivalent focal range. You'll need to do some maths if your camera is cropped.
Also, you'll need an even longer lens for detailed and atmospheric shots. I use a 50mm for both, moving closer or farther away from the subject.
Atmospheric real estate shots show a part of the property that has a special ambience. Detail shots show exciting features such as vases and impressive lamps.
6. Plan for Perfect Light to Take and Edit Stunning Twilight Exterior Shots
The sky should look blue and inviting. That's why you should check the weather and the direction of light. Do some research and figure out the time of day when the light hits the front of the house and be there on time.
This type of real estate photography is a great candidate to test your HDR skills if the light isn't perfect.
Some clients want you to photograph the house during twilight. It's one of the top services a real estate photographer can provide.
You should schedule this separately from the main shoot. And you can price it as an additional cost too.
Steps to Take and Edit a Twilight Exterior Image
You may need help preparing for and taking this shot. Just follow this process:
Clear the area in front of the exterior of any cars, people, or other distractions.
Turn on all of the interior lights.
Set up a tripod and compose a shot.
Then make several shots as the ambient light from the sky dim, and the artificial interior lights grow stronger.
Here are the steps to blend the imaged together in Photoshop:
Open one of the first shots as a base shot.
Then put a couple of shots taken later as layers on top
Blend them in Lighten Blending mode.
Use Opacity to manipulate how bright the lights are.
How to Edit Real Estate Photography Images
1. Post-Processing a Single Exposure
Let's talk about the lucky scenario where you can capture what you want in a single exposure. In this case, the editing is simple:
Correct the distortions.
Fix the perspective (vertical lines).
Turn down highlights.
Lighten the shadows.
Adjust the white balance (the correct color temperature).
Fix the brightness and contrast.
Set the sharpness and clarity to a moderate level to emphasize the details.
This is a simple workflow. I edit 99% of such photos in Adobe Camera Raw (ACR) without even loading JPEGs.
2. Blending Multiple Flash Shots
First, apply the basic edits I outlined above to all photos.
Then load the images into layers in Photoshop and use masks to blend the images one by one.
Finally, finish this image as you would for any regular shot.
3. Blending Multiple Exposures, Including Merging to HDR
There are three ways to blend multiple exposures of an image.
One method is to blend directly in a raw converter (ACR or Lightroom). I use this method as Adobe does a fantastic job blending photos.
You need to select all the photos, right-click them, and then choose Merge to HDR. More often than not, this will even merge the windows.
Check out this video tutorial for the step-by-step process.
Sometimes you need to merge the photos manually if the above method fails. It's unpleasant and not efficient at all. You can use manual masking or luminosity masking, or a combination of those. I tend to blend as much as possible using the first method and then finish up with the manual merge if required.
The third method is an aEnfuse plugin for Lightroom. It's next to free (Donationware), and it does a good job of blending shots with a couple of clicks. The only downside for me is that it's not available in ACR, only in Lightroom, which I dislike.
Starting a Real Estate Photography Business
So, how do you start a real estate photography business and make money?
First, you need to decide on pricing your services. We have a detailed article on how to set your real estate photography prices here.
Then there you have to establish yourself in the real estate photography market. How do you do that? We list a few steps below.
1. Build a Real Estate Photography Portfolio to Promote Your Business
First of all, you need to create a real estate photographers portfolio. This is easy to do. Take pictures of a couple of apartments or houses. You can photograph your own apartment, your friend's house, your partner's townhouse, etc.
Then, edit the photos. You can also outsource editing. But make sure that your photos are of professional quality and follow the tips discussed earlier in the article.
You should then create a physical copy of your real estate photography portfolio. Print pictures, a small booklet, or a brochure you can show people. And have a business card on hand that you can give to clients.
2. Create an Online Presence to Get Noticed
Second, build up your online presence. Create an online portfolio.
If you own a site, that's great. If you don't, there are many free platforms to show your real estate photography. For example, you can use 500px, Behance, Flickr, or Instagram.
You can also create your own website with Format, Squarespace, Wix, or WordPress. And to make it more professional, use a personalized and unique domain name rather than a free subdomain.
Also, register with lots of different sites where people look for real estate photographers. You'll need to research your own area. But I use houzz.com, photographers.com.au, oneflare.com and a few others.
Using this method, you'll start to get orders now and then. Just make sure your real estate photography profile is outstanding.
3. Network to Find Potential Clients
The relationships you build are crucial in the real estate photography business. It helps if you get acquainted with the real estate business and get to know real estate agents.
Leverage your relationships with friends and past clients and see if they can introduce you to some agents to show your work.
If you have zero ties to agents, get creative. Send out personalised e-mails to agents who list properties online. But don't spam them!
You can write something like this:
Hi , My name is , and I'm a professional real estate photographer looking to broaden my portfolio. I was browsing properties and found the listing at . I think it could benefit from some top-notch real estate photos. Here are some examples: <link to your online portfolio>. Please let me know what you think.
Another option is to bring your printed portfolio to real estate offices. You can either show it in person or drop it off for them to view it later.
At the end of the day, building relationships and word of mouth is still the best method to grow your real estate photography network.
Conclusion: Get Into Real Estate Photography
Real estate photography is like preparing a property's resume for an interview. The initial impression (along with its price tag) attracts home buyers or potential customers.
To be successful in the real estate photographer business, you have to deliver professional quality real estate photos.
Putting in the extra effort in real estate photography editing to make your photos top class will make your photos stand out. This is a sure way to get more clients and succeed in the real estate photography business.
Do you want to be a real estate photographer? Check out our Picture Perfect Properties e-book for a more in-depth look into everything you need to get started.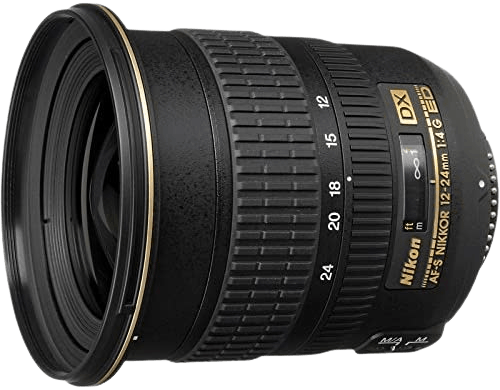 Nikon AF-S DX 12-24mm f/4.0 IF-ED
Get into real estate photography with a lens optimized for Nikon digital SLR cameras. Capture wide-angle shots with minimized chromatic aberration and low distortion.