A surprising number of photographers never write a photography business plan. If you plan to embark on a career as a freelancer, you need a plan.
A business plan is a road map to success. It outlines your business-related goals and how you intend to achieve them.
There is no need to have a very formal business plan. But the components of a traditional business plan can help you be more specific about your goals. This way, you are more likely to achieve them.
eBooks and Courses for Everyone
The Components of a Photography Business Plan
Create an Executive Summary
The Executive Summary is where you define your photography business. What will be the legal structure of your business? Will you be operating as a sole proprietor?
This is an overview of your business. It lays out how your business will meet the needs of your target clients.
It's helpful to write out a mission statement for your photography business. You should have tangible objectives and the keys to success.
Write a Product and Service Description
You need to create a detailed description of your photography services and products.
What is the focus of your business? What stage are you at in terms of developing your business?
When I wrote my business plan, I determined that I would shoot editorial and commercial food projects. I would also do mentoring and workshops. I added these to my service description. If you're offering prints or albums, this would be a part of your product description.

Consider Your Target Market
Start with some research about the photography industry and photography businesses in general, as well as in your area. This will help you narrow down your target market.
Who are you going to serve? Come up with some examples of your ideal clients. Find out as much as you can about them so you can market to the right people. It's helpful to create a client profile and marketing plan so you can understand your potential audience.
Before I wrote my food photography business plan, I thought everyone was my client. Food is such a broad niche. I reasoned I could shoot for all types of clients, from restaurants to stock agencies.
This type of thinking is not helpful. You need to narrow things down if you want to be successful in your photography business.

I soon realized that my target market was high-end restaurants, marketing agencies, and book publishers. This is where I still focus my marketing plan efforts.
When researching your target market, look at the size and present status of the market. Identify any trends for the future. Ask yourself if this market is accessible, affordable, and achievable.
If I had focused all my attention on high-end restaurants, I would have failed. There are not enough in my area to keep me busy. Nor does restaurant photography pay as well as commercial photography. So, I had to include other kinds of food photography clients in my target market.
Assess the Competition
You should find out who your main competitors are in your target market and demographic area. Research them and determine how your photography services will compete and differ from them.
There is something unique that will set you apart from your competition. It can be difficult to pinpoint, but you need to determine what it is. This difference will affect your branding and marketing strategies for your business.
As a word of caution, never differentiate yourself on price. Trust me; you don't want to be known as the "the cheap photographer".

Develop Key Marketing Strategies
Once you have worked out who you will market to, you need to come up with some strategies. What activities will you undertake to get your name out there?
I often send a PDF of my recent work to advertising agencies and publishers. A commercial photographer may want to include external promotion in photography business marketing.
Many successful commercial photographers no longer use agents who charge hefty commission rates. Instead, they pay to be included in high-profile directories.
There are also production service companies that promote your work and connect you with clients. They help ad agencies, brands and publications to produce photoshoots. They also provide photographers with marketing support.
If you shoot wedding photography, you can connect with bridal boutiques and hair salons who might cross-refer business. If you do architectural photography, network with real estate agents.

Consider Your Operations Strategy
In this section, you can break down where you will be operating your business in more detail.
Many portrait and product photographers have home-based studios. If you're a commercial photographer with clients and creative directors, you need to rent a studio.
Depending on what kind of photography you do, you might not need to rent a studio on a monthly basis.
As a food photographer, I often shoot on location at restaurants. When I do commercial and packaging work, I rent a local studio for the day.
I am not shooting jobs as often as a portrait photographer might. There is no point in my spending thousands of dollars on a studio space every month. That would absorb a lot of my profit.
Think about your niche and where you will be shooting most of the time.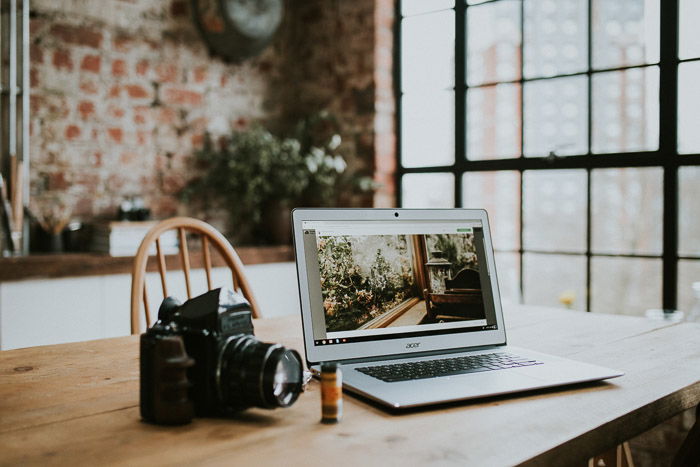 Plan the Financials
This part of your photography business plan is where you will focus a lot of your energy. You should spend considerable time determining what equipment you will need and how much it will cost.
Most likely, you will need to spend quite a bit more in this area in your first year of business.
When you are shooting professionally, you need to have two of everything in case of technical issues. You even need two cameras.
I once assisted on a shoot where the photographer's camera stopped working for no reason. Luckily he had a couple of backups. He would have been in big trouble with the client waiting on him and no functioning camera!

When doing your financials, try to project what your expenses and income will be for your first three years of business.
You will have to invest in gear over time and also maintain that gear. You will also have to pay for accounting software, office supplies, and marketing materials. There are a vast amount of other expenses to consider.
You might need an assistant on your shoots. How much will you pay them? How much money will you need to get started and survive until you have a positive cash flow is reached? Where will the money come from?
Finally, set up your pricing structure, depending on the type of photography you do.
If you shoot portrait photography, you may want to offer packages. If you shoot commercial photography, you may opt to have a day rate and charge for image usage.
At first, your pricing structure will need flexibility so that you can build up your client list. Be sure not to start too low. It's difficult to raise your prices once you are more established.

SWOT Analysis
SWOT stands for strengths-weaknesses-opportunities-threats. This component of your photography business plan will take some analysis on your part.
When you compared yourself to the competition, you thought of what made you unique and different. Most likely, you came up with several strengths.
You may also have advantages that you can make work for you.
When I first started my business, I got a lot of work through a relative who owned a branding agency. The work was not related to my niche, but it gave me experience in professional shoots. And I was able to start earning money right away.
Another strength I identified was that I had hundreds of images to license through stock agencies. This came from years of practising my food photography. I was able to start earning passive income in my business with very little extra work.
Think of what gives you an advantage in your business right now.
Your weaknesses are areas for improvement. Perhaps areas where you need to build up your skills. A weakness can be a lack of experience or technical knowledge. It is important to be aware of this so you can make these weaknesses part of your goal setting. This way, you can make strides to improve in the future.
Opportunities mean chances for developing your photography business. Are there trends you might take advantage of, such as changes in technology or social factors?
Threats are the challenges that can undermine your business or be serious obstacles on your path. It could be that most of your competitors are already well established. They have their own studios and twenty years of experience under their belts, as was my case.
Your main obstacles could be rapidly changing trends. Or the constant need to update your technology, which can be very costly.

Once you complete your SWOT analysis, identify what you need to tackle immediately. See what needs further research or future planning. You should create an action plan to ensure that you address these challenges.
Make a Timeline
A timeline is a management tool. You can use it to hold yourself accountable for your actions and change it as required.
I strongly suggest writing a timeline for your business. The key to knowing which challenges are next for your business is to map them out in a timeline. Then, you can add it to your action plan. It helps to do a rough timeline on a monthly basis and then refine it as time passes.
Your timeline can consist of marketing and financial, legal, and operational activities. You don't need to get complicated. You can simply write down a task you need to complete and the date you aim to complete it by. Start by writing a timeline for the first three months of your business.
Here is a sample timeline:

Conclusion
Preparation and goal setting are crucial to success in any business. A plan for your photography business can make all the difference.
Start today by working on your photography business plan. If you can set aside 30 to 60 minutes a day, you'll finish before you know it. And then you'll be far ahead of most photographers, who have no plan whatsoever!
Now you've worked out how to make your business plan, check out our posts on how to price your photography services or use social media marketing next!
eBooks and Courses for Everyone