Hotel photography is a booming niche that combines parts of real estate and interior photography. Being a hotel photographer sounds like a dream job. You get to enter glamorous hotels and exotic resorts to photograph them.
But if you start taking photos for hotels, you need to deliver outstanding results. Here are 12 secrets for shooting incredible hotel photos.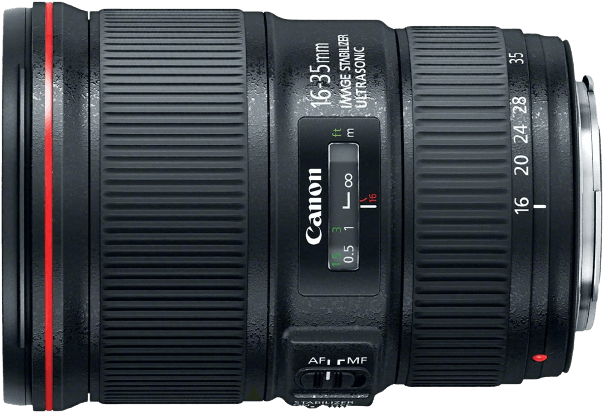 Canon EF 16-35mm f/4.0L IS USM
This wide-angle lens will help you capture stunning hotel photos with its fast autofocus and image stabilization.
[ExpertPhotography is supported by readers. Product links on ExpertPhotography are referral links. If you use one of these and buy something, we make a little bit of money. Need more info? See how it all works here.]
12. Hotel Photography: Selling the Experience
The purpose of hotel photography is to create a desire in the viewer to book that specific accommodation. It is not like interior photography, where you want to inspire the reader or sell the presented objects.
It is also different from real estate photography because a hotel doesn't want to sell the rooms or the property. They want to sell the experience. Your photos have to convey the promise of an unforgettable stay.
To achieve this, you have to create a consistent and pleasant atmosphere in your photos. You have to pay attention to every detail: from the interior design to the special amenities, the place offers.
Before starting to shoot, walk around the property and get to know it. Discover what your first impression are because guests will have the same ones.
Get to know the facility you are photographing. Turn the photos into stories that all say how beautiful the place is.
11. Invest in Proper Gear
Like for other photography niches, you need to have professional gear. Even if you are an influencer who prefers shooting with a smartphone, I recommend investing in a proper camera.
You also need a stable tripod. You'll be using longer shutter speed, and you want to avoid any camera shake.
Use a wide-angle lens to capture the whole scene. A 16-35mm lens will work well and allows you to fit more into the frame. You want to include as many details in the room as possible.
10. Use Natural or Motivated Lighting
Lighting is crucial is a hotel and architectural photography. A room can have the most attractive interior design, but nobody wants to stay there if it's dark as a cave.
Use natural light when possible. Open the curtains and the shutters. Avoid using flash or too much artificial lighting because those create false impressions. You want to attract guests, but you don't want to disappoint them.
I recommend using the HDR method to get realistic images.
If you want to experiment with artificial lighting, there is a method I recommend. It is called motivated lighting, and you imitate natural light with your artificial sources. It is often used in the film industry.
You can achieve this effect by placing the artificial light close to an existing natural light. For example, you can use strobes and place them close to the window.
You have to avoid having the lighting in your frame. This will be difficult with a wide-angle lens. If you have an assistant to help you, they can move the light source around.
9. Choose Your Angles
Shooting from eye level is boring. This angle won't create exciting images.
Go lower than eye level to get a better perspective. This can reduce the distortion of furniture.
If you have a stunning corridor or architectural design to capture, shoot from higher than eye level. Capture the whole scene in the frame by adjusting your camera's position.
Shoot from the corners in smaller rooms. This lets you capture more details in the frame.
If you are not sure which angle you want to use, take a few test shots. See what works best for the place.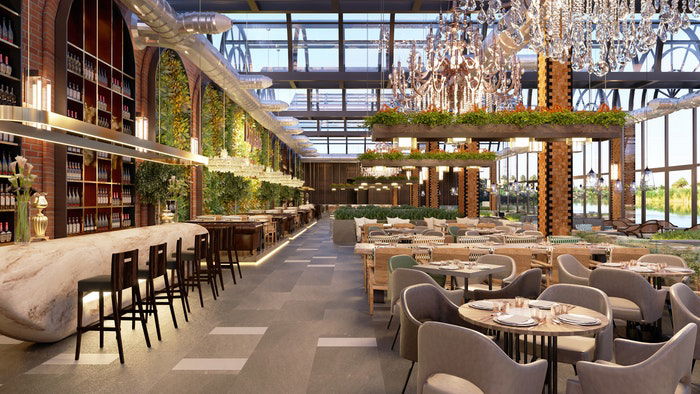 8. Declutter the Room and Use Creative Solutions
A hotel room needs to be clean and tidy. Do everything you can to make your own life easier.
Close down the toilet lid, get rid of every wrinkle in the bed. It takes much longer to correct these mistakes in post-processing.
A fluffy bathing robe might be a dream of every guest, but it doesn't always look good in images.
Educate the clients about getting ready for the shoot. They may not be aware of something that is obvious for your photographer's eyes.
If a cable is always in the way or the curtains fall from their places, use creative solutions. Sticky tape can be handy anytime.
7. Pay Attention to Composition
The composition is crucial in hotel photography. Use the rule of thirds to compose appealing pictures.
Don't just take pictures of the interior! Think about it as your canvas for creativity. Move around smaller objects; look for interesting details.
If the room has nice design features, highlight them! Show how the different is the hotel from the rest of the options.
An ideal accommodation feels like home but functions as a castle where the guest is the king. The images should convey this dreamy feeling.
Try to create images that look complete and the only thing missing from it is the guest.
6. Use Your Interior Stylist Skills
In this genre, you are often more than a photographer. Having an eye for interior styling can be very useful.
Think about subtle details that make a place more inviting. Fluff up the pillows and fold guest towels on the bed. Place some flowers around the reception and the lobby.
When you photograph the dining room, include bowls of fresh fruit or pastry in your images. If the hotel provides a bottle of champagne for honeymooners, show that in your pictures.
Give that extra touch to the place that turns the sterile room alive.
5. Photograph the Exterior Too
Accommodation consists not only of rooms. Photograph the lobby, the dining room and the exterior too.
The exterior of the building is what the guest sees first. The outside and the surroundings will tell a lot about the facility. Make sure you present it in its best light.
If you work for a resort, include the surroundings in your photography. Show whether the place is close to the ocean.
Take pictures soon after sunrise or in the golden hour outside. These times offer the best lighting conditions as the light diffuses softly.
You may have to schedule more than one day for your shoot. Consider the weather and the orientation of the property when you plan your work.
4. Highlight Special Amenities
Does the hotel offer unique amenities? Highlight them in your images!
Is there a spa at the accommodation? Or jacuzzi in the bathrooms? Maybe breathtaking view over the ocean or of the Eiffel tower?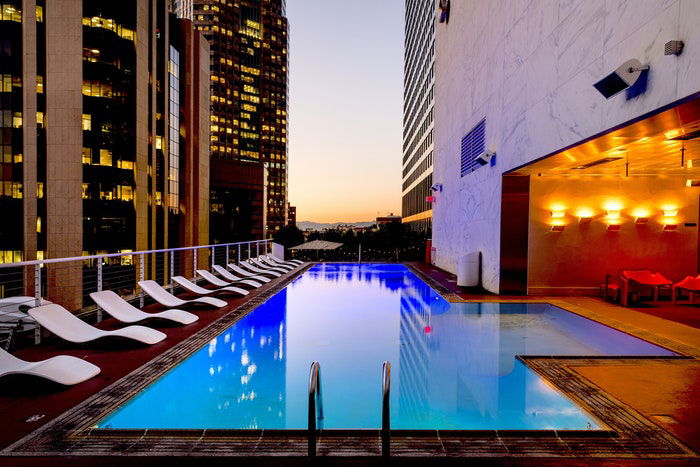 If the place can be used for events such as weddings or conferences, highlight these features too. If the bar has an excellent drink menu where business people like to hang around, show it in your work.
Make sure you include them in your photography. Those can be the last nudges for a guest to choose a specific hotel.
3. Show the Hotel's Personality
Hotel photographers have to make sure to show the hotel's personality in their images. This includes brands element such as the name or the logo.
You can find the logo often everywhere around a facility. It can be on the pillows, pens, the reception desk. Make it subtle but include it in your pictures.
The vibes and the atmosphere are the other parts of the place's personality. A luxury hotel has a different, more distant and elegant personality than a bed & breakfast. Photographers have to be able to convey these personality traits via their shots.
Think about it as if you were matchmaking two people. One is the guest, and the other is the hotel. What kind of partner would they look for?
Let' say the accommodation has a tennis court and a Michelin star restaurant. Try to make it appealing for a person who loves playing tennis and eating good food.
2. Involve the Client
In this photography niche, involving the clients is crucial. Not only because they hired you for the job. But because they know about the brand and the facility more than anyone else.
Clients in this genre have clear ideas of what message they want to convey. It is better to sit down for a meeting with them and go through their ideas.
It will make your life easier and your workflow smoother if you have a complete brief.
You can also draw sketches or do a few test shots and show them to your client. You don't want to redo everything, so it's better to see if you are on the same page in the beginning.
1. Show Some Human Presence
Your pictures may look incredible, but they can look too rigid without human presence. At the end of the day, guests except smiling people to great them at the check-in. They want to interact with a waiter when choosing from the menu.
Include employees in your photography. They are part of the place and ensure that guests get the best service. A smiling face makes everything look much more inviting.
If you have the chance, you can also include real people or models who enjoy the facilities. This gives more life to your images.
Influencers or bloggers working as photographers might ask "how do you pose in a hotel room"? You have to appear yourself and cannot use models because you want to be honest with your audience.
Posing in a hotel room is easy! Make yourself at home! Do whatever you would do in the room.
Put on the bathrobe and relax on the couch. Relax in the jacuzzi with a glass of champagne. Order room service and have breakfast in bed,
This way, you can show that you are living the best life and highlight what the place offers. Viewers will find it easier to imagine themselves at the same accommodation.
Conclusion
Hotel photography is a fabulous and lucrative niche. Your pictures are the best marketing tools, and brands are happy to invest in them.
"How do I become a hotel photographer?" – you might ask. Well, you can start as a real estate or interior photographer and move into the hotel niche. Many hotels have also realised the potential of the social media audience. They often choose travel bloggers and influencers.
Photographers in this genre need to be experts in their field. It's good to practice even when you travel for holidays. Use the tricks above, and you can become of the best among the competing photographers!