The Panasonic Lumix S1r and S1 are the latest full frame mirrorless cameras to hit the market, and they're already causing a stir among photographers. With their 47.3-megapixel sensors and impressive features, these cameras are poised to take on the likes of Sony and Canon in the high-end camera market.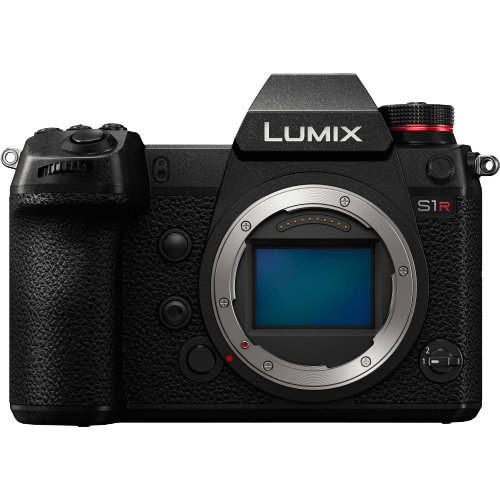 Discover the ultimate mirrorless camera for both stills and video with the Panasonic Lumix S1R. With a full-frame sensor and advanced autofocus, it offers impressive image quality and flexibility.
What Is the Lumix S1R Mirrorless Camera?
Before we chat about these two models, let's cover what a mirrorless camera even is. They're digital cameras that lack a mirror.
To describe why this is significant, you need to know how a digital camera works. In a digital camera, a mirror inside reflects the light up to the optical viewfinder. This is also how you see the image before you take it.
In a mirrorless camera, there is no optical viewfinder. Instead, the imaging sensor is exposed to light at all times. This gives you a digital preview of your image either on the rear LCD screen or an electronic viewfinder (EVF).
The significant benefit of a mirrorless camera is having the power and functionality of a DSLR in a small, compact package. These cameras are small enough to fit into a purse or bag. And light enough to take on an adventure.
Mirrorless cameras have removable lenses, connectors for off-camera flashes and other light sources, and manual modes.
Panasonic Lumix DC-S1R Overview and Specifications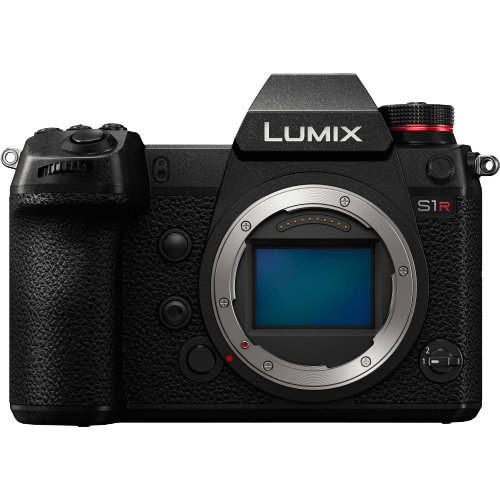 Released

Released

2019

Sensor Format

Sensor Format

Full Frame

Lens Mount

Lens Mount

Leica L

Megapixels

Megapixels

Autofocus Points

Autofocus Points

Maximum ISO (Native)

Maximum ISO (Native)

Frame Rate

Frame Rate

In-body Stabilization

In-body Stabilization

Video

Video
Both of these models have full frame CMOS sensors. Both cameras feature the highest resolution possible in the industry. And they both come with a very high dynamic range with exceptional clarity and sharpness.
The colors in the final output are quite similar between the two.
The bodies themselves feature in-body stabilization systems with 5.5-stop compensation power. Combine these cameras with native lenses that feature image stabilization within the lens. There won't be any real worry about handheld shakes or very low light situations.
The internal stabilization can now compensate for larger movements that were not controllable in the past. This is a big bonus for wildlife photographers using telephoto lenses!
Other features that these two share between them:
very high precision shutter units
a high-resolution mode and HLD mode (which we will chat about lower down in the article)
high precision autofocus
artificial intelligence technology (trust me- this one is cool!)
4k video
dual card slots
rugged and durable design
the largest Real Viewfinder in their class.
The differences between these cameras have to do with certain specifications. These tend to differentiate the hobbyists and consumer photographers from the professionals.
The S1r features a whopping 47.3 megapixels with detail that is out of this world. The S1 only sports 24.2 megapixels with great detail for 24 megapixels.
As a result, the high-resolution mode offers a different result between the two models. The S1r has a 187-megapixel output and the S1 has a 96-megapixel output.
The S1 has more video options than the S1r. And no recording time limit, capable of recording a full-pixel readout of signals and a crop factor of 1.0x.
One major unique feature is Panasonic's collaboration with the photography gods Leica. The Lumix mount supports Leica's impressive array of famous lenses.
Physical Build
Both bodies are the same exact size.
The Panasonic S1 and S1r are on the heavier side of the mirrorless spectrum in my opinion. Upon being able to try these two bodies out at the WPPI show, I was taken aback by the weight.
Their size was shocking too. The cameras aren't as compact as most mirrorless cameras on the market. Pair the bodies with a lens and they are a significant size and weight.
That being said, the cameras felt balanced in my hand. There was no side that overhung the other in terms of weight. The other benefit to the size is that it also allows more space for external controls. This is beneficial for bigger hands.
The cameras also have a very solid, durable build to them. Sometimes weight is worth sacrificing for a camera that feels like it can withstand some bumps and drops. We all know this plagues even the most careful photographers.
These models are built with real life practical use in mind. The body is made with a magnesium alloy construction, weather sealed and features a 400,000-shot shutter life.
The viewfinder was very impressive. I was told that this was the largest on the market by the Panasonic representative at the show.
This is one feature that would pull me towards the Lumix cameras. With a mirrorless camera, you are dependent on the electronic viewfinder.
The quality is also worth mentioning. The produced review image was very detailed and accurate.
Camera Modes
The Panasonic S1 and Panasonic S1r have two exclusive focus modes. These push the two cameras way ahead of the curve (for photographers that find a benefit to these uses).
These are the High-Resolution Mode and the HLG Photo Mode.
Probably my favorite feature in the S1 and S1r cameras, the High Resolution Mode is a landscape photographer's dream.
High Resolution mode allows the camera to stitch multiple images together. This increases the photograph's megapixel count! This turns the Panasonic S1r's 47 megapixels into a 187-megapixel output and the Panasonic S1's 24 megapixels into a 96 megapixel output.
For photographers who work a lot with prints, they will see a very significant difference in print quality!
How High Resolution Mode works is that eight consecutive images are automatically shot while shifting the sensor using the camera's image stabilization mechanism. Then they are synthesized into a RAW image.
The images are all put together inside of the camera at a very high-speed pace. I didn't expect it when I first tested this feature. You then have access to each individual photograph taken as well as the stitched image.
It is important to note that the file size will be gigantic when High Resolution Mode is enabled, and as such, the camera's phone connectivity feature cannot transfer the image to a cell phone (but you can transfer the eight individual images).
The HLG Photo Mode is another quirky addition. Exclusive to Panasonic, the HLG Photo Mode is intended to bring the most into images that feature light sources such as sparkling starlight or glaring sunlight.
HLG stands for Hybrid-Log Gamma, which was created by television broadcasters. This mode solves the problem of compatibility with HDR content and non-HDR displays.
This mode provides a much wider dynamic range to reproduce light and shadows with more natural contrast. These files can then be exported as HSP files and be viewed with Panasonic's HDMI cable connection.
To break HLG mode down into easier terms, this is basically an automated HDR (high dynamic range) mode. It's compatible with various types of displays.
HDR aids in making sure your shadows and your highlights are properly exposed independent of each other.
AI Technology & Autofocus
Artificial intelligence and robots have infiltrated photography tenfold. These new advancements make the photographer's life much easier! The Panasonic S1 and Panasonic S1r both adopted AI into their newest systems.
The specific AI in these two new models is focused on detecting subjects. The artificial intelligence is capable of detecting humans and fast-moving animals. These include canines, felines, and avians.
The camera is then able to keep tracking of these subjects via autofocus without hesitation. Even when the subject turns their back to the camera.
I tested this out myself at the WPPI convention. I used it to track a passerby as he moved into a group of people and around booths. The camera was able to hold focus, regardless of obstacles!
The cameras also feature Eye Autofocus mode. This tracks the eyes and ensures focus is locked on them.
In my use of this product under tradeshow circumstances, I found the autofocus to be reliable and easy to use. In great or bright light, the camera performs flawlessly.
But there have been other disclosures of the autofocus having some spotty ability in low light situations. The built-in illuminator lamp didn't always highlight a subject as well as it was supposed to, according to independent online reviews.
As well as this, low light use resulted in quite a bit of hunting for focus. This would sway me from using these cameras in concert situations.
Sharpness | Clarity
Mirrorless cameras have an unofficial reputation for having a very unique look to them. These cameras tend to be very sharp and clear. It reduces the need for Sharpness and Clarity sliders in post processing programs (such as Lightroom).
As a result, the sharpness and clarity of the S1 and S1r are both significant topics.
The portraits are very sharp, especially when Eye Autofocus is enabled! The images are sharp enough to not need any additional retouching.
Low Light Capability
The most important feature for my particular line of photography work is low light capability. How the camera performs in difficult circumstances can make or break the value of the model.
These two new Panasonic cameras both feature a Low Light Autofocus Mode. This is set to enable itself when sensing difficult low light situations. This mode is intended to focus in light levels as low as -6EV.
That being said, independent reviews that have had the ability to test the models in low light have recounted that the S1 has better low light capability than the S1r.
The normal ISO range for the S1 is 100 to 51,200, or 50 to 102,400 in expanded mode. The S1R maxes out at 25,600 in regular mode or 51,200 expanded.
Battery Life
The battery life is quite good in these cameras. The new DMW-BLJ31 7.2V 3,100mAh large capacity battery allows Panasonic to keep its reputation of equipping their cameras with long lasting batteries.
Bonus: Paid Firmware Announcement
This aspect is worth mentioning when looking at the Lumix line of cameras. Panasonic has stated that they will be releasing paid firmware options for the S1.
What is firmware you may be wondering? Firmware is computer software that provides low-level control for the device's specific hardware. In layman terms, this is a program you install on your camera to access or change its features.
Up until now, these firmwares were free and available to the public from camera brands. The addition of these being paid features is interesting, and I am curious to see where this leads to.
Conclusion
These two new additions to the Lumix line of cameras are very interesting products on the mirrorless market. The ability to stitch megapixels together to create an ultra high definition image is revolutionary.
This feature is exceptional for landscape and architectural photographers. The artificial intelligence autofocus is great for wildlife photographers and those that shoot in difficult settings. It can make their jobs less stressful and more efficient.
These models are great for the right kind of photographer – one who will use their unique features to the max. But they may be overkill if you're not the kind of photographer who drools over megapixel stitching and AI focus!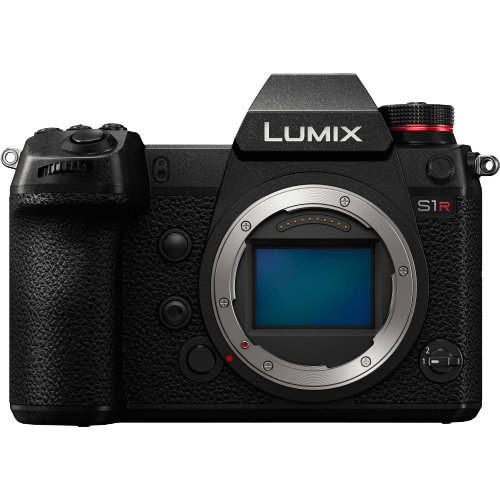 Discover the ultimate mirrorless camera for both stills and video with the Panasonic Lumix S1R. With a full-frame sensor and advanced autofocus, it offers impressive image quality and flexibility.