If you're sharing your photography online, you'll want to consider using a watermark. While the internet is great for showing your work, it also makes content theft easy. Consider using a watermark to ensure you get credit for your photography work.
Creating a watermark is easy, and adding one to your photos is even easier. In today's social media-driven world, a picture can get shared thousands of times in seconds. If you're not careful, you can lose control of your images!
With a watermark, your images cannot be easily downloaded and passed off as someone else's. A watermark can also help direct traffic to your website or portfolio.
[Note: ExpertPhotography is supported by readers. Product links on ExpertPhotography are referral links. If you use one of these and buy something, we make a little bit of money. Need more info? See how it all works here.]
10 Best Watermark Apps to Use
With the help of a simple app, you can protect your photos and assert your image ownership. This can be in the form of text watermarks or any other visual watermark. We've put together a list of versatile watermark apps to make this as simple as possible. Read on to discover the ten best watermark apps to use for both IPhone and Android!
1. Watermark X (iPhone)
Watermark X is one of the most popular watermark apps. With a sleek design and intuitive features, it's an excellent option for adding a watermark to your photos.
The app features an impressive gallery of watermark templates. You can then customize these watermark images to create your perfect watermark. The classic watermarking tools range from color and opacity to text style and positioning. The app is ideal for adding a watermark before posting it to social media. You can share directly to all social channels from the app.
If you want to use this watermark app, you'll need to sign up for a subscription. You get a week to try it out for free, so it's a perfect app for getting started.
iWatermark offers watermarks in graphics, QR codes, text, and signatures. Perfect for professional and personal use, the app's intuitive interface is easy to navigate. With just a few clicks, you can create unique watermarks.
You can customize your watermarks and even import graphics and signatures. You'll find over 160 font styles and a selection of preset templates. You can start with a preset or build your watermark from scratch.
This watermark app is a fantastic option if you're a frequent uploader. With the multiple import feature, you can process multiple images at once. It also allows direct sharing to your social media networks. To use this watermark app, you'll need to pay a one-time fee.
3. Photomarks (iPhone)
Photomarks is a very highly rated photo annotation app. Like iWatermark and Watermark X, the app is easy and intuitive. The significant advantage of Photomarks is that you won't lose image quality. The app lets you edit and add a watermark to your photos while keeping a professional-quality image. You won't directly edit your original images, which is perfect for any content creator.
For this reason, the app is popular for professional use. The app is a powerful mobile option with an extensive range of editing and layering tools and templates. You can share your images directly to your social platform or save them to your device.
The Photomarks app has a one-time fee. Once you pay for the app, it's yours forever!
4. My Watermarks (iPhone)
With the My Watermarks app, you can use an image of anything as your watermark or logo. You can customize graphics, text, and imported images with its editing tools. You can even import your signature from a piece of paper.
Once you've created your templates, you can reuse them with ease. The app saves them locally, rather than having to retrieve them from a server. My Watermarks is also great for batch watermark creation.
The My Watermarks app is free. This makes it a great option for both professional and casual use.
5. Watermark Photo (iPhone)
Watermark Photo is another hugely popular app. With watermark options for photos and video, it's very versatile. You can choose from preset watermarks and logos or create your own. You can even customize the presets.
The app features a vast library of fonts, graphics, and color choices. You'll find every option, from basic watermarks to copyright logos. Of particular note is the advanced text tool. This makes editing typography easy and intuitive.
You can share your photos to all major social media platforms, as with most other apps. The app offers you a free trial period. If you want to continue to use the app, you'll need to pay a subscription fee.
Logolicious is another great watermark app. The app's layout makes it quick and easy to import photos. Not only can you add watermarks, but you can also add text, logos, transparent backgrounds, and graphics to your shots.
Resizing and cropping are simple and work like any photo editing app. Logolicious supports a range of file types and does not lower the resolution of your images. If you want to take pictures directly with an app, Logolicious is a fantastic choice.
The app is free, with in-app purchases such as logos, text styles, and more.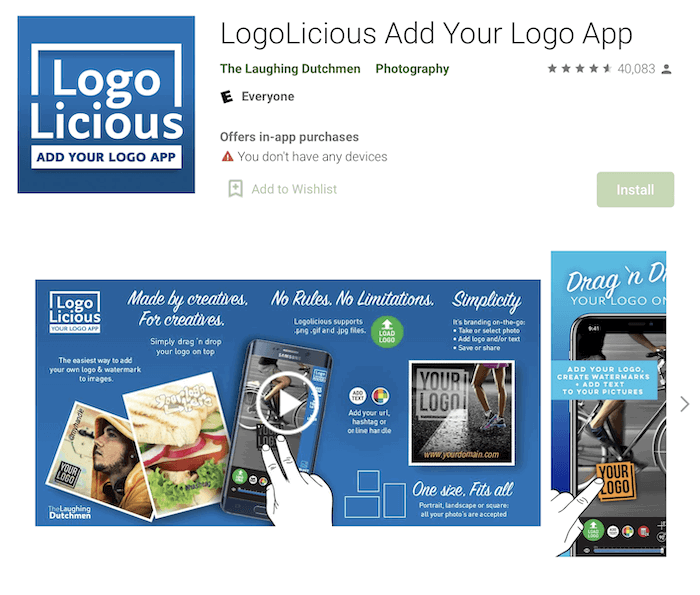 7. eZy Watermark Photos Lite (iPhone & Android)
With one of the highest number of downloads on the list, the eZy watermark app is a fantastic option. The app makes creating and editing templates easy. It has an extensive selection of over 150 fonts and features. You can also watermark batches of images, which is ideal for professionals.
The app makes it easy to import images from several sources. Options include Google Drive, camera roll, Facebook, and Instagram. You can edit up to 5 photos for free. If you want to use the full range of features, the app offers several in-app purchases.
8. Add Watermark on Photos (Android)
Add Watermark on Photos is a fantastic and versatile option. Simple and basic in its approach, this app focuses on getting the job done. You can easily add digital signatures, copyright logos, and watermarks to your photos.
The app's layout makes importing and editing images straightforward. Once you've created your watermark, you can save it as a template. This makes future editing even faster. You can select from a library of fonts, colors, and graphics to create or edit existing watermarks.
The app itself is free. You can use the app, but speed and features will be limited. To get the most out of the app, you'll have to pay an annual subscription fee.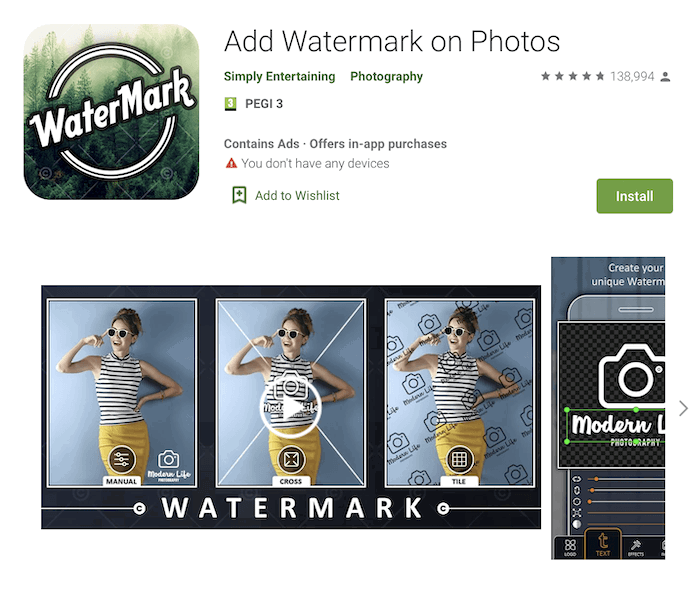 Canva is a popular, multi-purpose app. With Canva, you can create watermarks and a dazzling variety of content. You can add and create text, logos, and graphics. It's more than just a watermark app. And sharing to your social media platform is simple.
Canva also has a web-based app with additional features. Whether you're looking for quick watermark options or more in-depth creation, Canva is a fantastic watermark app. All your designs are saved in-app, whether on mobile or the web.
The Canva app is free. But you'll find extra features and additional content for sale in the app.
10. Photo Watermark (Android)
The Photo Watermark app packs a lot in. While getting used to the layout may take some time, the benefits shine through once you're familiar with it. You'll find all the standard watermarking options here. You can easily add your graphics, text, and preset images. And all options are customizable.
The layout and features of Photo Watermark make it ideal for personal use. The ability to take photos directly with the app makes it unique. You can easily watermark photos right away.
You can use the app for free, but you'll have to contend with advertisements. To use the app to its full potential, you'll need to pay a subscription fee.
Conclusion
As you can see, protecting your images online is easy! You don't have to break the budget, and your content will work in your favor for online portfolios or sharing sites. Key features to consider are ease of use, range of tools, export options, and cost.
There are a considerable number of watermark apps available. Whether you want something simple and free or are willing to pay for diverse features, you'll find both options in our list. Remember that sometimes, the most versatile watermark apps aren't the most expensive.
While it can seem like a chore, adding a watermark to your photos is crucial as a photographer. And it's easy to do as part of your editing process!
If you're adding a watermark to share your photos on social media, check out our Social Success Strategies ebook to get your work seen by thousands of viewers!