Most of us are taking more photos on our phones than traditional cameras now. And the best free photo editing apps will improve the quality of our photos. It's convenient to edit photos on our portable devices.
But there are so many apps to consider. It can be intimidating to figure out which one to download. So we created a list of free photo editing apps that rival regular desktop programs such as Adobe Lightroom or Photoshop.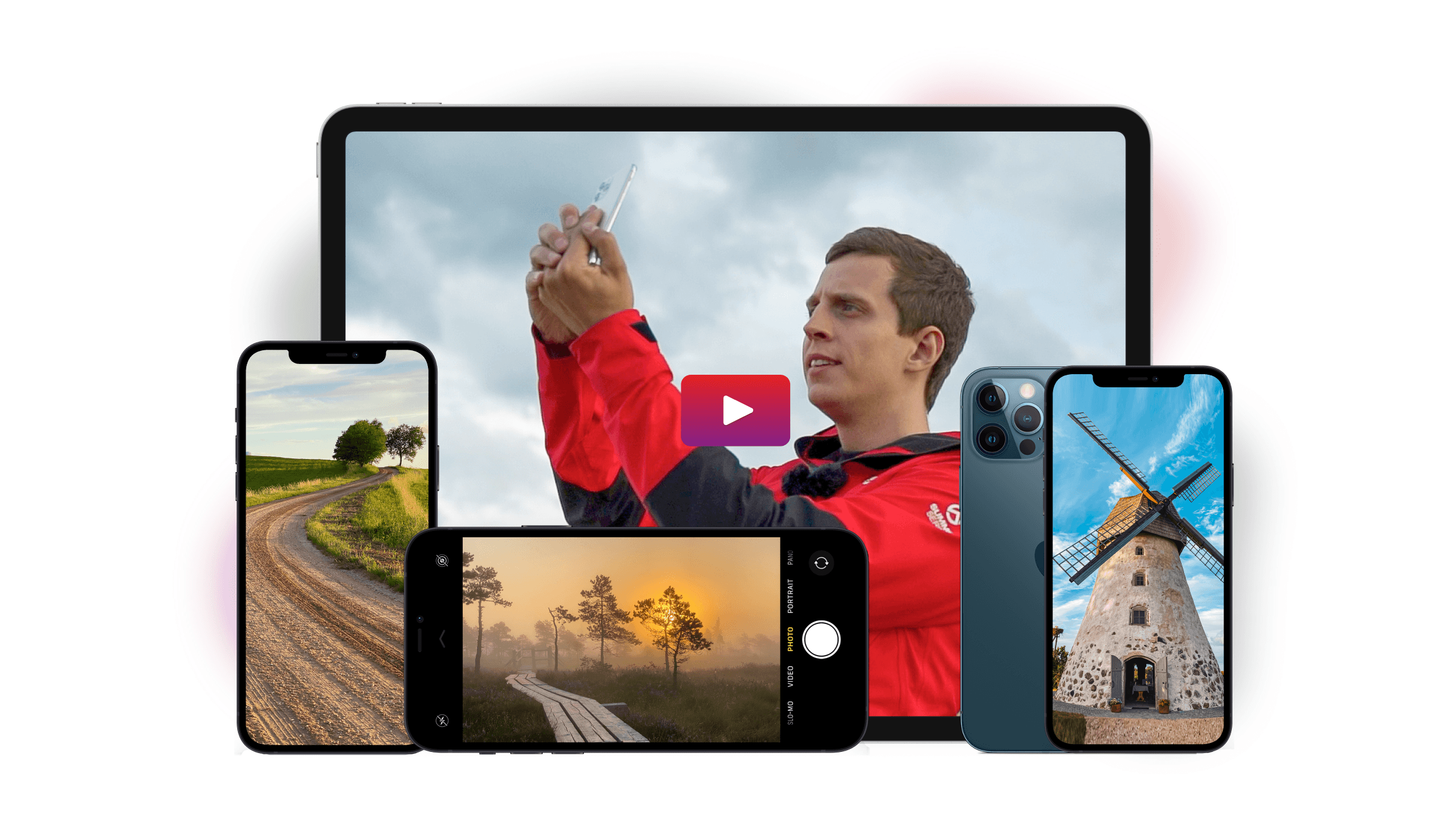 Looking for a convenient way to improve your photography skills without relying on free photo editing apps? Check out this Video Course that teaches you how to take stunning iPhone photos effortlessly.
Comparing Free Photo Editing Apps: What to Look For
Photo editors are some of the most popular apps for smartphones. So you need to know what to look for to select the best one. Here are a few pointers you'll need to consider.
Easy User Interface
Smartphones have small screens compared to computers. So you only have so much space to edit the details in your images. That's why your photo editor needs to have a well-organized user interface. You need to easily find the tools you need and use them efficiently.
Quality Presets
These days, just about every photo editing app features presets or filters. But most of them tend to vary in quality. Instagram is a perfect example of terrible filters. And using their presets often results in muddy photos with unnatural colors. The best smartphone apps have presets that change the look of your images without making them appear artificial.
Advanced Features
Most people are satisfied with a photo editor that does nothing but add filters to their photos. But why stop there? You can use editing functions to remove blemishes and even add graphics. Photo apps vary wildly when it comes to advanced features. So you must find the one with all the tools you need.
Usage
There are 100% free photo editing apps, and some offer a free version with limited functionalities. Of course, choosing the app that lets you do the most without paying is best. But it can also be tricky because many of these free apps tend to lack the best features. Research the app you like and find out how much editing it lets you do for free.
Updates
Improving software isn't just necessary for adding features. It also helps solve issues that may appear when you're using the program. If the app you have right now doesn't offer updates, you may want to consider looking at other options. Otherwise, you'll soon have outdated software that doesn't work as well as before.
The 17 Best Free Photo Editing Apps
VSCO is currently one of the most popular photo editing apps for smartphones. It's so mainstream among Gen Zers, it has birthed the term VSCO Kids. The moniker refers to teenagers who prescribe specific aesthetics commonly found in VSCO-edited images shared on social media.
This photo editor is mostly known for its presets that closely replicate film photography. But it also has a feature called Recipe that lets you create custom presets. So if you're not feeling the film look, you're always welcome to adjust your settings the way you want.
Apart from presets, VSCO has editing tools that let you change exposure settings, crop images, and adjust the grain in your pictures. It also has a few advanced functions that let you dodge and burn and even tweak skin tones.
VSCO doesn't have all the advanced tools that other options have. But its simplicity is what attracts many users to this app. And, of course, its presets remain unmatched by its competitors.

Snapseed is one of the most comprehensive free photo editing apps ever. Google is behind this editing masterpiece, so you can ensure its quality and reliability when editing images.
So what makes this free photo editing app stand out? Let's start with the filters. It has standard presets that let you replicate all sorts of aesthetics from black and white to grainy film. It also includes unique tools such as lens blur, HDR Scape, and Glamour Glow. As you can tell, their wide selection of effects caters to anyone from selfie-takers to serious landscape photographers.
SnapSeed was created for Android devices. But despite being a Google product, it's also available for iPhones. This is the best free photo editing app because you can use all its features, even without paying. That's a stark contrast to other applications that offer a free version only to lure you into buying a subscription.
This app specializes in complex edits that used to only be possible with Photoshop and other sophisticated photo editing programs. With this app, you can now clone yourself, remove objects, or even do extensive retouching.
Sure, plenty of apps also offer the features we just mentioned. But TouchRetouch elevates all these tools to a level never seen before in editing apps. Just how many apps out there can remove a chicken wire fence in your photo with just a few swipes?
Despite its advanced features, TouchRetouch is the perfect app for even the most casual of users with the help of A.I. With just a single tap on your photos, you can let this amazing piece of software retouch your files for you.
You may know Canva as a graphic design app, but did you know it also has an integrated powerful photo editor? It's so good you can use it exclusively to enhance images on your smartphone.
Canva includes thousands of templates you can customize. You can then download these creations for anything from social media to publication.
Canva has always allowed its users to upload photos and even videos. But in recent years, it has focused on adding editing features that let you tinker with uploaded images without needing a third-party photo editor.
At first, the features of this photo editing app were limited to simple exposure adjustments and crude filters. But now, it includes advanced effects that let you remove backgrounds and even create smart mockups. With all these updates, you can prepare and publish your content across various digital and traditional media platforms with ease.
This photo editing app is a real contender to Snapseed when it comes to features and user interface. Editing with it feels intuitive whether you're a veteran editor or a regular Joe.
Like Snapseed, Pixlr comes with standard features, including filters and Exposure Adjustments. But it also offers convenient tools such as Lasso and Magic Wand for more advanced users. You can even work with layers for images that require complex editing.
Apart from advanced features, this photo editor has unique functions, including Color search and Object Transform. A lot of photo editing apps don't have these tools. If you think you'll be using them a lot, Pixlr is worth considering.
Pixlr is free and is available on both Android and iOS. But you can also use it on your desktop. That's quite appealing if you like to edit on your smartphone and computer.
Photo Editor Pro is not as known as VSCO or Snapseed. But its current 4.9 rating on Google Play is a testament to its quality as an app. So what makes it unique? Well, it has to do with the fact that it's one of the most comprehensive photo editing apps.
It already comes loaded with standard adjustment tools, not to mention new functions such as background removal and collage maker. But what makes this editing app unique are its quirky features. It has Cartoonify, which lets you turn yourself into a cartoon. Then it has Remix, which enables you to combine multiple images.
What makes Photo Editor Pro – Polish appealing to users is that it's completely free despite all its advanced features. It includes ads and a few in-app purchases. But that's a small price to pay for giving you access to all its features.
In many ways, Adobe Lightroom for mobile is comparable to VSCO. It also has a heavy focus on presets, color correction, and exposure adjustments. And unlike all the other photo editing apps with mediocre filters, Lightroom's presets are as good if not better than VSCO.
Outside of presets, Lightroom also has a few extra editing tools you'll find helpful. It includes the Healing Brush for removing blemishes. It also has Selective Adjustments that let you edit specific portions of your picture. And it has geometry tools that allow you to straighten crooked images.
One of the best features of Lightroom for Mobile is RAW editing. Instead of working with JPEGs, you can now finally edit RAW images straight from your camera without losing quality.
You can use Lightroom Mobile for free. But you need an Adobe Creative Cloud subscription if you want to use all the editing tools. So if you're already paying for Photoshop and Lightroom on your computer, you can use Lightroom for Mobile without paying extra.
When the job gets too complex for Lightroom, there's always Photoshop. But this smartphone version doesn't look or function anything like its desktop counterpart. Instead, this app was custom-designed for the average smartphone user who wants quick results.
For the most part, Photoshop Express feels and works a lot like all the other editing apps on this list. You look for an effect, tap on it, and expect instant results. Photoshop Express has its filter library as well as a standard photo editor. But it also has fun add-ons that let you add stickers and even create mood boards!
Like Lightroom, you can use all of Photoshop Express's features for free if you have Adobe Creative Cloud subscription. But if you don't, you can still use this app, but with limited functionalities.
Need more from VSCO or Lightroom to edit photos? Then it would be best to try Afterlight instead. It has all the features you can expect from VSCO and Lightroom. But it has a more minimalistic user interface.
Afterlight has all the essential editing tools you need for your pictures. You can use it for anything from cropping to color-correcting your images. It also has plenty of presets that make your photos pop.
What makes Afterlight great is that all the editing tools you need are laid out at the bottom of the screen. Clean icons represent all the functions, making it easy to figure out which tool to use.
If you're a budding influencer and want to make everything in your photo perfect, YouCam is the best photo editing app for you. It's easy to use and has all the features you'll need to create engaging selfies.
What makes YouCam so easy to use is that it's AI-powered. In other words, it uses artificial intelligence to do most of the editing work. This photo editor can easily remove unwanted objects in your photos. It can even change the sky or other backgrounds with a single tap.
YouCam also has dedicated tools for editing the face and body shape. And if you want to get a little creative, you can add stickers and animated elements to your photo.
Initially, PhotoDirector was offered on P.C. as an alternative to Adobe Photoshop and Lightroom. But this photo editor is also now available for smartphones. And it offers the same user-friendly tools to all smartphone photographers.
Despite being packed with features, the user interface is easy to understand, even for beginners. Using it feels a bit like browsing through Instagram except you're looking at dozens of available effects on the app.
PhotoDirector has the usual photo editing tools that let you adjust basic exposure settings, crop images, etc. But it also comes with creative add-ons that let you turn yourself into a cartoon to add animated elements to your pictures!
Consider using this photo editing app if you want beautiful photos but need more editing experience. It uses A.I. to help you achieve the best results for your images. For the most part, you just tap the effects you like and it will do the rest for you.
BeFunky has all the features you'll need for a photo app. Apart from exposure adjustments, it lets you do anything from creating collages to turning yourself into art. It even has advanced functions like Color search and background remover.
This photo app is available for more than just iPhones and Android phones. You can also use it on your desktop. Whether you're using the phone or desktop app, you'll particularly like the Batch Edit feature. This is helpful if you want to simultaneously work on dozens of photos.
Picsart is the best photo editing app for casual users. There may be more advanced options out there, but it has everything you need to create photos worth sharing with friends and family.
Picsart brands itself as an all-in-one photo and video editor. It has tons of editing tools that let you do anything from adding filters to adding text. But what makes it a great app is that its features are mostly drag-and-drop. Just choose the effect you like, apply it to the image, and that's it!
Picsart may be beginner-friendly, but it can still do complex editing. Despite its automatic functions, it also allows you to tweak the settings to your liking. It can also remove backgrounds and even specific objects in your photos. And as a bonus, it comes with an extensive collection of stickers to add pizzazz to your pictures.
FaceTune is one of the most unique photo editing apps on this list since it prioritizes facial retouching. You might think it's not very easy to use, especially since it involves modifying body parts. But it's surprisingly one of the easiest to use.
Before you edit photos, FaceTune will first ask you about your editing experience. It will then customize its user interface to fit your capabilities. That way, you can handle the dozens of features this app offers.
So what cool things does FaceTune feature? At the basic level, it allows you to apply filters, smooth your skin, and remove blemishes. But it can also let you do complex edits, such as reshaping your body, whitening your teeth, and even changing your hair color.
Oh, and did we also tell you that you can digitally apply makeup to your face? Now that's one feature you might want to check out if you like taking portraits all the time.
As the name implies, Instasize's claim to fame is as an image resizer for different social media platforms. But it's more than a tool for framing your shots for Tiktok or Instagram. It has a user-friendly photo editor that you're bound to love.
Instasize has advanced photo editing tools that let you change exposure settings and remove blemishes. But it also has more than a hundred filters that you can customize. Plus, you can use its background remover or collage maker to get more creative.
Instasize has a free version. But most of its features are disabled until you pay for the subscription. But this is the best option if you want no-fuss quick edits and resizing.
This app is unique because it's purpose-built for food-loving smartphone photographers. That's right. All of its tools and features were designed to make your food photos look even more delectable after editing.
It's worth noting that Foodie isn't just a photo editor. You can use it as a camera app to take pictures of food, and it even features more than 30 live filters that let you view effects in real time. And did we tell you that it also has an intelligent guide for your food flat lays? It helps you compose your shot and ensure that your camera faces directly down as you take top-down photos.
Of course, Foodie has dozens of editing tools that let you retouch your food photos even after taking them. Its filters have food-related names such as Picnic, Tropical, and BBQ. That way, you know exactly which option to try when editing your shots.
It's worth mentioning that Foodie isn't exclusively for editing food images. It also works well with other types of pictures from portraits to landscapes. So don't limit yourself when using this app.
If you like experimenting with photography, it's worth trying Prisma. Its claim to fame is its filters that turn regular images into works of art. You can choose from many effects, from pencil sketches to impressionist paintings.
Prisma doesn't just apply simple filters to create effects. Instead, it uses A.I. to convert your images with photorealistic results. So if you choose a painting effect, you can expect it to appear like a painting and not some weird digital overlay.
Prisma also features a background removal tool. You can use it to swap out your background with more color options created within the app. You'll find this useful if you want to combine real images with whismical and colorful elements.
Conclusion
There's a wide variety of options for choosing the best photo editing app. Some are free while others only provide a free version with limited features.
The best app is the one that fits your needs. So take your time to test the apps you like and see if they satisfy your requirements.
If the option you like happens to have a subscription, buy it if you think it's worth it. And if you don't want to pay for anything, there's still a handful of apps you can use entirely for free.
You can also download several photo editing apps at the same time if you wish. You can use one for regular edits and try the others if you need to apply special features. Currently, I have about three apps that I use regularly for different purposes. By using the best features of each app, I get to edit images exactly the way I want them to look.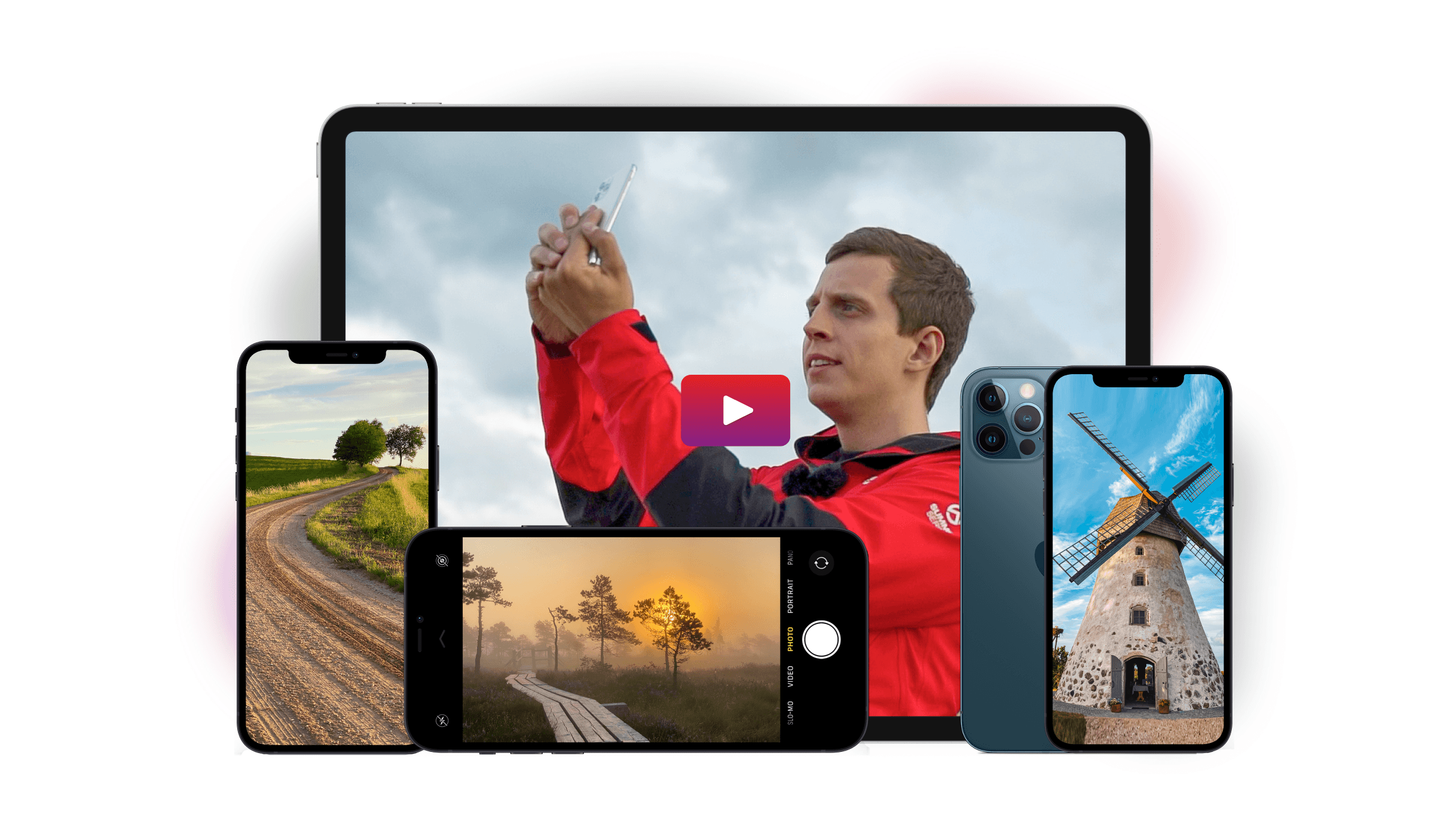 Looking for a convenient way to improve your photography skills without relying on free photo editing apps? Check out this Video Course that teaches you how to take stunning iPhone photos effortlessly.