If you're a lover of retro cameras, you'll be happy to know that many modern cameras still adopt a retro style. In this article, we review the top seven cameras on the market. What we're looking for is technical excellence in a vintage-inspired package.
Our top pick has stunning looks, excellent performance, and is very reasonably priced.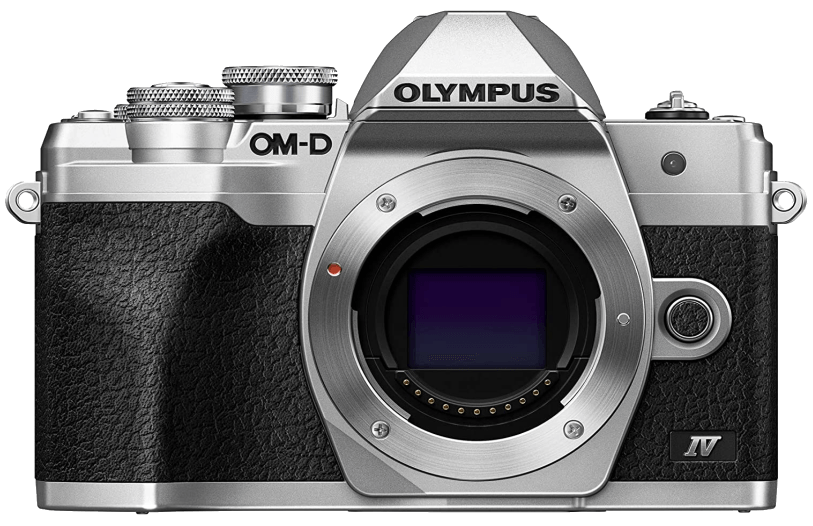 Olympus OM-D E-M10 Mark IV
You can capture stunning photos with this retro-style camera. And it features the latest technology at an accessible price.
Shop 4 Offers
[Note: ExpertPhotography is supported by readers. Product links on ExpertPhotography are referral links. If you use one of these and buy something, we make a little bit of money. Need more info? See how it all works here].
What is the Best Retro Camera?
Before we look at our recommendations for digital cameras with a vintage look, here's a summary of our suggestions.
Now let's look at those cameras in more detail, starting with our top pick.
1. Olympus OM-D E-M10 Mark IV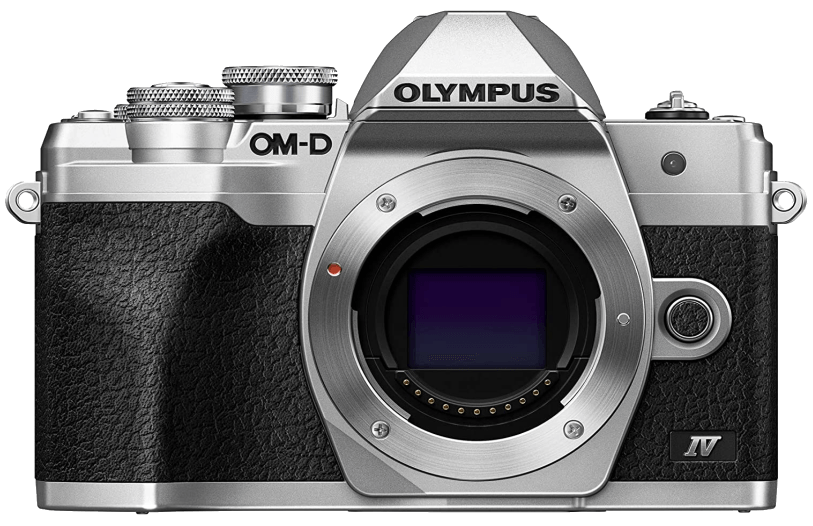 Sensor Format
Micro Four Thirds
In-body Stabilization
Video
Key Features
In-body stabilization and 4K video
Best for
Learning the craft of photography with style
The Olympus OM-D E-M10 Mark IV looks like a "proper" old-fashioned camera. With its brushed metal and leatherette body, it really looks the part. Chunky knurled dials add to the retro vibe. But it's not all about the looks. And those same dials make controlling the camera easy. And they lead to an understanding of how the various elements of exposure work together.
This is one of the reasons the Olympus OM-D E-M10 Mark IV is ideal for a beginner to intermediate user. It's easy to use, affordable, and is a perfect camera to learn photography with. And it is loaded with fantastic features that will get beginners excited. And those same features will keep experienced photographers interested.
This mirrorless camera gives you a decent sensor size of 20 MP. Like Olympus's professional models, it delivers outstanding image quality. You'll see the difference if you're moving up from a smartphone camera, for instance. Even the most demanding photographers should be impressed by the output.
It's not just a capable stills camera, but it's a decent performer with video too. At this price, you might be surprised to find 4K video at 30 fps. But it's there and it delivers smooth, clear footage. Your video and stills work will benefit from the impressive 5-axis image stabilization. It's a great help in low light.
The 121 autofocus (AF) points help it to achieve accurate results when shooting photos and videos. It even tracks the subject's movements in the frame.
There's a 180-degree rotating screen. This makes selfies and vlogging a breeze. A 15 fps burst mode is really useful for action photography. Built-in shooting modes and art filters allow you more creativity. And built-in Wi-Fi makes transferring images easy.
It's a fantastic camera that matches knockout looks with technical excellence at a great price. Pair it with the equally beautiful Olympus ED 14-42 mm f/3.5-5.6 lens and you have one of the best contemporary retro cameras available.
2. Leica Q2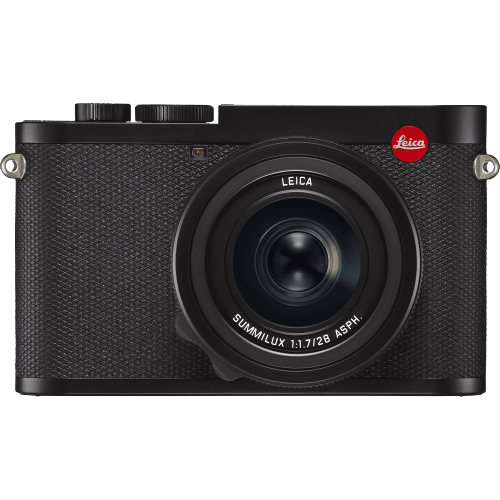 In-body Stabilization
Video
Key Features
Incredible sensor size and legendary Leica style and quality
Best for
Those who can afford the best
The Leica Q2 costs more than I have ever spent on a car. When you look at the list of what it doesn't have, the price seems even more surprising. It has a fixed focus, non-interchangeable lens. There's more plastic than you'd expect on an expensive camera. And high ISO performance is not that good.
But Leica has set the standard for compact cameras. Several cameras in this review clearly want to look like a Leica. And Leica has a band of loyal followers.
The reason for that is the stunning quality of the photos that a Leica camera produces. In the Q2, the 47.3 MP full frame sensor achieves incredible image quality. Quality that you don't usually find outside of professional-level full frame mirrorless cameras.
The fixed focus 28mm f/1.7 lens lives up to Leica's reputation for excellence. And that f/1.7 means you'll have many shooting opportunities that a zoom-toting competitor with their f/4 or f/5.6 lens won't. The AF performance is quick and reliable, too. Almost appearing to anticipate your subject's movement.
There's no denying that the Q2 looks fantastic. It brings a clean and uncluttered feel to its vintage-inspired camera body. Most people probably won't notice that you're shooting with a classic of its kind. But those in the know will quickly spot the red circle with the distinctive logo and understand. If you can afford it, this won't disappoint.
3. Fujifilm X-Pro3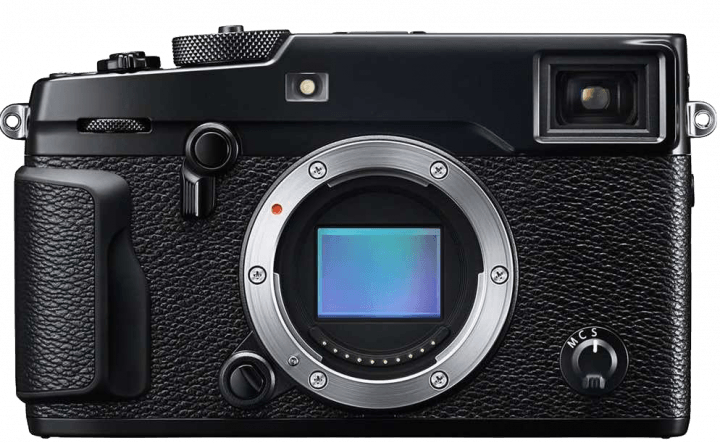 In-body Stabilization
Video
Key Features
Hybrid EVF and cool little rear screen
Best for
Film shooters who don't want to look at the screen after every photo
The Fujifilm X-Pro3 mirrorless camera has an amusing little trick up its sleeve. Instead of the expected rear screen, you are confronted with a small screen. It looks like an old-style holder for the film box lid. This was how we knew what film we had in the camera back in the day. The X-Pro3 will even display a film box-like image with ISO on it. It definitely makes it a modern camera with a vintage look and feel.
You can swap to a more conventional screen if you wish. Or use the excellent electronic viewfinder (EVF) instead. In fact, the EVF is so good that you might see the sense and humor of the X-Pro3's design. The EVF shows you what the sensor sees and replays the photo you just took. If you want to go old-school, you can even switch to an optical viewfinder. Even then, you can overlay certain aspects from the EVF to give a really useful hybrid viewfinder.
The body is beautifully finished in leatherette and titanium, either silk-finish black or natural. The latter is my favorite. The frame is magnesium and the body is weather sealed. A little rain shouldn't interrupt your photographic adventures.
And those adventures should provide some fine images. The X-Pro3 is a very capable camera with excellent high ISO performance up to 12,800 ISO. Picture quality is sharp, although the autofocus is not the fastest at tracking objects. It's not a camera for the dedicated sports enthusiast.
If you want to shoot in style with a solid, well-made camera, this Fujifilm could be ideal for you.
4. Olympus PEN-F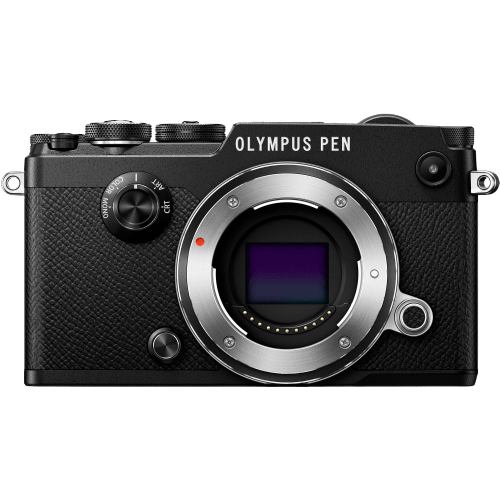 Sensor Format
Micro Four Thirds
In-body Stabilization
Video
Key Features
Brilliant modern version of a classic camera
Best for
Those needing a compact body with great performance
The original Olympus Pen was a popular classic. It took 35mm film but only took half-frame photos. Thus, it squeezed 72 photos out of a single roll. The Olympus PEN-F oozes with the style of the original. And it packs its attractive body with first-class tech. The body itself is faux leather and metal, with knurled chunky control knobs.
The specifications are impressive. The electronic shutter has a maximum shutter speed of 1/16,000 s and can rattle off exposures at up to 20 fps. The mechanical leaf shutter can still achieve 1/8,000 and 10 fps. And that has much less chance of the dreaded rolling shutter.
The image stabilization (IS) system is also impressive. Its five axes provide up to four stops of compensation in real-world situations. This is both impressive and useful. Another clever trick with the IS is High Res mode. The Pen-F takes up to 50 MP JPEGs or 80 MP RAW photos. It does this by taking a rapid series of shots. Then it moves the sensor by one pixel between each exposure.
The image quality in general is impressive, and the Pen-F is unlikely to disappoint. As with most of these retro-style digital cameras, there is much pleasure to be had simply looking at them and using them. The Pen-F doesn't disappoint in either of these regards. It is easy to use and offers many creative possibilities. It's a worthy heir of the Pen brand.
5. Nikon Z fc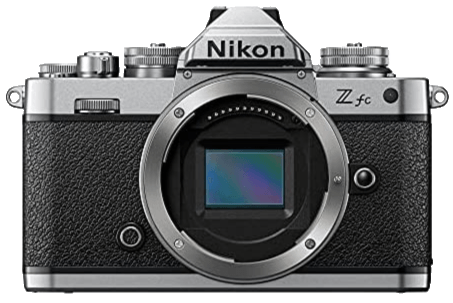 In-body Stabilization
Video
Key Features
4K video and 11 fps shooting
Best for
Vlogging, street, and travel photography
As a photographer, one of the things I love about the Nikon Z fc is that it is a triumph of style and function. This vintage-inspired camera has carved aluminum dials that look amazing. Shutter speed, ISO, and exposure compensation are immediately visible and adjustable.
Perhaps the best example of the blending of old and new is the neat little LCD screen on the top. It's nestled between the shutter speed dial, shutter button, and exposure compensation dial. And it simply gives a readout of the aperture. It's perfect.
Even the excellent rear touchscreen folds away to present its discreet leatherette back cover. It looks good and it protects the screen from knocks. What looks like an old-fashioned pentaprism viewfinder is actually an OLED electronic viewfinder. It gives all those modern conveniences of real-time previews of actual exposure. Plus it shows all the shooting information you need.
Image quality is assured by the 21 MP sensor and the full range of Nikon's Z-mount lenses. The Nikon Z DX 16-50mm f/3.5-6.3 VR matches the body for style and makes a perfect go-everywhere lens.
6. Fujifilm X100V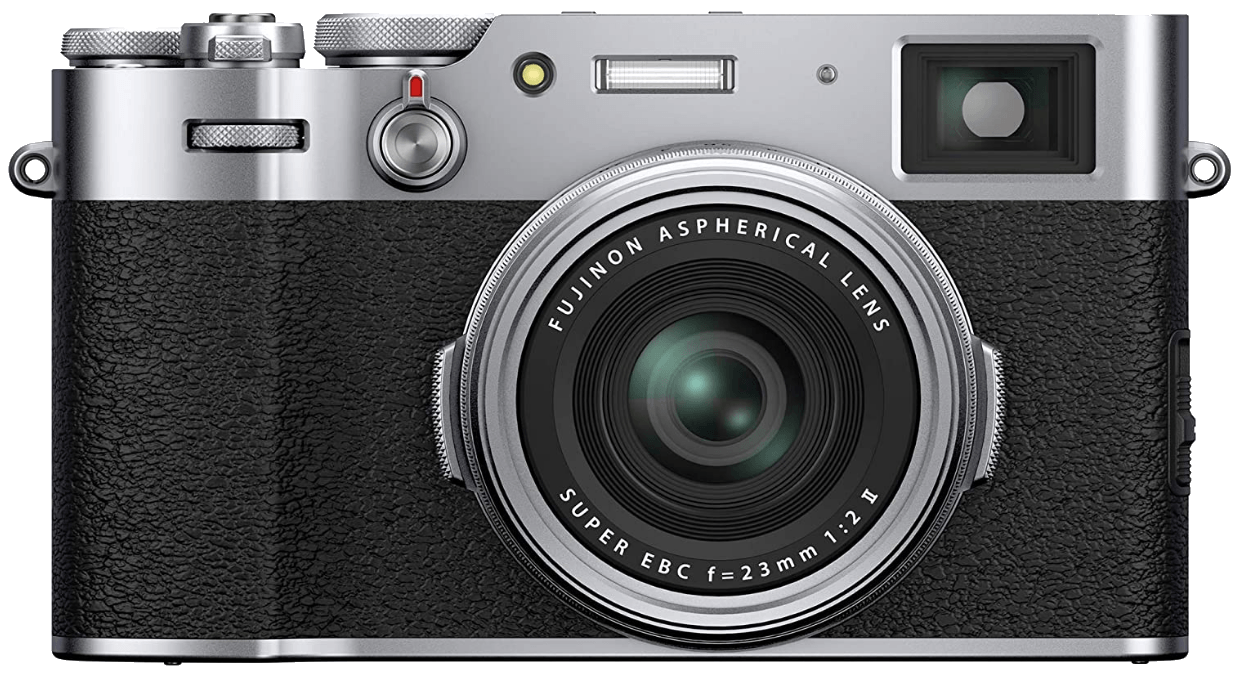 In-body Stabilization
Video
Key Features
Compact with a fast f/2 fixed lens
Best for
Street and travel photography
Another beautiful camera is the Fujifilm X100V. It's a modern retro camera that uses leatherette and brushed metal to sublime effect. It is a favorite with street photographers, who love the f/2 23mm lens (equivalent to 35mm on a full frame). The controls are all easy to use, and like the Nikon Z fc, all the major elements of exposure are immediately visible. As a fixed lens camera, this means that the aperture is set on the clearly marked lens ring.
This camera is neat and compact, so it invites you to slip it into your bag and take it with you. It will outperform your smartphone and it won't weigh you down like a DSLR. Image quality is excellent and even wide open, the f/2 lens provides impressive sharpness. Many photographers will appreciate the built-in 4-stop ND filter.
They will also like the excellent dynamic range and ISO invariance. This helps recover detail in underexposed shots. The X100V copes well at ISOs up to about 4,000, but you will find noise at the maximum of 12,800.
Overall this is a really capable camera with excellent retro looks and practicality. If you want to know more, check out our full review.
7. Fujifilm X-T5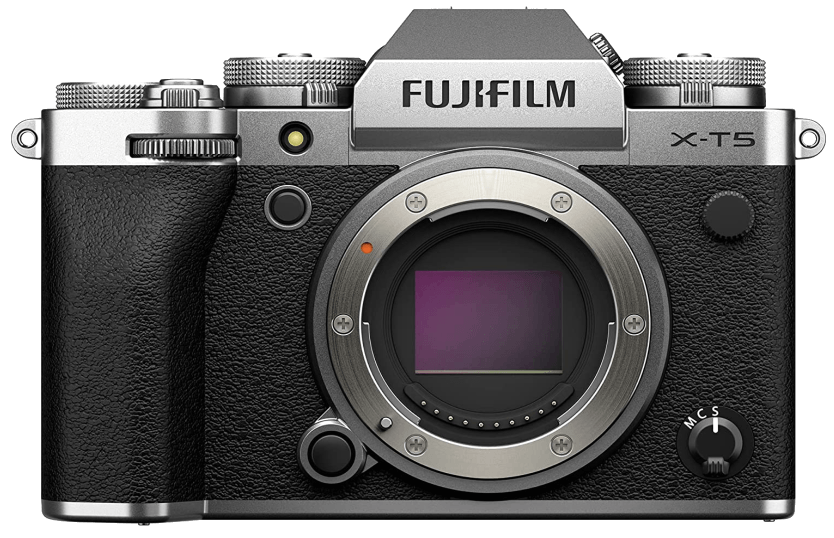 In-body Stabilization
Video
Key Features
6.2K video and 160 MP high resolution stills
Best for
Anyone looking for a stylish APS-C workhorse
The Fujifilm X-T5 is the new old kid on the block. Released at the end of 2022, it shares many of the style notes of the X100V. Film photographers will like the clear, beautifully crafted dials and knobs. These are complemented by the aperture ring on the lenses. The brushed metal and black faux leather also reflect the old-school style of this APS-C interchangeable lens camera.
Like the other cameras in this review, the X-T5 is no slouch when it comes to performance. It has a 40 MP sensor, which is impressive. But when the IS system is engaged, it can use pixel-shift technology to produce 160 MP High Res photos. You'll need Fujifilm's software to merge the images in post, but the possibilities are truly impressive.
That same IS system gives you up to 7 EV improvement. This can be a game changer in tricky low-light situations. Although, of course, it won't stop your subject from moving! You can shoot at up to 15 fps, even at maximum resolution, and 6.2K / 30p video.
This looks like it will be a very capable camera. And it does it with style. Photographers will appreciate the camera's high-end features. These include two memory card slots and the tilting rear touchscreen.
Conclusion: The Best Retro Camera
These cameras all show that modern and high-tech don't have to mean black plastic. They all show how vintage looks can be carefully married to excellent technology.
The Olympus OM-D E-M10 Mark IV is our top pick retro camera for 2023. It has superior image quality, advanced features, and a stylish design. It's the perfect choice for both beginner and more experienced photographers.
The combination of classic design and modern technology makes it a great choice for capturing beautiful images with a classic look. The Olympus OM-D E-M10 Mark IV is an excellent choice for anyone looking for a reliable, stylish, and powerful retro camera.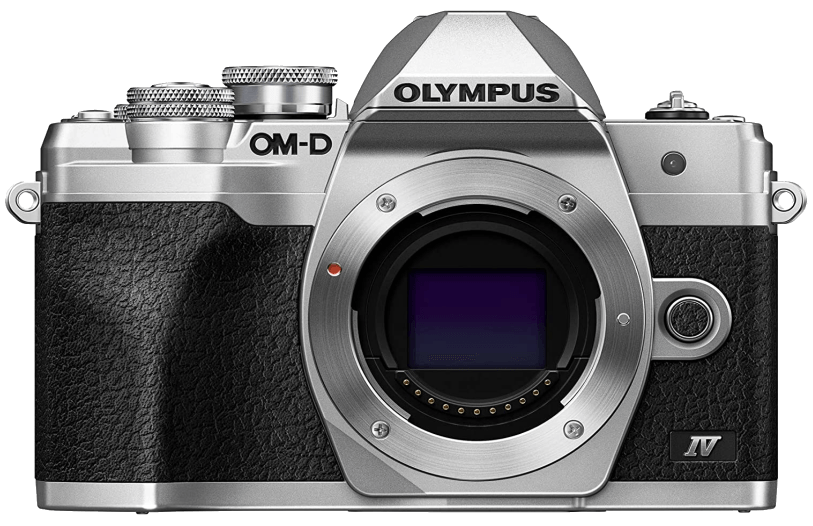 Olympus OM-D E-M10 Mark IV
You can capture stunning photos with this retro-style camera. And it features the latest technology at an accessible price.
Shop 4 Offers