Presets are a great way to work through your images in Adobe Lightroom. They are adjustments made to an image and then saved for future use.
Some photographers or software manufacturers create these presets and offer them to the world. Some can be very expensive while others are free.
After a quick search through Google, you'll be flooded with thousands of free Lightroom presets. Some are great, some are okay, and the rest are probably not worth using.
Here, we collected 37 free Lightroom presets for you, covering most topics of photography.
Why Use Lightroom Presets
Lightroom presets are for speeding up your post-processing. They allow you to edit more images at the same time, with a single click.
This way, your images can have a uniform tone and atmosphere. All you need to do is paste the settings to all of your photos.
It's perfect when you have a deadline to meet. For example, event photographers almost always use presets.
Everyone can benefit from using Lightroom presets because they are non-destructive. Everything in Lightroom is non-destructive. This means you can always go back to the raw image at a click of a button. You can remove your adjustments easily.
You might add pre-made adjustments to your image, but these can all be tweaked for a personal look. This also fastens the workflow, and at the same time, teaches you how you can reach different effects.
You can easily install presets in Lightroom and then easily use them. After that, import your images and start working. Plus, it's great when you can do it for free.
Free Lightroom Presets for Landscape Photography
Landscape images can really benefit from Lightroom presets. Green rolling hills, a mountain in the background, or a source of water – your photo most likely has one or more of these elements.
The following presets will help bring out the colour, bring down the highlights, and bring detail out of the shadows. This pops your hills, mountains, rivers, etc.
When there isn't enough light yet, colours can appear plain.
This free Lightroom preset from PresetPro will help you to enhance the magical colours of every sunrise.
This free Lightroom preset from Loaded Landscapes will give your landscapes a unique cinema-inspired HDR look.
It may look unnatural on some of your images, but you can experiment with trying it on other kinds of images. Just find your balance.
Sometimes your landscape images look great in black and white. A touch of HDR can even make them more dramatic.
This Loaded Landscapes preset will look good on other genres, not only landscapes, so we suggest you experiment with it.
Photon Collective's Free Presets for Adobe Lightroom and Camera RAW is a perfect collection for your landscape photography.
They offer 16 presets for free. You'll definitely find one you are going to love.
This is a BeArt Powerful Collection for travel and landscape photographers.
You can get 15 free Lightroom presets with just one click.
If you use the same preset on more photos, it will add to your personal style. It'll also make your images look like they belong together.
This free preset from Shutter Pulse on Loaded Landscapes will add a cinematic look to your photos.
It strengthens the contrast and broadens the dynamic range. This way, you can enhance the power of nature.
Photonify has created this landscape preset.
Here, the preset adds contrast to the mid-tones. The exposure is lightened and detail is pulled out of the shadows. These adjustments deepen the colours to turn your images into something more powerful without looking too artificial.
Free Lightroom Presets for Street Photography
Street photography presets are a great way to go through hundreds of photos in one fell swoop. Since you're photographing many subjects, from people and architecture to daily life, you need something just as versatile.
Here is a selection of street photography presets to make your images bloom.
Free Presets created Street View.
This Lightroom preset's task is to bring out the details, especially in the high lit areas such as the sky. The whole image gets an extra notch of brightness and a warmer feeling all over.
Busy City was also created by Free Presets, which brought us the street view (above).
This Lightroom preset adds an exposure increase to your image and adds detail to high lit areas such as the clouds. It makes the photograph pop and become interesting, even if your original photo was a little drab and muddy.
F/Stop Spot created Grungy Urban Portraits.
This Lightroom preset is especially good for street photography portraits to make them really stand out. We recommend using the colour or the black and white preset to keep the image more realistic.
They also focus more on the contrast and clarity of the image, setting them apart from the background. Be sure to try them out.
These free presets by Eric Kim can make your street photos edgier.
There is a monochromatic and a colour version available. Both of them are high-contrast presets. They make some of the details disappear from your photos, emphasising the shadows and figures.
Free Lightroom Presets for Portraits
Portraiture, along with fashion and boudoir, focuses on the person rather than the setting. Curved shapes and expressions make them powerful.
Lightroom presets can help with the exposure, mood, and tone of the image. They can add to the feeling or juxtapose it. The outcome is down to you.
This free Portrait Preset from Photonify is for making your images sharper and grittier.
It's not always a good idea to enhance the structure of the skin this much. But there are images where it fits perfectly and makes them more dramatic and characteristic.
You can get 20 free Lightroom presets from Shutter Pulse.
These are going to make your portraits more artistic by giving them a cinematic atmosphere.
Preset Galore offers you free Lightroom presets to use on your mobile.
These are perfect for editing your images on the go.
It saves you a lot of time and enables you to post on your social media immediately.
This free preset by Photonify is a black and white conversion. It looks great, and it doesn't change the overall image too much. The highlights and whites shift downwards, whereas the clarity, shadows and blacks are pushed upwards.
Your photos could benefit from this vintage preset. It will save you a lot of tinkering.
This black and white Lightroom preset was created and shared by Exposure School.
It is a great preset for converting colour images to black and white. It keeps the sharpness of the image, adds that contrast to make the blacks a little darker. It also makes the highlights pop a little.
This preset is one of our favourites, as it offers high contrast. Portraits, street photography, and landscapes could all benefit from a black and white conversion.
The contrast is what makes them pop. It adds a mysterious tone to the image and drops distracting, small details.

Free Lightroom Presets for Newborn Photography
When it comes to family photographs, you want something warm, pleasing, and filled with happy emotions.
Baby photography embodies these qualities with an added 'aww' factor. This 'fuzzy feeling' is achieved by using a preset, such as the ones below.
This preset by Photonify brings down vibrancy and clarity. This softens the mid-tone contrast and helps the subject blend more into the setting.
It adds a yellow temperature to the image to make it warmer. The shadows and blacks have also been muted, so the whole image is a lot softer.
You can use the BeArt presets on your computer and Lightroom mobile as well.
It gives your images a warm and soft atmosphere. This way, you can photograph your child and immediately send beautiful images to your relatives.
Here, you can find 20 free Lightroom presets by TemaPhoto on Envato Elements for newborn photography.
You can use them for portraiture as well. These are especially great when you do a photoshoot of not only a newborn but the whole family. You'll definitely find something for all of your images.
Free Lightroom Presets for Wedding Photography
If you are a wedding photographer, there is a high chance that you are going to take hundreds of pictures in one day.
This is why it's beneficial to use Lightroom Presets. You can significantly make your post-processing faster with presets.
Of course, you are going to have to adjust them a bit. Usually, a wedding happens in multiple venues and varying lighting conditions. But it's a good start to try Lightroom presets which fit the atmosphere of a wedding.
These Lightroom free presets from MCP can be used for different genres of photography.
On your wedding images, they will look soft and warm. They add a bit of yellow to the images making the bridal dress look stunningly white.
These 10 free Lightroom presets can make your wedding photos stunning. The Lightroom presets collection contains 5 colour and 5 black and white presets.
You can decide what kind of effect you wish to reach with your images and choose a preset accordingly. You'll find everything here, from warm and romantic tones to more dramatic monochrome.
These are 12 of the best free Lightroom presets from Greater Than Gatsby. As you can see, this package contains free Lightroom presets for wedding photography.
But don't hesitate to try their other products on your wedding images. You can get great results from them too.
Free Lightroom Presets for Food Photography
In food photography, it's important to find balance during post-processing. You want to make the food look delicious.
Sometimes this means that you have to saturate your images, for example, to make the fruits look appetising. But generally, we would recommend looking for a rather natural effect. You wouldn't like the food to appear like it's made of plastic.
This free preset from My Wholesome Happy is going to be your loyal partner in food photography.
It was made for food images with a darker background. It can highlight and separate your food from the environment by making smaller adjustments.
As you can see, it's not a dramatic preset that makes your images look over-edited.
A free option from PresetLove. It was made for making your food photos more colourful and exciting.
It can be perfect for sharing images on social media. Your photos with these preset will immediately pique people's interest and make them stop while scrolling past.
Free Lightroom Presets for Night & Astrophotography
Night and Astro landscapes benefit from presets in a more serious way than those adjusting images of babies and families.
These preset help de-haze images caused by light pollution.
Free Presets from PresetPro are back with our first choice for the night photography preset. They increase the exposure while keeping the highlights down.
The details are pulled from shadows, and the contrast is present but not overly used. Great for street scenes with lots of light sources.
These 3 presets can really bring out the best in your astrophotography. The first preset really adds clarity and highlights to make those lights pop.
The second preset is more muted and not so strong as it adds a subtle increase to the detail in the shadows.
The third adds warmth in the yellow colour temperature and light in the way of exposure, whites, and highlights.
Free Lightroom Presets for Travel Photography
Travel photography is one of those all-encompassing photography niches. Whatever you find on your travels, be it architecture, portraits or landscapes.
You need some presets that are just as versatile.
Here are three free Lightroom presets that will work well with your nomadic travel images.
Here are four presets to cover all travel bases.
'Laguna Sunset' brings details out of shadows and increases the highlights while adding a warmer tone. 'It's a Jungle Out There' adds exposure while keeping the contrast low for a warm and light photograph. 'Into The Woods' adds warmth and light to make the forest a warm welcoming place. Beach Days brings out the best of the light and mutes the distractions in the image.
These Lightroom presets by FilterGrade help to turn those muddy, cold images into something a little more powerful. They add warmth and take away that blue tinge of coldness. These can bring out the best in your travel photographs in a subtle way while keeping them professional.
Warmth, contrast, and highlights are the things this preset has to offer. The adjustments here involve upping clarity and vibrance while keeping saturation low.
This allows a punch of colour but not too much. The clarity is the contrast in the mid-tones.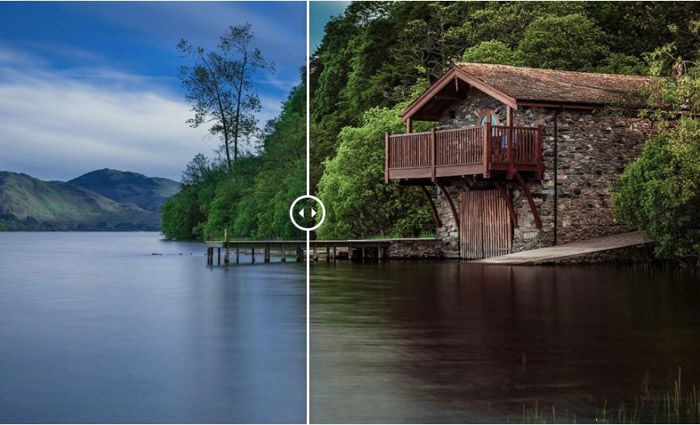 *Bonus*
Creative Lightroom Presets
With today's technological advancements, film photography has lost some of its footing. Films have subsequently disappeared, with photographers eager to get their hands on the last few rolls in existence.
Luckily, camera manufacturers have found a way to replicate the moods and tones of these films by creating Lightroom presets.
This Lightroom preset was made for you by PhotographyPla.net if you would like a film-inspired look.
It can work perfectly with different kinds of photography. You can try it on your landscape, still-life images, and on portraits as well.
Another free lightroom preset from PhotographyPla.net. This one gives a vintage look to your image by adding a sepia-like look.
You can try this too for different genres.
These 10 Lightroom presets by Dustin Leader on Preset Heaven are for mimicking the images the Holga camera could take.
These will have a strong effect on your photos, so probably you wouldn't want to use them all the time. But it's definitely worth experimenting with them.
This free preset on Preset Heaven by Darya is a black and white one. This also has a strong effect but probably fits more images than the Holga presets.
It mimics an old camera, and your images look like you were shooting on film.
This preset from PresetLove provides an easy way to have vivid and warm colours.
Looking at your images, one can almost feel the heat of the desert.
These free Lightroom presets from Preset Works are for making your photos coherent and beautiful.
This collection contains 13 different presets. All of them give your images a deep and serious look.
VSCO created this preset to emulate the Kodak Ektacolor Pro 160. It's a subtle difference in the way it only really adds contrast while pulling out a little clarity and vibrancy.
Subtle yet effective.

Conclusion
Here, we collected the best free Lightroom presets for almost every genre of photography.
Hopefully, you found among these what you were looking for.
Feel free to experiment with modifying these presets. It's a great way of practising and then eventually creating your very own Lightroom presets.
Looking for simple presents for jaw-dropping edits on your photos in a few clicks? Check out our own Lightroom Presets!