If you want to add background to photos of all kinds, you don't need to become a Photoshop expert. All you have to do is download a background-changing app.
There are so many options. It might be difficult to make a quick decision without regretting your choice.
To help you start, here are 5 of the best apps to put new backgrounds on pictures.
When to Use a Background App

Some photos are either too simple or too busy. This means compositions whose backgrounds you want to change completely. This is where smartphone apps come into the picture.
Some photographers use background apps to make their product photos stand out. The white wall behind your product might look too boring. You might want to change its color to something more appealing on social media.
This can be done easily in any of the apps below. You don't even need Adobe Photoshop.
Other photographers treat background apps like editing challenges. They create fantastic art pieces. Some feature fish with rooster heads or tiny people climbing mugs.
You can create complicated images like these with apps with advanced features. One such app is Superimpose, included below.
The app you choose depends on the kind of results you want to have. If you want to sharpen your editing skills, invest in an app with lots of tools.
But what if you want your app to do more than just add background to photos? Download a general app with some new background-changing features. As long as you know what you want, you won't make the wrong decision.
Your choice depends on taste. But there are a few important features you should look for in every background editing app:
The accuracy and smoothness of the brush tools;
The choice of background apps;
The option to add custom backgrounds;
Any other tools that are important to you, such as colour adjustment or blur.

Simple Background Changer  has over 40,000 (mostly) positive reviews. Like the name implies, it is a photo background changer app. And it is one of the best photo editing apps for Android users.
You can download it for free, but if you want an ad-free, watermark-free experience, you'll have to buy it for $0.99.
Pros
Once you remove the background, you can replace it with either photos of luxurious locations from all over the world. Or you can use your own photos.
Sometimes you'll make a mistake while removing a background. You can restore the original thanks to the transparent green layer that follows your movements.
You can find it both in the iTunes app store, and Google Play.
Cons
One of the biggest cons, of course, is the device limitation. Only Android users can use this app.
The app doesn't automatically save your work, even if you switch to another app. If you tend to get distracted by notifications, I wouldn't recommend this app to you.
If you use the free version, you'll have to deal with not only ads, but watermarked photos. This is something a lot of users have complained about.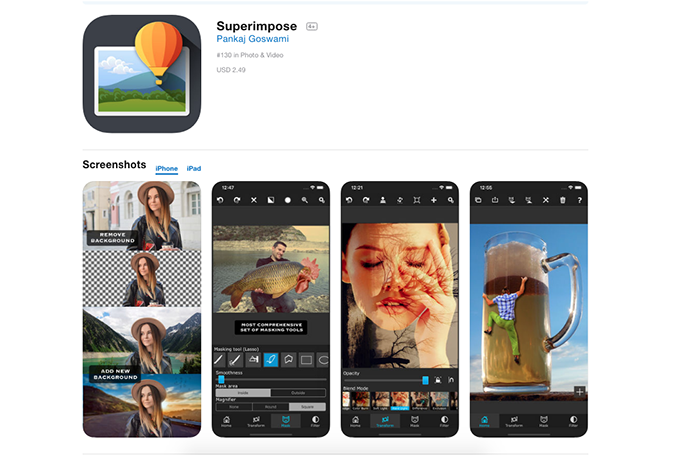 Superimpose is a powerful app. It can help you create simple backgrounds. But also something as amusing as the aforementioned fish/rooster masterpiece. For $1.99, you'll get all the tools you need to create realistic-looking backgrounds.
Pros
Once you've changed your background, you can adjust its exposure, saturation, etc.
Unlike other apps, Superimpose offers advanced tools. This includes different blending modes and a double exposure feature. You can even create shadows to make your results look as real as possible!
Despite all the advanced features, the app is very easy to use.
Cons
The Android version is slow and buggy.
There are a few glitches in the iOS version. These include unwanted messages popping up when certain buttons are pressed.

Facetune is known for its price ($3.99) and deceptive feature-enhancing tools. But it has several sections that can enhance a boring background too.
Pros
You can change the background in photos by adding overlay textures. (The iOS version has an extra section called Backdrops. This has more options than the Android version.)
If you're not sure what a specific tool does, you can click on the info button and watch a mini tutorial. This is perfect for absolute beginners.
The textures will only enhance your backgrounds, not change them completely. This is great only for those who want to make simple backgrounds stand out.
Cons
It's one of the most expensive background changing apps on this list. But it doesn't offer as many background-changing tools as a more advanced app like Superimpose.
The iOS version has more tools and a better user interface than Android.

LightX offers a variety of editing options. iOS users can buy it for $3.99. Users with Android devices can download it for free or buy a premium version for the same price.
Pros
LightX's tools are very easy to use and organised in a side bar.
It's more than a background changer. You can edit your photo's tones and add frames. And you can work with advanced tools like curves, levels, and balance.
One of its key features is the Magic Brush. This will change your background without affecting your foreground. This means that you'll be able to alter and erase any background within minutes.
Cons
For some reason, it's impossible to move photos as you edit them. You can only zoom in and out.
The brushes aren't small enough for tiny details.

As its name suggests, Auto Background Changer app automatically changes backgrounds. It's exclusive to Android devices and completely free to use.
Pros
The app is very easy to use. The auto tool will remove even the most complicated backgrounds. But it might take some time to get the perfect results.
There's a smooth tool for blurring sharp edges, which is fantastic for photos with lots of details.
Cons
Even though the app is free, it doesn't offer a premium version. Because of this, ads are inevitable.
There aren't many backgrounds to choose from.
Sometimes, the app either freezes or force closes. This happened once during my photo editing process.
Conclusion
Even though LightX is one of the priciest apps on this list, it's worth the money. If you get tired of changing photo backgrounds, you'll still be able to use it as a general photo editor. And it's not unlike Lightroom or VSCO.
Its only flaw is the inability to move a photo during the editing process. Hopefully this is a bug that the developers will fix soon.
What made this app stand out to me was the smoothness of the tools. Most of the other apps have brushes that are difficult to control. LightX goes beyond these limitations. It offers a simple user interface that will make any editing workflow more efficient.
The Magic Brush, along with the endless editing features, make LightX an outstanding app. It will not only add background to photos, but make them look even better than they did before.
And the best part? Both iOS and Android users can enjoy it.
These best apps to change photo backgrounds will help you retouch your images, add creative photo effects, or use them as a background eraser to cut out any unwanted objects.
You'll come up with original backgrounds you can use on social media sites.
Now check out our articles on best astrophotography apps or learn how to remove a background in Photoshop!