There are a lot of apps available on the market that can help you change the background of your photos. In this blog post, we'll help you find the best background change app.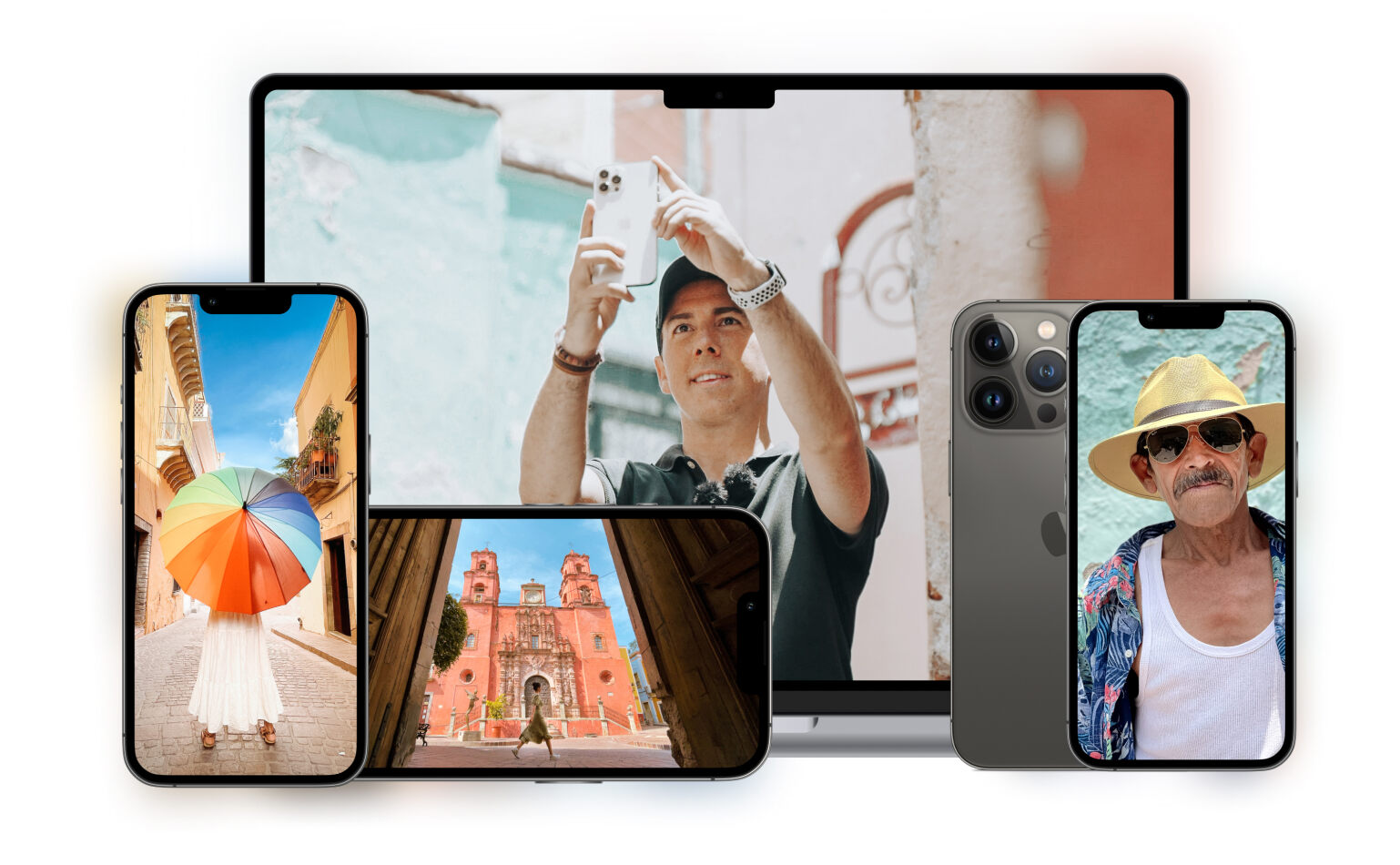 If you're looking to improve your efficiency when using a background change app, look no further than this Video Course. With step-by-step video lessons, you'll learn how to capture stunning loop videos and master everything your iPhone camera can do.
Using a Background Change App: When to Change Your Background
There are many reasons to change the background of your photos. Sometimes photo backgrounds are either too simple or too busy. That means compositions have backdrops we want to change completely with a background remover.
Other times, we can use a background app or make a subject stand out. For instance, the white wall behind our product might look too dull. So we might want to change the background color to something more appealing for social media.
Whatever the reason you need a background changer app, check our buying guide at the end for what to look for.
7 Best Apps to Change a Background in Photos
There are many background apps out there. To help you start, here are seven of the best I found to add a transparent backdrop or put a new background in an image.
Other Functions: Composites, Blur, Add Color
Price: Free
As its name suggests, this is an automatic background changer. No surprise there! It is the best free app you can find for background removal.
The app is straightforward to use. The auto tool will remove even the most complicated backgrounds. But it might take some time to get the perfect results.
You can also smooth the lines between the subject and backdrop when selecting your subject. It's a great option and makes your edit look seamless.
Sometimes, the app either freezes or forces itself closed. It happened once during my photo editing process. It's a shame and dampens a good app. But that's the price you pay for free use.
Pros:
Easy to use
Smoothing features
Cons:
A free app but there are ads
There aren't many backgrounds to choose from
App can crash
Devices: Android only
Other Functions: Composites
Export Formats: JPEG
Price: Free with in-app purchases ($)
This app has thousands of positive reviews. It is exclusive to and one of the best photo editing apps for Android users.
As the name implies, it is simple to navigate. I am a big fan of how much control you get in such a simple app. The zoom function helps make more accurate edits when using the background eraser.
The app automatically gives you a transparent background. But you can also replace it with photos of luxurious locations from all over the world or use your own images.
You must deal with ads and watermarked photos using the free version. It's an issue many have complained about and dampens an otherwise great app.
Consider using the premium features through in-app purchases if you are bothered by this. It would be best if you also were careful when clicking on notifications. The app doesn't save your work when you check a text or email!
Pros:
Change background easily with location presets
Easy to restore details after making a mistake
Cons:
Only Android users can use this app
It doesn't automatically save your work
Background Eraser Pro is one of the top-rated apps to add a transparent background. This app functions as an automatic background-changing app. Tap on the areas you want to remove, and the app instantly removes the backdrop.
After cutting out your foreground image, you can save it as a sticker. It's helpful to put a specific image on multiple photos. It's also beneficial if you haven't taken these pictures yet and want a quick edit in the future.
I like the range of backgrounds the app gives you. It is quick and easy to sort through the various categories and find a new background for your photographs!
There is a free version for Android. But there are only paid versions for iOS devices.
Pros:
Easy to keep and save edits
Simple and quick editing
Cons:
Paid version for iOS
Can be buggy
Facetune is known for its deceptive feature-enhancing tools. But, it has several sections that can enhance a boring background too.
You can change the background in photos by adding overlay textures. (The iOS version has an extra section called Backdrops—more options than the Android version.)
But it does not allow you to change the background completely. Instead, it simulates a shallow depth of field, and other functions help remove unwanted objects from the backdrop.
Facetune now has a newer app, Facetune 2. But many people prefer the old version due to the unnecessary ads and subscriptions in the update.
But the old version is only available on iOS platforms. The advantage of the new app is that it has a free version you can use.
Pros:
Each tool has a mini tutorial
Simple functions for a simple app
Cons:
Expensive and does not have as many functions
The iOS version has more tools and a better user interface than the Android version
Other Functions: Double exposures, composites, add text
Export Formats: JPEG, PNG, HEIC
Price: $
Superimpose is a powerful app. It can help you create simple backgrounds.
But you can also make something as complex and amusing as this fish and rooster masterpiece. Watch the sample video to get an idea of the excellent control you have in this app.
Unlike other apps, Superimpose offers advanced tools. It includes different blending modes and a double exposure feature.
You can even create shadows to make your results look as natural as possible! And the background eraser tool is straightforward for a mobile editing app.
I like this simple background changer. It has loads of functions that aren't hard to navigate around. If anything, the functions make the app more straightforward to use.
Pros:
Offers advanced tools to adjust your picture's exposure, saturation, etc.
The app is straightforward to use despite all the advanced features
Cons:
The Android version is slow and buggy
There are a few glitches in the iOS version
Other Functions: Mobile Photoshop
Export Formats: JPEG, PNG (iOS only)
Price: $$$
Of course, the mobile version of Adobe Photoshop appears on this list. Since the start of picture editing, Photoshop has been the original background removal program.
Photoshop Express is a fantastic app if you want a simple way to change the background. All you have to do is upload your image, choose "Cut-out" from the bottom toolbar, and you are pretty much done!
You can see the mask of the area it removes and edit it accordingly. You can easily make composites and edits using multiple layers after that.
The best thing about Photoshop Express is you have a whole range of other edits you can make to your image. It can be hard to navigate around for some people. So there may be better options if you only want to remove the background.
Pros:
All-in-one editor
Quick and accurate
Cons:
Free only if you have an Adobe account
It can be confusing to navigate
Other Functions:  Composites, Video editor, Shape manipulation, Text
Export Formats: JPEG, PNG
Price: Free with premium access and pro memberships ($$)
LightX offers a variety of editing options and professionally delivers them. The app is well organized, and the background eraser tool is amazingly accurate for a free app.
Once you have your transparent background, LightX makes it easy to go on to change your background image. You can also save your edit to apply to its other functions easily.
These functions include adding frames, stickers, and text to your photograph. You can also edit videos and manipulate the shape of your subjects.
One of its key features is the Magic Brush tool. It changes your background without affecting your foreground. That means that you can remove the background easily within minutes.
Even though LightX is one of the pricier apps on this list, it's worth the money. You can do more than just change the photo background. You can use it as a general photo editor. It's like Lightroom or VSCO.
The smoothness of the tools made this app stand out to me. Most of the other apps have brushes that are difficult to control.
LightX goes beyond these limitations. It offers a simple user interface that makes any editing workflow more efficient.
Pros:
Easy to use and well organized
Multiple functions
Cons:
You can't move photos as you edit them. You can only zoom in and out.
Brushes aren't small enough for tiny details.
How to Choose The Best Background Changer App
The app you choose depends on the kind of results you want to have. If you want your app to add background to photos, download a general editing app with newer background-changing features.
Your choice also depends on your personal preferences. Perhaps other tools, such as color adjustment or blur, are essential to you.
As long as you know what you want, you won't make the wrong decision. Here are three attributes to look at for a background changer.
Accuracy and Effectiveness of Background Removal Tools
There are a few essential features you should look for in every background-removing app. It would be best to look at the accuracy and smoothness of the brush tools, the choice of backgrounds, and the option to add custom backgrounds.
An excellent way to judge the accuracy of each app is to watch editing videos on YouTube that feature the app you are considering. It lets you see how to use the app's tools and watch editors in action.
It's also worth looking at the difference between apps using a magic brush tool approach and an automatic background changer. If an app uses the brush tool approach, make sure you can zoom into the image to get the fine details.
A cheap automatic background changer may miss out on significant bits of information. Make sure you use a good one if this is your preferred approach.
Advanced Editing Capabilities
If you want to sharpen your editing skills, invest in an app with all the tools like Photoshop.
Some photographers treat background apps like composite tools. They create fantastic art pieces featuring fantasy images or surreal collages.
You can also create complicated composites like this with advanced app features. One such app is the Superimpose X app. But perhaps the best app on our list for this is LightX.
How Simple a Background App is to Use
Other points to consider are how much you use the app and how straightforward you want the editing process.
This feature is vital for small businesses working on their social media account, where changing the background of products can make them more desirable. Of course, time is of the essence when working with many products. So a simple app is preferable.
Simplicity is also essential for people who are not the most tech-savvy. Photo editing apps often have too many options, and you need to spend a few hours familiarizing yourself with the tools.
Some of the apps we mentioned have only one function to change the background. An app like this is ideal for people who don't have the time or energy to learn new software.
Our Urban Smartphone Minimalism e-book is a great way to test your background remover app and create colorful composites!
Conclusion
After looking at our list of apps to change a background, you can see how it may be hard to choose the perfect one. Consider how you will use the background changer app to find the best one.
If you only want to make a single edit, it may be worth only using the free apps I have mentioned. If you know you will be making multiple edits, it's worth investing some money into one of the top options.
Another good way to ensure the app is right for you is to read reviews and look at sample images. If the pictures have believable edits to you, the background changer app will be right for you!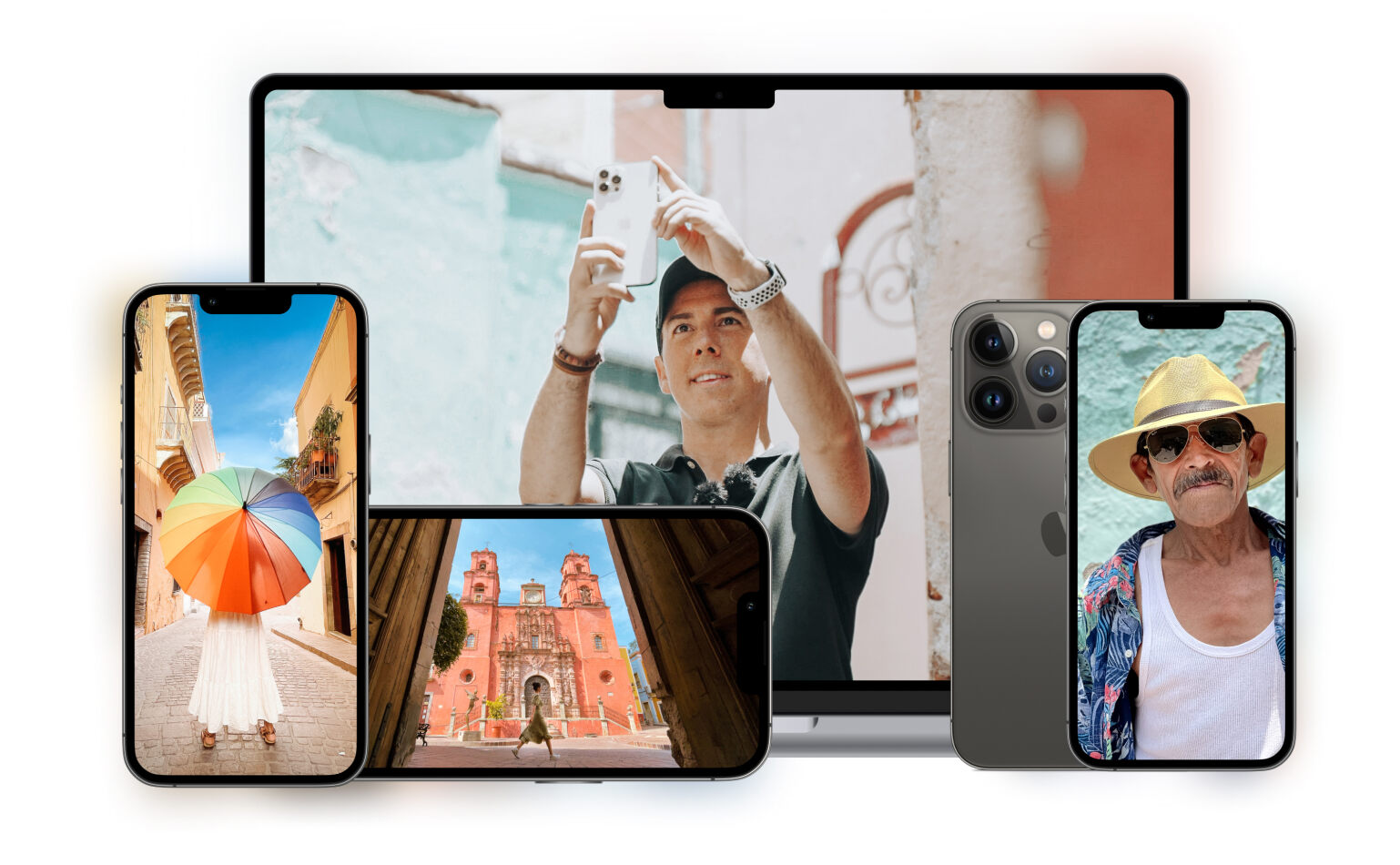 If you're looking to improve your efficiency when using a background change app, look no further than this Video Course. With step-by-step video lessons, you'll learn how to capture stunning loop videos and master everything your iPhone camera can do.