The camera has become an essential element of the modern smartphone. And now it's not just the camera. Smartphones are fast becoming hubs for the whole photographic process. With the right apps, you can take a photo, edit it, and publish it online.
If you want to boost your smartphone photography game, we've got the apps you need to know about. If you wish to take photos, edit images, or share them online, we have the best apps for photographers available today.
[Note: ExpertPhotography is supported by readers. Product links on ExpertPhotography are referral links. If you use one of these and buy something, we make a little bit of money. Need more info? See how it all works here.]
Best Apps For Photographers in 2022
We'll take you through our top picks for the must-have photography apps. And to help you find what you need, we've broken it down into categories.
We have photography apps for taking photos. There are photo editing apps. And there are apps for sharing and finding photography work.
Best Camera Apps for Photographers
It has an unusual name, that's for sure. But Bacon Camera is one of the best photography apps a smartphone photographer can download.
Bacon Camera gives you excellent control when you're taking photos. Much like with a DSLR, you can adjust settings like ISO, white balance, and exposure compensation.
You can shoot in JPEG form. But if you want to edit your photos afterwards, Bacon Camera also has RAW file support.
Android users will have a blast with this app. But if you're an iPhone user, you'll have to keep reading.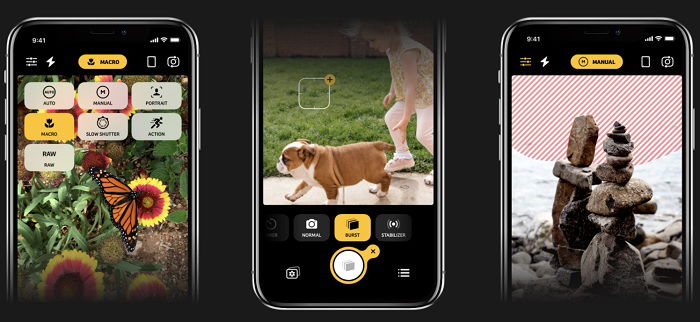 For iOS users, Camera +2 is the hottest camera app for mobile photography. As with Bacon Camera, you'll have excellent manual control of the camera. You can adjust ISO, shutter speed, and white balance.
You get a good range of preset options for different types of photography, meaning you can master everything from portrait to macro photography.
Camera +2 allows you to shoot in RAW format, which is great for editing your photos. And you can edit photos in-app. The editing options are solid but a bit basic. It is more of a camera app rather than a photo editor.
The stock camera app on Android phones can produce great photos. But Camera Zoom FX Premium puts the creative power in your hands. It's another photo app that operates like a DSLR or mirrorless camera.
You control the basic camera settings, like ISO, shutter speed, and aperture. And the app has a straightforward interface that's easy to navigate. It's easy for beginners to get started.
There's a 50fps burst for action and sports photography. And you get RAW file support for better editing options. You can edit in-app, adding tilt-shift effects and colour transformations.
The app isn't free, and it's only available for Android. But many photographers will consider the price worth paying.
Pro Camera is another camera app for iPhone users with manual controls for high-quality mobile photography.
You have control over the exposure elements, like ISO and shutter speed. It has the functions of a DSLR but with an easy to use smartphone interface.
There's a burst mode, time-lapse, and cinematic video modes that make a well-rounded app for all kinds of photographers. The RAW file support is another feature that will have photographers smiling.
It's not a free app. But for iPhone users, it's one of the best camera apps available right now.
When you see the name Adobe Photoshop, expectations will be high. And with this mobile app for iOS and Android, Adobe doesn't disappoint.
Adobe Photoshop camera is made for social media users. All the presets and filters are designed to boost your online content. Influencer-inspired portrait and selfie options give smooth bokeh effects or remove unwanted shadows.
But it's not just about selfies, as there are options for landscapes and street photography too. The sophisticated AI system helps you achieve the shots you want.
It's a free app that's available for iOS and Android. There are some in-app purchases if you want to upgrade.
Photo Editing Apps for Photographers
Adobe Lightroom is one of the biggest names in photo editing. It's one of the leading programs for professional photographers. And for editing on your mobile phone, Lightroom Mobile is the best there is.
Lightroom Mobile is a stripped-down version of the computer program. The photo editing app is packed with presets that give your photos a solid and consistent look.
The preset options are great for quick editing. But you can also use the sophisticated curve modes for advanced photo editing. They allow you to adjust contrast, midtones, and colour.
Adobe Lightroom Mobile is free to download for iOS and Android users. And there are in-app purchases for more features at a reasonable price.
Snapseed goes far beyond your basic photo editing app. It has features you would only otherwise find on a computer software suite. Professional photographers will love this app. And it's not too complicated for beginners.
The interface is intuitive and easy to understand. You can find the tool you need without getting lost in a maze of menus. And there are a lot of editing tools to choose from.
You don't need a fancy camera app to accompany this editor, as Snapseed works well with your native camera app. In the editing process, you can change the white balance, brightness, and exposure.
Snapseed gives you a superb selection of brushes for healing and disguising imperfections. And there's a great selection of preset filters too.
It's free for iOS and Android smartphones.
Pixlr is one of the most versatile photo editing apps available. It appeals to serious photographers who want to enhance their images carefully. And it has plenty of features for people who want to have a bit of fun when editing photos.
You can add text, labels, or paint directly onto your photos. You can remove sections or pixelate areas of your images, and you get the usual crop and rotate editing tools.
Removing blemishes and red-eye is simple. And you can change the tone and feel of your photos with their overlays. Their double exposure feature is also great fun.
The app is free to download for Android and iOS users.
VSCO is a photo editing app all serious smartphone photographers need to consider. It has fantastic functions and features that produce wonderful results.
You can enhance your photographs with the VSCO presets, which is a fast and easy way to give your images a boost. The creative tools include contrast and saturation adjustments. And you can add grain and fade to mimic analogue photos.
If you upgrade to the advanced level, you'll have film imitation settings. You can transform your smartphone pictures into Kodak Colorplus 200 prints.
VSCO is available for iOS and Android. There's a free version, which is fine for getting started. But if you're serious about editing photos, you'll have to pay for the advanced membership to access their full range of features.
For professional and enthusiast photographers, Afterlight is worth a look. The interface is minimalist and stripped-back. They're not trying to over-compensate with flashy gimmicks. Afterlight lets their tools speak for themselves.
There is an excellent array of preset for fast editing. Smartphone photographers new to editing will love these when they're starting out. But the hand tools are where Afterlight comes into its own.
On top of the cropping and rotating tools, you have 15 adjustments tools and 66 textures you can apply to your photos. They give you precise control over the editing process.
Afterlight is free for Android and iOS.
Mexture allows you to give your photography a whole new look. It's a photo editing app with a massive catalogue of filters and overlays.
There are film grain, dust textures, and light-leak effects for that retro photo look. There are over 150 textures to choose from. The editing tools are excellent, allowing you to change white balance and contrast with a few clicks.
It isn't the most advanced photo editing app on the list. It's not an app for professional touch-ups. But the catalogue of textures is excellent, and it's sure to spice up your social media content.
Mexture is only available on iOS. You have to pay to download, and there are also in-app purchases for extra features.
Best Photography Assistant Apps
Pocket Light Meter doesn't need much explaining. It's a light meter app that you can download to your phone for free.
It's a must-have app for film photographers, especially if you're using medium or large format. Pocket Light Meter is simple, easy to use, and a vital piece of software for any photoshoot.
If you're a photographer who does many outdoor photoshoots, the Photographer's Ephemeris is a must-have photography app. It lets you know how light will fall on an area of land at any given time and date.
It's a calculator that takes information from the position of the sun, moon, and stars. It lets you know which days are best for shooting and at what time. And it allows you to prepare for the conditions.
It's available for iOS systems. There's a one-time payment and other in-app purchases.
PhotoPills works in much the same way as The Photographer's Ephemeris, only this is exclusive to Android phones.
It calculates the positions of the sun, moon, and stars so you can plan your photoshoots for the best shots. It's especially useful for landscapes and sunset photography.
There's a one-time payment to buy the app, and there are in-app purchases available.
Photo Sharing Apps for Photographers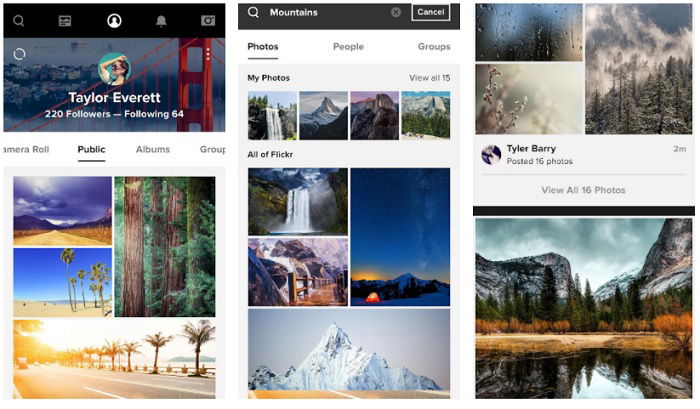 Flickr has been around for a long time. And it remains one of the most popular photo-sharing platforms, especially with professional and enthusiast photographers.
If you specialise in a specific area of photography, or if you want to get started in that area, you can join the community on Flickr. If you like landscape photography, you can share your work with other landscape photographers.
Flickr is for everyone, whether you're a beginner or a professional photographer. You can create a free account, which allows you a 1,000 post limit. If that's not enough, you can pay for an unlimited account.
500xp is a social network designed for practising photographers. There are thousands of users worldwide, and they're all encouraged to publish their best photography work.
There are quests and photo contests you can enter. They'll help challenge your skills and give you more exposure on the platform.
It's free to sign up, and the app is available on iOS and Android.
Just in case you haven't heard of Instagram, it's a social media app designed for sharing images. Much of the content is memes and influencers, so it's not exactly a photography app. But many photographers find great exposure by using the app.
It's free to download, and there are no post limits. You can increase your social media exposure by posting Instagram stories.
Conclusion
Smartphone photography is no longer the joke it once was. It's a serious business, and there are plenty of mobile apps for photographers of all levels.
There are photography apps for taking pictures or for editing photos. You have apps for helping you with your photoshoots and for sharing your best work.
This is our list of the best apps for photographers available today. And we hope you've found what you needed.
Check out our Social Success Strategies ebook to build your online platform and show your best work to the masses!