The best AI camera app can transform how you create content with your smartphone. There's no denying the quality of smartphone cameras. But they are still lacking in manual controls and creative features. Thankfully, artificial intelligence has come to our rescue.
We found the best AI camera apps available right now. We have everything from AI editing apps to creative cinematic video content apps. There's a great selection of applications available. And you can harness the power of AI to transform your social media presence.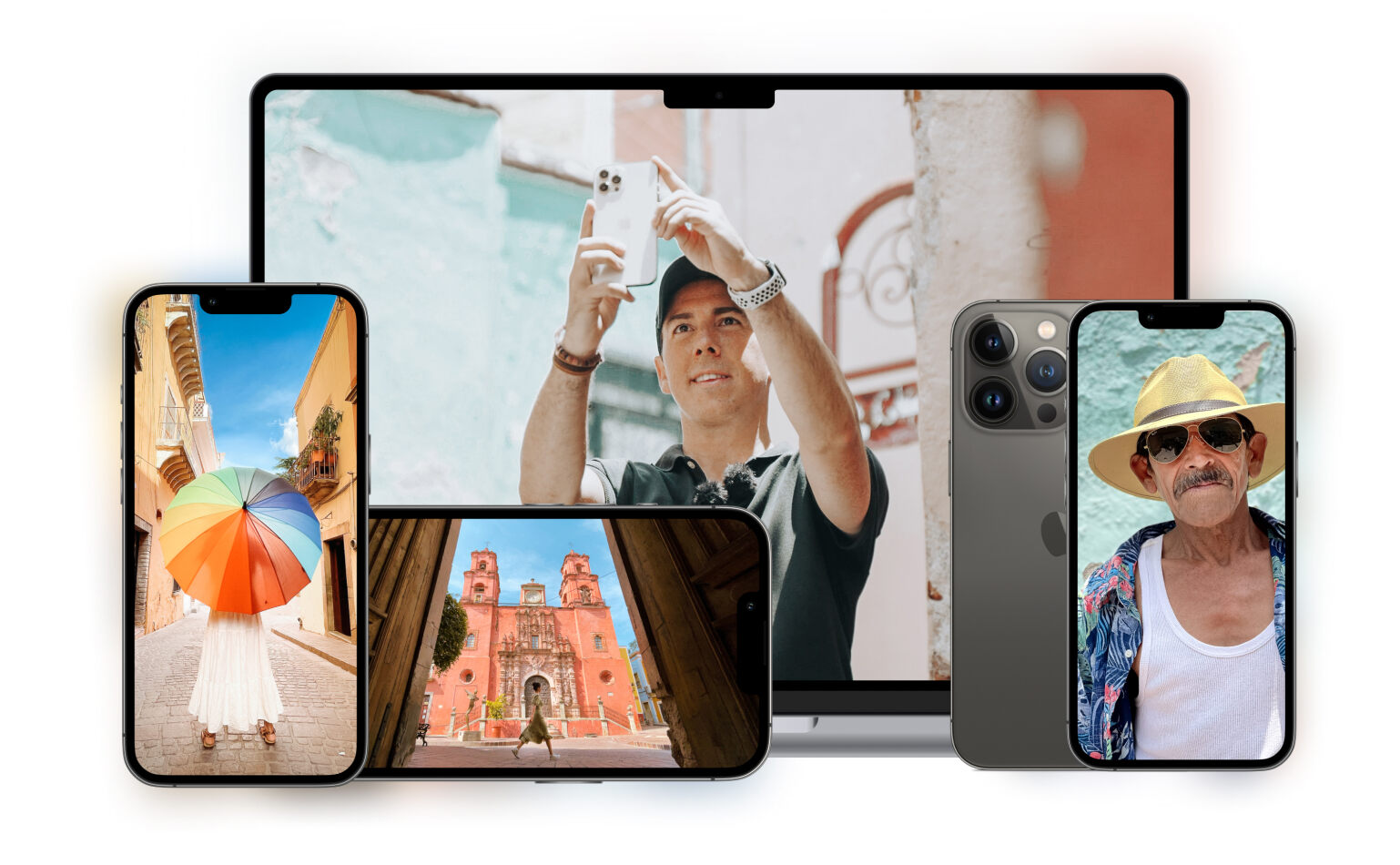 Looking for more information on the best AI camera apps? Take your photography to the next level with our video course. It's designed to help you capture it all with your iPhone camera.
The Top AI Camera Apps
The AI in your mobile phone can be used in different ways and for different results. Dive into the list and find the best artificial intelligence camera apps.
1. Photoshop Camera (Photo Filters, Portrait Lens)
Operating System: Android and iOS (iPhone)
Best For: Those who want a fun, time-saving effects camera
The Photoshop Camera app is designed to adjust and alter your photos as you take them. The built-in looks called "lenses" use AI to enhance color and overlay effects. It even detects objects in photos and suggests the best ones.
You can create paintings and double exposures. Or you can replace backgrounds and skies at the touch of an icon. Adobe adds new lenses every week. So you won't get tired of using the same looks time and time again.
There is an auto-enhance option. And you get manual controls for clarity, color, effects, and lighting. This Adobe app helps you bypass time-consuming edits you might make with Adobe Photoshop Express.
This is a free app with options to buy 20 GB Creative Cloud Storage for your photos.
Halide is for photographers who want a professional manual mode on their devices. Advanced machine learning lets you capture RAW files with smart HDR and Deep Fusion technology.
The swipe gesture control leaves the full-screen camera clear of obstruction. You can also control it from your Apple Watch or with Siri.
This pro-level AI camera app can be bought as a subscription or a one-time purchase. And there's a seven-day trial period for you to test it out.
Focos is an AI camera app that gives you control over the depth mapping built into your iPhone or iPad. You can shoot with manual control over aperture size, shape, and bokeh.
The photos are stored with Light Detection and Ranging (LiDAR) information. You can then adjust your images' depth of field and focus after they have been taken. And the space mapping technology lets you add extra lighting within a 3D space.
There is a free weekly trial. And then, you can buy weekly or yearly subscriptions.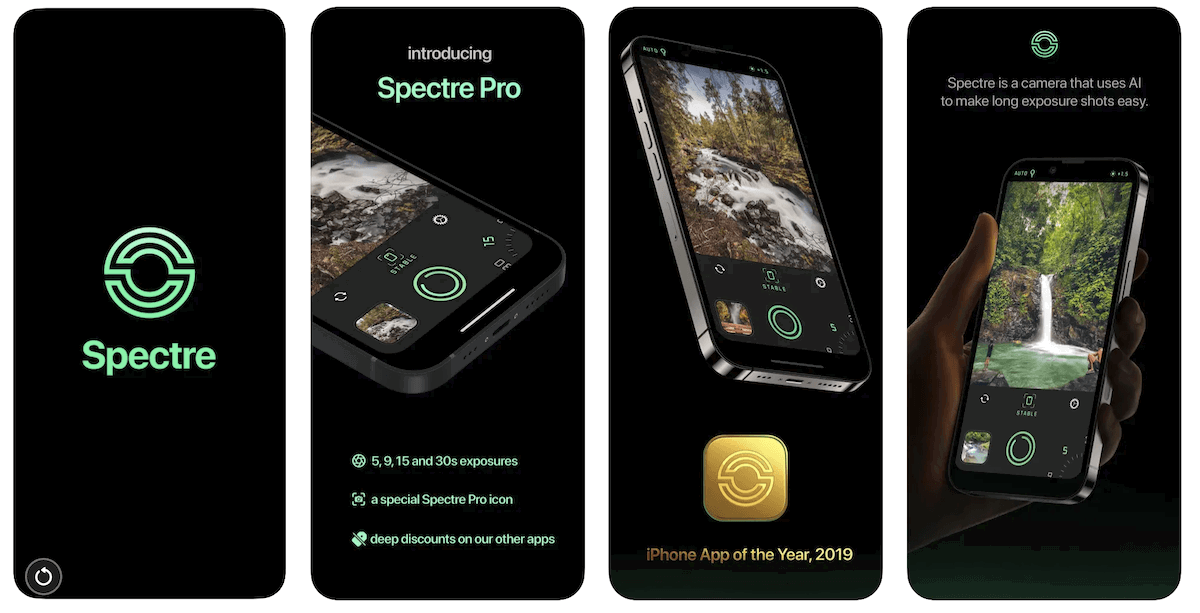 Operating System: iOS (iPhone)
Best For: Long-exposure photography
Spectre is a paid artificial intelligence camera app designed to take long-exposure photos. Specter can remove people from your images by setting a medium or long shot duration.
At night you can use it for light painting or creating light trails from traffic. The Spectre camera saves live photos letting you choose the best frame or save your shot as a video clip.
The built-in image stabilization allows you to shoot sharp shots handheld. So you do not need a tripod to smooth out water and clouds like you would with a DSLR.
This is a free app for three- and five-second exposures. But you have to pay for the pro version that lets you take exposures up to 30 seconds.
5. NeuralCam (Auto-Editing Camera)
Operating System: iOS (iPhone, iPad)
Best For: iOs users who want to take low-light photos
The Apple app NeuralCam uses scene, object, line, and face detection in its AI features. With 100 filters and manual controls, it's an advanced AI camera app.
It lets you automatically color grade, replace backgrounds, and remove people. And you can also launch the camera from your lock screen for fast access.
The intelligent stabilization is perfect for capturing low-light scenes and night skies. The RAW capability produces high-quality images. But you may need a tripod for those Milky Way shots.
This camera AI app has a nominal one-time fee.
6. Blurize (AI Portrait Camera)
Blurize is an iOS camera app for portrait photography. It uses AI to separate your subject from their background. You can then apply a blur to the scene to make your subject stand out.
Choose between Gaussian, Motion, and Zoom blurs. Then add filters to finish the look. This is a free app with an option to upgrade to a pro version for $4.99.
Lensa from Prisma uses AI technology to enhance your portrait photos. It has various one-touch AI features. You can create unique avatars (paid), make retouches, and remove unwanted objects from the background.
Facial retouching and background blur are controlled with easy-to-navigate sliders. You can whiten teeth and soften skin. And you can also edit the subject and background independently.
Plus, there is a library of presets, filters, textures, overlays, and borders to apply. And there's the added feature of AI synching video to chosen music tracks.
There's a free plan where you can save one photo a day. A paid yearly, monthly, or weekly subscription (and a seven-day trial) exists. You can also buy AI avatars packages of 50,100, and 200.

Creating quality videos has become essential to being a successful content creator. And with Filmic Pro, you can take your video content to the next level. You have more control over focus, aspect ratio, exposure, and frame rate. So it's easy to create media that draws more attention online.
You can shoot with a vertical or horizontal orientation. You have a selection of frame rates from 24 to 60 fps that sync with the audio. And there are high-speed frame rates for slow-motion video capture.
There are histogram and waveform features to help you nail the exposure. And you get frame guide overlays to help with composition. These are useful tools if you're new to making video content with a smartphone.
There's a free weekly trial. Then you can choose to buy weekly or yearly subscriptions.
Prisma falls more under the umbrella of a one-touch AI editing app than a camera app. But it is best for transforming your photos into works of art. The app uses AI technology to give a photo a whole new look.
You have hundreds of art styles and filters to choose from. You can turn a photo portrait into an ink illustration, an oil painting, or a comic book design. It's a great way to bring color and style to social media accounts.
Prisma Labs also produces Lensa. The Prisma app doesn't have the editing tools of Lensa. But Prisma makes it easy to create something eye-catching and original.
There's a three-day trial available. After that, there are weekly, monthly, and yearly subscription plans.
Conclusion: Best AI Camera Apps
Artificial intelligence within mobile camera apps is evolving rapidly. These apps now have amazing features. They're designed to re-light images, refocus your shots, or teach you how to frame a great composition.
Camera apps like Halide take superb quality RAW images and give a professional level of control. And the Focos app takes space mapping to the extreme. It lets you add light sources in and around your photographed environment.
But Photoshop Camera takes the crown as our best AI camera app. It has easy-to-use, artistic, and creative tools and cross-platform compatibility! If you're an iPhone user, check out iPhone Photography School's course to learn how to get the most out of your camera!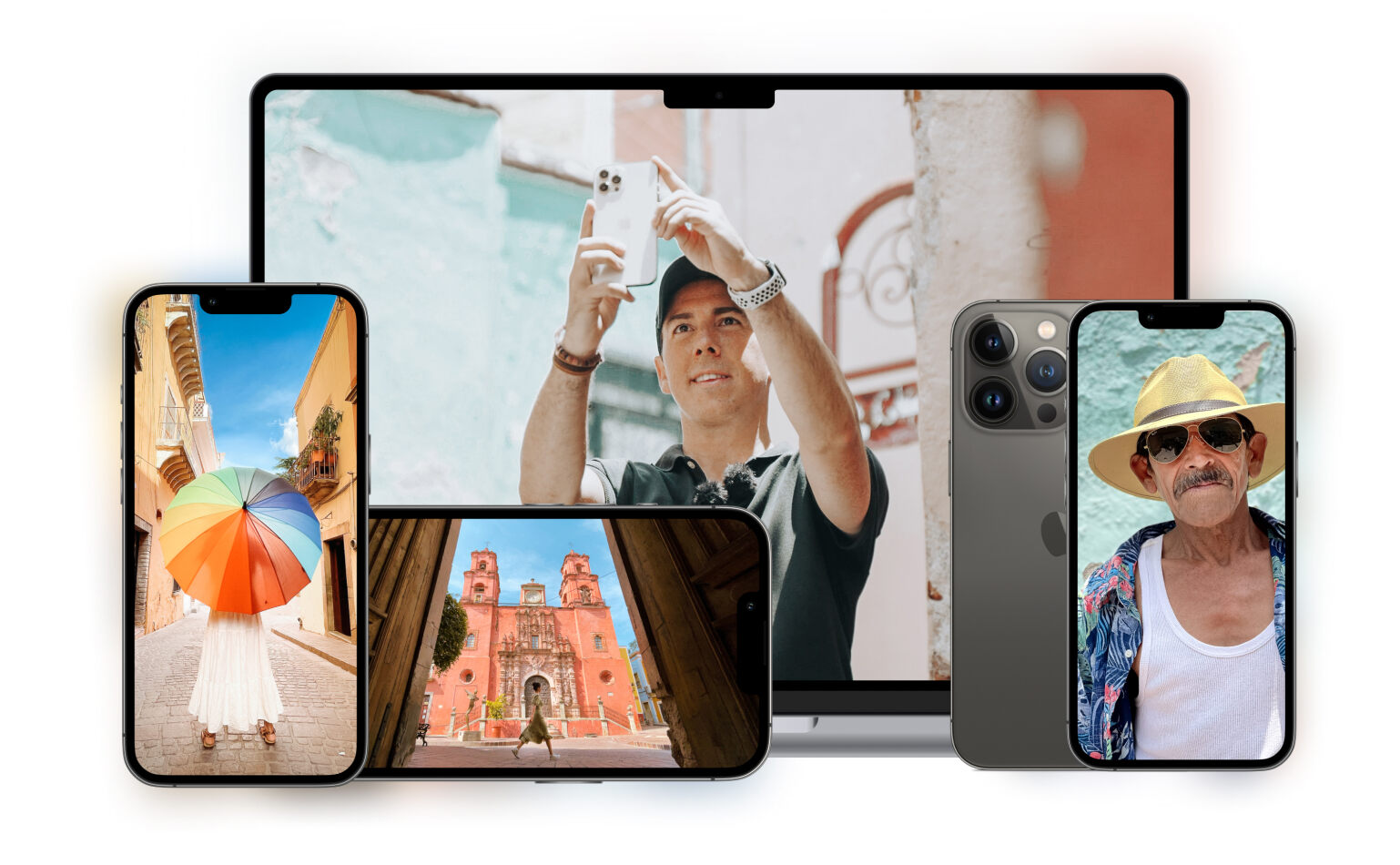 Looking for more information on the best AI camera apps? Take your photography to the next level with our video course. It's designed to help you capture it all with your iPhone camera.