Time-lapse photography creates a recording showing a large scale of movement within a short amount of time. Though it is an effective way to show processes on a frequency that we could never truly experience in real life, it is a time-consuming process. As a result, there are quite a few time-lapse apps available across operating systems.
eBooks and Courses for Everyone
The Best Time-Lapse App Apps Available
You'll find the best time-lapse camera apps in this article—for both Android and iPhone smartphones.
9. Native Camera App
iPhone and Android
Free
Already installed
Simple to use
We say it all the time—the best camera is the one you always have with you. It is the same for time-lapse photography apps.
You may not even realise you have one, but the camera apps on both iPhone and Android give you this option. Here, it is a video option and very simple to use.
Find the time-lapse setting, press the red button, and start capturing. Choose how long it will go for. I quickly created a ten-second time-lapse. They are technically hyperlapses as you move and capture the scene.
The only problem is there are no extra features along with this tool. But you can edit the video afterward inside the app or use another video editing app. And you aren't limited to where you share it either!
iOS only
Free with in-app purchases
Shoot with one click
Timelapse Pro for the iPhone is an excellent app for time-lapse videos. In opening up the app, you can start immediately with one click of a button.
After the time-lapse has been shot, you can choose from 25 video effects. You can even choose to add a song or audio track if you see fit. Save your file to the camera roll so you can share it anywhere.
You can customize all the settings you would expect—frames-per-second shot intervals, length, and even a start delay. The time-lapse app uses sound effects to indicate its activity.
On top of this, you can lock the exposure and focus—two handy features. We like the tilt-shift effect, making your image look like a small village scene.
This little app is at the top of the pile. It is powerful and offers manual controls such as saturation, brightness, contrast, and exposure.
On top of these features, you can record 4K videos and save RAW files. The latter is a huge benefit in keeping the quality and resolution of your images high.
If that wasn't enough, a feature lets you record tilt-shift videos. There is, incredibly, no time-lapse flicker. This is especially important for shots in night-time sessions.
Once you have recorded your timelapse, we like that you can edit the images on a frame-by-frame scale. Amazing! It's a perfect time-lapse app for beginner and pro photographers alike.
The Superlapse app is a professional tool for capturing time-lapse videos on Android phones. Use it as a video editor to speed up or slow down previously shot footage. Then you can convert your video to a timelapse.
There are many other features to play with, such as color effects and white balance. Also, add various filters and background music!
All the video and time-lapse footage can be trimmed. So don't worry if you have some unwanted objects on the side of the frame. Overall, it's a tremendous time-lapse app to create and share your time-lapses.

Android only
Free with paid Pro upgrade for full features
Stop-motion videos
Record or import
Sound control
PicPac Stop is a funny name, but the app is one of the best Android time-lapse photograph apps around. Not only does it let you shoot videos, but it also imports and converts them to time-lapse.
Even after the video has been imported, you can still edit it. Adding audio to the video is a cinch.
One of the best features is its sound control. A picture is taken by making a loud noise in the time-lapse manual mode!
Although interesting and useful, you need to purchase the pro version for all the features. You have to upgrade to add photos, duplicate or merge projects, and remove or add a watermark.
Android only
Free with paid Pro upgrade for full features
Almost zero rendering time
Like most of the best time-lapse apps, this app allows you to position the settings manually. Exposure, white balance, timer are all changeable. You can even apply filters to the time-lapse too.
For the video, you can define the frame interval, the video duration, and the orientation. On top of this, you can set the resolution and the bitrate as you wish.
It is one of the simplest apps and easy to use, meaning you'll use it more often. The free version is perfectly usable if you can deal with a few pop-up ads.
For the pro version, which gives you a white balance and exposure lock, you'll need to pay for it. Otherwise, this is one of the best Android timelapse photography apps available.
When it comes to hyperlapse apps, this Microsoft time-lapse for mobile may be the ticket to your best work. The benefits start straight away as you work with a simple user interface.
Not only can you shoot the videos, but you can also import them. This is a huge benefit, making this one of the best time-lapse photography apps on the market.
For shooting new videos, you can change the video speed from anywhere between 1x and 32x. To stabilize the shot, use the 1x speed setting. It will also keep the audio intact.
Once you've shot the time-lapse video, you are free to select the resolution (720p or 1080p) and then its save location. And you can share the final result once the rendering is done.
Free with a yearly paid subscription for full features
Stop motion videos
Lapse It has all the features you would expect from one of the best time-lapse cameras and more. Here, you can manually position the settings, such as focusing, ISO, and white balance.
For the options you don't expect, you can shoot stop-motion videos. On top of that, you can change the video's resolution, codec, fps (frames per second), and even add an audio track or effect.
All in all, this is a powerful Android and iPhone time-lapse app. Plus, the yearly subscription is reasonably priced.
Android only
Free with in-app purchases
No ads
When you download this Android time-lapse photography app, you may see the name Time Spirit. We believe the developers changed the name, mid-release—so don't be put off.
From the get-go, you have two options—either a photo lapse or time-lapse. With the photo lapse, you can take up to 30 images, and the app will turn it into a time-lapse video.
It is excellent for projects where you might take an image per day from the same place. The time-lapse option captures a time-lapse video, and then it converts video to time-lapse easily.
You can add audio, change the resolution (max is 1080p), and choose a duration between 1 minute to 12 hours.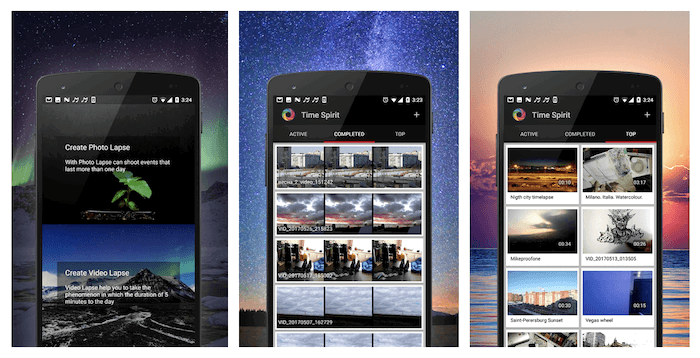 Conclusion
Shooting great time-lapses can be hard to perform in digital photography. However, all these apps will help you take your time-lapse photography to the next level while only using your smartphone!
If you want to master the art of time-lapse photography, try our Total Time-Lapse course!


eBooks and Courses for Everyone