If you're looking for a way to add some extra fun to your photos, you need to check out the best funny photo apps. These apps will let you add all sorts of crazy filters and effects that will make your photos stand out from the rest. So whether you're looking for a way to make yourself look silly, or just want to have some fun with your friends, these apps are sure to please.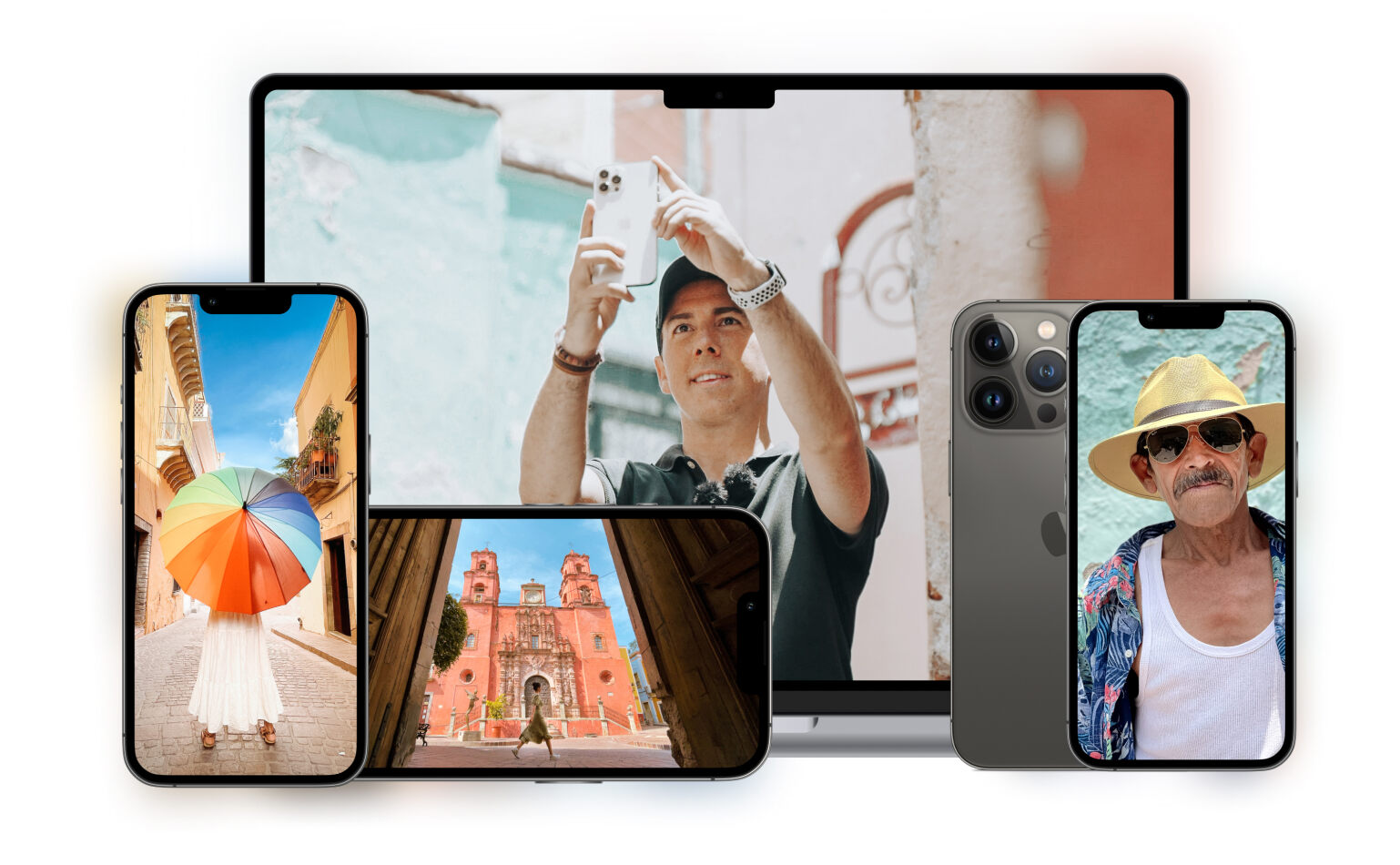 Looking for a funny photo app? Take your entertainment to the next level with this Video Course that will teach you how to capture it all with your iPhone camera. Rediscover the joy of learning with fun step-by-step video lessons.
Best Funny Photo App Filters in 2022
In this list, we've got some funny photo editing apps that will bring new life to your online content. Whatever you're looking for, there's an app to get you laughing. There are plenty of funny picture apps to choose from.
ToonMe is a funny photo app that transforms people into cartoon characters. Take a picture of yourself or one of your friends, and your subject becomes an animated character.
There are loads of cartoon styles to choose from. This fun photo app can transform you into a Disney princess—in the classic or modern Disney style. But if princesses aren't your thing, become a Simpsons character instead!
ToonMe has a free version with an excellent selection of cartoon styles. They can be hand-drawn or in digital styles. And if that isn't enough for you, you can upgrade to ToonMe Pro. You'll have to pay for the subscription. But it takes this funny photo app to another level.
Price: Free with a Pro version ($)
Selfish is a fantastic app for taking funny pictures and making hilarious selfies. The photo editor app has over 1000 face filters to play with. You can add hats and masks. You can change hair colors. And you can even warp and modify facial features.
You can take photos using the app, applying filters in real time. You can save the edited pictures to your phone. Or you can send them directly to your friends. The funny photo effects bring something new to your Instagram stories.
The app is free. But if you upgrade to the premium app, you unlock even more fun filters and fun photo editing tools. The possibilities for funny photos are near limitless.
Price: Free with in-app purchases of filters ($ – $$$)
ImageChef is a fun online photo editor and app that allows you to make collages and memes. You can edit photos from your camera roll, adding text and stickers. Or you can capture images in-app for unique, funny moments.
It's more sophisticated than just adding boring text to a photo. The app can turn your text into hand-drawn letters on a sandy beach. Or it can add them to a billboard in London or New York. You can even create posters that make you look like an outlaw from a western film.
ImageChef allows you to preview the filter before you take the photo. This helps you get everything perfect to get as many laughs as possible. After downloading this fun photo maker app, your social media account won't be the same
Price: Free
Mematic is a funny photo editor app that helps create hilarious personalized memes. It's a top-rated app with over 10 million downloads. And it's a great way to create funny photos for your social media.
You can use the classic meme templates from their library. Or you can use your photos to create brand-new memes. You can add text and photo stickers. And there's an excellent array of photo filters to choose from.
With Mematic, you can add some personalized humor to your social media profiles. You can make unique memes to tickle your friends in all the right places.
Price: Free with in-app purchases of monthly and yearly Pro versions ($ – $$)
10. Incredimoji – Celebrity FaceSwap
Incredimoji is a great fun photo app where you can replace your face with the faces of celebrities, emojis, and TV and movie stars. The live filters adjust contour and follow the movements of your face.
Record yourself singing as your favorite pop star. Or try and prank your friends with a celebrity impression. Use the camera to control the filters and record video, where changing expressions can trigger crazy 3D animations!
Price: Free with in-app subscriptions and a one-time payment ($ – $$)
Faceover is a free funny photo app. It lets you copy faces between people in your pictures. You can copy and paste, flip, and rotate faces to create hilarious images. You can edit and save photos from and to your camera roll.
This app lets you copy faces from one picture to another to create funny photos. You can even use the same look multiple times in a single image. Getting rid of ads and upgrading to the Pro version is inexpensive.
Price: Free with in-purchases and a Pro version ($)
8. The Amazing Mustache Booth
This is the most popular app for applying mustaches to photos of yourself, friends, and family. The Amazing Mustache Booth has an extensive library of funny photo stickers… including hipster mustaches.
But there aren't just mustaches! You can also add manly (or womanly) beards and cool hairstyles to photos of your family, friends, and pets. There are over 190 high-quality mustaches and stickers. You can add frames, filters, and captions in the photo editor.
Price: Free with an in-app purchase to get rid of ads ($)
MRRMRR (Mirror Mirror) has all kinds of fun photo effects, including live filters that change your appearance. You can change how you look with video selfies that apply animated filters to your face.
It has everything from magic makeup and animal ears. And there's even complete face replacement. This is a great app to share your funny pictures with friends. You can subscribe for premium features and filters. And emojis are available as in-app purchases.
Price: Free with in-app purchases of subscriptions and one-time payment ($ – $$)
6. Funny Face – Photo Editor
The free Funny Face photo editor lets you add stickers, frames, and text to your images for festive and funny photos. Preview your results live and add glasses, hair, masks, and emoticons.
Use themed packs and add messages to share on your social networks. There are over 2000 stickers, including animated stickers for iMessage. You can create some hilarious photos with just a few clicks.
Price: Free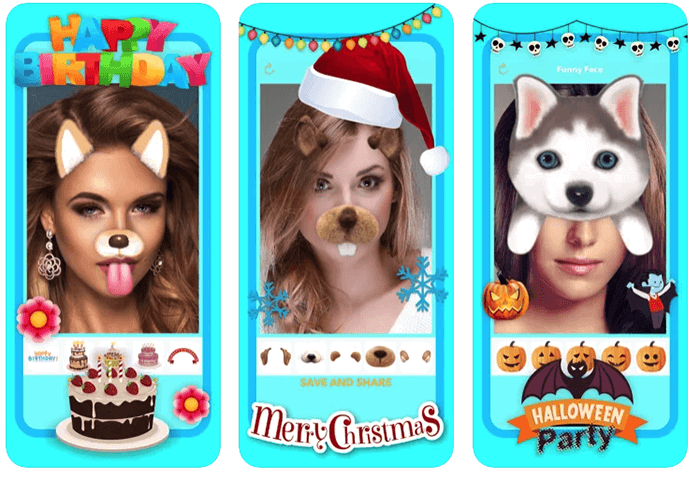 5. Ugly Face Photo Booth – Funny Effects
Ugly Face Photo Booth is a funny photo editor that uses "ugly face blending technology" to create funny photos. It's easy to make anybody ugly at the touch of a button. You can layer up your ugly filters to make your friends and family genuinely grotesque.
Use pictures from your camera roll or take pictures directly in the app. This app works best with front-facing photos. We suggest you stay away from the iOS version as it has poor reviews.
Price: Free with ads
4. InstaRage
InstaRage is a funny photo meme-making machine. Drag and drop from over 480 rage and meme stickers. You can add text, filters, and overlays to create memes of your own, starring your friends and family.
With image editing designed by Adobe, this app is easy and fun to use. As a bonus, you get a meme message sticker pack with over 100 meme stickers to use in iMessage.
Price: Free with ads and in-app purchase of effect and sticker packs ($)
Fun photo editor YouCam Fun is packed full of live photo filters. Apply real-time video effects to your camera and become a chef, an animal, a flower fairy, and more.
There are tons of themes, borders, and overlays, and the dynamic stickers follow your face as you move. You can take pictures within the app or load images from your camera roll. You can also add lighting effects like Light Leak, Scratch, or Grunge.
Price: Free
2. Epica 2 – Monster Camera
Epica 2 is a funny photo app that guides you into preset poses. It adds overlays, effects, and backgrounds to create funny photos. You can be a bodybuilder, a fireball-throwing wizard, or shoot bullets from your nose.
It's an enjoyable photo maker app that's well thought out and full of imagination. New filters and poses are added all the time, so you will always find something new to try.
The app allows you to save the picture to your device. Or you can share them directly on your socials. All the functions are at your fingertips. But some of the funny photo filters are hidden behind a paywall.
Price: Free with in-app filter purchases, ad and watermark removals ($)
1. Mug Life – 3D Face Animator
The Mug Life app uses AI to map the face in a photo. You can use it to make photo-real digital clones of friends or celebrities. You can then animate their face using your face with your camera.
You can export stills, videos, GIFs, and Facebook avatars. You can download all of the content for free. But a Pro subscription gives you access to premium animation features. It works on any picture with a face, even statues or pets. Mug Life is a seriously addictive and very funny photo-maker app.
Price: Free with in-app tools and mode purchases ($ – $$)
Conclusion
A funny photo filter app can be a lot of fun. You can share laughs with your friends. Or you can inject some humor into your social media.
InstaRage helps you bring your memes to life. And Epica 2 will give you instructions on how to create funny photos. But if you want to take pictures with live filters, try YouCam Fun.
Our number one funny photo app, though, has to be Mug Life with its exceptional realistic face editing capabilities… We hope you find a favorite in our list of apps so you can have a go. 
Learn the fastest way to launch a highly profitable portrait photography business with our Profit from Portraits course!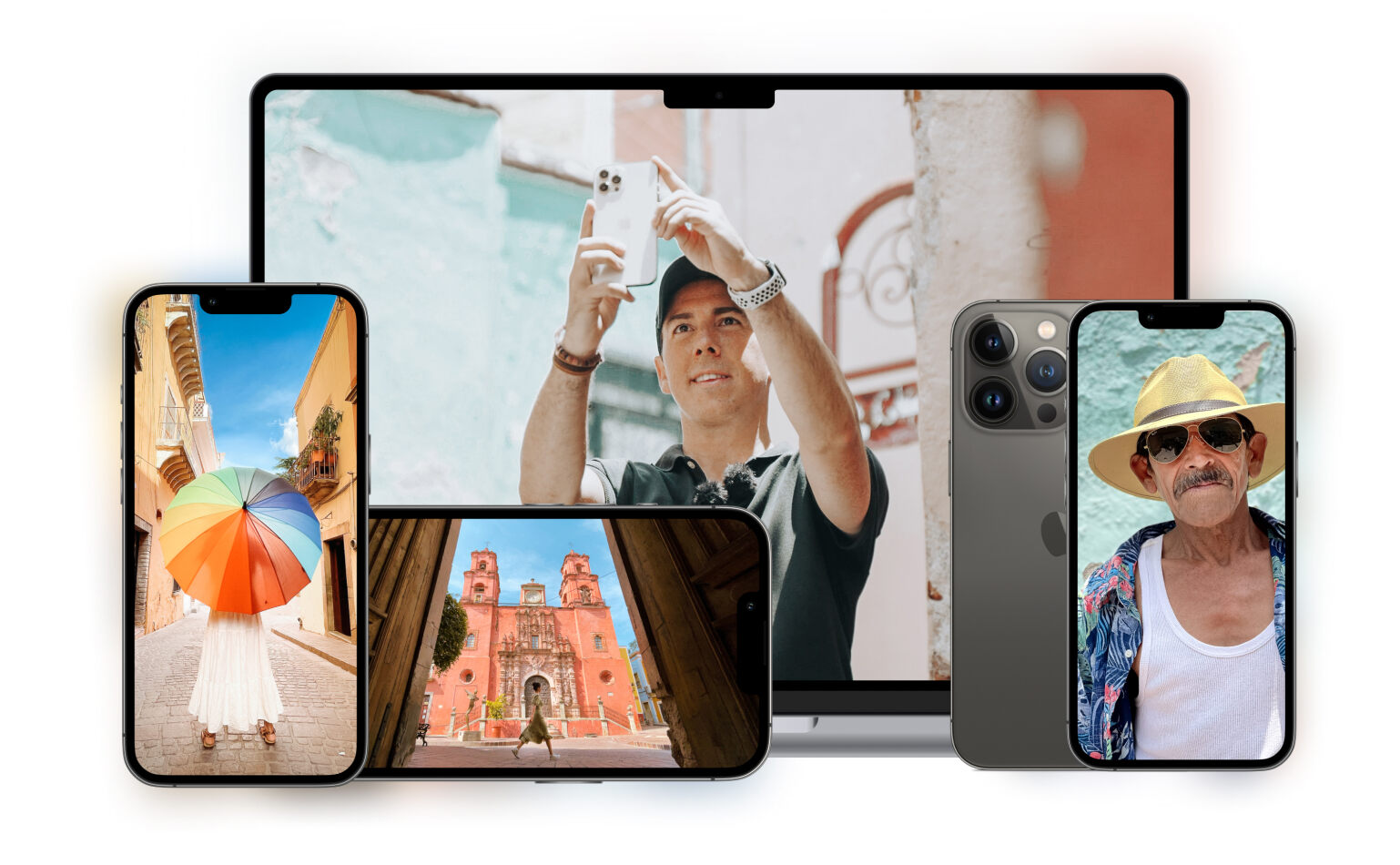 Looking for a funny photo app? Take your entertainment to the next level with this Video Course that will teach you how to capture it all with your iPhone camera. Rediscover the joy of learning with fun step-by-step video lessons.