There are a huge variety of free Photoshop plugins available. Some will make your work a lot easier, while others are meant to explore your creativity.
Here's a list of free Photoshop plugins to get you started!
I don't have to tell you about the advantages of working with RAW files. Every photographer should learn how to use and edit RAW files and Lightroom is the perfect software environment for that.
But what if you prefer Photoshop? Don't worry. This free Photoshop plugin brings all RAW editing options from Lightroom to Photoshop. You can edit RAW files in Photoshop just like you would in Lightroom. Once done, open the file in Photoshop to fine-tune the image.
If you use a lot of stock images, then Pexels might be the free Photoshop plugin for you. You get access to thousands of photos. With this plugin, you don't even have to leave Photoshop. They're all available right there.
If you like browsing the website, all the images that you like will be synced. You'll find tons of pictures to replace skies or create composite images.
PNG files are useful when you're about to set up a website or when you want to work with transparencies. The problem is that Photoshop's support for the format is somewhat limited.
SuperPNG offers a lot more options such as Variable Compression, ICC profile embedding, and Meta Data saving. A must-have free Photoshop plugin when dealing with images for the web.
So, you want to use your photos to create artwork? A halftone plugin is a great option, and it's been popular ever since Photoshop added it to its filters. If you want more options, take a look at this Halftone plugin.
It simulates the same halftone effect through the use of dots as Photoshop's standard filter. Besides that, it does even more. You can choose the shape of the dots and the color for the background, for example. Do you like Photoshop's halftone filter? You'll like this one even more!
Photoshop uses layers, and they're just as useful as they can be complicated. LayersControl2 is a free Photoshop plugin that makes it easier to deal with lots of layers. It automates certain functions to just one click. For example: remove unused effects, delete empty layers, and handling smart objects.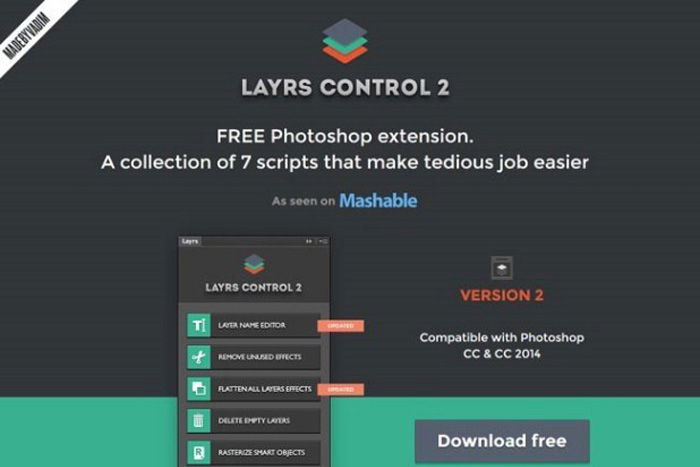 Common Free Photoshop Plugin Questions
How Do I download Photoshop Plugins for Free?
There are two options. You can go to Google and search for free plugins or use Adobe Exchange. There, you can also find lots of free Photoshop plugins.
How Do I Install Plugins in Photoshop CC?
The easiest way is to use Adobe exchange and look for free plugins. Once you've found one you like, click on the "Free" button. The plugin will install automatically.
How Do You Add Filters to Photoshop?
Create a subfolder in the Photoshop Plugins folder. Photoshop recognizes plugins located in this folder. It will add them to the Filters menu.
What Are the Different Filter Options in Photoshop?
Photoshop has quite an extensive range of filters. Go to Filters in the top menu, and the list with all available filters will open. The list ranges from 3D and video filters to blur, distort and a whole lot more.
Conclusion
There are so many free Photoshop plugins out there, it's challenging to find the right one. This list will get you started and make it easier to try out your first free plugins. They will not only make your work more comfortable, but they will also allow you to experiment and get creative.
We have great posts on how to remove a background in Photoshop, or best Lightroom plugins to check out next!