Stock photography websites are useful in a pinch. They help us obtain high, quality images that we can use for marketing campaigns. Or they offer us a cheaper version than creating the images ourselves. Renting studio time and paying models is expensive.
Here, we have found 10 of the best free, stock photography websites. These will allow you to use images for free. Some of them even allow you to use them for commercial purposes. The images are high-quality, easily searchable and come in a range of topics.
From unrealistic office scenes to situations where people are doing almost anything, look no further. Why spend an already fledging budget on a few images when you can get them for free.
Stockpic offers great images for any purpose. Their images come free, high res and free for Commercial use. They will request that you attribute the photography, but it isn't a deal breaker. What we like about this site is that clicking on an image shows you the photographer.
Their other images pop up below the one you select. And you can see the home page of the photographer by clicking on the link. There are many searchable keywords at the top, ensuring you find what you need.
What we don't like is the watermarked preview image. Which we don't quite understand for a free stock photography website.

Gratisography offers free high-resolution pictures you can use on your commercial and personal projects. Each week, more images appear and they are free of any copyright restrictions.
They tell us themselves that they aren't after quantity. In fact, they're pretty choosy when it comes to the images they publish in their collection. The other interesting thing is, all the images are by Ryan McGuire of Bells Design.
What we don't like is, many images link to Shutterstock, where the images are not free.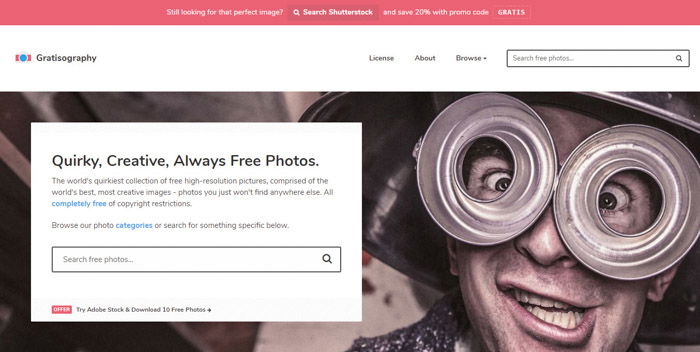 Fancy Crave is one I had not heard of until researching for this list. The reason is, there is only one person offering their images.
The creator and founder Igor Ovsyannykov started this three years ago from a simple act of giving away two free images of his travels. Now, he adds two images a day through his site.
All photos published on Fancycrave fall under the Creative Commons Zero (CCO) license. This grants you an irrevocable, non-exclusive copyright license. All he asks is that you never advertise the photographs as your own, and provide attribution when and if you can.

Freerange is a special addition to this group. Their images come from a growing community of external contributors and in-house photographers. Not only is there so much to choose from, the photos are of great quality too.
"Images provided directly (in-house) by Freerange Stock originate one of two ways. They are either digitally photographed on Canon DSLR cameras. Or high resolution (4000 dpi) Nikon scans of an original 35mm slide," according to the site.

All the images you will find on this site are handpicked. This means you get the best of the best, and no 'yeah, it's ok' images, sucking up all the attention. The ones that do make the cut fall under the Creative Commons Zero license, meaning they are free for personal and commercial use.
You don't even need to attribute the images to use. Its search functionality makes finding the right photo for your next project super easy.
What we don't like, is it links to another site for more images, which isn't immediately noticeable.

Negative Space is another site that offers you free stock photo images, shared without copyright restrictions. You can use these however you wish, and new images arrive each week.
Here, you will find architecture, technology, and all the things that fall in between. their continuously growing collection of images is one you'll tap into again and again.
One of the things we like is the images are easily searchable and sortable by category, copy space position, and colour.

Stock Snap.io boasts that they are "not your typical crappy stock photo site". And just by browsing through their library, you can see their focus on quality is real.
Their selection is vast and versatile. You'll get lost in the desert of amazing images, rearing your head after an hour going 'Where was I?'


Pixabay has one of the highest databases of images among free stock photography websites. Their high-quality images fall under Creative Commons CC0 into the public domain.
The site is clean and smart, making it easy to navigate your way through their 780K+ free photos, vectors, and illustrations.
The main search bar even allows you to filter your search by keyword. Not only that, but you can even search for other factors like media type, orientation, colour, and dimensions.

ISO Republic provides free stock photos for creative professionals. Since their launch, they've published over 3,000 CC0 licensed images, with more added every single week.
The website is managed and maintained by a small team of contributors. One quick scan of their service shows 16 categories that images can be found.
All you need to do is sign up to its email list, and the photos arrive in your inbox. Easy peasy.

Unsplash is the go-to place for everything. Not only is it easy to search for images, they have a wide-ranging base. They allow you to make collections for future use, and 'like' images you are not sure what to do with yet.
It provides a stunning array of inspiration. Their images are all high quality and unique. These are no typical stock images, however, such as 'businessmen giving high fives'. I checked.
Every image published on Unsplash falls under the Creative Commons Zero license. This provides users with the freedom to copy, modify, distribute, and use all of the photos without permissions or attribution.
What we love about Unsplash is their images often come with metadata or 'info', telling you the camera, shutter speed, ISO and aperture. This allows you to use and apply this information to your own images.
If only they could make this searchable, then this would really be the best stock photo sites on the internet.



For more great tips on stock photography, check out our advice on starting to sell your stock photos.