Stock image websites are a godsend. These databases are a saviour whether you are starting your own business or need a single image to spice up a document. Imagine how long it would take to set up your own shoot. Even if it's a simple subject, stock image websites save you a ton of time.
These databases have been around for a while. And the number of databases keep growing. We now have access to many stock photo sites boasting over a million images each! Today, I am looking at the best stock photo sites. I will guide you through the best paid and free stock photo sites available on the web.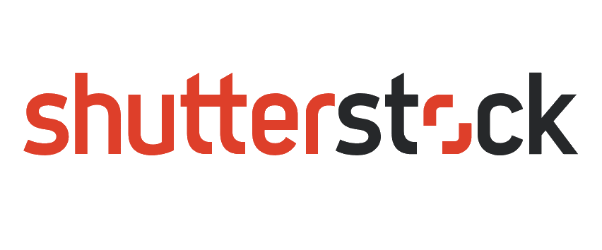 Shutterstock 10 Free Images
Looking for information on the best stock photo sites? Check out our article for a comprehensive guide, including a link to a store offering 10 free images.
Best Paid Stock Photo Sites
Shutterstock is a mammoth stock image site. It's the most extensive stock photo site out there with over 1 billion images to search through. This is because they were one of the first stock photo sites around. Their stock relies on contributions from over 1 million different photographers. With this in mind, you will be able to find an image to suit your needs.
As there is so much content, you may spend a while looking for your perfect picture. It seems like Shutterstock has taken the 'quantity over quality' approach. This doesn't mean that there aren't good images, though. They also provide video, music, templates, and even 3D models. They also offer a simple-to-use photo editing tool.
You can get access to their site through a subscription or on-demand package. Monthly subscriptions start at $29 and go up to $199 depending on how many images you want to use. Their on-demand packages begin at $49 for five images and go up to $229 for 25 images.
Take advantage of Shutterstock's free trial and enjoy 10 free image downloads. You can check their pricing here and save 15% with our code: EXPERTPHOTO
Deposit Photos is one of the best stock photo sites I have come across. The breadth of the database offers you a range of options, from stylised shots to more playful and simple images. They also provide royalty-free videos, music, templates, and special effects.
I enjoy the way it lets you refine your search. So will people who know what kind of images they want. Deposit Photos has a refined search bar that even allows you to browse by camera angle. After you choose your image, you select the size and quality you want. Under your photo, they give you similar photo options that may better suit your needs.
Deposit Photos also has a bunch of tools you can take advantage of. They offer features that can remove a background or upscale your image. This is useful for people who aren't highly skilled at editing.
Deposit Photos offers both monthly and pay on-demand options. The cost is about average amongst stock photo sites.
They have multiple monthly payment rates. Ten images per month will cost you $13, while 750 images per month will cost you $299. (On the monthly plans, additional photos cost $1 each.) Their on-demand options start at $42 for three images and go up to $299 for 100.
Jumpstory boasts an 80% better performance than other stock photo websites. I'm not sure if they measure this by the quality of its results or its search to download success rate. But, I am not surprised by this claim as they provide high-quality images. Along with content, they offer on-site features to perfect your images.
You can use images with confidence, as Jumpstory says they're safer to use than free platforms. This is because of the international licenses they use as well as offering unique global insurance. They also have a unique AI that uses machine learning to get rid of sub-par images. This is a great feature that makes sense in a stock image site.
Compatibility with other sites is another unique feature. They have integrated access into many programs that you may use, such as Wix and WordPress. This integrated access might be the reason you want to pay for a service like Jumpstory. Their 'assistant' feature is also great. If you're too busy to find images yourself, fill out the form and they will have someone do the searching for you!
Price-wise, they could be among the best. For a single month, plan to spend $39. If you subscribe for the entire year, the cost drops to $19 per month. These prices are for unlimited downloads per month. In comparison to other paid sites, this looks like the cheapest option.
For our readers, Jumpstory offers a coupon code with a 25% discount: EXPO25 – you may use this Jumpstory coupon code on any plan you purchase. Access it here.
iStock is the sister brand of the giant Getty Images database. This database was created in 1999, making it the first website for stock photos ever! When it comes to stock image databases, the longer they exist, the more content they offer. This means they will have a wide range of images to fit the bill.
iStock offers royalty-free photos, vectors, illustrations, and videos. They even have a video editor you can use. This is helpful for someone who wants to make simple video edits but doesn't have the software or time to do so.
They offer three types of subscriptions—basic, premium, and premium + video. The monthly rate starts at $29 and goes up to $333 depending on what and how much content you want to download. Check out their pricing page to see which package is best for you.
This is quite a hefty price, but as they are partners with Getty, you're guaranteed high-quality content.
Of course, it makes sense for the imaging software giant to create its own database. So they have. Who wouldn't want stock photo integration with every Adobe product? This is particularly useful for people who design brochures or websites with Adobe software.
The site offers images, vectors, videos, audio, set templates, and even 3D options. Searching is easy thanks to its refined advanced search feature. It even has the option to search images by their depth of field!
I am a fan of the user interface. It's easy to navigate and displays the stock photos with no distractions.
Adobe offers a free 30-day trial, but beyond that, you need to pay for their services. Their monthly subscriptions include 'standard assets' which include standard images, templates, 3D, and music tracks. Subscriptions start at $29.99 for 10 standard assets per month. For 750 standard assets, you'll need to shell out $199.99 per month.
If you want premium content or video, they offer 'credit packs' that start at $49.99. These prices are about average when looking at the top end of the best stock photo sites.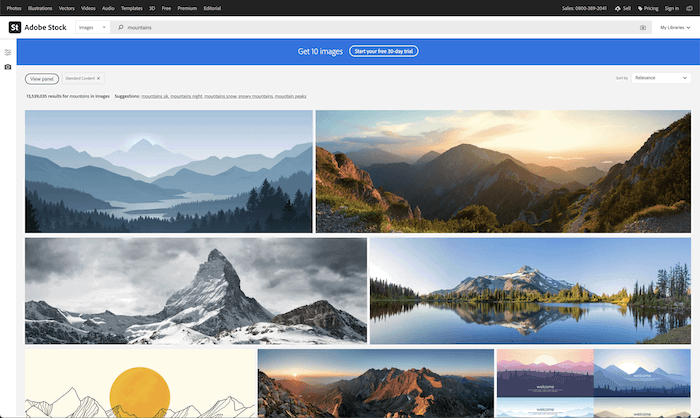 EyeEm is a high-end photo stock site, and its sleek design reflects this. But their high-end accolade doesn't come from the interface. It comes from the wide selection of high-quality images available on their site. They have a well-curated selection of photos. If you are looking for extremely well-taken photographs, the extra price may be worth it.
For on-demand buying, they offer two photo packs. The first is 5 photos for $130. The second is 10 photos for $230.
Their monthly subscription prices are a bit trickier to work out. Their cheapest monthly subscription—allowing you 150 photos—costs $9 per photo. That means the cheapest subscription is $1350 per month, making EyeEm the most expensive on this list.
With this service, you also get a chance to book a custom photoshoot. An excellent high-end option for more prominent companies who want their own images. The site is costly, but that is looking from an individual point of view. Their images are quite possibly the highest of all the sites listed here. So if your company has the money, I recommend EyeEm.
Best Free Stock Photo Sites
Unsplash is a free stock photo site you can't avoid. It's quick and easy to select and download the images you want. This is ideal for people who work with images where sourcing them is the least of their worries.
For a free stock photo site, the quality of the images is excellent. This is why they earn their spot as one of the best free stock photo sites. Of course, they don't have the range that the paid services do. But over 2 million high-resolution images for free isn't bad at all.
From its humble beginnings as a Tumblr blog, Unsplash has grown tremendously. They are now used by the UN and other global organisations. The only thing I have trouble with is their search engine. It is not as refined as others, and you will have to adjust your search occasionally. You also get premium options on each search. This links you to iStock.
Pexels is another one of the best free stock photo sites. Their search engine makes finding the perfect image a breeze. Its search bar autofills suggestions as you type the same way Google does. In this same section, can access your recent searches. They also suggest collections of images related to the search terms you use.
Pexels is one of the databases with an excellent curation of free stock photos. You won't have to scroll through loads of junk to find classy images. Also, Pexels is one of the only free services that gives you access to free videos!
A nice feature is that they display the licensing terms. This clarity can be helpful for people who don't know about copyrights. You can see what you can use the images for and in what ways.
Pixabay offers the broadest range of materials for free. This includes free stock photos, illustrations, vectors, video, music, and sound effects. I hadn't heard of them before researching for this article. But after seeing their stock, I will use them in the future. Their database is vast, with over 2.4 million images to choose from.
A nice feature that makes them unique is that some images display their metadata. If you're using stock image websites, you probably don't care too much about the photo's information. But, it adds a nice touch to some of the images, almost giving you the feel of more authority over them.
Like Unsplash, Pixabay links to a premium site—iStock. But after browsing their catalog, I doubt you will even need to pay for this service.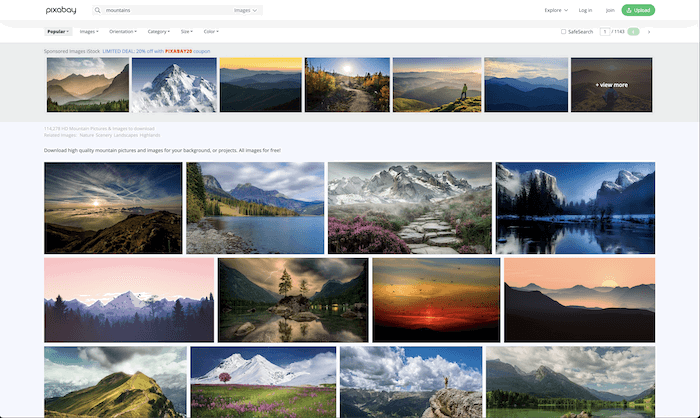 Shopify powers burst. Shopify is an online platform that lets people set up stores and sell their products. It's no surprise that they have dipped their toes into the world of royalty-free stock photos.
I am a fan of their straightforward design. It takes nothing away from the images they present. The only downside is they do not have a dedicated advanced search feature. I also think that their free stock photos aren't as refined as others. But, it is different. The free stock photos on here are not on any other stock image sites.
Another great feature is their 'search by business ideas'. This is great for people who are starting a new business or their new Shopify account. Type in your business idea and this feature suggests collections of related images. If you aren't great at using the search bar to find specific photos, this can be helpful.
StockSnap is an average stock image site. They have a great database, but some of the images look like they were taken on a point and shoot camera. This is completely fine and might even be the perfect image for some people. But for finding high-quality stock photos, it doesn't compare to other sites.
A helpful search feature is you can view 'trending' material. This is useful as you can see what kind of images or colors are popular at the moment. On the other hand, you can scroll to the bottom and find free stock photos that are rarely in circulation.
StockSnap's premium service links with Shutterstock. I don't like how they mix their premium images with their basic selection. The only indicator you get is a small star in the top left of each premium image. This is a minor issue and doesn't take away from the browsing experience.
Gratisography is a different kind of stock photo site. They advertise themselves as having the world's 'quirkiest' collection of free stock photos. As they specialise in 'quirky' collections, it's curated so that there aren't as many images as the other stock photo sites on this list. Some of my searches didn't even come up with any results.
Gratisography claims that 'stock image sites love too much stock and not enough image'. This is an interesting point. But, when you look at their free stock photos, it isn't the best-curated selection. You get a refined search, but I wouldn't call the images' quirky'. Instead, they come across as a bit amateurish. The interface is littered with links to the paid website, Shutterstock.
Apart from this, they have an easy interface where searching and downloading is painless. I will use this website if I'm looking for images that wouldn't be anywhere else. Or if the results I get on other sites are too vanilla. Either way, this is an excellent site to get unexpected results.
Conclusion
Stock photo sites have been around for a while. There is now a whole range of services to choose from. It can be overwhelming to search for a particular image in these vast databases, but it all comes down to importance. If you are using the image for a website or brochure, be conscious the image you choose represents your brand. Spend time picking the right image that conveys your message best.
Most of the time, free stock image sites are enough to find what you need. But, if you are using stock images on a day-to-day basis, it's worth paying for the services. Realistically, you're paying for time saved along with the high-quality images.
If you found a great image but it isn't quite right, The Preset Collection we offer is an easy way to perfect your stock image.
That's our list of the best stock photo sites. One of these stock image sites on this list will meet your needs. Get browsing! And be sure to bookmark this page in case your preferred site doesn't have the content you need.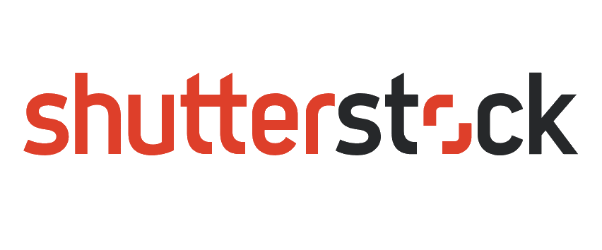 Shutterstock 10 Free Images
Looking for information on the best stock photo sites? Check out our article for a comprehensive guide, including a link to a store offering 10 free images.