Camera hard cases are becoming more popular all the time. Photography equipment is expensive. And any damage could mean a photographer can't put bread on the table. It's just not worth the risk.
If you're looking to get a hard and durable camera case for your equipment, check out our list of the top picks.
[Note: ExpertPhotography is supported by readers. Product links on ExpertPhotography are referral links. If you use one of these and buy something, we make a little bit of money. Need more info? See how it all works here.]
What Are Camera Hard Cases?
Many professional photographers are moving away from backpacks and messenger bags. They're great for days out with your camera. But if you have to carry a lot of professional-grade equipment, you might need something sturdier.
A hard case gives you ultimate protection. The hard shell of the outer case keeps your equipment free from harm.
Hard camera cases are excellent for big photography jobs. And they give you peace of mind when you're travelling with all your camera gear. You no longer need to fear accidents or baggage handlers with butterfingers.
10 Best Camera Hard Cases
If you're looking for something more protective, check out our list. We have the best camera hard cases available right now.
Pelican is the leading brand for camera hard cases. And the Air 1525 hard case is their best all-around protective case. It's lightweight, easy to carry, and offers excellent protection to your photography gear.
The exterior dimension are L 21.96″, W 13.97″, and D 7.49″. And the interior dimensions are L 20.50″, W 11.31″, and D 6.75″. It's spacious enough for more than one camera and plenty of lenses and accessories.
The option we've listed includes padded dividers. They hold your equipment in place and stop them from banging together. And the Velcro dividers are adjustable, so you can customise the interior space.
The Air 1525 is 40% lighter than Pelican's previous cases, but it can still take a beating. It's completely crush-proof and watertight, and the purge valve regulates the air pressure inside.
If you're looking for something solid, you can't go wrong with this Pelican case. The Air 1525 is the best model in their range. And it's the best camera hard case out there.
Camera cases don't get much harder than the Vanguard Supreme 46F. It's slightly on the heavy side, but your camera equipment is safe and sound when packed away into this hard case.
The exterior dimensions are L 20.25″, W 17.125″, D 8.625″. Interior dimensions are L 18.875″, W 14.625″, and D 7.875″. Big enough for several cameras and a good selection of camera accessories.
The hard case comes with interior foam, which you can modify. You create a foam pocket for each piece of equipment by cutting away the sections you don't need. This system ensures each item has a snug fit and doesn't move around.
It's ideal for air travel and adventure. The automatic pressure equalisation valve makes sure no damage is done when the bag is on the plane. And it can take pretty much anything mother nature can throw at it. It's waterproof down to 16.5 feet. And it can survive temperatures down to as low as -40°C.
If you want a hard camera case with a foam interior, the Vanguard Supreme 46F won't let you down.
The Nanuk 935 is a hard case for photographers who need to travel. It's spacious enough for all your essential camera kit. And you can travel without fear of damaging your equipment.
The exterior dimensions are L 22.0″, W 14.0″, D 9.0″. And the interior measures L 20.5″, W 11.3″, D 7.5″.
The case includes a padded divider insert that keeps your camera and accessories neat and tightly packed. The lid interior also has foam padding for extra protection. The padded inserts are removable, allowing you to transport larger items that need protection.
The Nanuk 935 has a two-stage retractable handle and wheels on one end for easy mobility. It makes travelling through airports and train stations hassle-free. And it's fairly lightweight.
It's waterproof, dustproof, and shockproof. And the purge valve equalises the pressure when you take the case as hold luggage. Safety isn't a problem as you can padlock the case using the two built-in latches.
The Nanuk 935 is a great all-around hard camera case. It's durable and easy to transport, making it one of the best camera cases for travelling photographers.
The 1510 Hybrid Case is another top camera case from Pelican. If you see the name pelican, you can be sure you have a case made for rough handling.
The exterior size measures at L 22″, W 13.81″, D 9.00″, while the interior is L 19.75″, W 11.00″, D 7.60″. No matter what photography gear you need to pack, it's big enough for a long trip.
Protection is what this case is all about. It's waterproof and crush-proof, even meeting the standards for the US military. The equalisation valve stabilises pressure inside the case and keeps water out.
This model option has both padded dividers and foam inserts. Lenses and other items fit nicely between the divider panels and each of your camera bodies can have its own custom foam nest.
The wheels and extendable handle make travel comfortable and easy. It's a reliable and robust hard camera case made for a hard life on the road. It isn't the cheapest option, but with Pelican, you always get your money's worth.
The SKB 3i-1309 is one of the smaller cases on this list. But SKB makes no compromises when it comes to build quality. It's a handheld hard case that will keep your gear safe.
The interior measures in at L 13.7″, W 9.2″, D 7.5″, which is enough to store a DSLR or mirrorless camera. You can also get two extra lenses and other accessories without the case becoming cramped.
When it comes to protection, the SKB 3i-1309 is military-grade toughness. The outer hard case is extremely tough, and the gasket seal makes it completely watertight. The foam inserts and lid protector keep your equipment safe.
The SKB iSeries 3i-1309 is a brick. Small cases don't get much tougher than this. It's perfect for short trips and small enough to take as hand luggage if you need to fly. Considering how tough and reliable this camera case is, the price is very reasonable.
The Manfrotto Reloader Tough L55 is made to make carrying a lot of gear easy. And, as you can tell from the name, it's a hard case made to protect.
The interior is big enough for two cameras with plenty of accessories and extras. The measurements are L 22″, W 14.8″, and D 8.9″. The padded interior is included, and you can adjust the Velcro dividers to meet your needs.
There's no need to worry about the weight. Even when loaded with gear, you can easily travel using the wheels and extendable handle. It was made for a life on the move, so the wheels are large and secure. And it is small enough for hand luggage.
The price is a bit high for this one, but it is spacious and secure. It doesn't top the list, but Manfrotto is a reliable brand, and this camera case is up to the job.
The Vanguard Supreme 53D offers the same excellent level of safety and protection as the 46F. Vanguard doesn't make bad hard camera cases. But the 53D is bigger and more spacious.
The dimensions of the case are L 25″, W 20″, and D 9.5″, so you don't have to decide which cameras to take or leave behind. There's plenty of room for all.
The padded interior section has enough pockets for all your gear and lenses. And the padded insert is removable, transforming it into a versatile hard case for travel.
The durability isn't in question. It's waterproof and crush-proof, and it can withstand 120kg of external pressure. There's added safety with the padlock receptacles and thick latches.
If you're looking for a larger camera case that offers excellent protection, the Supreme 53D is one of the best.
This is an excellent hard camera case from HILDRYN. They are one of the lesser-known manufacturers in this area, but this camera case stands up to the competition.
The total interior size is L 20.3″, W 11.4″, D 7.3″. You have enough room for a couple of cameras and a few lenses too. The foam interior is pluckable so that you can customise each pocket for a precise fit.
The camera case is completely waterproof when sealed. And the purge valve controls the pressure when underwater or in the hold of a plane.
The wheels and telescopic handle make carrying your equipment painless. It's perfectly suited to international travel.
There is a smaller camera case from HILDRYN, but this option is well suited to the needs of a professional photographer. It's a strong case with a hefty price tag, but you get what you pay for.
This Monoprice hard case is one of the best value camera cases on the market. It has ample storage space and offers excellent protection for your camera gear.
You can store several cameras, with an interior of L 19″, W 16″, and D 8″. The foam padding can be customised so your camera bodies can have perfectly measured sections. When each piece of gear has a snug fit, there's no need to worry about anything moving in transit.
The Monoprice camera case gives protection at temperatures as low as -40°C. And it can survive underwater for over 30 minutes without risk of leakage.
The carrying options are limited, as you only have the rubber handle. It's comfortable enough, but it can weigh you down after a while.
This is a hard camera case if your budget is a bit tight. Perhaps not as indestructible as some other hard cases, but it still offers excellent protection when you're on the move.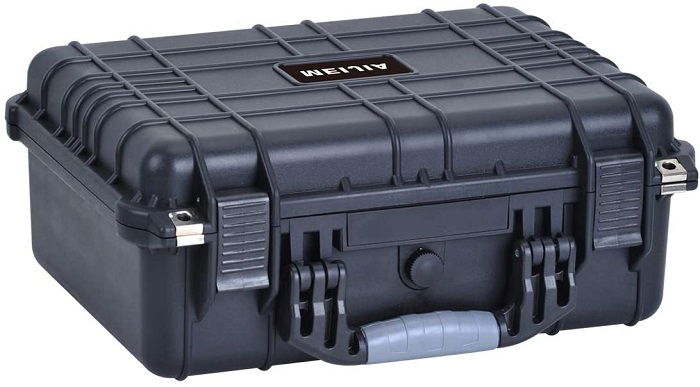 The Meijia camera case gives you strength and durability in a small package. It's a handheld camera case for photographers who like to travel light.
The interior dimensions are L 14.6″, W 10.2″, and D 6″. When it comes to camera bodies, you'll only get one in there. But there is additional space for a lens or two.
The Meijia camera case has a solid construction. It can take a beating while the foam interior keeps your gear safe. It can withstand any weather, and it's completely waterproof.
You can customise the foam interior. Each piece of equipment has its own pocket for protection.
It doesn't give you the capacity of a larger case. But this Meijia gives you a protective camera case that's easy to carry. It's not for big professional jobs, but it's great for everyday use.
Conclusion
When you're a professional photographer, keeping your gear safe has to be one of your top priorities. If your camera breaks on the way to a shoot, you're going to be pretty useless when you arrive.
That's why more and more photographers are using hard camera cases to transport their equipment. They're great for international travel, and perfect for everyday jobs too.
There are a variety of sizes and price options out there. I hope our list of the best camera hard cases has helped you find the durable and safe camera case you're looking for.
If you're taking any of these hard cases while photographing animals on safari, check out our Wonderful Wildlife course! 
The images in this article are partly provided by depositphotos.com.