Lume Cube is a tiny light that packs quite a punch. And they're back with version two! I'm all about portable and easy-to-carry photo equipment. And these little golf-ball-size lights fit the bill.
I went to the Wedding and Portrait Photography International trade show. And Lume Cube had several of their new Lume Cubes on display to play with. So what's new this time around? Read on to find out and decide if they're worth buying.

Lume Cube 2.0 Portable Lighting Kit
This powerful, portable lighting kit is perfect for photographers looking to take their lighting setup on the go.
Buy from Amazon
[ExpertPhotography is supported by readers. Product links on ExpertPhotography are referral links. If you use one of these and buy something, we make a little bit of money. Need more info? See how it all works here.]
Lume Cube 2.0 Specifications
The Lume Cube 2.0 remains a tiny size of 1.6 inches x 1.6 inches- but don't let that fool you. The light that exudes from this small cube can be as powerful as that of car headlights!
The light is true daylight-balanced 5600K Color Temp & 95+ CRI. This minimizes the color correction and white balance correction time when post-processing. I found this out the hard way back when I didn't understand light and light bulbs. I would spent hours color correcting for accurate colors. Don't be like me!
The Lume Cube 2.0 can be charged by USB-C. This is a big upgrade from the previous version (keeping in tune with current technological trends). The light is rated to last 1.5 Hour Run Time at its 100% full output. This will last you significantly longer as no one shoots consistently at 100% output without pause. In real-life use, I'd consider the Lume Cube 2.0 LED light to last several more hours.
This new version also has a low light output mode for night photography. You can adjust in 1% increments for even more manually tailored control.
You can control the light via your smartphone or smart device from up to 60 feet away. This aids you in not needing to run back and forth between the light and your shooting position.
The Lume Cube 2.0 can be used as a flash unit, featuring a 360º Optical Sensor for Slave Flash Capability (so the light can sense the remote from anywhere). It can also be used as a traditional built-in 1/4″ 20 for Tripod Mounting and off-camera use.
What Can You Use The Lume Cube 2.0 For?
This little LED light has a slew of uses. First of all, it's simple to use. There is a power button, a plus icon, a minus icon, and power icon all around the device- making understanding what you're doing easy.
The Lume Cube 2.0 has just two buttons, and that is all that you need. Turn the light on and off by holding down the power button, and increase/decrease the brightness by pressing the plus/minus button.
The Lume Cube 2.0 has a big use in wedding and event photography. You can light up a wedding cake or table setting by placing the cube near your subject, or even light a subject for a quick, spontaneous portrait!
Vloggers and self-portrait photographers can attach the cube to a cell phone via the company's nifty adapter and illuminate their faces in a flattering and professional way.
This cube is light enough to be attached to a drone to add some extra light to drone footage and photography. It is is also waterproof enough to be used for underwater shots. However, the waterproofing is not as good as the previous version. This feature was sacrificed for a more useful charging seal, but, this device can still be used for underwater photography.
With the various accessories you can buy, it's easy to control and tone the LED light for almost any situation. However, keep in mind that despite its power, this is still a small light. It won't replace that of a professional strobe or large softbox. It's not that powerful!
Pros
Much better lighting output than Version 1.
New icons and buttons that make it easier to see what you're doing.
A slew of compatible accessories, both new and old.
Incredible battery life.
USB-C charging.
Very good manual lighting control.
Able to be operated via a smartphone app.
Able to be used as a flash.
Cons
Worse waterproofing than Version 1.
Bit pricey for its size.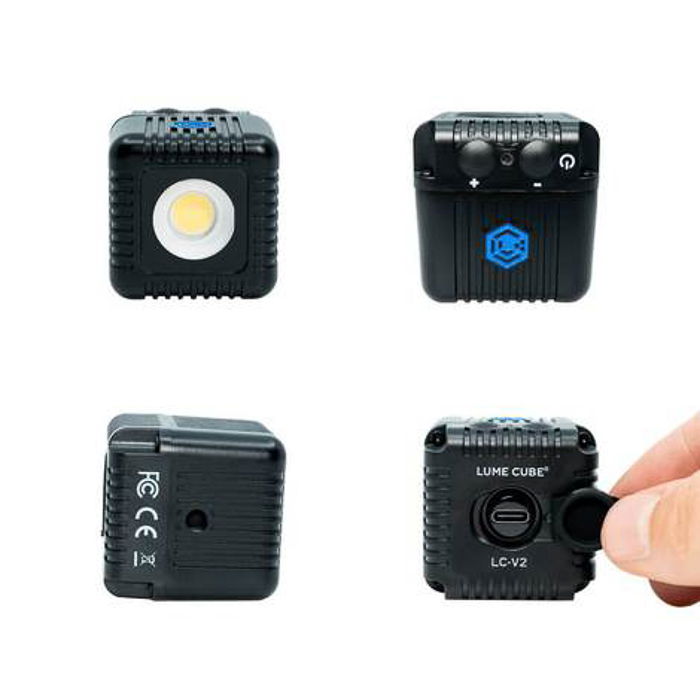 Conclusion
In conclusion, this nifty light is pretty useful and easy to throw into any photography kit. At its price, you may be tempted by several alternatives available on the market. However, the Lume Cube 2.0 light is graded with perfect true white. This makes editing a breeze (unlike other lights in which color correction will be necessary).

Lume Cube 2.0 Portable Lighting Kit
This powerful, portable lighting kit is perfect for photographers looking to take their lighting setup on the go.
Buy from Amazon