Do you have a few old photos you want to share online but don't own a scanner? Don't worry. Nowadays, you only need a smartphone to digitize your printed memories.
We've compiled a list of the best photo scanner apps you can choose from to scan multiple photos.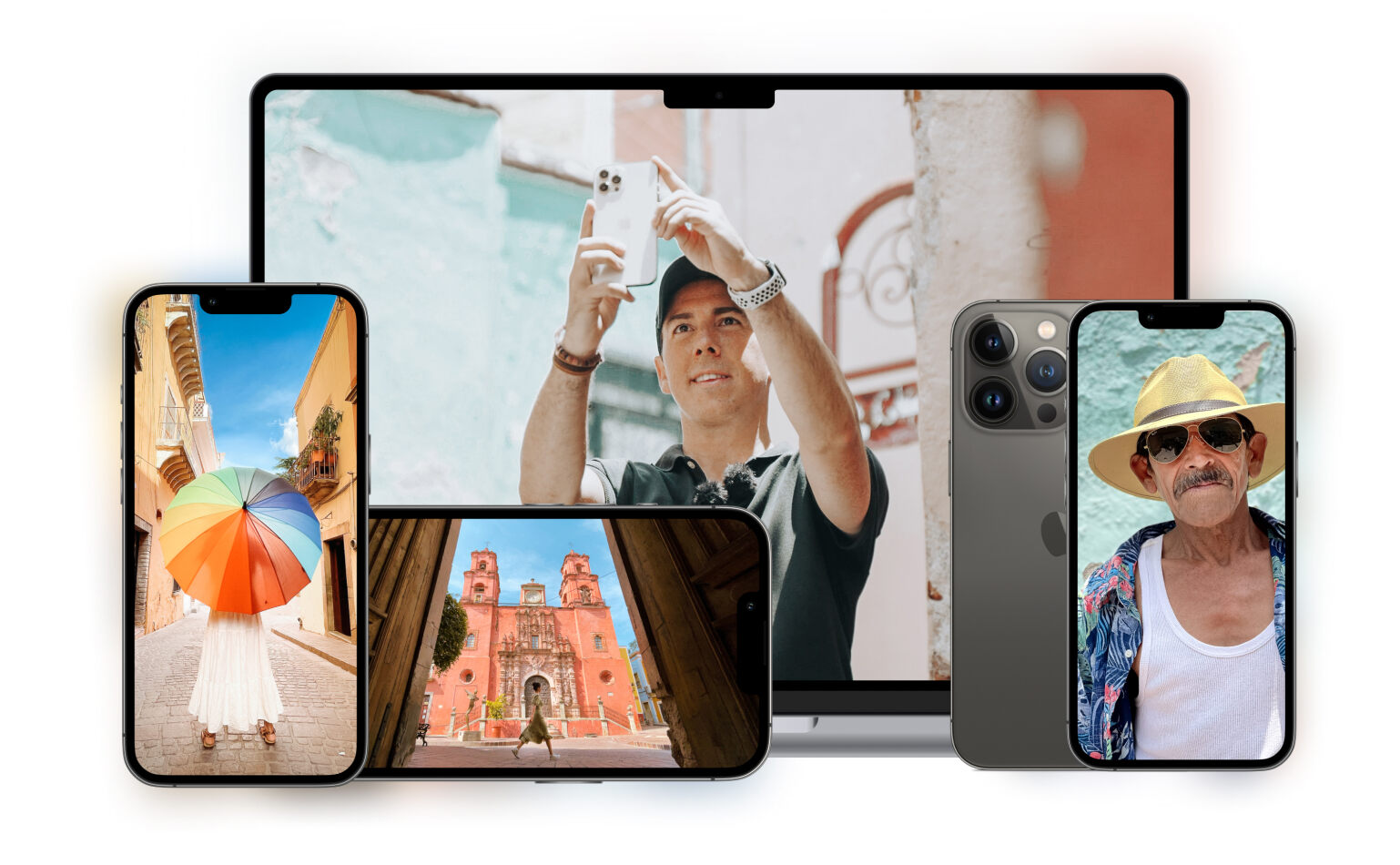 Looking for more than just a photo scanner app? Learn how to capture it all with this video course and take your iPhone photography to the next level.
8 Best Photo Scanner Apps to Use
Let's dive into our picks for the best photo scanner apps for your phone.
If you've tried scanning your photos using your phone before, you know eliminating glare is difficult.
The specks of light on glossy prints are particularly challenging. They won't go away until you shoot from a lower angle. And this, unfortunately, gives you skewed results.
Enter Google Photo Scan. What makes it different from other photo-scanning apps is that it offers glare reduction.
This Google Photos app takes four separate scans of a single image. It then combines all these images into one sharp and glare-free file.
You'd think that this is only available on Android. But you can also download it on iOS for free. That's great news considering it's the best option you have when it comes to smartphone photo scanning.

This all-in-one photo scanner app has all the features you'd expect from a regular desktop scanner.
It doesn't just save images in JPEG files. You also have the option to convert your pictures to other formats such as PDF, Excel, Powerpoint, and even Microsoft Word.
Since Microsoft Office Lens can convert images into files, it performs well as a document scanner app. As a result, you can use it in various situations, from classrooms to offices.
It even has a feature that transmutes handwriting into a digitized format. But what makes Microsoft Office Lens one of the best photo scanner apps is its high-quality scans.
Unlike other options, the documents it produces are highly detailed. As a result, you'll be confident to use this app in a professional setting.
Adobe Scan is Adobe's answer to Microsoft Lens. It's mainly used for scanning documents and converting them into PDFs.
But of course, creating PDF files isn't the only feature of Adobe Scan. You can also use it to scan photos and save them as JPEG files.
Adobe Scan uses an artificial intelligence (AI) element called Adobe Sensei. It automatically corrects the perspective of your scanned document and sharpens the image.
But the best part about this app is that it removes glare and shadows. Now that's useful, especially if you're working with glossy prints.
We admit that all the Adobe Scan features we mentioned also exist in other options. So what makes this app different?
Well, it allows you to scan and fill out forms digitally. So if you have a document you need to sign, open the app and add your signature using your phone screen!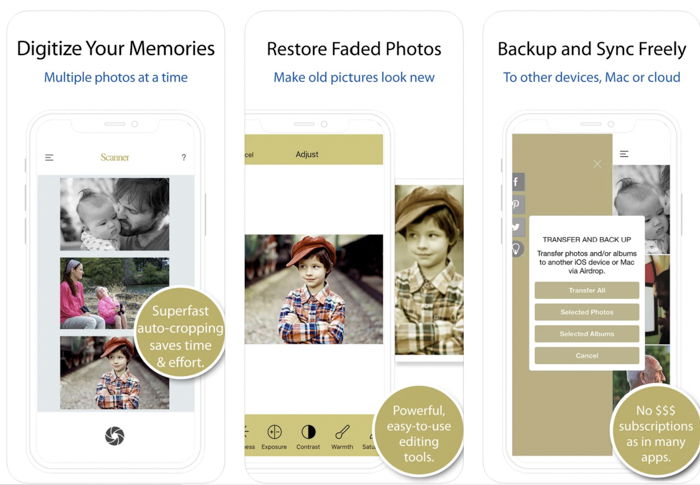 Launched in 2013, Pic Scanner was one of the first photo scanner apps to scan multiple photos at once.
Like other photo scanning apps, Pic Scanner boasts various editing features to retouch your old photos. And it also lets you remove red-eye and even clean up blemishes.
But what makes Pic Scanner one of the best photo scanner apps is its Recolor tool. It's a neat feature that restores the color in faded images.
Once you finish scanning, Pic Scanner allows you to create instant albums you can quickly share with family members. It also lets you create personalized cards and even slide shows!
Pic Scanner Gold costs $7.99. That's quite a bargain, especially because it's a one-time purchase, not a subscription.
It also has all the features you'll need for a photo scanner app. Once you have this on your phone, you won't need to get another one. Unfortunately, it's only available for iOS platforms.
Download: iOS
Photomyne has some of the best photo scanner apps for both Android and iOS. That's why we have two of their products on this list.
Apart from Photomyne's all-in-one scanner (below), they also have Filmbox. This app is specifically designed to scan color and black-and-white film negatives.
It automatically converts film strips into positive prints you can view on your phone. But what makes Filmbox even more impressive is that it can also scan regular images and slides.
It also has all the features you need to edit and color-correct your scanned photos. That way, you can ensure your digitized files appear as accurate as your physical pictures.
What makes Photomyne one of the best photoscanner apps is that it can scan multiple photos using AI. And that's a unique feature no other options on this list have (besides Adobe Scan).
So how does its AI work? When you open a photo album, it automatically recognizes all the images and saves them as individual files. So it's a great app if you have hundreds of prints to digitize.
Photomyne's AI scanning process is so meticulous that it accurately finds image borders. And you don't even have to crop the photos because it also does it for you.
Besides its ability to scan pictures, Photomyne lets you apply effects to your images. It can even colorize old black-and-white photos!
So what makes Clear Scanner one of the best photo scanner apps? It's primarily its fuss-free user interface.
Also, unlike other options on our list, you don't have to pay to use all its features. That's why we think it's the best choice if you're a student who needs a reliable scanner.
Clear Scanner allows you to scan both images and documents. And even though it's free, it has an advanced feature that automatically detects a photo's edges.
You can then convert the files into either PDF or JPEG files. And it allows you to share your files via many platforms, including Dropbox and Google Drive.
Plus, if you have an iPhone, you can even print your file wirelessly through Cloud Print! Now that's a valuable add-on, especially if you need to make copies of your scanned images.
If you want a simple photo scanner app, Swiftscan is the perfect choice. But when we say simple, we don't mean it's basic. It's loaded with tons of features that make it stand out from the rest of the pack.
You use Swiftscan to scan pictures and documents. Apart from that, it has edge-detect technology that lets it automatically crop your files. It also lets you save your scans in either JPEG or PDF formats.
But what makes SwiftScan stand out is its security features. It allows you to encrypt sensitive files so people can't steal them.
And it also includes password protection with Touch and Face ID support. Now that's a perfect add-on if you have files you only want to limit access to.
Conclusion: Best Photo Scanner Apps
So there you have it. The best photo scanner apps for both iOS and Android! Most of the options on our list are all-in-one scanners that do everything you'll ever need. So it's genuinely a matter of choosing which one you find the easiest to use.
A good portion of the apps on our list are free. But even the apps you need to purchase have a trial version. That will give you the confidence to try them out before buying them.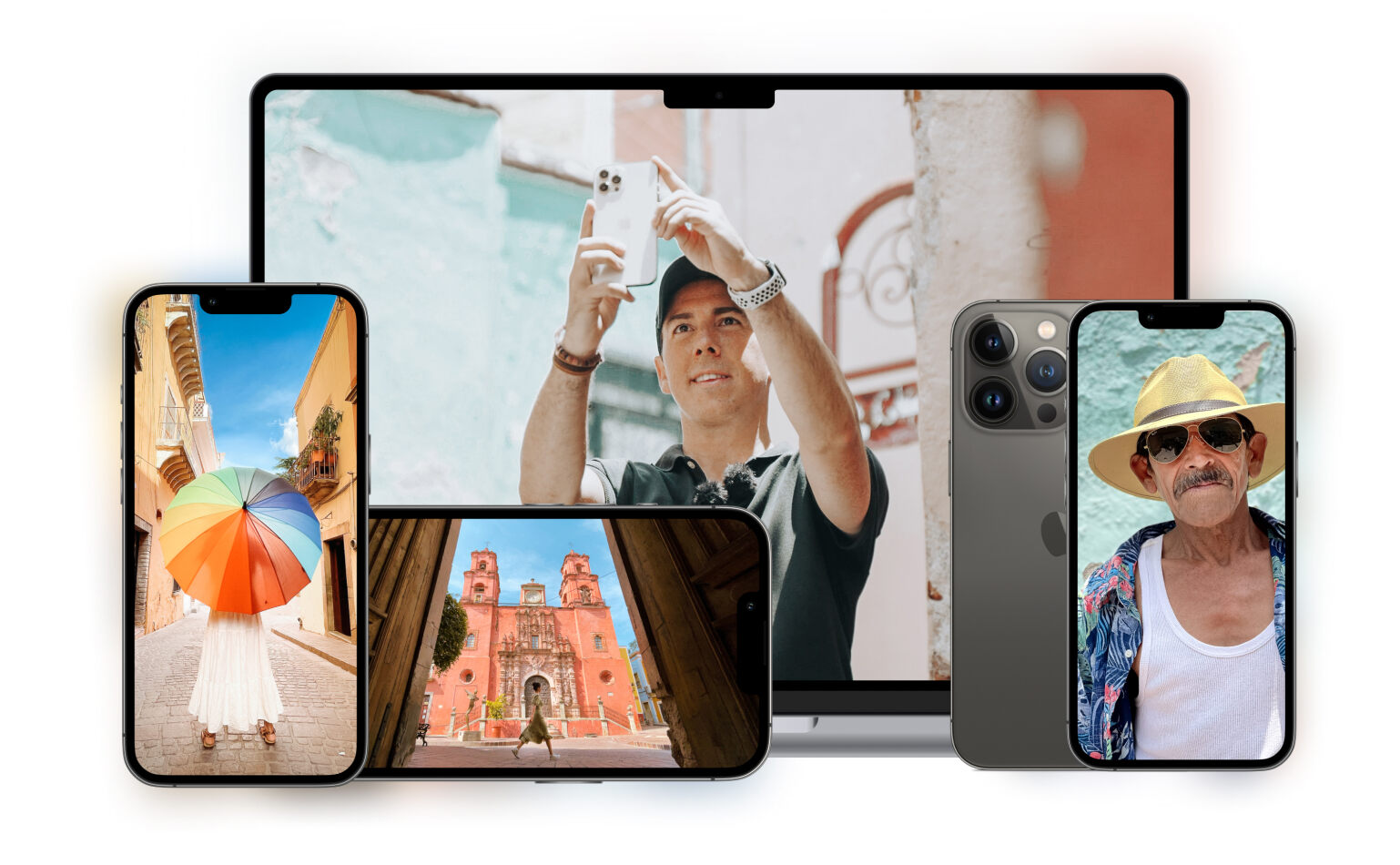 Looking for more than just a photo scanner app? Learn how to capture it all with this video course and take your iPhone photography to the next level.