Adobe continues to dominate the image editing world. But more and more software companies are creating programs to help you edit your images.
Skylum (previously named Macphun) is no different. They released Luminar to showcase their own approach to digital editing. Let's see how Luminar holds up.
What Is Skylum's Luminar 2018?
Luminar is Skylum's all-in-one photo editing software, released in 2016. Like other platforms, it's marketed as an alternative to Lightroom.
Throughout this Luminar 2018 review, I will be looking at their editing program in a number of ways.
From how it performs compared to its competitors, to how it deals with raw images, and all the other edits you can use it for.
We'll also be looking at user experience. This is paramount. If the user doesn't like the program, the editing will suffer.
Why Use Skylum's Luminar 2018?
When it comes to comparing software, there are two things you need to look for. What does the new software do differently, and what does it do better.
While researching this software, I came across three specific areas that stood out.
Filters
Everything in Skylum Luminar works from 'filters'. Each filter has its own special settings that are tweakable, specific to each area. There are filters that we don't have anywhere else, in any other image editor.
The ones I find interesting are the AI Accent filter, AI Sky Enhancer, and the Sun Rays filter. These are the ones that really stand out compared to what exists in Lightroom or Photoshop.
While I'll never use the Sun Ray filter, it's an interesting concept. With this filter, you can add bursts of light as if they came from the sun.
It automatically masks itself out of the foreground. This is where an object would stop the direct light, instead, sending it scattered over the image.
You can change the position and the intensity of the light easily. I love that new programs are trying new ideas out.
But it might start a new trend.  An overabundance of images with this filter attached will surely hit social media.
What I like here is the AI Sky Enhancer. This filter lets you single out and adjust the sky. This is perfect as you don't have to pull the image out and into Photoshop for editing.
The AI Accent filter has but one single 'Boost' slider. This is an enhancement filter that works as a one-slider-edits-all feature.
This does add a nice accent to your image but I'd rather use a brush to apply it. The fact that this feature affects the entire image might put some photographers off.
It does, however, come across as a magical HDR editing tool. It might be the only filter you need for an already almost perfect landscape image. Just use it in moderation.
Preset Previews
If you're like me, you love the little details. They show that the programmers actually think about a problem. Not only in a useful way, but in ways that make you realize editing isn't just about speed.
With the presets, a preview bar comes as standard. You may have seen these if you have ever downloaded presets before. The bar splits the image into 'before' and 'after' areas that show you the presets' effects.
This means you don't have to search around for a back button or the fateful 'reset'. You can move the bar across the image, giving you the full scope of every little change.
Adjustment Layers
Adjustment layers are nothing new, especially to Adobe Photoshop. Adobe Lightroom doesn't have them, forcing you to make changes to your image directly.
With Skylum's Luminar, you can quickly apply them and/or turn them off. These layers actually show up as independent layers!
What a great idea. Each image can have any number of edits and adjustments. It means if you have a particularly difficult image, you can search for the layer you want to re-edit.
With Lightroom, you have to search for a little dot to re-initiate the edit. If you have many of these, it can be frustrating. With Luminar and On1 Photo RAW, we see the progression of the image editor.
Software engineers started to think about the photographer as a user. Combining Photoshop and Lightroom together was just the first step.
Luminar User Experience
Off the bat, the Luminar program prompts me to choose if I want to work on a single image or batch process. For now, we will focus on a single image.
Single Image
From clicking on 'Single image' I am presented with the typical browser, allowing me to locate my image. I went with a CR2 Canon raw image for this test.
When it opened, I noticed a few things immediately. One, a whole slew of preset filters appeared in the bottom toolbar. This made me think of Instagram or Snapseed, rather than Lightroom.
The second thing that became apparent to me was the absence of any adjustment area.
The only things I could see were the histogram in the top right-hand corner and the title of my image underneath it.

I like minimal, but this is a little too much. This is how you start every time. You need to locate your editing sliders through different filters. A huge amount of them.
This is a little confusing at first. But it quickly became apparent as there wasn't really anything else to click other than the blue 'Add Filters' button.
A short arrow-pointing tutorial mask over the interface could be useful.
Most of what you'll need is here, in little develop panels. There are plenty of things to select, which can be a little confusing, to begin with. It takes time like anything else.
These filter options are split into five sections. Essential, Issue Fixers, Creative, Professional and Utility.
For other tools, such as cloning, cropping, and erasing, the 'Tools' button is at the top.
Batch Processing
From the batch processing selection, you are presented with a dialog box. Here, you make a few decisions depending on what you want to do with your images.
The idea here is to process many images instead of one-by-one, which is the process in the single image window. You can't complete HDR or panoramic images as I imagined, it is much simpler.
Here, you simply export many images for email or JPEGs for web under the Default Settings. Under the Presets tab, you can add predesignated filters and adjustments to your images.
It allows you to rename them, change the format and color profile and even resize. There is nothing interesting here unless you need something basic.
I don't find this particularly interesting, but it isn't designed for me. It would suit those who want to apply a preset to many images at once.
Except that the user would then have to re-import the images to edit one at a time. It is more time consuming to use this batch editing process.
Especially when compared to Lightroom's concept. In Lightroom, you are free to select as many images you want while you edit. No extra time is needed.
In Skylum's Luminar, you have to think about the end result first. If you are looking to have 15 jpegs to send from a portrait session, you need to do this before any image adjustments.
They need to be re-loaded into the program for editing. This means that you are no longer editing the raw file, but the processed jpeg. That defeats the purpose.
Understandably, you might not want to edit your images at all. This is handy for only applying presets, or working with time/hyper-lapses.
Comparing Skylum's Luminar 2018 to Other Image Editors
Every photo editor out there is marketed as a Lightroom alternative. But to compare to Lightroom, there need to be some necessary areas within the platform.
File organization, using a library that allows for intuitive keywording and search categories are essential. Adding and editing metadata is important, and shouldn't slow down the import to a snail's pace.
Culling is the first important step after importing. There needs to be a range of options for selecting and saving your best work. This ultimately needs to lead to Non-destructive editing.
The use of presets is necessary. Also allowing masking areas of images for local adjustments using basic editing sliders.
These adjustments need to be applicable across batches of images, instead of only one at a time. It needs to be fast, handle Raw processing well and allow corrections through camera and lens profiles.
Then, exporting easily through many different sizes, profiles, and file types. If you don't have these basics, you can't compete.
Lightroom Classic CC 2019 has much more than these remove features alongside a user-friendly interface.
Photoshop CC
Looking at the nature of Luminar 2018, it feels much closer to Adobe Photoshop than it does Adobe Lightroom. The user interface is one single window, and you can only work on one image at a time.
Photoshop lets you tweak your image by giving you layers and masks. You can add powerful edits and adjustments for almost anything you could possibly desire.
The problem is Photoshop's steep learning curve. You'll need to refer to tutorials for almost anything, from simple adjustments to creating the Orton Effect.
In Luminar 2018, this is one simple filter selection and a little tweaking to taste.
Lightroom Classic CC 2019
Lightroom works by importing images into a catalog and then applying adjustments to the images. This is a very simple process, fast and efficient.
Luminar uses a browser organization idea rather than importing images. This has the potential to make it much faster.
Unlike Lightroom, you can only work on one image at a time in Luminar. This is unless you find benefit from the batch image process.
You can sharpen on export in Luminar, just like you can in Lightroom. The two biggest areas that work in both programs are probably automatic lens corrections and presets.
These make the editing workflow a little easier and faster. The transform tool is also there, which is something I really like.
Its job is to straighten lines or change the perspective of your image. This helps to cut out parallax errors and other distortions.
On1 Photo RAW 2019
From recently looking at On1 Photo RAW, I noticed that the platforms are very similar. Both platforms work from a one-window interface. Modules or filters are accessible by using tabs on the right-hand side.
The histogram and/or preview are found in the top-right with all adjustments below. You can use any amount of filters or adjustment layers on top of each other.
Each adjustment box is independently tweakable. These can be copied to create new edits or turned off without deleting them completely.
I find this workflow very easy to use. It is a different approach to Lightroom's 'Create Virtual Copy' feature.
Workflow
Workflow for me is all about how fast I can get through the editing stage successfully. This is something that is very field dependent.
My photography work usually takes me from photographing headshots, to situational live music. These are two fields that leave me with over 200+ images that need culling and editing.
These are both fields that need a fast turnaround, where the client needs images in a few days. My process in Lightroom is to import them all first.
Then cull quickly by using the 'auto-advance' feature and any number of colors, stars, and flags. I can do this in less than 30 mins.
Editing becomes very fast as the selection process gives me a good indicator of what I have. With Skylum's Luminar, there is no importing or preview area.
I'm left to search through my images in the browser, which doesn't let me tag or select the images I like.
I like the editing process, but for selecting and culling, it is slow and frustrating. I would need to refer to using pen and paper to note which images I want to edit.
And then find and pick these one at a time. This also cuts out any idea of comparing the series of images for similar colors, perspectives, etc.
Developing Performance
To look at how the Luminar develops its images, we should compare an image edited here with one edited elsewhere.
I'm interested to see how its raw processor works when compared to Photoshop and On1 Photo RAW.
I chose these two as I believe that Luminar is closer to Photoshop than Lightroom. Also, both Adobe products use the same raw processor, so they should be the same.
AfterShot Pro 3 uses its own raw processor, so the effects should be different. In the image below, you'll see the comparison of raw processors AfterShot, Lightroom and Luminar.
Lumiar fairs well in its raw processing. Along with Lightroom, it creates one of the strongest edits. We can see this in the contrast and vibrancy of the red fan.
Compared to the original, Luminar comes out with a warmer tone. Aftershot comes out a little colder, whereas Lightroom has a more neutral color.
This could be down to Lightroom working better with Canon systems. The contrast is also stronger in the Lightroom and Luminar images.
Yet I feel that Luminar automatically applied too much sharpness, vibrancy, and contrast. AfterShot was a little muddier compared to the other raw processed images.
Lightroom gave me the best image to work from, but that's because I like complete control over my work.
Speed & Responsivity
Speed is a factor when it comes to new image editing software packages. The big qualm with Lightroom is that you need to import images to the built-in library before you can do anything to them.
How many images you want to add and what you want to do to your images during this process dictates how long this will take. Also, the size of your files and the speed of your computer has an effect too.
With Luminar, there is no import. You 'Open' an image, work on it and then 'Save' it. There is no library that stores your images. This is great if your image folders are already pretty well organized.
By working with one image at a time, your adjustments are going to be very responsive.
Likes and Dislikes
Likes
Smart use of Layers
Trying something different with Sun Rays
One time payment gives you a perpetual license
Preview slider
Over 60 presets
Dislikes
Single image processing
No way to cull images
No use of a library
Batch processing is separate
Clone stamping is difficult to use
Pricing
The pricing of Luminar is competitive. It just isn't competitive to the Adobe Photography Package. The pricing is closer to On1 Photo RAW or AfterShot Pro, coming in with a one-off payment for a perpetual license.
Luminar 3 comes at just under $80, currently $67 with a discount. If you already own a Skylum (previously Macphun) product, you get a further discount. This version is an update of 2018, and if you already own it, then the update is free.
Adobe Lightroom comes at a subscription fee of $10 a month. This does give you both versions of Lightroom (Classic CC & CC) and Photoshop, alongside some Cloud storage.
For these three programs, you'll pay $120 per year. Use them for 7/8 months, and you'll pay the same as you would for Luminar. The problem is that once you stop paying, you can't use Adobe's programs anymore.
Many photographers hate this setup and prefer the one-off payment scheme they had before. You'll find Luminar for Windows and OS alike.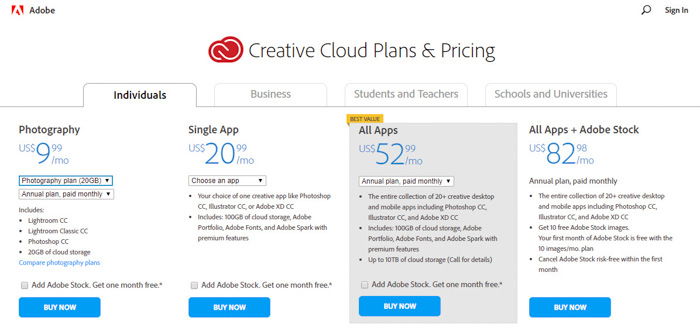 Conclusion
Luminar is closer to Photoshop than other image editors. This is due to the single window interface without modules. You also work on one image at a time.
The major plus with this is that Skylum can be more creative with their workflow and interface.
Lightroom isn't able to change and adapt as much, as it can't step on the toes of Photoshop. They need to be different enough to warrant two programs, yet staying connected enough to work together.
I like Luminar, and it's one of the few programs that I might use alongside Lightroom. Even more so as Luminar has plugins that allow them to work together.
The raw processor in Luminar is impressive. But I believe there is no new algorithm, instead, it draws from the same DCRaw program that Adobe Camera Raw uses.
Luminar uses filters that work in a very smart way. They can be reordered and tweaked easily. They stack on top of one another and offer you everything you could need.
The presets are also great to work with, especially with the sliding preview bar. Even the pricing and anti-subscription service is great. My only qualm with this program is the lack of a library
But, as luck would have it, Luminar 3 comes out in a few days. Rumors are they will change the look a little and add a library. Then, it could actually be a contender for the Adobe Photography Package.
Before you, check out this cool video we found.